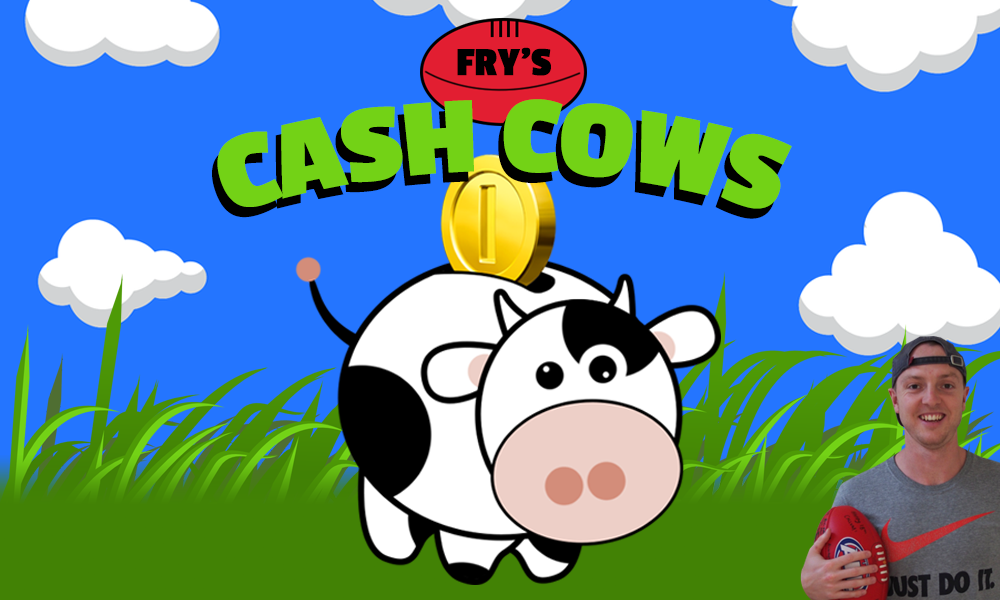 20 down, 3 to go!
Last weekend was a harsh reminder that rookies will ALWAYS score like rookies. Jeremy Sharp came crashing back to Earth with less than 40 points and the ROY favourite James Jordon was forced to don the medi-sub vest and failed top double digits as a result. Some of the cash cows below will have bright moments to close out the season, but with just 6 trades up our sleeve, operation 'remove all rookies' is in full swing. For some coaches, the temptation to axe underperformers like Dan Houston, Jordan Ridley, Nick Hind, Isaac Cumming or Shai Bolton will be too good to pass up, but I'd rather trust them over hit or miss cash cows to close the 2021 campaign is crucial.
Rookie/cash cows are usually defined as players who are priced at $300,000 or lower
If you missed out on the 2021 Rookie Guide I wrote prior to Round 1 check it out here!
---
Mooooving On
With just 3 rounds left in the fantasy season, coaches should be doing everything they can to remove those last pesky rooks from their field for a capable scorer. It's wise to maximise cash and offload those cash cows on your bench as well. Here's a list of the popular trade out targets you could axe before Round 21 kicks off.
Fattened cash cows
James Jordon, Demons ($463K, AVG 70, BE 118)
Nik Cox, Bombers ($402K, AVG 57, BE 63)
Miles Bergman, Power ($433K, AVG 62, BE 65)
Tom Highmore, Saints ($426K, AVG 59, BE 53)
Jeremy Sharp, Suns ($497K, AVG 78, BE 51)
Injured/non-playing rookies
Deven Robertson, Lions ($432K, AVG 62, BE 80)
Jacob Koschitzke, Hawks ($341K, AVG 49, BE 57)
Joel Amartey, Swans ($362K, AVG 59, BE 60)
Jai Newcombe, Hawks ($307K, AVG 58, BE 16)
Luke Edwards, Eagles ($326K, AVG 58, BE 22)
Any of the $400K rookies still on your field could be shuffled by making a downgrade elsewhere. Players like Miles Bergman and Jeremy Sharp can still reside in your best 22 if it's necessary, but chopping say Amartey, Newcombe, or Kosi from your bench and throwing that $$$ on top of them could help you net a valuable player for the final few weeks of the season.
Popular R21 trades

TRADED IN

1️⃣ James Peatling
2️⃣ Rowan Marshall
3️⃣ Josh Honey
4️⃣ Steele Sidebottom
5️⃣ Callum Mills

TRADED OUT

1️⃣ Jeremy Sharp
2️⃣ Lachlan Bramble
3️⃣ Tim Taranto
4️⃣ Dan Houston
5️⃣ Joel Amartey

MORE: https://t.co/jNVwK8bg3O #AfLFantasy pic.twitter.com/8kykrZuvaX

— AFL Fantasy (@AFLFantasy) August 3, 2021
Cash Cow King – Round 20
This week's top rookie scores all came from left of field cash cows, with Trent Bianco (84) the only player that was potentially fielded from this quartet. Some coaches may have leant on Ned Reeves (85) after his re-inclusion for Hawthorn although, it's fair to assume a smaller percentage of coaches were playing either Trey Ruscoe (102) or Connor Nash (95). Ruscoe's move to the halfback line has seen him score in BIG bunches as the season draws to a close and he gets my vote this round.
Loading ...
Round 21 Rookie Rankings
DEFENCE
It's not often that a debutant instantly cracks the top-3 rotation, but James Peatling ($205K, 82, BE -14) isn't any ordinary rookie. An average of 99.5 from his 6 VFL games (with over 16 kicks a game!) encouraged a high number of coaches to trade the GWS youngster in before lockout struck and it's a smart idea to try and loophole his score this Friday night if he holds his place. I'd still rather trust the likes of Trent Bianco ($425K, 84, BE 32) or Miles Bergman ($433K, 74, BE 65) given their scoring history over the 2021 season; however, upgrading either of the seasoned cash cows is the desirable move.
Top-3
Trent Bianco (Magpies)

Miles Bergman (Power)

James Peatling (Bombers)
A triumphant return from Tom Highmore ($426K, 66, BE 53) keeps him in the mix for relevant defenders and there is still a high percentage of teams trusting the Saints defender. He and other popular types such as Nik Cox ($402K, 40, BE 63) and James Madden ($293K, 41, BE 41) can all be offloaded, hopefully from your benches, but I still have faith in Leo Connolly ($278K, 59, BE 25) and Sam Durham ($248K, 36, BE 9) as DEF emergencies to close the year.
A smaller portion of coaches will still be rocking with Harry Edwards ($439K, 52, BE 35), Liam Stocker ($403K, 32, BE 81) or Connor Idun ($367K, 48, BE 45) and trading them away is also a smart decision. I wouldn't go chasing the scores from unique defenders Connor Nash ($282K, 95, BE -9) and Jack Payne ($396K, 92, BE 20), but they still deserve credit for their efforts.
Best of the Rest
These players may or may not be in the selection mix this week, but be sure to keep them on your 2020 watchlist in case they burst onto the scene. In no particular order:
Matthew Ling (Swans, $219K)
Kye Declase (Demons, $170K)
Will Gould (Swans, $170K)
Charlie Ham (Kangaroos, $170K)
Jacob Wehr (Giants, $170K)
Will Collins (Eagles, $170K)
Jordan Boyd (Blues, $170K)
Patrick Parnell (Crows, $170K)
Bailey Laurie (Demons, $228K)
Isaac Chugg (Magpies, $170K)
Daniel Turner (Demons, $170K)

MIDFIELD
Removing your rookies from your MID is always a high priority, especially when this week's top-3 combine to average a measly 31.3 points! Of course, that number is drastically affected by James Jordon's ($463K, 8, BE 118) medical sub score of 8 and as a result, his breakeven has ballooned beyond triple figures. Jeremy Sharp ($497K, 34, BE 51) and Lachlan Bramble ($439K, 52, BE 44) weren't much better than Jordon and the smartest tactic now is to remove these youngsters, even if it's for a value play such as Adam Cerra or Tarryn Thomas. There is some merit in holding onto the likes of Sharp and Bramble, but we've seen how poor rookie scores can ruin our weekend…
With 3 weeks left in the #AFLFantasy season how many rookies are still sitting on your field? 🤷‍♂️

— SportsbyFry (@sportsbyfry) August 4, 2021
Top-3
Jeremy Sharp (Suns)

Lachie Bramble (Hawks)

James Jordon (Demons)
There aren't too many reliable midfielders left in the cash cow class of 2021 with Ryan Byrnes ($462K, 70, BE 60) the next best scoring threat. Recent debutants Riley Garcia ($300K, 76, BE 9) and Connor West ($275K, 57, BE 3) aren't too far off the mark and I still think it's wise to hold them on your bench, but others in the same price bracket as Byrnes can be cut ASAP. Anthony Scott ($275K, 50, BE 37) won't be running around for too many popular teams anymore, but he and forgotten Hawk Jai Newcombe ($307K, DNP, BE 27) can also be thrown into the mix as trade out candidates. Newcombe managed 22 touches in the 2's last weekend for the Box Hill Hawks, but that's not enough to earn a recall and my gut says he'll spend the rest of the season in reserves colours.
Best of the Rest
These players may or may not be in the selection mix this week, but be sure to keep them on your 2021 watchlist in case they burst onto the scene. In no particular order:
Jackson Mead (Power, $170K)
Cooper Stephens (Cats, $170K)
Reef McInnis (Magpies, $226K)
Brody Kemp (Blues, $170K)
Zane Trew (Eagles, $170K)
Nathan O'Driscoll (Dockers, $218K)
Luke Valente (Dockers, $170K)
RUCK
There wasn't any movement amongst the RUC rooks this round with Ned Reeves ($376K, 85, BE 15) still the clear No. 1, ably supported by Chris Burgess ($484K, 58, BE 83) at 2. A breakeven in the teens means that Ned Reeves is looming as a final influx of cash for coaches in Round 23, with no real reason to trade him away yet – unless he's sitting at R2. Burgess doesn't have the same fantasy life expectancy as Reeves, with most popular teams already giving the versatile Sun the flick. Still, muscling his way to a score of 58 in a near triple-figure blowout deserves recognition and he could last another week or two before being offloaded if you're in a desperate situation.
Top-2
Ned Reeves (Hawks)

Chris Burgess (Suns)
The trio of Lloyd Meek ($269K, 29, BE 38), Paul Hunter ($299K, 36, BE 40) and Tom Fullarton ($289K, 66, BE 11) continue to show off their lack of production (no offence Tom) with none of them viable trade targets this late into the season. Possessing rare RUC/FWD status could see some coaches sticking with Fullarton, but both Meek and Hunter should be ditched whenever you get the chance. Speaking of, if you're reading this article so late in the fantasy season it's unlikely that you're one of the 27,000+ coaches still holding onto Matt Flynn ($446K, DNP, BE 80). If, for some reason, he's still in your lineup though it's time to trade him immediately!
 Best of the Rest
These players may or may not be in the selection mix this week, but be sure to keep them on your 2021 watchlist in case they burst onto the scene. In no particular order:
Sam Hayes (Power, $170K)
Jacob Edwards (Kangaroos, $170K)
Alex Mirkov (Blues, $170K)
Ned Moyle (Suns, $170K)
Max Heath (Saints, $170K)
Lachlan McAndrew (Swans, $170K)
Kalin Lane (Lions, $170K)
Aiden Begg (Magpies, $170K)
FORWARD
Similar to the midfield group, the number of reliable FWD rooks is quickly drying up. The absence of Deven Robertson ($432K, DNP, BE 80) meant that his owners were forced to adapt last round with Magpies Finlay Macrae ($247K, 59, BE 9) and Trey Ruscoe ($328K, 102, BE -22) two players who could have brought in to replace the Lions cub. Both Ruscoe and Macrae earned a berth into the top-3 this week, but they couldn't take the top rung from Errol Gulden ($508K, 54, BE 65), despite his subpar score vs. Essendon. All three of the aforementioned trio (plus Robertson) come with their risks over the final 3 weeks of the season and in a perfect world, your FWD line won't have any of them sitting at F5-F6.
Top-3
Errol Gulden (Swans) 

Trey Ruscoe (Magpies)

Finlay Macrae (Magpies)
The few coaches who haven't cut Cody Weightman ($411K, 73, BE 59) yet would've been happy with his performance, but Jacob Koschitzke ($341K, DNP, BE 57) and Tyler Brockman ($285K, 48, BE 44) owners probably don't have the same sense of satisfaction. Brockman continues to score at a mediocre pace and even though Kosi was rested last week, he's only topped 50 points once in his past 5 matches. That puts both Hawks and a batch of other underperformers like Archie Perkins ($345K, 17, BE 72), Josh Treacy ($324K, 19, BE 63) and James Rowe ($385K, 47, BE 61) on the chopping block with a plethora of downgrade options.
Nakia Cockatoo ($258K, 58, BE 19) is too rich for my blood, but there's not a lot that separates Josh Honey ($191K, 58, BE 2), Eddie Ford ($190K, 56, BE 2), Jack Ginnivan ($195K, 47, BE 7) and Cooper Sharman ($186K, 51, BE 6). I'd rank these four targets in the order they're listed, but personally, I'd priorities grabbing a $170K rookie to maximise $$$ for other trades. If you're flush with cash then targeting those young FWD's who hold onto their spot is still a fine choice.
Best of the Rest
These players may or may not be in the selection mix this week, but be sure to keep them on your 2021 watchlist in case they burst onto the scene. In no particular order:
Ely Smith (Lions, $170K)
Jackson Callow (Hawks, $170K)
Ash Johnson (Magpies, $170K)
Maurice Rioli (Tigers, $170K)
Elijah Hollands (Suns, $258K)
Sam Philp (Blues, $203K)

---
FOLLOW ME ON TWITTER: @SportsbyFry for all things AFL Fantasy (and more)! Feel free to hit me up with any questions you have throughout the season. Good Luck! ✌️