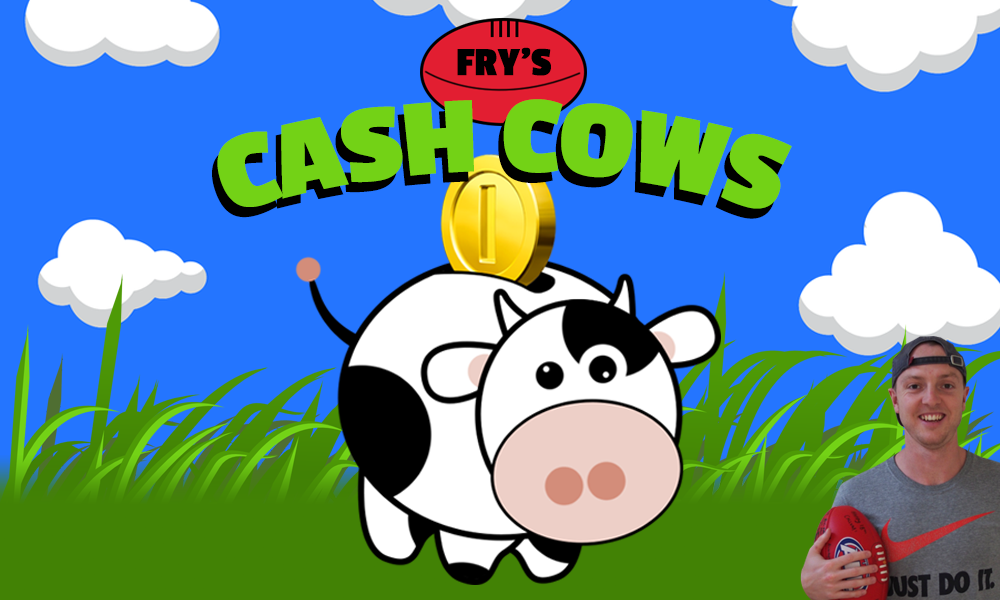 19 down, 4 to go!
And just like that, the fantasy finals are here! After a testing season to say the least, most leagues are gearing up as the quest for a fantasy flag comes down to four more weekends of team management. Of course, there is plenty to play for outside of a league win and the latest slew of injuries to popular players means some coaches will be stuck playing rookies on their field to close out 2021. If you're in that boat, not all hope is lost, with some capable cash cow scores easing the pain for coaches as they outperform the premiums around them.
Rookie/cash cows are usually defined as players who are priced at $300,000 or lower
If you missed out on the 2021 Rookie Guide I wrote prior to Round 1 check it out here!
---
Mooooving On
With just 4 rounds left in the fantasy season, coaches should be doing everything they can to remove those last pesky rooks from their field for a capable scorer. It's wise to maximise cash and offload those cash cows on your bench as well. Here's a list of the popular trade out targets you could axe before Round 20 kicks off.
Fattened cash cows
Caleb Poulter, Magpies ($414K, AVG 63, BE 81)
Deven Robertson, Lions ($432K, AVG 62, BE 79)
Miles Bergman, Power ($438K, AVG 61, BE 84)
Trent Bianco, Magpies ($395K, AVG 61, BE 36)
Jacob Koschitzke, Hawks ($341K, AVG 49, BE 57)
Injured/non-playing rookies
Matt Flynn, Giants ($446K, AVG 70, BE 80)
Tom Highmore, Saints ($419K, AVG 58, BE 56)
Joel Amartey, Swans ($362K, AVG 59, BE 60)
Jai Newcombe, Hawks ($307K, AVG 58, BE 16)
Luke Edwards, Eagles ($326K, AVG 58, BE 22)
Poulter, Bergman and Robertson will remain stuck on the field for some coaches to close the season, but those in a luxurious position should look to offload the trio ASAP. Cashing in the $400K-$450K prospects and using a downgrade elsewhere should help you find a coveted player in another line. With only a few weeks left any bench fodders with a $300K+ price tag could be swapped for a $170K player to make the necessary funds and if you still have Luke Edwards and/or Jai Newcombe in your M9-M10 slots chopping them out is a wise move.
Cash Cow King – Round 19
For the second straight week, Gold Coast's Jeremy Sharp (112) topped the rookies scoring with back-to-back fantasy hundreds! He and Errol Gulden (105) broke into the triple figures, but the young Sun continues to emerge as a bright spark for coaches who are stuck shuffle a few remaining rooks. Solid contributions from Lachie Bramble (81) and Harry Edwards (86) saw them crack the 80-point threshold, but I can't go past Sharp for this week's nomination once again.
Loading ...
Round 20 Rookie Rankings
DEFENCE
There isn't a lot separating the top-3 backline rookies this week with scoring drying up for the trio of cash cows. Trent Bianco ($395K, 68, BE 36) has been moved back into the DEF group and instantly takes out the top rung thanks to the lacklustre scoring from the likes of Miles Bergman ($438K, 45, BE 84) and Nik Cox ($409K, 72, BE 53). If you've got the ability to move these rookies off your field then, by all means, pull the trigger, but I'd back Bianco to accumulate the most points out of this bunch to close the year. Bergman has gone at an average of just 52.5 in the last month, while Cox has three scores under 40 in his last six matches – highlighting genuine concerns with the duo's ability to punch out decent scores.
Top-3
Trent Bianco (Magpies)

Miles Bergman (Power)

Nik Cox (Bombers)
Bombers backman Sam Durham ($221K, 65, BE -8) put forth another solid score to keep his hand up as a downgrade option with St Kilda's Oliver Clavarino ($197K, 62, BE 3) another one to consider. A lot of coaches would have chopped Tom Highmore ($419K, DNP, 56) out after the news of his broken hand surfaced, but there's a chance he'll be back for the Saints as soon as this week. If Highmore's still sitting on your pine, I'd look to give him the axe regardless with Connor Idun ($367K, 72, BE 49), James Madden ($295K, 48. BE 45), Brandon Walker ($251K, 40, BE 37) and Liam Stocker ($425K, 40, BE 70) all fine trade out candidates as well.
Joel Jeffrey 👀

Enjoy all nine of the goals the young Sun bagged against Aspley today! pic.twitter.com/gLU6DI6YTN

— AFL (@AFL) July 24, 2021
Richmond's Rhyan Mansell ($292K, 70, BE 6) and Eagles defender Harry Edwards ($344K, 86, BE 15) put forth awesome scores to keep their value ticking over while Leo Connolly ($261K, 30, BE 32) could be in danger of losing his place after his price stalled thanks to some subpar point totals. If you're looking at giving Connolly the chop then you may want to consider versatile Sun Joel Jeffrey ($170K, DNP, BE 24) after he bagged NINE goals on the weekend! The academy prospect could be in line for an instant senior call-up after his 131 points from 16 touches and Jeffrey will be a popular bench pick if he is included. West Coast's Isiah Winder ($176, DNP, BE 22) is another reserves performer who could come into the mix, but his average of 62.5 from 4 WAFL games makes me want to look elsewhere.
Best of the Rest
These players may or may not be in the selection mix this week, but be sure to keep them on your 2020 watchlist in case they burst onto the scene. In no particular order:
Matthew Ling (Swans, $219K)
Kye Declase (Demons, $170K)
Will Gould (Swans, $170K)
Charlie Ham (Kangaroos, $170K)
Jacob Wehr (Giants, $170K)
Will Collins (Eagles, $170K)
Jordan Boyd (Blues, $170K)
Joel Jeffery (Suns, $170K)
Patrick Parnell (Crows, $170K)
Bailey Laurie (Demons, $228K)
James Peatling (Giants, $170K)
Isaac Chugg (Magpies, $170K)
Daniel Turner (Demons, $170K)

MIDFIELD
The cash cow flavour of the month continues his reign at No. 1 for all rookie midfielders, with Jeremy Sharp ($474K, 112, BE -3) taking his three-round average close to triple figures. On paper, a looming clash with Melbourne should see Sharp's scores come back to Earth, but nearly 15% of the competition are hoping he can keep racking up touches along the wing. Lachie Bramble ($414K, 81, BE 12) kept his scores ticking over, thriving in Hawthorn's backline thanks to a high number of kicks (17 last week), but the news isn't as encouraging for James Jordon ($518K, 42, BE 99). Coming off his lowest point total of the season, any coaches still playing Jordon on their field should explore a trade ASAP before he continues to plummet in price.
Top-3
Jeremy Sharp (Suns)

Lachie Bramble (Hawks)

James Jordon (Demons)
Emerging as solid rookies throughout the bye period both Ryan Byrnes ($457K, 67, BE 63) and Caleb Poulter ($414K, 70, BE 81) have likely been moved on by coaches with one month to go. The duo could still be cashed in and upgraded to a decent mid-pricer with Will Phillips ($314K, 55. BE 33) another one to consider moving after he suffered a broken nose against Carlton. If you're still clinging on to someone like Anthony Scott ($276K, 28, BE 53) and/or Sam Berry ($275K, 30, BE 48) on your bench, flicking them out for a $170K target is also a smart manoeuvre.
Connor West ($237K, 47, BE -5) and Riley Garcia ($264K, 45, BE 17) could be downgrade targets for coaches chasing a quick influx of cash, although I'd have concerns about fielding the pair moving forward. Finally, a pair of MID debutants could break through as soon as this weekend with oft-injured Blue Brody Kemp ($170K, DNP, BE 24) my preference over Freo's Nathan O'Driscoll ($218K, DNP, BE 31). O'Driscoll (61.8 AVG from 12 WAFL games) and his $218K salary are still tempting, but considering the time of year, I'd rather pocket the extra $38K and snag Kemp (63 AVG from 4 VFL games).
Best of the Rest
These players may or may not be in the selection mix this week, but be sure to keep them on your 2021 watchlist in case they burst onto the scene. In no particular order:
Jackson Mead (Power, $170K)
Cooper Stephens (Cats, $170K)
Reef McInnis (Magpies, $226K)
Brody Kemp (Blues, $170K)
Zane Trew (Eagles, $170K)
Nathan O'Driscoll (Dockers, $218K)
Luke Valente (Dockers, $170K)
RUCK
Once again, there is a clear 1-2 punch in the ruck department with both Ned Reeves ($331K, 64, BE 12) and Chris Burgess ($491K, 50, BE 71) sitting in two very different positions. Reeves has struggled to stay in the Hawks' side at times this year, but as long as he's playing in their AFL team I'd resist trading him away just yet. The same can't be said for Burgess though, who followed up scores of 88 and 123 with a measly 45 and 50 points in his last two games. For the 6.4% of coaches who still own the Suns' impromptu ruck, it's time to cut your losses.
Top-2
Ned Reeves (Hawks)

Chris Burgess (Suns)
There was a common case of déjà vu for fantasy coaches last weekend, with Lloyd Meek ($264K, 48, BE 22), Paul Hunter ($293K, 41, BE 27) and Tom Fullarton ($256K, 58, BE 13) all playing at AFL level for the first time since Round 2! The three mainstream bench rucks didn't light the world on fire, but for the coaches who have been bending over backwards to try and axe them since they left the senior side, their return would have been a welcome sign. Any of this trio sitting at R3 could give you a handy bank boost if they can hold their spot for another game or two…
 Best of the Rest
These players may or may not be in the selection mix this week, but be sure to keep them on your 2021 watchlist in case they burst onto the scene. In no particular order:
Sam Hayes (Power, $170K)
Jacob Edwards (Kangaroos, $170K)
Alex Mirkov (Blues, $170K)
Ned Moyle (Suns, $170K)
Max Heath (Saints, $170K)
Lachlan McAndrew (Swans, $170K)
Kalin Lane (Lions, $170K)
Aiden Begg (Magpies, $170K)
FORWARD
Errol Gulden ($498K, 105, BE 39) has been in fine form since he overcame injury and recaptured his place in Sydney's side and there's no reason why Gulden can't be a late challenger for both the Rising Star award and the much more coveted DT Talk Rookie of the Year crown! His second 100+ score of the season has seen Gulden cement himself as the best FWD cash cow going around and I'd be confident playing him to close out the season.
Strangely, I've got similar confidence in Finlay Macrae ($224K, 71, BE 22) after the young Magpies performance against Port Adelaide. Gathering a career-best 21 touches for his top score of 71 is a sign of what the younger Macrae is capable of when given a chance and Scott Pendlebury's season-ending injury only strengthens his case to finish the season with a bang. Unfortunately though, Deven Robertson ($432K, 49, BE 79) is sputtering to the finish line for his coaches and I'm not against trading Robertson away before he continues to bleed cash.
Top-3
Errol Gulden (Swans) 

Finlay Macrae (Magpies)

Deven Robertson (Lions)
Macrae's teammate Trey Ruscoe ($262K, 66, BE -7) has been a stable scorer for the past two weeks thanks to a move to the halfback flank, but I'd almost say you've missed the boat on trading him in. You could axe a bigger name like Sam Flanders ($425K, 52, BE 77), Cody Weightman ($409K, 42, BE 70) or a more popular player such as Archie Perkins ($367K, 38, BE 54) in order to acquire Ruscoe, but I'd rather pocket more cash and chase his new teammate Jack Ginnivan ($177K, 34, BE 18). Ginnivan struggled to get going from a fantasy standpoint last weekend, although I still view him as the best FWD downgrade target – providing he holds his spot in Collingwood's lineup.
Anton Tohill ($174K, 29, BE 21) debuted in the same match, but I won't be surprised to see him left out of the 22 come Thursday night. Speaking of, Joel Amartey ($362K, DNP, BE 60) is an outside chance of re-entering the Swans lineup after he was dropped and we could see Gold Coast's Mal Rosas ($189K, DNP, BE 17) earn his own recall after he gathered 27 touches for a score of 112 in the VFL. The Suns will also be happy to see Elijah Hollands ($258K, DNP, 37) finding his feet, maintaining his solid form with 65 points from 19 touches last time out in the reserves. Hollands probably won't make an AFL appearance this season, but the No. 7 pick is one to watch for next season.
Best of the Rest
These players may or may not be in the selection mix this week, but be sure to keep them on your 2021 watchlist in case they burst onto the scene. In no particular order:
Ely Smith (Lions, $170K)
Jackson Callow (Hawks, $170K)
Nakia Cockatoo (Lions, $243K)
Cooper Sharman (Saints, $170K)
Ash Johnson (Magpies, $170K)
Maurice Rioli (Tigers, $170K)
Elijah Hollands (Suns, $258K)
Sam Philp (Blues, $203K)
Jake Bowey (Demons, $230K)
---
FOLLOW ME ON TWITTER: @SportsbyFry for all things AFL Fantasy (and more)! Feel free to hit me up with any questions you have throughout the season. Good Luck! ✌️