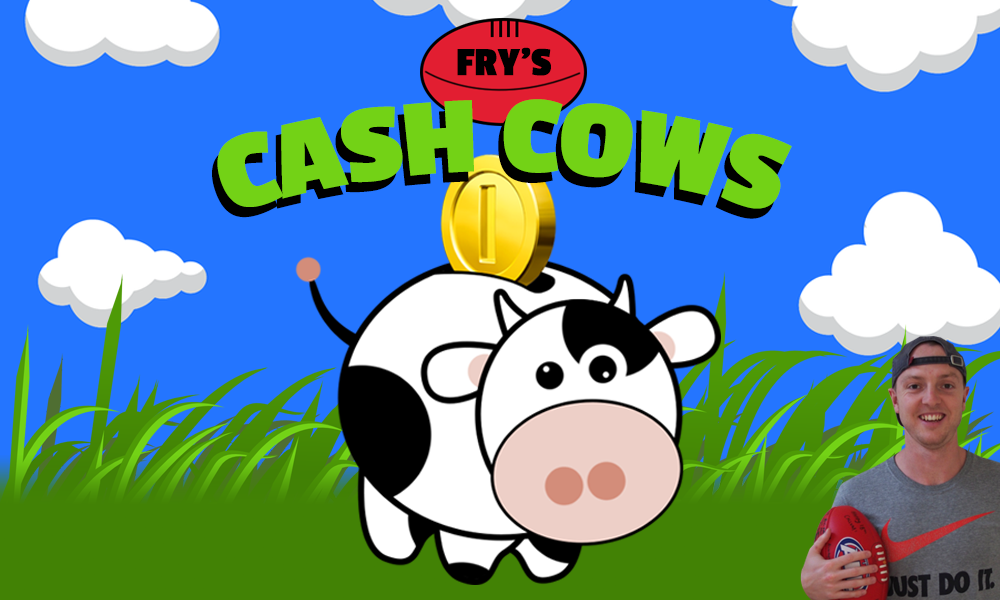 One down, 22 to go!
In case no one has told you yet, AFL Fantasy is a long season. None of us are scrambling to squeeze Bazlenka into our lineups after his hot start, but there are some holes that will likely need plugging – especially from a rookie standpoint. The performances of certain cash cows will force a lot of coaches to act swiftly with their trades this week and aiming for 30 green dots (or as close to 30 as possible) should be your priority at this time of the season.
If you missed out on my AAMI Series cash cow watchlist be sure to check it out here.
Rookie/cash cows picks are defined as players who are priced at $350,000 or lower
---
Power Ranking Cash Cows – Round 1
After one week of action, these are the top-10 cash cows in the game right now!
NR = not ranked last week
Power Ranking #AFLFantasy Cash Cows Round 1

1. Nick Martin – NR
2. Nick Daicos – ⬇️ 1
3. Josh Rachele – ↔️
4. Jack Hayes – ⬆️ 4
5. Tyson Stengle – NR
6. Paddy McCartin ⬇️ 1
7. Jason Horne-Francis ⬇️ 5
8. Tristan Xerri – NR
9. Corey Durdin – NR
10. Connor Macdonald – NR#AFL pic.twitter.com/m1EONzt7pg

— SportsbyFry (@sportsbyfry) March 22, 2022
Cash Cow King – Round 1
Boy oh boy did the cash cows come to play in Round 1!
Four young guns topped triple-figures in their AFL debut with an unprecedented amount of points coming from the sub $300k club. Nick Daicos' (102) mammoth score wasn't a huge surprise and Josh Rachele (100) showed us flashes of his talents earlier in the preseason, but it's fair to say none of us saw the Jack Hayes (111) coming out party that arrived on Friday night! While Hayes' debut was impressive, Nic Martin (130) was the one who stole the show and was in a class of his own with the 6th highest score of the entire round.
Loading ...
Round 2 Rookie Rankings
DEFENCE
Woof. We knew the defensive rookie cupboard was bare, but with Sam De Koning ($190K, 20, BE 29) knocking himself out, we really are approaching Defcon 1 levels of concern. Thank god we had one decent scorer from our backline soldiers in the form of Patrick McCartin ($290K, 59, BE 18) with his first appearance in red and white an encouraging one. Chalking up 6 marks and 14 touches without too much trouble should make McCartin a fieldable rookie in defence with more scores in the high 50's and low 60's on the way. Other cheap backmen Joel Smith ($236K, 49, BE 13) and Josh Gibcus ($276K, 35, BE 34) didn't light the world on fire for coaches, but unless another option emerges, trading them out won't likely be your biggest issue.
Top-5
Paddy McCartin (Swans)

Josh Sinn (Power)*

Sam Skinner (Power)* 

Joel Smith (Demons)

Sam De Koning (Cats)
*if named
Speaking of those other options, we may see Port Adelaide hand a gig to Sam Skinner ($190K, DNP, BE 25) and/or Josh Sinn ($246K, DNP, 35) which would be a blessing for coaches in dire need of a cheap defender. With Aliir Aliir set to undergo surgery on a syndesmosis injury and Trent McKenzie banged up, we might see both cash cows enter the Power's lineup vs. Hawthorn, but honestly, I think the fantasy community would take whoever is named! There are a few more expensive options like Noah Answerth ($338K, 57, BE 30) who might entice coaches, with unused St Kilda sub Nasiah Wanganeen-Milera ($270K, DNP, BE 35) another player to keep an eye on in coming weeks should he break into the starting 22.
Best of the Rest
These players may or may not be in the selection mix this week, but be sure to keep them on your 2022 watchlist in case they burst onto the scene. In no particular order:
Nathan O'Driscoll (Dockers, $190K)
Darcy Wilmot (Lions, $260K)
Jake Stein (Giants, $190K)
Josh Fahey (Giants, $208K)
Nathan Kreuger (Magpies, $287K)
Sam Skinner (Power, $190K)
Isaac Chugg (Magpies, $190K)
Nasiah Wanganeen-Milera (Saints, $270K)
Rory Thompson (Suns, $190K)
Garrett McDonagh (Bombers, $192K)
Bodhi Uwland (Suns, $190K)
MIDFIELD
The universal pick for the Rising Star award in Nick Daicos ($332K, 102, BE -7) continued his hot form from the preseason with the first fantasy century of his career. The majestic Magpie nearly doubled the score of the rest of his midfield peers with North Melbourne's own up-and-comer Jason Horne-Francis ($309K, 61, BE 21) the next best engine room rook. Even though we should see clear daylight between the duo over the season, I still expect Horne-Francis to push his average into the high 60's or even the 70's and serve as an important cash cow.
Hawthorn pair Connor Macdonald ($253K, 47, BE 19) and Josh Ward ($284K, 41, BE 31) were the next two in the MID rankings with subpar scores in the 40's, but I wouldn't be jumping off the ship with either draftee just yet. Coaches were expecting a lot more from Ward from a scoring standpoint and if he can get up for Round 2, I expect the No. 7 pick to deliver for coaches as early as this weekend. The same might not be true for Jackson Mead ($205K, 44, BE 11) who cracked the top-5, but posting just 10 disposals against Brisbane might see him flicked out of the Power lineup, or handed the sub vest instead.
Top-5
Nick Daicos (Magpies)

Jason Horne-Francis (Kangaroos)

Josh Ward (Hawks) 

Connor Macdonald (Hawks)

Jackson Mead (Power)
There was a glut of players in the $200k price bracket who made their first AFL appearance over the weekend with most of them putting up disappointing scores. Brady Hough ($239K, 40, BE 21) was the most owned one of the bunch with the Eagles debutant his draft peers Angus Sheldrick ($255K, 28, BE 35), Mitch Owens ($223K, 22, BE 33) and Jake Soligo ($214K, 17, BE 35) all failing to fire for those who invested in them. Team selection might make it easy to swing the axe on one of the underperformers if you need to patch up a hole in your side with Lions sub Harry Sharp ($198K, 23, BE 26) one potential replacement if he squeezes into their starting team. Geelong's Cooper Stephens ($190K, DNP, BE 25) impressed in a practice match over the weekend and nearly 10% of the competition will be hoping he can also enter the fold before too long.
Best of the Rest
These players may or may not be in the selection mix this week, but be sure to keep them on your 2022 watchlist in case they burst onto the scene. In no particular order:
Jed McEntee (Power, $190K)
Greg Clark (Eagles, $190K)
Arlo Draper (Magpies, $202K)
Reef McInnes (Magpies, $190K)
Matty Roberts (Swans, $224K)
Matthew Johnson (Dockers, $250K)
James Tsitas (Suns, $190K)
Robbie McComb (Bulldogs, $190K)
Josh Goater (Kangaroos, $248K)
Finn Callaghan (Giants, $286K)
Hugh Jackson (Power, $190K)
Tom Joyce (Eagles, $190K)
RUCK
You can't give serious thought to starting Jack Hayes ($253K, 111, BE -31) in one of your on field ruck spots, even after the Saints' recent signee had a debut game for the ages. Thanks to Paddy Ryder's injury prone body, Hayes was able to get his fantasy career off to a flying start with 18 touches, 10 marks, 3 goals and 111 points! His spot in their side is safe for at least one more week and I've been high on Hayes replacing Ryder in the St Kilda outfit this season, despite some of Brett Rattern's previous comments. The only other cheap ruck who generated interest in fantasy circles was DPP Eagle Hugh Dixon ($197K, 32, BE 19) who doesn't have the same promise after his measly 32-point outing. Lastly, I want to give a shoutout to Lloyd Meek ($357K, 67, BE 26) who put up solid numbers against Reilly O'Brien, but he'll likely make way for Sean Darcy when Thursday night teams are revealed.
Top-5
Jack Hayes (Saints)

Sam Hayes (Power)*

Hugh Dixon (Eagles) 
*if named
Best of the Rest
These players may or may not be in the selection mix this week, but be sure to keep them on your 2022 watchlist in case they burst onto the scene. In no particular order:
Paul Tsapatolis (Cats, $190K)
Jacob Edwards (Kangaroos, $190K)
Luke Strnadica (Eagles, $190K)
Mac Andrew (Suns, $282K)
Max Heath (Saints, $190K)
Alex Mirkov (Blues, $190K)
FORWARD
All hail Nic Martin ($266K, 130, BE -44)!! Essendon's recent SSP addition is the only player since Champion Data started recording statistics in 2000 to amass at least 25 touches with 5 goals in his first appearance at AFL level – proving to be the difference for fantasy coaches who opted to start with the $190K FWD. If you didn't have Martin's score contribute to your weekly total, then there's a high likelihood his place was taken by Crows dynamo Josh Rachele ($327K, 100, BE -7) who burst onto the scene with an epic five-goal cameo of his own.
We can't expect him to kick a massive bag each week, although, there are high hopes that Rachele can still keep scoring at a decent rate for the 60% of teams who invested in Adelaide's new cult hero. I don't have the same confidence in the future numbers of Tyson Stengle ($344K, 100, BE -3), even though the new Cat managed to top triple-figures against the Bombers registering his seven shots on goal. Healthy cash generation should continue for the other members of the top-5 in Corey Durdin ($216K, 59, BE 2) and Tristan Xerri ($301K, 61, BE 19) with the pair performing their role for their respective AFL sides and fantasy coaches alike.
Top-5
Nic Martin (Bombers)

Josh Rachele (Crows)

Tristan Xerri (Kangaroos) 

Tyson Stengle (Cats)

Corey Durdin (Blues)
I've yo yoed on my opinion regarding Willie Rioli ($312K, 61, BE 22) and his fantasy scores all preseason, but the talented West Coast forward didn't take long to reintegrate himself back into the lineup with his score benefitting as a result. A proud member of 42% of the Eagles' centre bounces we could see more healthy point totals from Rioli moving forward, and I'd certainly recommend selecting him over his new teammate Patrick Naish ($330K, 60, BE 26) despite the similarity in their scores. In a perfect world, you wouldn't invest in either, with big-name players set to return for West Coast as early as this weekend, but there are worse options to chase in your forward line.
Priced around the same mark, Finn Maginness ($333K, 68, BE 20) got his 2022 campaign off to a healthy start, while Hugo Ralphsmith ($254K, 25, BE 37) was handed the dreaded medical vest which saw plenty of his supporters abandon ship prior to Round 1. Ralphsmith did manage to play over half the game for the Tigers, but unfortunately, he couldn't get his scoring trending in the right direction. The same could be said for fellow sub Francis Evans ($195K, 30, BE 19) who saw 57% TOG for his poor score with Kaine Baldwin ($194K, 28, BE 21) also failing to capitalise on his chance from a fantasy standpoint.
Best of the Rest
These players may or may not be in the selection mix this week, but be sure to keep them on your 2022 watchlist in case they burst onto the scene. In no particular order:
Ely Smith (Lions, $190K)
Jai Serong (Hawks, $190K)
Luke Pedlar (Crows, $210K)
Sam Darcy (Bulldogs, $288K)
Ned Long (Hawks, $190K)
Joel Jeffrey (Suns, $196K)
Sam Philp (Blues, $205K)
Arthur Jones (Bulldogs, $206K)
Jackson Callow (Hawks, $190K)
Ash Johnson (Magpies, $190K)
Maurice Rioli (Tigers, $190K)
---
FOLLOW ME ON TWITTER: @SportsbyFry for all things AFL Fantasy (and more)! Feel free to hit me up with any questions you have throughout the season. Good luck! ✌️