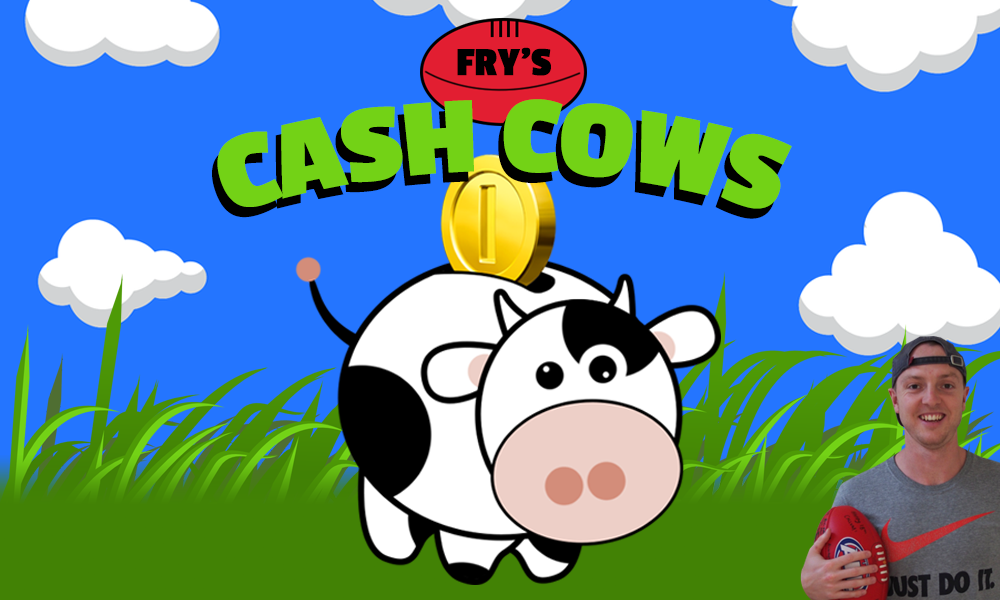 Two down, 21 to go!
For those who need to hear this for the second consecutive week, it's a longgggg season. I was down in the dumps after throwing the C on Brodie Grundy before an Andrew Brayshaw masterclass resurrected my love for fantasy footy on the weekend so it's important to remember things can change quickly. With one fortnight in the books, we have a clear indication of which cash cows are going to matter moving forward and there's nothing wrong with turning those red dots into important, money-making rookies while you still have the chance.
If you missed out on my AAMI Series cash cow watchlist be sure to check it out here.
Rookie/cash cows picks are players who start the season at $350,000 or lower
---
Power Ranking Cash Cows – Round 2
After two weeks of action, these are the top-10 cash cows in the game right now!
NR = not ranked last week
Power Ranking #AFLFantasy Cash Cows Round 2

1. Nick Daicos – ⬆️ 1
2. Josh Rachele – ⬆️ 1
3. Jack Hayes – ⬆️ 1
4. Tristan Xerri – ⬆️ 4
5. Jason Horne-Francis – ⬆️ 2
6. Nick Martin – ⬇️ 5
7. Paddy McCartin – ⬇️ 1
8. Josh Ward – NR
9. Willie Rioli – NR
10. Connor Macdonald – ↔️ pic.twitter.com/0xCdJ175Li

— SportsbyFry (@sportsbyfry) March 29, 2022
Cash Cow King – Round 2
With fantasy centuries aplenty emerging from the cash cow group last week, there were no rooks that managed to top triple-figures in Round 2. Still, some of the cheaper players came to the party with healthy scores, including West Coast duo Patrick Naish (92) and Willie Rioli (85). Neither of them boast a high ownership at the moment, but the likes of Tristan Xerri (92) and Josh Ward (85) would have definitely found themselves on the field for a portion of the fantasy community. With Ward sitting on my pine this week, I'm giving the nod to the Roo's new bullocking ruckman.
Loading ...
Round 3 Rookie Rankings
DEFENCE
Things are still dire down back when it comes to cash cows, but it may not be as bad as first thought. A strong first quarter featuring 32 points saw Paddy McCartin ($325K, 66, BE 8) hold down the No. 1 defensive rank and he'll stay at D5-D6 for a lot of the competition. Outside of the reborn Swan, coaches are lacking a safe fieldable defender with Port debutants Sam Skinner ($197K, 33, BE 18) and Josh Sinn ($270K, 36, BE 32) failing to fire and producing 30's in game one. Saints prospect Nasiah Wanganeen-Milera ($284K, 53, BE 22) and Dees backman Joel Smith ($262K, 49, BE 9) rounded out the top-5, but playing them on the field is fraught with danger.
Top-5
Paddy McCartin (Swans)

Josh Sinn (Power)

Nasiah Wanganeen-Milera (Saints)

Sam Skinner (Power)

Joel Smith (Demons)
The only real threat to breaking into the above field right now is Dockers debutant Nathan O'Driscoll ($190K, 11, BE 44) who shone in his brief stint against St Kilda. He did manage to feature in 3 CBA's during the last quarter, but an inflated breakeven means O'Driscoll has his work cut out before coaches can trust him. Speaking of, after a pair of scores in the 30's coaches are ready to swing the axe on Josh Gibcus ($280K, 38, BE 31) with the Tigers defender the 3rd most traded out player right now.
Another DEF option that may have generated some interest in Nathan Kreuger ($292K, 43, BE 31) is set for a month plus on the sidelines after a shoulder injury with Sam De Koning ($190K, DNP, BE 29) a hopeful return for over 60% of coaches having cleared concussion protocol. If the young Cat doesn't get up, basement priced defender Jake Stein ($190K, DNP, BE 25) could earn a callup, thanks to Phil Davis' hamstring setback and Stein's efforts in the VFL that saw the Giants defender score 119 from his 29 touches and 10 marks.
Best of the Rest
These players may or may not be in the selection mix this week, but be sure to keep them on your 2022 watchlist in case they burst onto the scene. In no particular order:
Darcy Wilmot (Lions, $260K)
Jake Stein (Giants, $190K)
Josh Fahey (Giants, $208K)
Isaac Chugg (Magpies, $190K)
Rory Thompson (Suns, $190K)
Garrett McDonagh (Bombers, $192K)
Bodhi Uwland (Suns, $190K)
MIDFIELD
The top 2 rookies in Nick Daicos ($390K, 73, BE -4) and Jason Horne-Francis ($351K, 78, BE 5) continue to play their role for fantasy coaches around the globe, but it was Josh Ward's ($323K, 85, BE 3) exploits that became a pleasant surprise on the weekend. After a rough Round 1, the emerging Hawk gathered 20 touches and kicked his first career snag during an 85-point outing vs. Port Adelaide. His fellow draft peer Connor Macdonald ($287K, 66, BE 4) performed admirably as well, helping draw a clear line between the top-4 in this MID group and the rest of the field. We may see another budding midfielder put their hand up as a trade target, but I've given Cooper Stephens ($190K, DNP, BE 25) the nod at No. 5 for now, in the hopes he can build on his 20 touch, 64-point game in the two's to earn a senior debut in the near future.
Top-5
Nick Daicos (Magpies)

Jason Horne-Francis (Kangaroos)

Josh Ward (Hawks) 

Connor Macdonald (Hawks)

Cooper Stephens (Cats)*
*if named
There were plenty of other performers at state level with No. 3 overall pick Finn Callaghan ($286K, DNP, BE 37) having a huge day out thanks to 34 disposals that equated to 115 points. A few other draftees posted notable stat lines with Geelong's Mitch Knevitt ($190K, DNP, BE 25) amassing a score of 98 from 21 touches, 7 marks and 7 tackles while the first-round pick for the Bombers Ben Hobbs ($266K, DNP, BE 35) scored 78 points from 19 touches and put his hand up as a potential cog in their MID rotation to help alleviate Zach Merrett's absence.
There are rumblings surrounding a debut for top-10 Docker Neil Erasmus ($272K, DNP, BE 35) in the derby this weekend and even though he lit up a recent WAFL practice match, I'd rather get a look at him at AFL level before pouncing on the Freo prospect. On the topic of WAFL outings, it was encouraging to see the scores from state league mainstay Aaron Black ($221K, 67, BE -3) and discarded Roo Declan Mountford ($208K, 49, BE 8), but you can't trust either moving forward unless West Coast is struck down heavily by COVID again. The likes of Jackson Mead ($213K, 21, BE 19) and Jake Soligo (198K, 11, BE 39) could still be sitting on the bench for coaches, but their use as the medical sub is enough of a reason to ditch the duo with Brisbane's Harry Sharp ($190K, 12, BE 34) in the same boat after he accumulated just two touches from 70% TOG. Vomit.
 Best of the Rest
These players may or may not be in the selection mix this week, but be sure to keep them on your 2022 watchlist in case they burst onto the scene. In no particular order:
Jed McEntee (Power, $190K)
Greg Clark (Eagles, $190K)
Arlo Draper (Magpies, $202K)
Reef McInnes (Magpies, $190K)
Matty Roberts (Swans, $224K)
Matthew Johnson (Dockers, $250K)
Neil Erasmus (Dockers, $272K)
James Tsitas (Suns, $190K)
Robbie McComb (Bulldogs, $190K)
Josh Goater (Kangaroos, $248K)
Finn Callaghan (Giants, $286K)
Hugh Jackson (Power, $190K)
Tom Joyce (Eagles, $190K)
RUCK
There's Jack Hayes ($319K, 61, BE -21) and the rest of the field right now. Tabbed as merely a Paddy Ryder replacement, Hayes has hardly put a foot wrong through his first two AFL contests, with another healthy score fuelled by disposals, hitouts, marks and tackles. Team selection on Thursday will be observed intensely by the 32% of the competition playing Hayes on the field, but I think he's done more than enough to hold his place in the Saints' outfit. Hugh Dixon ($197K, DNP, BE 19) should be on track to score another 30 for the Eagles if he's picked and Caleb Graham ($273K, 18, BE 54) deserves mention purely for fitting this price bracket. Braydon Pruess might theoretically fit the mould as a cash cow (scoring 123 with 41 hitouts in the VFL), but his price tag means he won't be mentioned in these articles moving forward.
Top-5
Jack Hayes (Saints)

Sam Hayes (Power)*

Hugh Dixon (Eagles) 
*if named
Best of the Rest
These players may or may not be in the selection mix this week, but be sure to keep them on your 2022 watchlist in case they burst onto the scene. In no particular order:
Paul Tsapatolis (Cats, $190K)
Jacob Edwards (Kangaroos, $190K)
Luke Strnadica (Eagles, $190K)
Mac Andrew (Suns, $282K)
Max Heath (Saints, $190K)
Alex Mirkov (Blues, $190K)
FORWARD
While there is pandemonium down back, we're spoilt for choice up forward when it comes to viable cash cows. Nic Martin ($266K, DNP, BE -44) succumbing to health and safety protocols saw him lose the top rung to Josh Rachele ($382K, 69, BE -2) over the weekend, although both are looming as must-have rookies. In the same conversation is North's new lead ruck Tristan Xerri ($354K, 92, BE -5) who outpaced Todd Goldstein for ruck contests 51-30 in Round 2 and put his hand up as one of the best rookie scorers going around.
In the same conversation, I can't fault Willie Rioli ($358K, 85, BE 1) after his efforts to start the season, with four goals and four CBA's against the Roos leading to the 4th highest score of his entire career! Siting just slightly behind him was dashing Richmond MID/FWD Hugo Ralphsmith ($277K, 67, BE 14) who proved his fantasy worth once he released himself from the shackles of a medi-sub vest. For those keen on the young Tiger, I'd want to see how he backs up his performance this weekend against St Kilda before pulling the trigger.
Top-5
Josh Rachele (Crows)

Nic Martin (Bombers)

Tristan Xerri (Kangaroos) 

Willie Rioli (Eagles)

Hugo Ralphsmith (Tigers)
A lot of the fantasy faithful will be surprised to see that Patrick Naish ($378K, 92, BE 2) failed to crack the top-5 despite outscoring virtually all of his rookie peers. A) he was playing North, B) he sits in only 2.8% of fantasy teams and C) I need to see how well he can score alongside his gun West Coast peers before I give him too much credit. No one will be shocked to see that Tyson Stengle ($362K, 21, BE 30) lost his place amongst the best FWD options with Corey Durdin ($231K, 22, BE 15) in the same position following his six-touch effort vs. the Bulldogs.
In the VFL, it was encouraging to see Elijah Hollands ($190K, DNP, BE 25) going off for 20 touches, 6 marks, 6 tackles and a score of 84, Kaine Baldwin ($194K, DNP, 21) kicked three goals in another loss to Geelong, and Richmond FWD Maurice Rioli ($190K, DNP, BE 25) also turned heads with 17 touches, 7 tackles and a goal for 87 points. I can't see any of the trio breaking through in the near future, but Hollands especially will entice coaches as he continues to build towards his first senior appearance in Gold Coast colours.
Best of the Rest
These players may or may not be in the selection mix this week, but be sure to keep them on your 2022 watchlist in case they burst onto the scene. In no particular order:
Ely Smith (Lions, $190K)
Jai Serong (Hawks, $190K)
Luke Pedlar (Crows, $210K)
Sam Darcy (Bulldogs, $288K)
Ned Long (Hawks, $190K)
Joel Jeffrey (Suns, $196K)
Sam Philp (Blues, $205K)
Arthur Jones (Bulldogs, $206K)
Jackson Callow (Hawks, $190K)
Ash Johnson (Magpies, $190K)
Maurice Rioli (Tigers, $190K)
---
FOLLOW ME ON TWITTER: @SportsbyFry for all things AFL Fantasy (and more)! Feel free to hit me up with any questions you have throughout the season. Good luck! ✌️