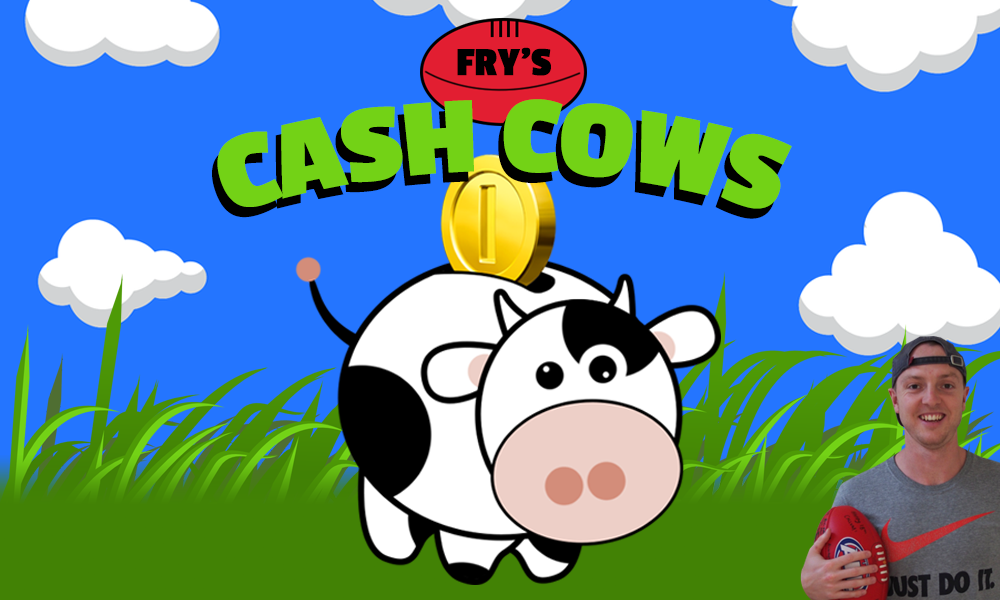 Three down, 20 to go!
Before you read on, this isn't a Braydon Preuss promo piece and yes, there are other relevant cash cows right now. Regardless of how your ruck setup is looking, we have some clear rookie performers that can be trusted on our fields right now, but removing the other letdowns is always a priority for coaches. A few of our popular preseason selections are nearly topping out in value, which means it's never to early start thinking succession plan to keep your team's cash generation trending in the right direction.
If you missed out on my AAMI Series cash cow watchlist be sure to check it out here.
Rookie/cash cows picks are players who start the season at $350,000 or lower
---
Power Ranking Cash Cows – Round 3
After three weeks of action, these are the top-10 cash cow performers in season 2022!
Power Ranking #AFLFantasy Cash Cows Round 3

1.N.Daicos – ↔️
2.T.Xerri – ⬆️ 2
3.N.Martin – ⬆️ 2
4.J.Rachele – ⬇️ 2
5.J.Horne-Francis – ↔️
6.J.Hayes – ⬇️ 3
7.J.Ward – ⬆️ 1
8.C.Macdonald – ⬆️ 2
9.H.Ralphsmith – NR
10.P.McCartin – ⬇️ 3

NR = not ranked last week pic.twitter.com/HQQZWuMB9m

— SportsbyFry (@sportsbyfry) April 5, 2022
Cash Cow King – Round 3
A lot of the mainstream rooks failed to wow last weekend with high scores few and far between. Nick Daicos (89) was once again the star of the cash cow show, but Patrick Naish has made the most of his second chance with West Coast with back-to-back scores in the 90's. Highly owned FWD's Tristan Xerri (79) and Nic Martin (71) lived up to the hype and thrived on the field for a huge chunk of coaches and are bound to get a few votes for their efforts.
Loading ...
Round 4 Rookie Rankings
DEFENCE
A lot of successful coaches are making it a priority to remove all the defensive rookies from their field and Patrick McCartin's ($350K, 41, BE 25) lacklustre score on the weekend only enhances that argument. The Swans defender had a few healthy scores fuelled by +6's to open the season, but he's quickly becoming hard to trust with solid scores from Nathan O'Driscoll ($202K, 60, BE 6) and Jake Stein ($213K, 56, BE 4) also hard to get behind.
In his second game for the Dockers, O'Driscoll junked up HARD with 29 of his points coming in the last quarter once the game was decided and Stein doesn't boast the greatest scoring history either. Sam Skinner ($208K, 33, BE 15) could be in doubt this weekend after he was subbed out of the Showdown with an ankle complaint and it's no certainty that Josh Sinn ($270K, DNP, BE 32) will take his place after the youngster registered just 10 touches at state level.
Top-5
Paddy McCartin (Swans)

Nathan O'Driscoll (Dockers)

Jake Stein (Giants)

Sam Skinner (Power)

Josh Sinn (Power)*
* if named
Speaking of the reserves level, there aren't too many up-and-comers staking their claim for a crack at AFL footy any time soon. There was buzz in the preseason about Dons recruit Garrett McDonagh ($190K, DNP, BE 25), although he has scores of 57 and 47 so far that don't exactly jump off the page and Port Adelaide's Jase Burgoyne ($190K, DNP, BE 25) is the only other basement DEF rookie worth mentioning after his 22 touches and 86 points in the SANFL. Fantasy list cloggers Joel Smith ($289K, 46, BE 14), Josh Gibcus ($286K, 38, BE 32) and Sam De Koning ($193K, 32, BE 20) have all likely been relegated to the bench for coaches and axing them from your lineup for one of the aforementioned cheaper options like Stein or O'Driscoll isn't a home run, but it can help cash generation tick over.
Best of the Rest
These players may or may not be in the selection mix this week, but be sure to keep them on your 2022 watchlist in case they burst onto the scene. In no particular order:
Darcy Wilmot (Lions, $260K)
Josh Fahey (Giants, $208K)
Isaac Chugg (Magpies, $190K)
Rory Thompson (Suns, $190K)
Garrett McDonagh (Bombers, $192K)
Bodhi Uwland (Suns, $190K)
MIDFIELD
The same quartet of fantasy midfielders held down their top-4 spots in the rankings, with all of them doing their jobs as cash cows – continuing to tick upwards in value. Nick Daicos ($457K, 89, BE 2) is still clearly a cut above with Jason Horne-Francis ($396K, 67, BE 12), Josh Ward ($366K, 63, BE 8) and Connor MacDonald ($330K, 64, BE 4) hard to fault for their efforts so far this season. With all of them virtually owning single-digit breakevens there's nothing wrong with keeping them in your lineup for another few weeks, with DPP additions in Round 6 potentially making them more valuable. After struggling to find another reliable MID a week ago, a few contenders put their hand up last round, but I'm siding with Jackson Mead ($243K, 61, BE 5) who showed what he's capable of when he's freed of the vest, gathering 18 touches and looking right at home at AFL level.
Top-5
Nick Daicos (Magpies)

Jason Horne-Francis (Kangaroos)

Josh Ward (Hawks) 

Connor Macdonald (Hawks)

Jackson Mead (Power)
Neil Erasmus ($294K, 66, BE 13) and Reef McInnes ($215K, 59, BE 2) were close to earning a top-5 gig following a pair of impressive debut games in Round 3. Erasmus helped himself to 62% of the CBA's against West Coast, although there are some job security concerns with Caleb Serong, David Mundy and later in the season Nat Fyfe all likely to steal his midfield minutes. It appears as though McInnes has a longer leash with the Pies, but I wouldn't go trusting him on your field just yet. Still, that doesn't mean he isn't a great bench play should he hold his place in the side.
Port Adelaide's Jed McEntee ($207K, 48, BE 8) broke through for his first game of the year and gathered an impressive seven tackles while Brady Hough ($251K, 37, BE 21) started on fire only to register a 4-point second half. By no means are they "must-trade" candidates, even if there are concerns over their place in the team heading into next weekend. Hopefully they can hold onto their places, but I wouldn't be holding my breath.
Hungry Hobbs 😤

Our No.8 turned it on for @essendonvfl. pic.twitter.com/kZIFA50mNf

— Essendon FC (@essendonfc) April 5, 2022
An abundance of midfield cash cows are raising eyebrows at state level with Essendon's Ben Hobbs ($266K, DNP, BE 25) seemingly inching his way towards a debut any week now. His score of 101 was fuelled by 10 marks and 24 touches with draft peers Finn Callaghan ($286K, DNP, BE 37) (79 points with two goals) and Matty Roberts ($224K, DNP, BE 29) (100 points from 31 touches) doing their chances of an AFL call-up no harm either.
Bulldogs mature-ager Robbie McComb ($190K, DNP, BE 25) hurt his ribs with his score stranded on 4, but he should bob up for a game before too long and Gold Coast's SSP addition James Tsitas ($190K, DNP, BE 25) hasn't looked out of place in his new colours, finishing his VFL hitout with two goals, 9 tackles and 25 touches for a score of 118. Lastly, Cooper Stephens ($190K, DNP, BE 25) may still have to bide his time for his first crack at senior footy, but posting 25 touches and 97 points regularly will keep him in the selection frame.
 Best of the Rest
These players may or may not be in the selection mix this week, but be sure to keep them on your 2022 watchlist in case they burst onto the scene. In no particular order:
Greg Clark (Eagles, $190K)
Arlo Draper (Magpies, $202K)
Matty Roberts (Swans, $224K)
Matthew Johnson (Dockers, $250K)
James Tsitas (Suns, $190K)
Robbie McComb (Bulldogs, $190K)
Josh Goater (Kangaroos, $248K)
Finn Callaghan (Giants, $286K)
Hugh Jackson (Power, $190K)
Tom Joyce (Eagles, $190K)
RUCK
Braydon Preuss doesn't qualify as a cash cow, so once again we are scraping the barrel for relevant ruck rookies. I mean no disrespect to the likes of Hugh Dixon ($226K, 59, BE 1) and Jack Hayes ($367K, 45, BE 10) with the latter RUC/FWD proving to be a valuable cog for coaches to commence the fantasy season. Some teams are ready to cull Hayes and if the axe swings and he's absent from St Kilda's team on him Thursday night, that decision only becomes easier.
Dixon held his own in the Western Derby, filling up the stat sheet to ensure he'll make coaches a bit more bank, while Ned Moyle ($190K, DNP, BE 25) and Sam Hayes ($190K, DNP, BE 25) performed well for their respective reserves sides. Moyle scored 109 thanks to 33 hitouts and 19 disposals, perhaps providing the Suns with a serviceable option if Witts needs a rest and while it'll likely take an injury to Scott Lycett for Hayes to enter the side, his 75 points with 25 hitouts and impressive ruck craft in the SANFL keep him knocking on the door.
Top-5
Jack Hayes (Saints)

Sam Hayes (Power)*

Hugh Dixon (Eagles) 
*if named
Best of the Rest
These players may or may not be in the selection mix this week, but be sure to keep them on your 2022 watchlist in case they burst onto the scene. In no particular order:
Paul Tsapatolis (Cats, $190K)
Jacob Edwards (Kangaroos, $190K)
Luke Strnadica (Eagles, $190K)
Mac Andrew (Suns, $282K)
Max Heath (Saints, $190K)
Alex Mirkov (Blues, $190K)
FORWARD
The triumphant return of Nic Martin ($348K, 71, BE -31) saw the first-year Bomber maintain his scoring proficiency and demanding a spot on the field moving forward. The same could be said for Tristan Xerri ($414K, 79, BE 0) after another solid game as North's lead ruck, but some coaches are starting to abort the Josh Rachele ($414K, 42, BE 27) experience, with the Crows stud being traded out of over 3,000 teams at the time of typing. All these rookies have to go eventually, so I can see the appeal in axing Rachele after his poor score vs. Port, but in a perfect world, I'd give him another week or two. Hugo Ralphsmith ($310K, 60, BE 8) and Corey Durdin ($268K, 67, BE 2) round out the top-5 this round, with Durdin's 67 points helping the Blues goalsneak get his cash generation back on track.
Top-5
Tristan Xerri (Kangaroos) 

Nic Martin (Bombers)

Josh Rachele (Crows)

Hugo Ralphsmith (Tigers)

Corey Durdin (Blues)
We didn't get to see Willie Rioli ($358K, DNP, BE 2) last round due to health and safety protocols, although his new teammate Patrick Naish ($441K, 90, BE 1) picked up the slack with another eye-catching score. Naish probably won't get too much more airtime in these rookie features, but the born again Eagle deserves props for what he's done so far. The same can't be said for Tyson Stengle ($374K, 45, BE 41) or Tex Wanganeen ($197K, 34, BE 17) who may both find themselves out of the Round 4 teams.
The best performing FWD in the state leagues last week was easily Ash Johnson ($190K, DNP, BE 25), with the dynamic Magpie a favourite of mine in the preseason. Finishing the weekend with 4.3 in front of goal, 12 touches, 9 marks and 105 points could see him get a berth soon, but more coaches are hanging out for Elijah Hollands ($190K, DNP, BE 25) to get a gig. The highly sought after Sun did have 20 touches but only four kicks for 61 points and Hawthron's Ned Long ($190K, DNP, BE 25), who was an AFL emergency last week, caught the eye of some with 91 points from 19 touches and 11 marks.
Best of the Rest
These players may or may not be in the selection mix this week, but be sure to keep them on your 2022 watchlist in case they burst onto the scene. In no particular order:
Ely Smith (Lions, $190K)
Jai Serong (Hawks, $190K)
Sam Darcy (Bulldogs, $288K)
Ned Long (Hawks, $190K)
Joel Jeffrey (Suns, $196K)
Sam Philp (Blues, $205K)
Arthur Jones (Bulldogs, $206K)
Jackson Callow (Hawks, $190K)
Ash Johnson (Magpies, $190K)
Maurice Rioli (Tigers, $190K)
---
FOLLOW ME ON TWITTER: @SportsbyFry for all things AFL Fantasy (and more)! Feel free to hit me up with any questions you have throughout the season. Good luck! ✌️