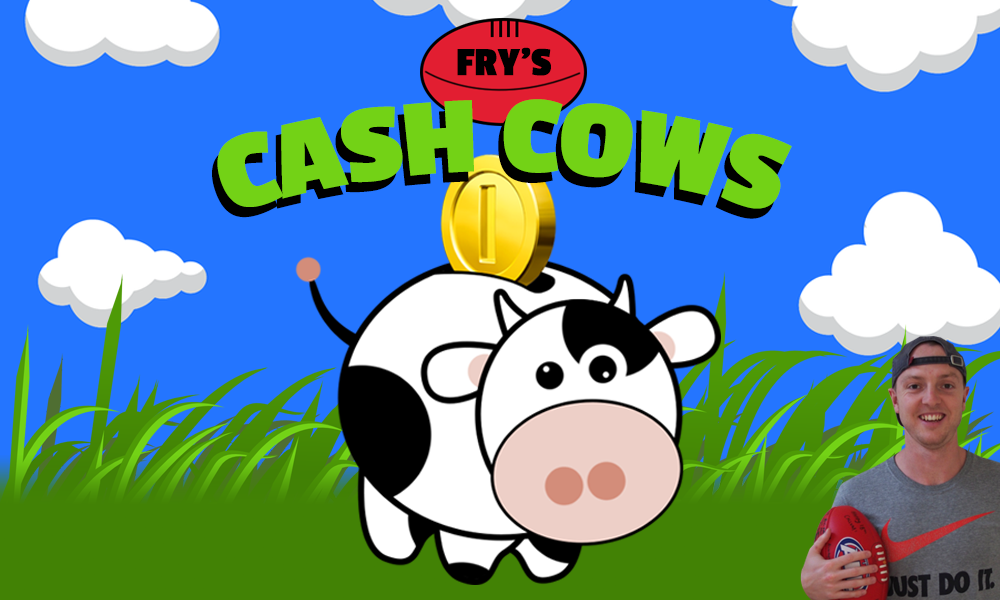 Four down, 19 to go!
There are a lot of coaches who need a pick-me-up this week. From benching the likes of O'Driscoll and Rachele, to some offloading Max Gawn and of course, Captain Cripps going down, Round 3 gave us a reminder of how things can quickly turn pear-shaped for fantasy coaches. With multiple suspension and injury issues swirling around the league, it's still important to make sure you invest in the right rookies so you have cash to help you when these problems surface.
If you missed out on my AAMI Series cash cow watchlist be sure to check it out here.
Rookie/cash cows picks are players who start the season at $350,000 or lower
---
Power Ranking Cash Cows – Round 4
After four weeks of action, these are the top-10 cash cow performers in season 2022!
Power Ranking #AFLFantasy Cash Cows Round 4

1.N.Daicos – ↔️
2.J.Rachele – ⬆️ 2
3.N.Martin – ↔️
4.J.Horne-Francis – ⬆️ 1
5.T.Xerri – ⬇️ 3
6.N.O'Driscoll – NR
7.J.Ward – ↔️
8.H.Ralphsmith – ⬆️ 1
9.N.Erasmus – NR
10.P.McCartin – ↔️

NR = not ranked last week pic.twitter.com/wQIIJovdMi

— SportsbyFry (@sportsbyfry) April 12, 2022
Cash Cow King – Round 4
HUGE scores were back on full display from the rookies in Round 4, with Jason Horne-Francis (94) coming oh so close to the first triple-figure outing of his fantasy career. The fun didn't stop there with another Nick Daicos (126) masterclass, followed by Nathan O'Driscoll's (109) coming out party on Saturday night. Josh Rachele (101) finished the show with his heroics against the Bombers, although my vote is going to JHF for his eye-catching performance.
Loading ...
Round 5 Rookie Rankings
DEFENCE
Do we finally have a safe defensive rookie we can play on the field?! Nathan O'Driscoll ($275K, 109, BE -32) is coming off the game of his life against the Giants, erupting for 20 touches and two goals while virtually doubling every other DEF cash cow score. There were previous concerns over NOD's job security, but if you have to play a rook in your backline, O'Driscoll is the one I'd recommend. Keeping those rookies on our bench would help coaches sleep easier with the likes of Josh Gibcus ($294K, 42, BE 30) and/or Paddy McCartin ($359K, 36, BE 41) still clogging up a roster spot down back for a big chunk of coaches. McCartin in particular is feeling the wrath right now, currently being flicked out by over 8,000 coaches.
Some teams won't have the luxury to chop out the underperforming cash cows in their backline yet, and the impending arrival of Nick Daicos should make things easier. Those who invested in Nasiah Wanganeen-Milera ($330K, 68, BE 14) could have done worse as the Saints young gun starts to find his feet at AFL level, with more injuries at Port opening the door for a potential Sam Skinner ($208K, DNP, BE 16) return. It's slim pickings once again outside of the top handful, so if you're still eyeballing a pair of rookies on your field in defence, I'd make ditching them a priority.
Top-5
Nathan O'Driscoll (Dockers)

Nasiah Wanganeen-Milera (Saints)

Paddy McCartin (Swans)

Sam Skinner (Power)*

Josh Gibcus (Tigers)
* if named
Some may argue that Tom Wilson ($293K, 69, BE 11) deserves to be higher up after his 16 touches on the weekend, but let's wait and see him replicate it first. Jordan Boyd ($217K, 41, BE 10) and Ben Miller ($203K, 39, BE 14) came into their respective sides only to remain fantasy irrelevant with Jake Stein ($229K, 25, BE 15) disappointing a few coaches who pounced on the GWS defender. Joel Smith ($289K, DNP, BE 14) remains on the outs at Melbourne and Sam De Koning ($204K, 35, BE 15) should make some $$$ moving forward, but first-year Power backman Josh Sinn ($270K, DNP, BE 32) is facing a 3-4 week stint on the sidelines with a groin complaint.
Darcy Wilmot ($260K, DNP, BE 34) may be our saviour down back if he maintains his VFL form, scoring 81 points from 20 touches last weekend. He's not the only one stringing together solid performances with forgotten Swans backman Will Gould ($190K, DNP, BE 25) finding plenty of the footy with 18 touches (17 kicks) and 80 points. 2021 draftee Garrett McDonagh ($192K, DNP, BE 25) was Essendon's leading possession winner vs. Frankston, gathering 23 touches for his 91 points to keep himself in the selection frame.
Best of the Rest
These players may or may not be in the selection mix this week, but be sure to keep them on your 2022 watchlist in case they burst onto the scene. In no particular order:
Darcy Wilmot (Lions, $260K)
Josh Fahey (Giants, $208K)
Isaac Chugg (Magpies, $190K)
Rory Thompson (Suns, $190K)
Garrett McDonagh (Bombers, $192K)
Bodhi Uwland (Suns, $190K)
MIDFIELD
By this time next week, our top-2 midfielder cash cows will hopefully be the proud owners of a second position, although there's no certainty that happens. It seems like Nick Daicos ($545K, 126, BE -2) will get the nod with DEF status, making for a handy addition to our backlines following his game-high 126 points on the weekend. However, Jason Horne-Francis ($455K, 94, BE 10) may shoot himself in the foot if he keeps playing so well. His percentage of CBA's have increased every week and you can't blame North for trying to get him closer to the footy with the first-year Roo leading the team in clearances vs. Sydney.
Sitting just behind the two rookie mainstays you can find No. 10 overall pick Neil Erasmus ($333K, 68, BE 5), who played his way into a spot with his second consecutive decent score. Scores in the high 60's aren't going to turn too many heads, but Erasmus has made the most of the chance Freo handed him, making it tougher for them to replace him when their list is healthy. The same can't be said for Josh Ward ($381K, 27, BE 40) who is no certainty to line up for Hawthorn on Easter Monday following another dud score and just 9 touches. Jackson Mead ($280K, 57, BE 4) held onto his spot in the MID rankings after another decent score against the Dees, which should see him continue to chug along as a serviceable cash cow.
Top-5
Nick Daicos (Magpies)

Jason Horne-Francis (Kangaroos)

Neil Erasmus (Dockers)

Josh Ward (Hawks) 

Jackson Mead (Power)
The biggest slide came from Connor MacDonald ($346K, 25, BE 34) who, like his rookie peer Ward, could be rested from the senior side over the weekend. We were treated to another debutant in Marcus Windhager ($218K, 54, BE 6) with the young Saint bound to generate interest if he holds his spot along with the likes of Brady Hough ($273K, 51, BE 16), Jed McEntee ($227K, 36, BE 10) and/or Reef McInnes ($228K, 19, BE 17). McInnes especially flopped for a healthy portion of coaches, but as long as these players clogging up a bench spot keep playing and rising in value, they can stay.
There weren't too many noteworthy performers at the state league level with Cooper Stephens ($190K, DNP, BE 25) gathering 26 touches for 91 points and Finn Callaghan ($286K, DNP, BE 37) scoring 84 from his 17 disposals and a goal. Tyler Sonsie ($236K, DNP, BE 31) could be in line for a debut soon at Richmond after another solid outing with 77 points fuelled by 17 disposals and Ben Hobbs ($266K, DNP, BE 35) was held out VFL action last weekend and may be announced as a debutant by the time you're reading this, or if not, in the ensuing weeks *cough*Anzac Day*cough*.
 Best of the Rest
These players may or may not be in the selection mix this week, but be sure to keep them on your 2022 watchlist in case they burst onto the scene. In no particular order:
Greg Clark (Eagles, $190K)
Arlo Draper (Magpies, $202K)
Matty Roberts (Swans, $224K)
Matthew Johnson (Dockers, $250K)
James Tsitas (Suns, $190K)
Robbie McComb (Bulldogs, $190K)
Josh Goater (Kangaroos, $248K)
Finn Callaghan (Giants, $286K)
Hugh Jackson (Power, $190K)
Tom Joyce (Eagles, $190K)
RUCK
We could soon be spoilt for choice in the rookie ruck department with suspension and injury setting the scene for a trio of cash cows to matter. Most notably, the absence of Paddy Ryder for St Kilda means Jack Hayes ($394K, DNP, BE 10) should slot back into the rotation to keep his price ticking upwards and the performance of Hugh Dixon ($278K, 75, BE -12) will give West Coast fans encouragement after another reported Nic Nat knee issue. Dixon scored a career-best 75 thanks to his ability to fill up the box score and he could loom as a trustworthy R3; much like Sam Hayes ($190K, DNP, BE 25) who may get his chance in Round 4 if Scott Lycett's shoulder is still an issue. Hayes compiled 32 hitouts and a goal for his score of 91 last week in the SANFL and his debut would come at a near ideal time for fantasy coaches.
Top-5
Jack Hayes (Saints)*

Hugh Dixon (Eagles) 

Sam Hayes (Power)*
*if named
Best of the Rest
These players may or may not be in the selection mix this week, but be sure to keep them on your 2022 watchlist in case they burst onto the scene. In no particular order:
Paul Tsapatolis (Cats, $190K)
Jacob Edwards (Kangaroos, $190K)
Luke Strnadica (Eagles, $190K)
Mac Andrew (Suns, $282K)
Max Heath (Saints, $190K)
Alex Mirkov (Blues, $190K)
FORWARD
While a lot of credit is being given to the MID rookies for their hot start, there are a few FWD's performing just as well. One month into Josh Rachele's ($467K, 101, BE 19) career the Adelaide phenom has 10 goals and two fantasy 100's on his resume, with another huge score coming against the Bombers. He's already shaping up as a cult hero for the Crows and fantasy coaches will join the bandwagon if he keeps scoring at this rate. In that same contest, Nic Martin ($422K, 73, BE -7) maintained his hot start thanks to 22 disposals; proving that we can hold onto this pair for at least the next few rounds and play them without too many worries.
Tristan Xerri ($457K, 59, BE 26) was unlucky to not be mentioned above with the top forward cash cows, although his first score under 60 is a sore spot for some coaches – especially those who left Rachele on the pine. Xerri still outpaced Goldstein for ruck contests and hitouts, meaning the Kangaroos tall still possesses an impressive fantasy floor. For the 3rd consecutive week, Hugo Ralphsmith ($351K, 66, BE 9) topped 60 and seems to be carving out a role in Richmond's senior outfit and the return of Corey Durdin ($268K, DNP, BE 2) is bound to boost the forward line for both Carlton and fantasy benches around the globe.
Top-5
Josh Rachele (Crows)

Nic Martin (Bombers)

Tristan Xerri (Kangaroos) 

Hugo Ralphsmith (Tigers)

Corey Durdin (Blues)
There aren't too many challengers up forward with smalls like Malcolm Rosas ($228K, 58, BE 6) and Tyson Stengle ($388K, 59, BE 41) hard to trust. Those who are rocking with Stengle can probably cash him in and I'd be cautious before pursuing a Rosas trade. A season ago, the Gold Coast talent produced scores of 22, 44 and 27 and he needed three goals on the weekend just to get to 50+.
If you're going to invest in a small Willie Rioli ($407K, 70, BE 9) was probably the one to pounce on, with his price tag making it hard to justify selecting him now. Coaches still have an eager eye on Elijah Hollands ($190K, DNP, BE 25) and despite 89 points from 21 touches on the weekend, I think we'll have to keep waiting. I've heard/read more than one person praising Ollie Dempsey ($190K, DNP, BE 25) for his recent play in Geelong's VFL side and after four goals and 58 points, he could be a sniff to surprise in the next few rounds.
Best of the Rest
These players may or may not be in the selection mix this week, but be sure to keep them on your 2022 watchlist in case they burst onto the scene. In no particular order:
Ely Smith (Lions, $190K)
Jai Serong (Hawks, $190K)
Sam Darcy (Bulldogs, $288K)
Ned Long (Hawks, $190K)
Joel Jeffrey (Suns, $196K)
Sam Philp (Blues, $205K)
Arthur Jones (Bulldogs, $206K)
Jackson Callow (Hawks, $190K)
Ash Johnson (Magpies, $190K)
Maurice Rioli (Tigers, $190K)
---
FOLLOW ME ON TWITTER: @SportsbyFry for all things AFL Fantasy (and more)! Feel free to hit me up with any questions you have throughout the season. Good luck! ✌️