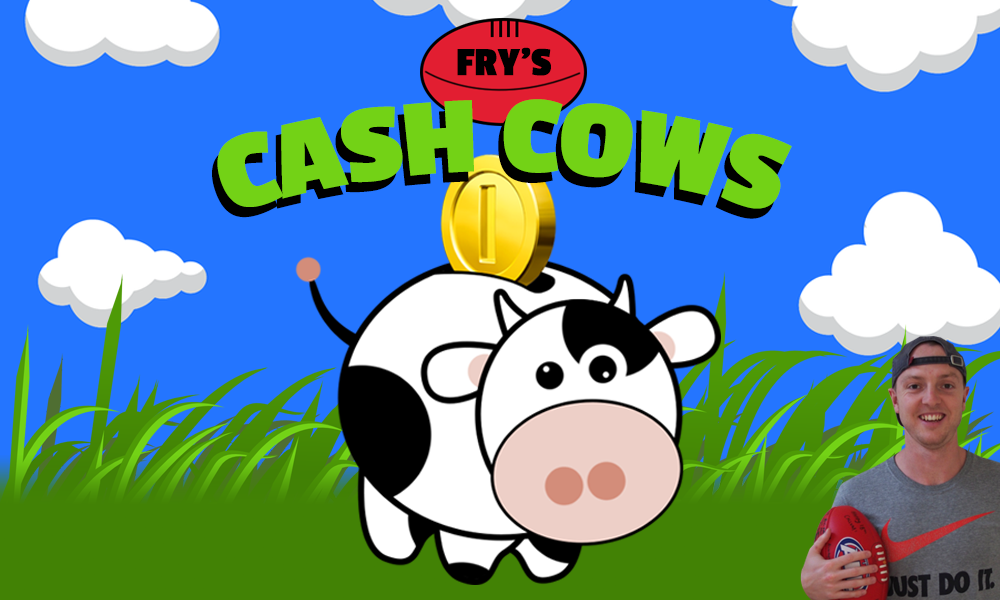 Five down, 18 to go!
There weren't as many lofty rookie scores in Round 5, although the welcome addition of some new DPP's helped to soften the blow for fantasy teams around the globe. While the large portion of players could be considered irrelevant for coaches, there were roughly half a dozen cash cows who increased their worth by adding a second position. A lot of those mainstream rooks are approaching peak value and toggling them around your squad to maximise their worth before being culled is a must for coaches who want to be successful.
Rookie/cash cows picks are players who start the season at $300,000 or lower
---
Power Ranking Cash Cows – Round 5
After five weeks of action, these are the top-10 cash cow performers in season 2022!
Power Ranking #AFLFantasy Cash Cows Round 5

1.N.Daicos – ↔️
2.T.Xerri – ⬆️ 2
3.N.Martin – ↔️
4.J.Horne-Francis – ↔️
5.J.Rachele – ⬇️ 3
6.N.O'Driscoll – ↔️
7.J.Hayes – NR
8.J.Ward – ⬇️ 1
9.B.Hobbs – NR
10.H.Ralphsmith – ⬇️ 2

NR = not ranked last week pic.twitter.com/QhUtR0CQ5p

— SportsbyFry (@sportsbyfry) April 19, 2022
Cash Cow King – Round 5
Newly labelled RUC/FWD Tristan Xerri (86) was the top scorer for the cash cows in Round 5 with high scoring rookies few and far between. North's lead ruckman outpaced first-year phenom Nick Daicos (80) who seems set to feature in the top-4 cash cow scorers every week, with reborn forwards Patrick Naish (82) and Tyson Stengle (80) rounding out the list. Xerri gets the nod for me this week and hopefully, the lofty point totals return next round.
Loading ...
Round 6 Rookie Rankings
DEFENCE
The top of the defensive pecking order hasn't changed with Nathan O'Driscoll ($346K, 68, BE -17) surviving the axe despite multiple big-name Dockers returning and NOD continuing to thrive on a wing against Essendon. Excluding his sub-affected score, O'Driscoll boasts an average of 79 and his negative breakeven means he'll keep soaring in value much to the delight of nearly half the league. Another solid score from Nasiah Wanganeen-Milera ($365K, 62, BE 18) will excite Saints fans and the few coaches who invested in him, but the DEF cash cow stocks continue to look dire outside of the top-2.
Currently the second most traded out player Paddy McCartin ($359K, 39, BE 51) has burned coaches for the last time, after three consecutive scores under 42. Surely McCartin has been removed from your field, but if not, you need an instant alternative. I don't endorse grabbing new Magpie recruit Nathan Kreuger ($318K, 67, BE 16) as his replacement and four goals in two games thus far have helped boosted his value with forgotten Sydney defender Will Gould ($190K, DNP, BE 25) the last member of the DEF group this week. To be clear I don't expect a debut anytime soon for Gould, but 24 touches (23 kicks) in the VFL for a score of 101 on the weekend will keep him in the mind of fantasy coaches.
Top-5
Nathan O'Driscoll (Dockers)

Nasiah Wanganeen-Milera (Saints)

Nathan Kreuger (Magpies)

Paddy McCartin (Swans)

Will Gould (Swans)*
* if named
If we don't see Gould crack the AFL soon, then there might be another debutant in Josh Fahey ($208K, DNP, BE 27) after his 95 points fuelled by 17 kicks for the Giants VFL side. There's a world in which Fahey comes in to replace Jake Stein ($251K, 46, BE 12) after his lacklustre scoring, although his impact for GWS isn't measured accurately by his fantasy numbers. On the topic of fantasy numbers, Sam Skinner ($208K, DNP, BE 16) and Joel Smith ($289K, DNP, BE 14) won't likely be cracking their respective senior sides after they both produced scores in the 50's last weekend and Josh Gibcus ($294K, DNP, BE 30) is no certainty to earn a recall for the Tigers either, not that a lot of teams would be hanging out for his return.
Best of the Rest
These players may or may not be in the selection mix this week, but be sure to keep them on your 2022 watchlist in case they burst onto the scene. In no particular order:
Darcy Wilmot (Lions, $260K)
Josh Fahey (Giants, $208K)
Isaac Chugg (Magpies, $190K)
Rory Thompson (Suns, $190K)
Garrett McDonagh (Bombers, $192K)
Bodhi Uwland (Suns, $190K)
MIDFIELD
Essendon didn't put on a show against the Dockers last round, but Ben Hobbs ($293K, 72, BE 9) was one of the shining lights for the Dons. The debutant and No. 13 pick from last year's draft filled up the stat sheet with 15 disposals, 6 marks and 5 tackles, hopefully in the process emerging as another trustworthy cash cow for fantasy teams. There were a lot of coaches that weren't putting their trust in Reef McInnes ($260K, 62, BE 6) after his 19-point showing in Round 4, however, the Collingwood youngster refound his mojo with a solid showing against the Lions.
Josh Ward ($395K, 58, BE 41) was given the flick by a heavy number of coaches before lockout stuck last weekend and his Easter Monday efforts won't see him clog up an M7-M8 spot for much longer. Scoring 25 points in the final quarter helped save Ward's score, but he has served his purpose as a cash cow and he'll be among the most popular trade out candidates this week. No one will likely be ditching Jason Horne-Francis ($489K, 54, BE 38) and/or Nick Daicos ($605K, 80, BE 35) with the latter of this pair perhaps the most important DPP addition; now able to be utilised as a very helpful defender.
Top-5
Nick Daicos (Magpies)

Jason Horne-Francis (Kangaroos)

Josh Ward (Hawks) 

Ben Hobbs (Bombers)

Reef McInnes (Magpies)
Daicos wasn't the only rook to add a new position with the likes of Connor Macdonald ($358K, 49, BE 40) and Jackson Mead ($306K, 40, BE 18) now classified as MID/FWD's. That doesn't mean they are irreplaceable, but an added position does increase their value for coaches and will likely see them keep their place in fantasy sides for a few more weeks. There isn't the same optimism with Marcus Windhager ($240K, 36, BE 11) and first-gamer Finn Callaghan ($292K, 45, BE 30) both of whom struggled to rack up points last week.
At the state league level, the return of Greg Clark ($190K, DNP, BE 25) was a welcome sight, with the mature-aged Eagle chalking up 92 points from 18 touches in his first game back from a shoulder injury. His teammate Brady Hough ($273K, DNP, BE 16) produced a near-identical stat line (92 points from 19 touches) and Fremantle's Karl Worner ($190K, DNP, BE 25) enjoyed his first WAFL game with 131 points, 2 goals and 31 touches. Cooper Stephens ($190K, DNP, BE 25) dropped another score in the 90's thanks to 19 disposals and 7 tackles while Bulldogs recruit Robbie McComb ($190K, DNP, BE 25) returned to action scoring 105 points from 28 touches.
 Best of the Rest
These players may or may not be in the selection mix this week, but be sure to keep them on your 2022 watchlist in case they burst onto the scene. In no particular order:
Greg Clark (Eagles, $190K)
Arlo Draper (Magpies, $202K)
Matty Roberts (Swans, $224K)
Matthew Johnson (Dockers, $250K)
James Tsitas (Suns, $190K)
Robbie McComb (Bulldogs, $190K)
Josh Goater (Kangaroos, $248K)
Hugh Jackson (Power, $190K)
Tom Joyce (Eagles, $190K)
RUCK
Once again, we are spoilt for choice with rookie rucks and last week's first gamer Sam Hayes ($209K, 51, BE 7) was able to produce a decent score and give us yet another option to utilise in the RUC department. The Port young gun will seemingly have an extended run as their lead ruck after Scott Lycett opted for surgery on his shoulder injury, making Hayes another solid cash cow investment.
The return of Jack Hayes ($410K, 70, BE 23) was a timely addition for coaches who slotted Preuss in at R2 and Hugh Dixon ($329K, 59, BE 0) kept trending in the right direction as well, holding his own in West Coast's hefty loss to the Swans. That trio, plus Tristan Xerri adding ruck status, now gives coaches a lot of options and flexibility with their ruck rotation.
Top-5
Jack Hayes (Saints)

Hugh Dixon (Eagles) 

Sam Hayes (Power)
Best of the Rest
These players may or may not be in the selection mix this week, but be sure to keep them on your 2022 watchlist in case they burst onto the scene. In no particular order:
Paul Tsapatolis (Cats, $190K)
Jacob Edwards (Kangaroos, $190K)
Luke Strnadica (Eagles, $190K)
Mac Andrew (Suns, $282K)
Max Heath (Saints, $190K)
Alex Mirkov (Blues, $190K)
FORWARD
Sticking with Tristan Xerri ($501K, 86, BE 32), the lumbering Roo got his scoring back on track against Tim English and the Bulldogs thanks to 20 touches and 26 hitouts. There aren't too many coaches who will move Xerri straight into one of their ruck slots, however, having the option to do so makes him more important as a cash cow and will likely see the North product hang around for the foreseeable future. His efforts saw Xerri snag the No. 1 forward ranking this week with Nic Martin ($476K, 68, BE 24) and Josh Rachele ($492K, 53, BE 48) not too far behind. Rachele's score in Round 5 wasn't as fruitful as coaches would've liked, but both he and Martin still have room to grow, proving that they can be trusted on our field.
The duo likely reside at F4-F6 for coaches at the moment and Martin in particular continues to produce pleasing scores, now eligible to be used as a MID following the new DPP additions. Willie Rioli ($442K, 58, BE 29) doesn't boast the same high ownership as the other two, and despite going goalless last week, he showed that he can still score and provide coaches with a trustworthy player capable of making another $50K-$100K. He and Corey Durdin ($300K, 46, BE 14) round out the FWD rankings this week, with Carlton's small solidifying a spot in the Blues' side that should see him continue to trend upwards as well.
Top-5
Tristan Xerri (Kangaroos) 

Nic Martin (Bombers)

Josh Rachele (Crows)

Corey Durdin (Blues)

Willie Rioli (Eagles)
Hugo Ralphsmith ($374K, 40, BE 30) lost his spot in the top-5 after the dashing Tiger was subbed out against Adelaide and appears set to miss a few weeks with a rib complaint. Some may want to turn to Malcolm Rosas ($276K, 73, BE -10) or Kai Lohmann ($257K, 39, BE 27) as a replacement, neither of which instil me with tons of confidence as a worthwhile cash cow. His low BE makes Rosas an option for those in dire need, but I wouldn't want to trust him on my field.
Similar could be said for Tyson Stengle ($417K, 80, BE 33) who produced another pleasing score, but I don't expect him to sustain those numbers. In the VFL, Elijah Hollands ($190K, DNP, BE 25) continues to push for a debut after 85 points with two snags and a five-goal haul from discarded Don Kaine Baldwin ($194K, DNP, BE 22) may see him earn a recall in the not so distant future. His teammate Tex Wanganeen ($201K, DNP, BE 21) had five shots on goal as well for his score of 68, but even if he cracks Essendon's senior team, it's wise to avoid Wanganeen.
Best of the Rest
These players may or may not be in the selection mix this week, but be sure to keep them on your 2022 watchlist in case they burst onto the scene. In no particular order:
Ely Smith (Lions, $190K)
Jai Serong (Hawks, $190K)
Sam Darcy (Bulldogs, $288K)
Ned Long (Hawks, $190K)
Joel Jeffrey (Suns, $196K)
Sam Philp (Blues, $205K)
Arthur Jones (Bulldogs, $206K)
Jackson Callow (Hawks, $190K)
Ash Johnson (Magpies, $190K)
Maurice Rioli (Tigers, $190K)
---
FOLLOW ME ON TWITTER: @SportsbyFry for all things AFL Fantasy (and more)! Feel free to hit me up with any questions you have throughout the season. Good luck! ✌️