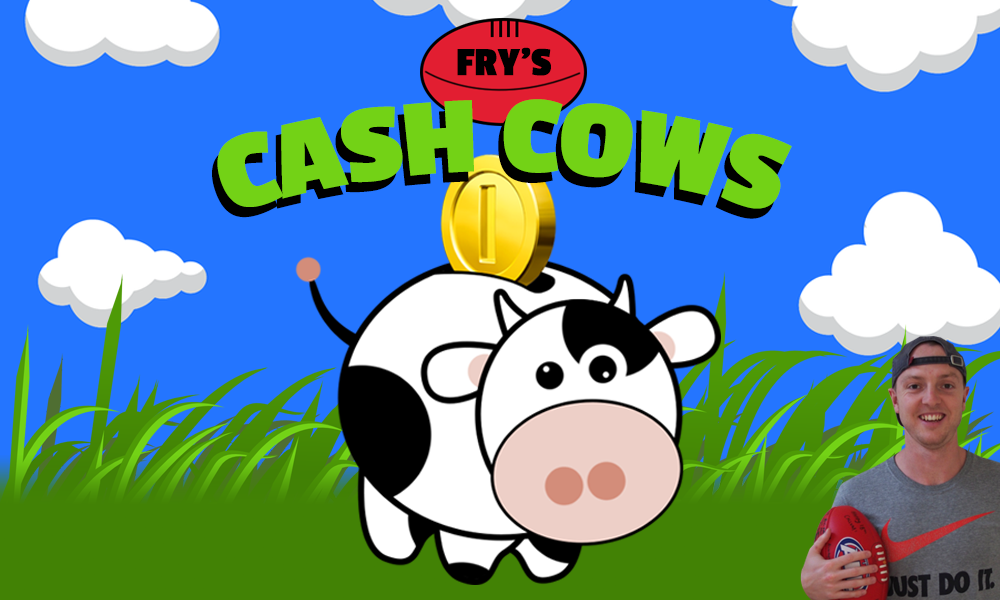 6 down, 17 to go!
With cash cows starting to score like stereotypical rooks and a lot of the mainstream picks topping out in value, coaches are facing a very important weekend of trades. The Brodie Grundy sized problem will see a lot of coaches undergo plenty of change in their ruck rotation, with the likes of Jack Hayes, Josh Rachele and Paddy McCartin all in the firing line!
Rookie/cash cows picks are players who start the season at $300,000 or lower
---
Mooooving On
Part of our weekly trade focus is to remove the rookie-priced players who are no longer making money. When a cash cow sees their average fall in line with their breakeven or they find themselves on the outside looking in for multiple weeks at a time, that's a good time to give them the axe.
Fattened cash cows
Josh Rachele, Crows ($488K, AVG 68, BE 69)
Josh Ward, Hawks ($406K, AVG 55, BE 48)
Connor MacDonald, Hawks ($355K, AVG 47, BE 53)
Jason Horne-Francis, Kangaroos ($511K, AVG 67, BE 70)
Corey Durdin, Blues ($311K, AVG 44, BE 35)
Injured/non-playing rookies
Jack Hayes, Saints ($408K, AVG 61, BE 65)
Patrick McCartin, Swans ($349K, AVG 46, BE 56)
Brady Hough, Eagles ($273K, AVG 43, BE 16)
Hugo Ralphsmith, Tigers ($374K, AVG 52, BE 30)
Sam Skinner, Power ($208K, AVG 33, BE 16)
Power Ranking Cash Cows – Round 6
After six weeks of action, these are the top-10 cash cow performers in season 2022!
Power Ranking #AFLFantasy Cash Cows Round 6

1. Nick Daicos – ↔️
2. Nic Martin – ⬆️ 1
3. Tristan Xerri – ⬇️ 1
4. JHF – ↔️
5. Nathan O'Driscoll – ⬆️ 1
6. Sam Hayes – NR
7. Josh Rachele – ⬇️ 2
8. Josh Ward – ↔️
9. Ben Hobbs – ↔️
10. Tyson Stengle – NR

NR = not ranked last week pic.twitter.com/KJ7gUisuGj

— SportsbyFry (@sportsbyfry) April 26, 2022
Cash Cow King – Round 6
Surprisingly, a reborn Josh Gibcus (89) posted the highest rookie score last weekend, with 12 marks fuelling the best score of his young career. We're starting to expect decent scores from Nic Martin (86) each week with Geelong forward Tyson Stengle (79) and young Port ruckman Sam Hayes (77) not too far behind. I think Gibcus deserves plenty of credit and he gets the vote for his efforts in Round 6, but this score may be a flash in the pan.
Loading ...
Round 7 Rookie Rankings
DEFENCE
Another week, another look at Nathan O'Driscoll ($398K, 56, BE 7) down back. The Dockers young gun is still the only real option in defence as a viable cash cow, even if the chatter around his job security refuses to die down. A tough task against Geelong means a lot of coaches who have him sitting at D6 will look to shuffle their team around, but I wouldn't go throwing Josh Gibcus ($336K, 89, BE 6) into that spot after his ripper effort vs. Melbourne. Those coaches who stuck with Paddy McCartin ($349K, 35, BE 56) this far will likely want to swing the axe as well, with his breakeven shooting upwards after he was subbed out against the Hawks, meaning he'll miss Round 7 too.
Top-5
Nathan O'Driscoll (Dockers)

Nasiah Wanganeen-Milera (Saints)

Josh Gibcus (Tigers)

Paddy McCartin (Swans)

Joel Smith (Demons)
'He detests the fact that we talk about it'.

Garry gives an insight into Paddy McCartin after he was concussed again on the weekend. pic.twitter.com/UxWRsEycoQ

— SEN Breakfast (@SENBreakfast) April 26, 2022
Bench fodders Sam De Koning ($238K, 45, BE 13) and Jake Stein ($255K, 17, BE 33) find themselves at opposite ends of the spectrum in the eyes of fantasy coaches with the former producing his best score of the season to increase his worth. Helping himself to 15 disposals should see De Koning keep his price ticking over, while another poor outing from Stein could see him make way for Josh Fahey ($208K, DNP, BE 27). The Giants backman was the best of the DEF cash cow performers in the 2's with forgotten backman Sam Skinner ($208K, DNP, BE 16) failing to light it up with just 49 points.
Best of the Rest
These players may or may not be in the selection mix this week, but be sure to keep them on your 2022 watchlist in case they burst onto the scene. In no particular order:
Darcy Wilmot (Lions, $260K)
Josh Fahey (Giants, $208K)
Isaac Chugg (Magpies, $190K)
Rory Thompson (Suns, $190K)
Garrett McDonagh (Bombers, $192K)
Bodhi Uwland (Suns, $190K)
MIDFIELD
We got what we expect out of Nick Daicos ($636K, 77, BE 59) and Jason Horne-Francis ($511K, 67, BE 52) on the weekend with JHF creeping towards being culled unless he can produce another lofty score. Daicos may have even been moved into the back-6 for coaches, freeing up a midfield spot for Ben Hobbs ($319K, 46, BE 15) who managed just 6 points in the second half after a promising start.
If Hobbs isn't residing at M7-M8, you may be thinking about giving Greg Clark ($190K, DNP, BE 25) the nod, with the mature-aged Eagle inches away from his senior debut. There's every chance he's selected in West Coast's outfit to take on the Tigers this Friday, and if he is, expect Clark to be one of the most traded in players after a fantasy average of 114.7 in his 19 WAFL games last season.
Top-5
Nick Daicos (Magpies)

Jason Horne-Francis (Kangaroos)

Ben Hobbs (Bombers)

Greg Clark (Eagles)*

Josh Ward (Hawks) 
* if named
We saw another mature-ager earn his debut last round with Robbie McComb ($210K, 53, BE 5) performing well enough for coaches to suggest he'll hold his spot. He and Marcus Windhager ($276K, 61, BE 5) are doing their job, although it may be time to consider trading out Connor MacDonald ($355K, 34, BE 53) and/or Reef McInnes ($266K, 13, BE 32) with the second-year Magpie registering just two touches on Anzac Day. For Fremantle's WAFL side, Neil Erasmus ($333K, DNP, BE 5) went OFF with 144 points from 34 disposals over the weekend, however, a late head knock will likely keep him out of contention for Round 7. Tyler Sonsie ($236K, DNP, BE 31) is another one to keep an eye on with the Tigers draftee maintaining his solid form in the VFL (23 touches for 77 points).
Best of the Rest
These players may or may not be in the selection mix this week, but be sure to keep them on your 2022 watchlist in case they burst onto the scene. In no particular order:
Greg Clark (Eagles, $190K)
Arlo Draper (Magpies, $202K)
Matty Roberts (Swans, $224K)
Matthew Johnson (Dockers, $250K)
James Tsitas (Suns, $190K)
Robbie McComb (Bulldogs, $190K)
Josh Goater (Kangaroos, $248K)
Hugh Jackson (Power, $190K)
Tom Joyce (Eagles, $190K)
RUCK
A season-ending ACL tear comes as devastating news for Jack Hayes ($408K, 18, BE 65) with the versatile Saint poised to be one of the most traded out players. Making a straight swap between him and his Port Adelaide counterpart Sam Hayes ($258K, 77, BE -15) could be a handy way to net some fast cash with the Power tall recording 47 hitouts against West Coast last weekend. Speaking of West Coast, Hugh Dixon ($329K, DNP, BE 0) still appears to be battling a niggling calf worry that may see him miss another 1-2 weeks of games, but I wouldn't be chopping out the RUC/FWD just yet. His replacement Luke Strnadica ($213K, 58, BE 2) performed admirably for the Eagles, but I can't see him becoming much of a fantasy factor moving forward.
Top-5
Sam Hayes (Power)

Hugh Dixon (Eagles)*

Luke Strnadica (Eagles)
* if named
Best of the Rest
These players may or may not be in the selection mix this week, but be sure to keep them on your 2022 watchlist in case they burst onto the scene. In no particular order:
Paul Tsapatolis (Cats, $190K)
Jacob Edwards (Kangaroos, $190K)
Mac Andrew (Suns, $282K)
Max Heath (Saints, $190K)
Alex Mirkov (Blues, $190K)
FORWARD
The battle at the top of the FWD rankings continued this week with Nic Martin ($520K, 86, BE 41) once again claiming the No. 1 slot for his heroics on Anzac Day. He produced his highest score for coaches since his Round 1 coming out party and a large portion of the competition would've reaped the rewards. Tristan Xerri ($523, 61, BE 55) continues to serve his purpose and play his role as a handy cash cow, but Josh Rachele ($488K, 40, BE 69) may find himself on the chopping block after his second straight lacklustre score. With the Giants on the horizon, Rachele gets one more life for me, but I won't blame you for cashing in the Crows cult hero.
Top-5
Nic Martin (Bombers)

Tristan Xerri (Kangaroos) 

Josh Rachele (Crows)

Malcolm Rosas (Suns)*

Ollie Dempsey (Cats)
* if named
Geelong newcomer Ollie Dempsey ($207K, 48, BE 9) may come as a surprise in the top-5 rankings for coaches and he doesn't have a fantasy-friendly matchup looming with Freo coming to town. Still, I'm backing the young gun to outperform the likes of Corey Durdin ($311K, 28, BE 35) and Willie Rioli ($441K, 25, BE 65) who have done their dash as worthwhile cash cows. Some coaches may also turn to Roos small Paul Curtis ($242K, 57, BE 10) after his impressive debut in which he managed four shots on goal and a well-rounded stat line. Lastly, we could see basement priced MID/FWD Ned Long ($190K, DNP, BE 25) join the list of debutants after another triple-figure score on the weekend for the Box Hill Hawks thanks to 7 marks and 10 tackles.
Best of the Rest
These players may or may not be in the selection mix this week, but be sure to keep them on your 2022 watchlist in case they burst onto the scene. In no particular order:
Ely Smith (Lions, $190K)
Jai Serong (Hawks, $190K)
Sam Darcy (Bulldogs, $288K)
Ned Long (Hawks, $190K)
Joel Jeffrey (Suns, $196K)
Sam Philp (Blues, $205K)
Arthur Jones (Bulldogs, $206K)
Jackson Callow (Hawks, $190K)
Ash Johnson (Magpies, $190K)
Maurice Rioli (Tigers, $190K)
---
FOLLOW ME ON TWITTER: @SportsbyFry for all things AFL Fantasy (and more)! Feel free to hit me up with any questions you have throughout the season. Good luck! ✌️