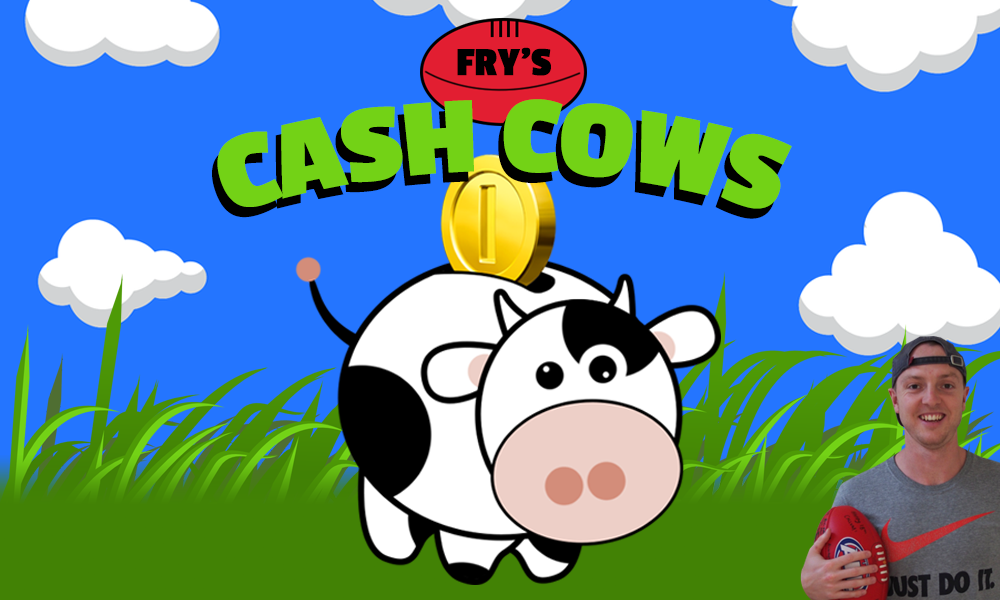 7 down, 16 to go!
Last Thursday was the first night of team selection that really battered fantasy coaches around. There was carnage amongst the ruck department and George Hewett's calf pulled up tight, but amongst all the chaos we were handed six AFL debutants; some of which have burst onto the scene as relevant cash cows to consider at the trade table. With a lot of coaches looking to get a rookie and a big name this week, it's worth taking a glance at your bye structure, even if it is just for 2 minutes.
Rookie/cash cows picks are players who start the season at $300,000 or lower
---
Mooooving On
Part of the weekly trade focus is to remove the rookie-priced players who are no longer making money. When a cash cow sees their average fall in line with their breakeven or they find themselves on the outside looking in for multiple weeks at a time, that's a good time to give them the axe.
Fattened cash cows
Josh Rachele, Crows ($472K, AVG 64, BE 76)
Jason Horne-Francos, Kangaroos ($513K, AVG 68, BE 68)
Connor MacDonald, Hawks ($353K, AVG 47, BE 49)
Willie Rioli, Eagles ($418K, AVG 55, BE 81)
Marcus Windhager, Saints ($304K, AVG, 48, BE 17)
Injured/non-playing rookies
Jack Hayes, Saints ($408K, AVG 61, BE 65)
Tristan Xerri, Kangaroos ($523K, AVG 73, BE 55)
Josh Ward, Hawks ($406K, AVG 55, BE 48)
Jackson Mead ($306K, AVG 45, BE 19)
Paddy McCartin ($349K, AVG 46, BE 56)
Power Ranking Cash Cows – Round 7
After seven weeks of action, these are the top-10 cash cow performers in season 2022!
Power Ranking #AFLFantasy Cash Cows Round 7

1. N.Martin – ⬆️ 1
2. N.Daicos – ⬇️ 1
3. N.O'Driscoll – ⬆️ 2
4. J.Horne-Francis – ↔️
5. G.Clark – NR
6. R.McComb – NR
7. S.Hayes – ⬇️ 1
8. N.Wanganeen-Milera – NR
9. T.Stengle – ⬆️ 1
10. J.Rachele – ⬇️ 3

NR = not ranked last week pic.twitter.com/0rIxbHEVyM

— SportsbyFry (@sportsbyfry) May 3, 2022
Cash Cow King – Round 7
Round 7 commenced with a fantasy debut for the ages from Greg Clark (110) with the mature-age Eagle starring against Richmond. No other rookie managed to top 100 on the weekend, with Nic Martin (91) the next closest as he continued his brilliant form while Tyson Stengle (87) and Jack Carroll (87) rounded out the nominees. Clarky gets my vote and I'm assuming he'll be the runaway choice this weekend.
Loading ...
Round 8 Rookie Rankings
DEFENCE
He's coming off his lowest score of the year, but Nick Daicos ($639K, 59, BE 87) is still the only rookie you want in your backline. George Hewett's absence in Round 7 forced coaches to move a few magnets around with Daicos' DEF/MID status proving to be extremely helpful. Another cash cow with DPP honours Nathan O'Driscoll ($439K, 63, BE 31) was likely forced onto the field by his owners after a number of outs and his 17 touches with a goal came at an opportune time. He continues to push job security concerns to the side and should hopefully score at a decent clip vs. North Melbourne next time out.
Goodness me Nathan O'Driscoll with one of the best snags we've seen this year!#ColesGoals | #AFLCatsFreo pic.twitter.com/IEOcKV5MeH

— AFL (@AFL) April 30, 2022
Nasiah Wanganeen-Milera ($417K, 81, BE 27) was the top-scoring rookie in defence, with the classy Saint filling up the stat sheet for his 81 points. He's found a home in roughly 8.5% of teams and there won't be too many coaches looking to ditch him just yet. The axe has already swung on Josh Gibcus ($378K, 64, BE 12) for the majority of the comp, although his handy scoring lately has been a welcome boost for those who still own Richmond's top-10 pick. Those still clinging to hope of a Will Gould ($190K, DNP, BE 25) debut won't be stoked to hear he registered just 8 touches and 34 points in the two's, but it is worth mentioning that came in a 59-point loss against Brisbane's VFL side.
Top-5
Nick Daicos (Magpies)

Nathan O'Driscoll (Dockers)

Nasiah Wanganeen-Milera (Saints)

Josh Gibcus (Tigers)

Will Gould (Swans)*
* if named
It's taken him a while, but it appears like Sam De Koning ($266, 51, BE 11) can make us some money as a respectable cash cow. I wouldn't trust him on my field, with Paddy McCartin ($349K, DNP, BE 56) in the same boat should he manage to return form his one-game absence, which is no guarantee. Josh Fahey ($208K, DNP, BE 27) kept himself in the mix for GWS after another solid game (27 disposals, 87 points) with another Giant DEF rookie in Jacob Wehr ($190K, DNP, BE 25) standing out with 27 touches of his own that resulted in 103 fantasy points.
Best of the Rest
These players may or may not be in the selection mix this week, but be sure to keep them on your 2022 watchlist in case they burst onto the scene. In no particular order:
Darcy Wilmot (Lions, $260K)
Josh Fahey (Giants, $208K)
Isaac Chugg (Magpies, $190K)
Josh Eyre (Bombers, $190K)
Rory Thompson (Suns, $190K)
Garrett McDonagh (Bombers, $192K)
Bodhi Uwland (Suns, $190K)
Jacob Wehr (Giants, $190K)
MIDFIELD
I've still got no problems with the coaches playing Nick Daicos in their midfield, but there's a new No. 1 this week. My hand has been forced after Greg Clark ($250K, 110, BE -31) went bananas in his AFL debut, amassing 24 disposals, 7 marks, 6 tackles and 110 points if you don't mind! 41 of those points came in the last quarter when the game was dead and gone, but it's still encouraging to see Clark scoring at this rate. Roughly 15,000 coaches traded the West Coast mature ager in last week and there are another 20,000 coaches making that move this round.
Robbie McComb ($265K, 83, BE -18) continued the party for experienced footballers early in their AFL career, with the 26-year old chalking up a very respectable score of 83 against the Dons. I've got a hunch his regular scoring will dip back below 70, but it's hard to justify starting Jason Horne-Francis ($513K, 52, BE 68) or Ben Hobbs ($331K, 30, BE 35) on your field over him right now. There's reason to believe Essendon may send Hobbs back to the VFL after his struggles, while Horne-Francis can be trusted a bit more if you ask me. However, a three-round average of just 58.3 has seen the talented Roo become the most traded out player this week.
Top-5
Greg Clark (Eagles)

Nick Daicos (Magpies)

Jason Horne-Francis (Kangaroos)

Robbie McComb (Bulldogs)

Ben Hobbs (Bombers)
He may be a bit stiff here with Carlton debutant Jack Carroll ($234K, 87, BE -16) missing the cut despite an impressive first game. Scores of 61 and 110 in the VFL this year suggest he can score well, but I want to see how/if he performs with George Hewett back in the side. Speaking of returns, with Jack Billings and Zak Jones looming as inclusions over the coming weeks, it might be time to think about parting with Marcus Windhager ($304K, 43, BE 17). Coaches could move him to Cooper Stephens ($190K, DNP, BE 25) when Geelong finally hand the on-baller a debut after he recorded 22 touches to go with 100 points in the VFL. Consistent form will keep Stephens in the selection frame and hopefully the young Cat will be rewarded in the near future.
Best of the Rest
These players may or may not be in the selection mix this week, but be sure to keep them on your 2022 watchlist in case they burst onto the scene. In no particular order:
Arlo Draper (Magpies, $202K)
Cooper Murley (Magpies, $194K)
Mitch Knevitt (Cats, $242K)
Matty Roberts (Swans, $224K)
Matthew Johnson (Dockers, $250K)
James Tsitas (Suns, $190K)
Cooper Stephens (Cats, $190K)
Josh Goater (Kangaroos, $248K)
Hugh Jackson (Power, $190K)
Tom Joyce (Eagles, $190K)
Bailey Laurie (Demons, $190K)
RUCK
A portion of coaches slotted Sam Hayes ($299K, 43, BE 3) into R3 with their trades last week and the Port ruckmen didn't exactly come to the party. Losing the hitout battle 37-12 against Paddy Ryder saw him score poorly, but Hayes will get a chance to bounce back and should keep ticking up in value. The late in of Hugh Dixon ($353K, 32, BE 29) on Friday night may have helped some coaches avoid a zero, although his 32 points weren't exactly a great addition.
His teammate Luke Strnadica ($248K, 51, BE -1) wasn't a great deal better, but over 11% of the fantasy community invested in the Eagles' tall and he should be able to make them a handy chunk of change. Aiden Begg ($218K, 64, BE -2) made the most of Brodie Grundy's absence in his first game as a Magpie and if he can hold his spot there's no reason why coaches couldn't consider him as a target too.
Top-5
Sam Hayes (Power)

Aiden Begg (Magpies)

Luke Strnadica (Eagles)
Best of the Rest
These players may or may not be in the selection mix this week, but be sure to keep them on your 2022 watchlist in case they burst onto the scene. In no particular order:
Paul Tsapatolis (Cats, $190K)
Jacob Edwards (Kangaroos, $190K)
Mac Andrew (Suns, $282K)
Max Heath (Saints, $190K)
Alex Mirkov (Blues, $190K)
FORWARD
With forward cash cows failing around him, Nic Martin ($558K, 91, BE 42) has stepped up to claim the mantle as the best FWD rookie going around. 25 touches against the Bulldogs in a heavy loss is no easy feat and there aren't many reasons to consider offloading the Essendon prospect just yet. Obviously, the same can't be said for Tristan Xerri ($523K, DNP, BE 55) who may have done his dash as a reliable cash cow. Luckily he can be chopped out to facilitate an upgrade, with Josh Rachele ($472K, 43, BE 76) in the same position. Over 13,000 coaches are cutting ties with Rachele following his string of dud scores, and his lofty breakeven means it's a perfect time to trade him out if you can.
Outside of the top handful, there aren't too many other FWD rookies I'd trust on the field right now. You could make an argument for Cooper Hamilton ($218K, 64, BE -2) after his solid score in his first career hitout or Tyson Stengle ($496K, 87, BE 24) thanks to his three-goal haul against Fremantle. We need a bigger sample size before taking the punt on Hamilton, but Stengle is trying to prove me wrong. Small forwards don't traditionally score too well, but the born-again Geelong small has 13 goals on the year already with four scores over 75.
Top-5
Nic Martin (Bombers)

Josh Rachele (Crows)

Tyson Stengle (Cate)

Cooper Hamilton (Giants)

Elijah Hollands (Suns)*
* if named
Coaches continue to anticipate Elijah Hollands ($190K, DNP, BE 25) getting named for Gold Coast and registering 93 points from 23 touches at reserve level on the weekend will help him creep closer to his first AFL game. At the more expensive end of the scale, a Hugo Ralphsmith ($374K, DNP, BE 30) return could also be on the horizon even though there won't be many coaches who have held the Richmond speedster for this long. Ollie Dempsey ($209K, 11, BE 25), Jackson Callow ($190K, 23, BE 25) or Maurice Rioli Jr ($226K, 76, BE -10) could be on the radar for coaches if they manage to hold their spots, but none of the trio excites me from a fantasy standpoint.
Best of the Rest
These players may or may not be in the selection mix this week, but be sure to keep them on your 2022 watchlist in case they burst onto the scene. In no particular order:
Ely Smith (Lions, $190K)
Elijah Hollands (Suns, $190K)
Jesse Motlop (Blues, $238K)
Jai Serong (Hawks, $190K)
Sam Darcy (Bulldogs, $288K)
Ned Long (Hawks, $190K)
Joel Jeffrey (Suns, $196K)
Shannon Neale (Cats, $190K)
Sam Philp (Blues, $205K)
Arthur Jones (Bulldogs, $206K)
Ash Johnson (Magpies, $190K)
Maurice Rioli (Tigers, $190K)
---
FOLLOW ME ON TWITTER: @SportsbyFry for all things AFL Fantasy (and more)! Feel free to hit me up with any questions you have throughout the season. Good luck! ✌️