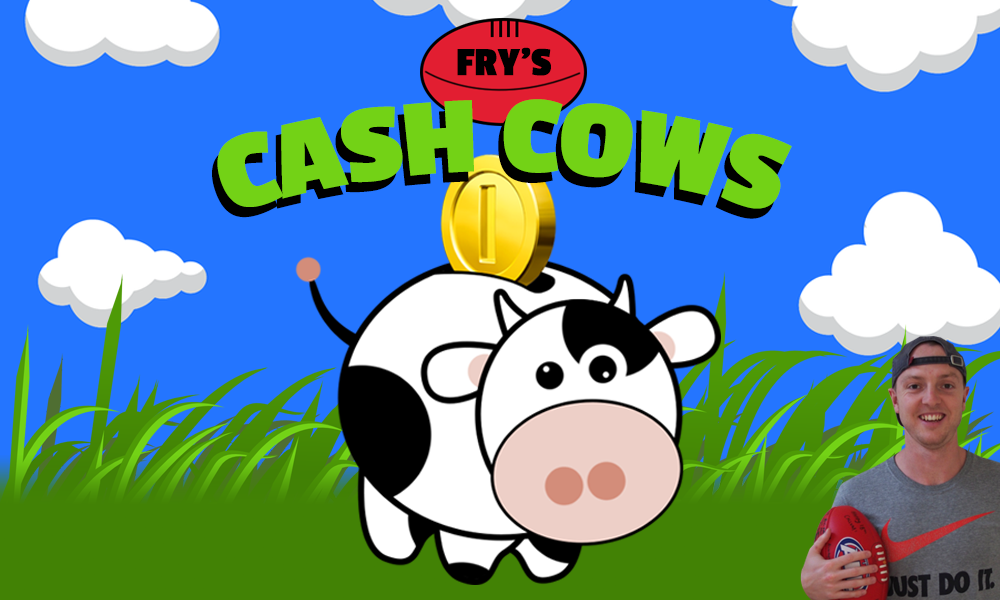 8 down, 15 to go!
Rookie picks are becoming more important than ever with the number of red dots starting to pile up on the bench for a lot of coaches. With a third or so of the season behind us, there are a few players like Josh Rachele and Josh Ward who have served their purpose as cash cows and they've already been chopped out of a lot of successful sides. While axing them is a good strategy, moving on those non-playing duds is also important and making the right rookie picks over the next month could be the launching point a lot of coaches need.
Rookie/cash cows picks are players who start the season at $300,000 or lower
---
Mooooving On
Part of the weekly trade focus is to remove the rookie-priced players who are no longer making money. When a cash cow sees their average fall in line with their breakeven or they find themselves on the outside looking in for multiple weeks at a time, that's a good time to give them the axe.
Fattened cash cows
Josh Rachele, Crows ($460K, AVG 63, BE 75)
Jason Horne-Francos, Kangaroos ($509K, AVG 67, BE 74)
Josh Ward, Hawks ($411K, AVG 55, BE 49)
Marcus Windhager, Saints ($301K, AVG, 41, BE 47)
Corey Durdin, Blues ($332K, AVG 45, BE 38)
Injured/non-playing rookies
Jack Hayes, Saints ($408K, AVG 61, BE 65)
Jackson Mead ($306K, AVG 45, BE 19)
Reef McInnes ($266K, AVG 38, BE 33)
Hugh Dixon, Eagles ($353K, AVG 51, BE 30)
Tristan Xerri, Kangaroos ($523K, AVG 73, BE 55)
Power Ranking Cash Cows – Round 8
After eight weeks of action, these are the top-10 cash cow performers in season 2022!
Power Ranking #AFLFantasy Cash Cows Round 8

1. Nic Martin – ↔️
2. Nick Daicos – ↔️
3. Tyson Stengle – ⬆️ 6
4. Nathan O'Driscoll – ⬇️ 1
5. Sam Hayes – ⬆️ 2
6. Ben Hobbs – NR
7. Jason Horne-Francis – ⬇️ 3
8. Greg Clark – ⬇️ 3
9. Paddy McCartin – NR
10. Jack Carroll – NR pic.twitter.com/4QjCL3RDan

— SportsbyFry (@sportsbyfry) May 10, 2022
Cash Cow King – Round 8
Prolific scores were few and far between from the rookies last week, with an unlikely hero emerging as the top scorer for the round. Tyson Stengle (114) is relishing his third chance at Geelong, posting a season-best score against GWS, with the ever-reliable Nic Martin (104) not too far behind him. A large portion of coaches would've been stoked with Ben Hobbs' (95) efforts and Round 8 also saw Nick Daicos (83) reside amongst the best cash cows. Hobbs is getting my vote this week for his performance against the Hawks, but this should be a tight vote.
Loading ...
Round 9 Rookie Rankings
DEFENCE
The absence of George Hewett has seen a big portion of the fantasy community plug Nathan O'Driscoll ($464K, 65, BE 48) onto their fields in recent times, with the young Docker performing admirably. His scoring hasn't been at the same level of Nick Daicos ($638K, 83, BE 90), but then again, there aren't many rookies that can keep up with the Collingwood jet. Some coaches looked to ditch the Rising Star favourite last week, but I'd want to hold Daicos at least until his bye arrives. I wouldn't want to be playing anyone other than those two in my backline right now even after the purple patches we've seen from Paddy McCartin ($371K, 86, BE 26) and Josh Gibcus ($401K, 44, BE 32). McCartin returned to action with his highest score of the year and Gibcus has shown promise too, but they're still best served as best options.
Top-5
Nick Daicos (Magpies)

Nathan O'Driscoll (Dockers)

Nasiah Wanganeen-Milera (Saints)

Josh Gibcus (Tigers)

Paddy McCartin (Swans)
Residing in over 60% of teams, Sam De Koning ($304K, 65, BE 7) keeps getting better and better, with his DPP status bound to be helpful with trade flexibility. A group of cheaper defenders took part in Round 8, but none of them impressed me enough to suggest you can pick them with confidence. Jordan Boyd ($251K, 40, BE 17) has been in and out of Carlton's side already this year and we haven't seen enough from the likes of Buku Khamis ($204K, 44, BE 12) and Rory Thompson ($200K, 39, BE 14) to pull the trigger.
Best of the Rest
These players may or may not be in the selection mix this week, but be sure to keep them on your 2022 watchlist in case they burst onto the scene. In no particular order:
Darcy Wilmot (Lions, $260K)
Josh Fahey (Giants, $208K)
Isaac Chugg (Magpies, $190K)
Josh Eyre (Bombers, $190K)
Rory Thompson (Suns, $190K)
Garrett McDonagh (Bombers, $192K)
Bodhi Uwland (Suns, $190K)
Jacob Wehr (Giants, $190K)
MIDFIELD
As alluring as the nightclub scene is in Perth, I'm hoping Greg Clark ($250K, DNP, BE -31) keeps making the right decisions and returns to action this week. Should he be named for West Coast, Clark is the clear No. 1 trade target amongst a midfield crop that is offering tons of value. Jack Carroll ($284K, 55, BE -10) is the newest name emerging after two games for Carlton and Ben Hobbs ($373K, 95, BE 12) rewarded the coaches who picked him with an unreal score against the Hawks. It's not all sunshine and rainbows, with my patience finally over for Jason Horne-Francis ($509K, 59, BE 74). A player who I thought could carry us through the bye rounds hasn't been excelling lately with just one score over 60 in his last four games. It's time to cut ties…
Top-5
Greg Clark (Eagles)*

Nick Daicos (Magpies)

Ben Hobbs (Bombers)

Jack Carroll (Blues)

Jason Horne-Francis (Kangaroos)
Robbie McComb ($313K, 50, BE -1) was stiff to not crack the top-5 this week and the Dogs midfielder is still poised to be an important cash cow for coaches over the next month. Geelong duo Mitch Knevitt ($266K, 66, BE 8) and Cooper Stephens ($210K, 53, BE 6) could be in the same position if they hold their spot in the Cats' side, with the pair playing their part in a big win over GWS. Over 20,000 sides currently own Stephens and now that he's broken through, hopefully he and/or Knevitt can hold a place in the best 22 for the foreseeable future. Keep your ear to the ground on names like James Tsitas ($190K, DNP, BE 25) and Tyler Sonsie ($236K, DNP, BE 31) as potential debutants after 116 (29 disposals) and 100 points (30 disposals) respectively in the VFL.
Best of the Rest
These players may or may not be in the selection mix this week, but be sure to keep them on your 2022 watchlist in case they burst onto the scene. In no particular order:
Arlo Draper (Magpies, $202K)
Cooper Murley (Magpies, $194K)
Matty Roberts (Swans, $224K)
Matthew Johnson (Dockers, $250K)
James Tsitas (Suns, $190K)
Josh Goater (Kangaroos, $248K)
Hugh Jackson (Power, $190K)
Tom Joyce (Eagles, $190K)
Bailey Laurie (Demons, $190K)
RUCK
I'm getting dizzy trying to keep up with the basement priced ruckmen playing for West Coast. Callum Jamieson ($211K, 73, BE -2) was the latest Eagle to step up to the plate, holding his own against Brisbane's two-pronged attack and scoring well in the process. I wouldn't be trusting him to replicate that, with the smarter investment Aiden Begg ($257K, 54, BE -4) or Sam Hayes ($341K, 63, BE 10). Paying over $300K for a rookie is considered taboo, but there's still some value to be made by adding Hayes in your R3 slot if you haven't already. Begg is also a solid trade target, with Brodie Grundy's injury paving the way for the young Magpie and Darcy Cameron to shoulder the workload.
Top-5
Sam Hayes (Power)

Aiden Begg (Magpies)

Callum Jamieson (Eagles)
Best of the Rest
These players may or may not be in the selection mix this week, but be sure to keep them on your 2022 watchlist in case they burst onto the scene. In no particular order:
Paul Tsapatolis (Cats, $190K)
Jacob Edwards (Kangaroos, $190K)
Mac Andrew (Suns, $282K)
Max Heath (Saints, $190K)
Alex Mirkov (Blues, $190K)
FORWARD
I don't need to spend too much time on Nic Martin ($602K, 104, BE 39) with the Essendon prospect making a case for Cash of the Year honours through one-third of the season, but let's address the Josh Rachele ($460K, 56, BE 75) issue. A large number of coaches have abandoned ship in recently and with a putrid average of just 48 points in the last month, you can understand why. He will once again be a popular trade out candidate, although there aren't too many viable FWD targets at the moment. GWS' Cooper Hamilton ($250K, 44, BE 2) is likely the next best rookie to aim for and while he only managed 10 touches on the weekend, Hamilton is better than his score suggests and hopefully he'll produce vs. the Blues this weekend.
Top-5
Nic Martin (Bombers)

Tyson Stengle (Cats)

Cooper Hamilton (Giants)

Elijah Hollands (Suns)*

Josh Rachele (Crows)
* if named
Keeping up with Elijah Hollands ($190K, DNP, BE 25) the untried Sun posted his regulation score of 87 from 27 touches but a debut doesn't appear to be too close on the horizon. You'd be smarter to invest in Maurice Rioli ($270K, 54, BE -8) who is throwing water on my "small forward don't score" take, with a negative breakeven already leading to over 2,000 coaches snapping up the exciting Tiger. Downgrading a player like Connor MacDonald ($356K, 52, BE 40) or Corey Durdin ($332K, 44, BE 38) to pull a move like that off wouldn't make you a ton of cash, but it could help patch up a red dot on your bench.
Best of the Rest
These players may or may not be in the selection mix this week, but be sure to keep them on your 2022 watchlist in case they burst onto the scene. In no particular order:
Ely Smith (Lions, $190K)
Elijah Hollands (Suns, $190K)
Jesse Motlop (Blues, $238K)
Jai Serong (Hawks, $190K)
Sam Darcy (Bulldogs, $288K)
Ned Long (Hawks, $190K)
Joel Jeffrey (Suns, $196K)
Shannon Neale (Cats, $190K)
Sam Philp (Blues, $205K)
Arthur Jones (Bulldogs, $206K)
Ash Johnson (Magpies, $190K)
Maurice Rioli (Tigers, $190K)
---
FOLLOW ME ON TWITTER: @SportsbyFry for all things AFL Fantasy (and more)! Feel free to hit me up with any questions you have throughout the season. Good luck! ✌️