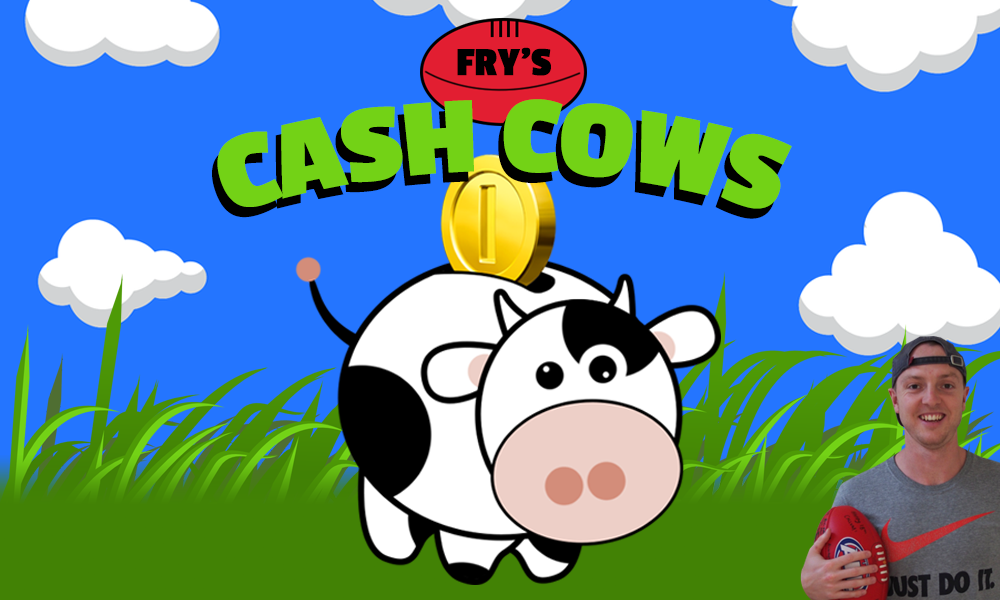 10 down, 13 to go!
With only one weekend of footy separating us from a new batch of dual-position players and the arrival of the first bye round, coaches are taking the chance to move on some of the most popular cash cows. Nic Martin and Nick Daicos find themselves amongst the favourite trade out candidates across the fantasy community as underpriced premiums stick their hands up as worthwhile replacements. A lot of coaches will rather turn their attention at the trade table to bye structure, with worthwhile bench pieces available in every line. Whatever your move, make sure you use these two trades wisely – green dots are going to become very important in June.
Rookie/cash cows picks are players who start the season at $300,000 or lower
---
Mooooving On
Part of the weekly trade focus is to remove the rookie-priced players who are no longer making money. When a cash cow sees their average fall in line with their breakeven or they find themselves on the outside looking in for multiple weeks at a time, that's a good time to give them the axe.
Fattened cash cows
Josh Rachele, Crows ($413K, AVG 58, BE 70)
Marcus Windhager, Saints ($311K, AVG, 43, BE 36)
Jason Horne-Francis, Kangaroos ($511K, AVG 68, BE 62)
Nic Martin, Bombers ($623K, AVG 84, BE 83)
Nick Daicos, Magpies ($611K, AVG 83, BE 87)
Injured/non-playing rookies
Nathan O'Driscoll, Dockers ($464K, AVG 62, BE 49)
Josh Ward, Hawks ($411K, AVG 55, BE 50)
Jack Hayes, Saints ($408K, AVG 61, BE 66)
Jake Stein, Giants ($255K, AVG 36, BE 34)
Connor Macdonald, Hawks ($356K, AVG 47, BE 46)
Power Ranking Cash Cows – Round 10
After 10 weeks of action, these are the top-10 cash cow performers in season 2022!
Power Ranking #AFLFantasy Cash Cows Round 10

1. Daicos – ⬆️ 1
2. Nic Martin – ⬇️ 1
3. Sam Hayes – ⬆️ 1
4. Greg Clark – ⬇️ 1
5. Paddy McCartin – ⬆️ 3
6. Ben Hobbs – ⬇️ 1
7. Corey Durdin – ⬆️ 2
8. Sam De Koning – NR
9. Tyson Stengle – ⬇️ 3
10. JHF – NR

NR = not ranked last week pic.twitter.com/Kd3picZ1Lm

— SportsbyFry (@sportsbyfry) May 24, 2022
Cash Cow King – Round 10
An unlikely five-goal haul saw Joel Jeffrey (83) end Round 10 as the highest-scoring rookie! There weren't too many coaches that owned the Gold Coast tall, although a portion of the fantasy community jumped on Jake Soligo (77) and would've been happy with what he produced. Cash cow mainstays Jason Horne-Francis (75) and Nick Daicos (75) rounded out the top-4 with Adelaide young gun Soligo getting the nod for my vote this round.
Loading ...
Round 11 Rookie Rankings
DEFENCE
There was a point not so long ago where defensive rookies were hard to find, but at the moment coaches are spoilt for choice. A decent score from Nick Daicos ($611K, 75, BE 87) means there's no immediate threat to his throne at No.1 although he still finds himself traded out of nearly 3,000 teams at the moment. A few decent downgrade targets in the form of Luke Cleary ($261K, 62, BE -9) and Jacob Wehr ($213K, 58, BE 2) could be the bench piece coaches are seeking, with Cleary impressing with another score in the 60's thanks to 16 touches and 6 marks against Gold Coast. Peaking in form as the byes arrive, Sam De Koning ($363K, 62, BE 22) will hopefully be able to provide squads with a boost during the best of 18 rounds. There are bound to be quiet outings, but the Geelong tall appears to be improving with every game he plays, emerging as an important part of their best-22.
Top-5
Nick Daicos (Magpies)

Paddy McCartin (Swans)

Nasiah Wanganeen-Milera (Saints)

Luke Cleary (Bulldogs)

Sam De Koning (Cats)
Paddy McCartin ($423K, 73, BE 27) still finds himself in 25% of teams and there's no reason why those coaches would be planning to trade out the Swans defender after his strong showing vs. Carlton. Time might be up though for Nasiah Wanganeen-Milera ($441K, 55, BE 52) and Josh Gibcus ($418K, 56, BE 42) with the pair approaching their bye and virtually maxing out in price. Before this weekend, flicking them to Buku Khamis ($251K, 21, BE 19) would've been a decent move, but after a serious failure against the Suns, not even the potential of DPP will entice coaches to chase the Bulldogs youngster. Those who rolled the dice on Rory Thompson ($207K, 17, BE 28) might need to consider aborting ship as well with the Gold Coast backman suffering a torn meniscus that will sideline him for an extended amount of time.
Best of the Rest
These players may or may not be in the selection mix this week, but be sure to keep them on your 2022 watchlist in case they burst onto the scene. In no particular order:
Darcy Wilmot (Lions, $260K)
Josh Fahey (Giants, $208K)
Isaac Chugg (Magpies, $190K)
Josh Eyre (Bombers, $190K)
Garrett McDonagh (Bombers, $192K)
Bodhi Uwland (Suns, $190K)

MIDFIELD
Thankfully, Greg Clark ($370K, 61, BE 1) managed to salvage his way to a respectable score in Round 10 despite another heavy West Coast L. The Eagles midfielder has been the primary focus as a cash cow in recent weeks, however, he took a back seat on the weekend to Jake Soligo ($255K, 77, BE -10) with the Adelaide prospect drawing the interest of coaches. An average over 100 in the NAB League suggested he could score well if given the chance and gathering 19 disposals and a goal on the weekend should see him get more opportunity for the Crows.
Top-5
Greg Clark (Eagles)

Nick Daicos (Magpies)

Jake Soligo (Crows)

Jason Horne-Francis (Kangaroo)

Ben Hobbs (Bombers)
Jason Horne-Francis ($511K, 75, BE 62) returned for North to take on Melbourne and there are still close to 40,000 teams who own last year's No. 1 overall pick. I wouldn't go trying to reintegrate JHF into your teams, but if you've stuck with him for this long then he should be a solid source of points during the bye rounds. Jack Carroll ($337K, 51, BE 28) and Robbie McComb ($368K, 62, BE 29) are still serving their purpose as cash cows and the injury woes of Patrick Dangerfield open the door for Cooper Stephens ($253K, 67, BE -8) to get an extended run of games. He played his role against Port Adelaide last weekend and there's every chance Stephens can boost his value and make some handy cash for coaches if he stays in the side.
Best of the Rest
These players may or may not be in the selection mix this week, but be sure to keep them on your 2022 watchlist in case they burst onto the scene. In no particular order:
Arlo Draper (Magpies, $202K)
Cooper Murley (Magpies, $194K)
Matty Roberts (Swans, $224K)
Matthew Johnson (Dockers, $250K)
James Tsitas (Suns, $190K)
Josh Goater (Kangaroos, $248K)
Hugh Jackson (Power, $190K)
Tom Joyce (Eagles, $190K)
Bailey Laurie (Demons, $190K)
RUCK
Trade plans were sent scrambling for coaches when news broke surrounding Braydon Preuss' absence for Round 10, but luckily, Sam Hayes ($403K, 70, BE 29) came to the rescue. Thriving as the sole ruck for the Power, Hayes recorded 35 hitouts against the Cats, currently sitting 4th in the AFL for average hitouts a game. If Hayes wasn't residing at R3, hopefully a boost came from Hugh Dixon ($370K, 59, BE 43) with he and Callum Jamieson ($273K, 60, BE 3) soring reasonably well for the Eagles on the weekend. The solid rookie ruck scores stopped there with Tristan Xerri ($508K 32, BE 82) recording just two touches in his return for the Roos. Given his prolonged absence, Xerri was probably dumped from the majority of fantasy sides long ago, but if he's still chewing up a valuable bench spot it's time to pull the trigger.
Top-5
Sam Hayes (Power)

Callum Jamieson (Eagles)

Hugh Dixon (Eagles)
Best of the Rest
These players may or may not be in the selection mix this week, but be sure to keep them on your 2022 watchlist in case they burst onto the scene. In no particular order:
Paul Tsapatolis (Cats, $190K)
Jacob Edwards (Kangaroos, $190K)
Mac Andrew (Suns, $282K)
Max Heath (Saints, $190K)
Alex Mirkov (Blues, $190K)
FORWARD
Currently, Nic Martin ($623K, 65, BE 83) finds himself as the most traded out player in the game with the Essendon excitement machine peaking in value. The number of coaches swinging the axe would've been higher if he didn't produce a 44-point final quarter, but I can see the appeal in flicking Martin for an upgrade around the ground. Fieldable FWD cash cows are hard to come by after Martin with Corey Durdin ($393K, 65, BE 21) and Tyson Stengle ($580K, 61, BE 79) the next best of the bunch, although it's hard to trust either of them for a long period of time. Speaking of trust, Josh Rachele ($413K, 40, BE 75) continues to dud it up for coaches and after being subbed out against the Saints there are no guarantees he takes to the field in Round 11. Act accordingly.
Top-5
Nic Martin (Bombers)

Corey Durdin (Blues)

Tyson Stengle (Suns)

Josh Rachele (Crows)

Elijah Hollands (Suns)*
* if named
There are another pair of small forward rookies emerging with Sam Butler ($240K, 45, BE 26) and Isiah Winder ($251K, 57, BE 5) stringing together multiple games for their respective sides. Targetting either of them could provide you with a playable cash cow for a few weeks, but don't expect too much from a scoring punch. Joel Jeffrey ($242K, 83, BE -11) is in the same boat when it comes to a lack of lofty scores with his surprise performance in Round 10 more likely a flash in the pan. Jeffrey had never scored over 40 in his previous five AFL games and it's wise to at least take another week before bringing him in. His spot in Gold Coast's team shouldn't affect the potential of an Elijah Hollands ($190K, DNP, BE 26) debut, with the untried Sun continuing to put up numbers in the VFL as he eyes a chance at senior level. 25 touches, 2 goals, 5 marks and 7 tackles all for 120 points against Footscray; give the man a gig Dewy!
Best of the Rest
These players may or may not be in the selection mix this week, but be sure to keep them on your 2022 watchlist in case they burst onto the scene. In no particular order:
Ely Smith (Lions, $190K)
Elijah Hollands (Suns, $190K)
Jesse Motlop (Blues, $238K)
Jai Serong (Hawks, $190K)
Sam Darcy (Bulldogs, $288K)
Ned Long (Hawks, $190K)
Joel Jeffrey (Suns, $196K)
Shannon Neale (Cats, $190K)
Sam Philp (Blues, $205K)
Arthur Jones (Bulldogs, $206K)
Ash Johnson (Magpies, $190K)
Maurice Rioli (Tigers, $190K)
---
FOLLOW ME ON TWITTER: @SportsbyFry for all things AFL Fantasy (and more)! Feel free to hit me up with any questions you have throughout the season. Good luck! ✌️