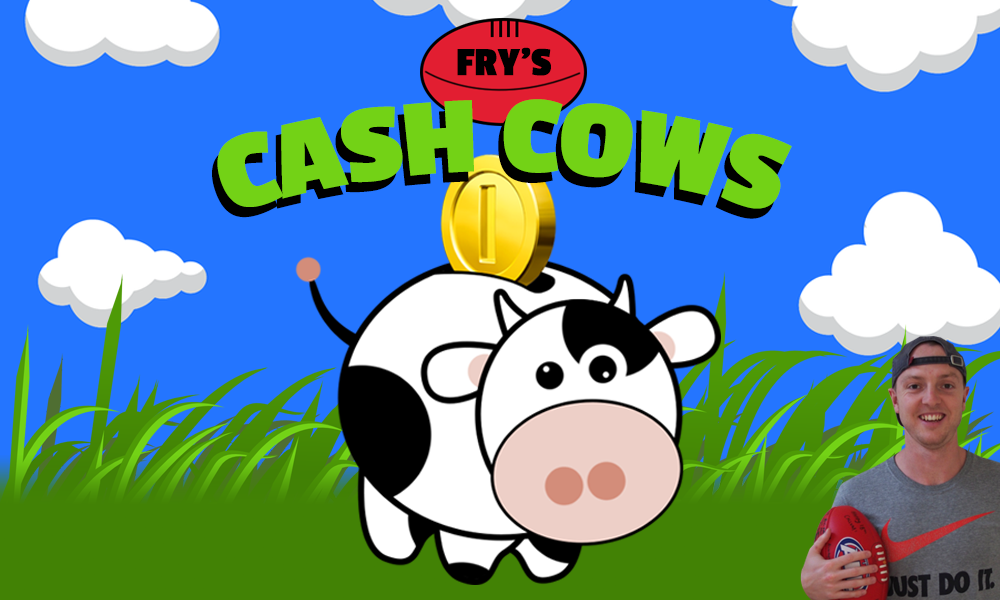 11 down, 12 to go!
Good news, coaches will have 9 trades to use over the next three weeks. Bad news, we're going to need them to survive. The bye rounds can emerge as a make or break point for fantasy coaches with a heavy focus on the number of green dots in your side. While fielding as many players as possible is crucial, it's important to still chase upgrades and aim to improve your squad throughout the next three weeks. The last thing you want to do is chase a playing rookie only to enter Rd 15 with a pair of $200k priced players who aren't going to grow anymore in value…
Rookie/cash cows picks are players who start the season at $300,000 or lower
---
Mooooving On
Part of the weekly trade focus is to remove the rookie-priced players who are no longer making money. When a cash cow sees their average fall in line with their breakeven or they find themselves on the outside looking in for multiple weeks at a time, that's a good time to give them the axe.
Fattened cash cows
Sam Hayes, Power ($408K, AVG, 56, BE 50)
Corey Durdin, Blues ($400K, AVG 49, BE 48)
Marcus Windhager, Saints ($320K, AVG, 44, BE 33)
Jason Horne-Francis, Kangaroos ($517K, AVG 68, BE 60)
Nick Daicos, Magpies ($589K, AVG 80, BE 93)
Injured/non-playing rookies
Josh Rachele, Crows ($413K, AVG 58, BE 70)
Sam Skinner, Power ($208K, AVG 33, BE 17)
Jack Hayes, Saints ($408K, AVG 61, BE 66)
Nathan O'Driscoll, Dockers ($464K, AVG 62, BE 49)
Josh Ward, Hawks ($411K, AVG 55, BE 50)
Power Ranking Cash Cows – Round 11
After 11 weeks of action, these are the top-10 cash cow performers in season 2022!
Power Ranking #AFLFantasy Cash Cows Round 11

1. N Martin – ⬆️ 1
2. N Daicos – ⬇️ 1
3. G Clark – ⬆️ 1
4. S De Koning – ⬆️ 4
5. J Soligo – NR
6. B Hobbs – ↔️
7. S Hayes – ⬇️ 4
8. P McCartin – ⬇️ 3
9. N Wanganeen-Milera – NR⁰10. T Stengle – ⬇️ 1

NR = not ranked last week pic.twitter.com/ldVgXFDfLH

— SportsbyFry (@sportsbyfry) May 31, 2022
Cash Cow King – Round 11
To the large majority of coaches who traded out Nic Martin (113), it might be wise to continue scrolling. The Dons prodigy produced another epic score last time out, ending the round as the top-scoring cash cow thanks to 25 touches and 12 marks. Forgotten young guns Brady Hough (99) and Mitch Owens (95) thrived over the weekend too with Sam De Koning (83) producing a season-high score against the Crows. Easy vote in my eyes, but it's nice to see some new names in the fold.
Loading ...
Round 12 Rookie Rankings
DEFENCE
It's highly likely that coaches will have at least one red dot in their backline prior to trades this week, with a high reliance on the likes of Sam De Koning ($406K, 83, BE 18) and/or Paddy McCartin ($441K, 50, BE 43) to produce. Fresh off the best score of his career, it's unfair to see SDK repeating his heroics with another 70+ against the Bulldogs, with McCartin in the same boat. Now would be a perfect time for them to chalk up a high number of +6's though to help cover the absences of Jayden Short, George Hewett and more. Coaches will possibly flick Nick Daicos ($589K, 53, BE 93) back if they haven't already, but after failing to crack 60 and with his cash generation stalling some coaches are swinging the axe. I don't blame them, but I still need to trust the younger Daicos for another fortnight.
A comprehensive list of players who should be named as this week's Rising Star 📝⭐️
1. Sam De Koning
– List ends.#GeelongStrong pic.twitter.com/1YZghmTVUz

— Geelong Cats (@GeelongCats) May 29, 2022
Top-4
Nick Daicos (Magpies)

Paddy McCartin (Swans)

Sam De Koning (Cats)

Buku Khamis (Bulldogs)
A lot of coaches may look to offload Josh Gibcus ($422K, 45, BE 59) now that his bye round has arrived, although there aren't too many downgrade targets making themselves known. The job security of Jacob Wehr ($256K, 64, BE -8) could be under threat when Lachie Whitfield returns and it's wise to wait a week on the young Giant despite his solid scores. Karl Worner ($190K, DNP, BE 25) could stick his hand up as a target if Fremantle rewards him for his strong WAFL form (95 points and 25 touches on the weekend), but he seems to be just outside the selection mix – with Port Adelaide's Jase Burgoyne ($190K, DNP, BE 25) finding himself in the same position (117 points and 33 disposals).
Best of the Rest
These players may or may not be in the selection mix this week, but be sure to keep them on your 2022 watchlist in case they burst onto the scene. In no particular order:
Darcy Wilmot (Lions, $260K)
Josh Fahey (Giants, $208K)
Isaac Chugg (Magpies, $190K)
Josh Eyre (Bombers, $190K)
Garrett McDonagh (Bombers, $192K)
Bodhi Uwland (Suns, $190K)

MIDFIELD
There aren't too many contenders coming for Greg Clark's ($413K, 62, BE 23) throne right now, with Jake Soligo ($304K, 61, BE -6) the only possible threat. Coaches will once again rely on the duo to perform in Round 12 and it's a shame that they share the same bye round which could complicate things next weekend for some teams. Both Clark and Soligo are decent trade targets for non-owners with mainstream rookies like Daicos and Jason Horne-Francis ($517K, 69, BE 60) the next best fieldable options. If coaches are flush with players in their midfield, Mitch Owens ($266K, 95, BE -8) may be in their sights with nearly 5,000 teams already choosing to trade him in. While grabbing a player on their bye is fraught with danger, you'd think the exciting Saint will hold his place after kicking two goals and laying 10 tackles. Right?
Top-4
Greg Clark (Eagles)

Jake Soligo (Crows)

Nick Daicos (Magpies)

Jason Horne-Francis (Kangaroo)
Another trio of Rd 13 bye players could make their way onto the field this week with the new MID/FWD Robbie McComb ($387K, 55, BE 39) still holding onto his spot in the Bulldogs side. DPP will make him a handy asset in the next few weeks, but pure MID's Brady Hough ($306K, 99, BE 4) and Cooper Stephens ($293K, 49, BE 2) could also loom as trustworthy players. Their inflated price may make some pause before they pounce on Hough or Stephens with one of their three trades, but offloading a maxed out cash cow to one (or maybe both) of them is still a solid play. Unfortunately, Matty Roberts ($209K, 6, BE 43) managed to lose money last week, registering just two touches from his 49% TOG, all but ruling him out as a downgrade option. The news is more promising for Richmond youngster Tyler Sonsie ($236K, DNP, BE 31) with his impressive performances in the two's (82 points and 23 disposals) bound to lead to an AFL debut before too long.
Best of the Rest
These players may or may not be in the selection mix this week, but be sure to keep them on your 2022 watchlist in case they burst onto the scene. In no particular order:
Arlo Draper (Magpies, $202K)
Cooper Murley (Magpies, $194K)
Matthew Johnson (Dockers, $250K)
James Tsitas (Suns, $190K)
Josh Goater (Kangaroos, $248K)
Hugh Jackson (Power, $190K)
Tom Joyce (Eagles, $190K)
Bailey Laurie (Demons, $190K)
RUCK
Following a rough outing against the Bombers, Sam Hayes ($408K, 34, BE 50) has quickly reached his near peak value and as a result, he'll become a popular trade out candidate. Now would be the perfect time for another cash cow to make themselves known, but it's slim pickings out there with Callum Jamieson ($296K, 35, BE 19) the only other rookie priced RUC* to take to the field. A three-goal haul from Hugh Dixon ($370K, DNP, BE 44) boosts his chances of returning, although I wouldn't be holding my breath and another possible option in Magpies tall Aiden Begg ($269K, DNP, BE 26) recorded 85 points (18 hitouts, 7 tackles and 17 touches) over the weekend. I can't imagine he'll push Cameron/Cox out of Collingwood's side after their Round 11 W, leaving coaches hoping that one of the new mid-season draftees will bob up for a game ASAP.
* Do not touch Caleb Graham!
Top-2
Callum Jamieson (Eagles)

Hugh Dixon (Eagles)*
* if named
Best of the Rest
These players may or may not be in the selection mix this week, but be sure to keep them on your 2022 watchlist in case they burst onto the scene. In no particular order:
Paul Tsapatolis (Cats, $190K)
Jacob Edwards (Kangaroos, $190K)
Mac Andrew (Suns, $282K)
Max Heath (Saints, $190K)
Alex Mirkov (Blues, $190K)
FORWARD
The fieldable rookie prospects are dire in the forward line, making the added FWD status for Horne-Francis and McComb important to help soften the blow. The form of Tyson Stengle ($565K, 54, BE 91) has been talked about before and while it's a rollercoaster ride, there are still some coaches who are putting their faith into the reborn Cat. A larger group of coaches are still riding with Josh Rachele ($413K, 58, BE 70), who is in line to hopefully return from a cork complaint. It's hard to see him or the other playing cash cows, such as Joel Jeffrey ($291K, 57, BE -6) and Connor MacDonald ($360K, 49, BE 43) emerging as our saviour over the next two weeks, but the fantasy community will be hoping they can surprise us and churn out scores over 60.
Top-4
Tyson Stengle (Suns)

Josh Rachele (Crows)*

Joel Jeffrey (Suns)

Connor MacDonald (Hawks)
* if named
There are still a number of small forwards priced under the $300k threshold, however, none of them offers the fantasy upside to warrant a trade. He won't take to the field this week, but Hugo Ralphsmith ($395K, 60, BE 38) could entice coaches when he returns from his bye even though he's made most of his money. If you've made it this far you be wondering why there's no Tristan Xerri ($481K, 39, BE 89) mention, although if you look at his recent scores you'll understand why he's not on the radar. His teammate and potential DEF/FWD debutant Matt McGuinness ($190K, DNP, BE 25) may be the basement rookie coaches are praying for after the 22 year old scored 120 points from 25 touches (22 kicks) against Sandringham.
Best of the Rest
These players may or may not be in the selection mix this week, but be sure to keep them on your 2022 watchlist in case they burst onto the scene. In no particular order:
Ely Smith (Lions, $190K)
Elijah Hollands (Suns, $190K)
Jai Serong (Hawks, $190K)
Sam Darcy (Bulldogs, $288K)
Ned Long (Hawks, $190K)
Sam Philp (Blues, $205K)
Arthur Jones (Bulldogs, $206K)
Ash Johnson (Magpies, $190K)
---
FOLLOW ME ON TWITTER: @SportsbyFry for all things AFL Fantasy (and more)! Feel free to hit me up with any questions you have throughout the season. Good luck! ✌️