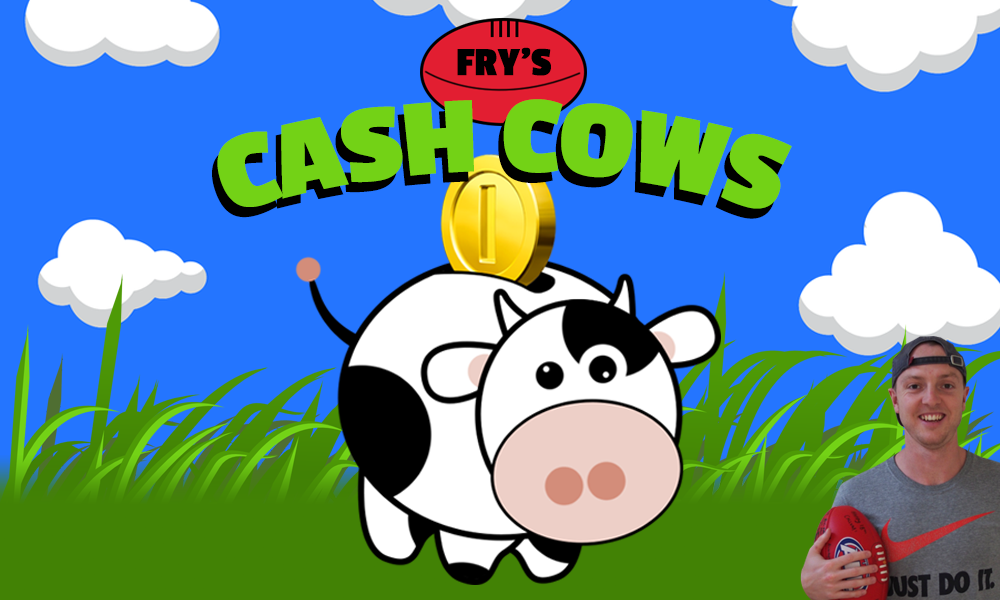 12 down, 11 to go!
Trading out Nick Daicos was never on my radar before his bye round arrived, but the appeal of three trades makes coaches do stupid things. As popular performers Tom Stewart and Bailey Smith head for a rest, those three trades will once again come in handy as coaches look to chase the premium players who are fresh off their Round 12 bye rest. Unfortunately, there aren't too many cash cows putting their hand up for selection at the trade table, although Thursday night teams could present us with a gift from the fantasy gods. Either way, remember to keep a long-term view with your trio of moves this week – we've only just completed the first half of the fantasy season…
Rookie/cash cows picks are players who start the season at $300,000 or lower
---
Mooooving On
Part of the weekly trade focus is to remove the rookie-priced players who are no longer making money. When a cash cow sees their average fall in line with their breakeven or they find themselves on the outside looking in for multiple weeks at a time, that's a good time to give them the axe.
Fattened cash cows
Robbie McComb, Bulldogs ($408K, AVG, 56, BE 50)
Paddy McCartin, Swans ($460K, AVG 55, BE 49)
Sam De Koning, Cats ($433K, AVG 48, BE 36)
Corey Durdin, Blues ($400K, AVG 49, BE 48)
Jason Horne-Francis, Kangaroos ($517K, AVG 68, BE 60)
Injured/non-playing rookies
Josh Rachele, Crows ($413K, AVG 58, BE 70)
Sam Skinner, Power ($208K, AVG 33, BE 17)
Jack Hayes, Saints ($408K, AVG 61, BE 66)
Nathan O'Driscoll, Dockers ($464K, AVG 62, BE 49)
Reef McInnes, Magpies ($267K, AVG 37, BE 38)
Power Ranking Cash Cows – Round 12
After 12 weeks of action, these are the top-10 cash cow performers!
Power Ranking #AFLFantasy Cash Cows Round 12

1. Nick Daicos – ⬆️ 1
2. Nic Martin – ⬇️ 1
3. Greg Clark – ↔️
4. Jake Soligo – ⬆️ 1
5. Sam De Koning – ⬇️ 1
6. Paddy McCartin – ⬆️ 2
7. Ben Hobbs – ⬇️ 1
8. Sam Hayes – ⬇️ 1
9. JHF – NR⁰10. Joel Jeffrey – NR

NR = not ranked last week pic.twitter.com/L1pQrw8Wmz

— SportsbyFry (@sportsbyfry) June 7, 2022
Cash Cow King – Round 12
Popular trade out candidate Nick Daicos (109) will get the majority of the votes this week after the Magpies gun recorded his third fantasy ton of the season vs. Hawthorn. Rounding out the nominees were Tyson Stengle (65), Greg Clark (71) and Paddy McCartin (68); all of whom posted similar point totals and did their job for coaches as best-of-18 contributors. Clark probably edges out the other two due to his popularity, but everyone is fighting for second place this week.
Loading ...
Round 13 Rookie Rankings
DEFENCE
A couple of popular DEF/FWD rookies who have hit the week off loom as great offloads with Sam De Koning ($433K, 54, BE 36) and Paddy McCartin ($460K, 68, BE 49) serving their purpose as cash cows. Technically, the pair should continue to rise in value after their bye, but trading them out for another defender rookie would help facilitate another upgrade around the ground. My favourite target is Jacob Wehr ($256K, BYE, BE -9) although, coaches are well aware his place in GWS' side appears to be shaky at best.
Carlton mid-season draftee Sam Durdin ($195K, BYE, BE 26) is also amongst the most traded in players this week, but I wouldn't go pulling the trigger unless Carlton makes the unlikely announcement that he's in, especially following the news that Caleb Marchbank ($294K, BYE, BE 39) is returning to the fold. With few downgrade targets emerging, some may bite on Marchbank and I can see the appeal despite the fact the Blues back hasn't played since 2019. The coaches who held onto Nick Daicos ($603K, 109, BE 66) or Josh Gibcus ($422K, BYE, BE 59) over his bye round will slot them into their on-field slots, but there's nothing wrong with parting ways with either of the 2021 draftees to get in a proven performer.
So, what's all this about then?

🥲🥲🥲🥲🥲

— Carlton FC (@CarltonFC) June 7, 2022
Top-4
Nick Daicos (Magpies)

Jacob Wehr (Giants)*

Josh Gibcus (Tigers)

Sam Durdin (Blues)*
* if named
The cash cow options down back are drying up fast with a lack of reliable rooks putting their hand up. Currently on the bye, Luke Cleary ($261K, DNP, BE -9) didn't exactly push for selection after scoring 32 points from 11 touches in the VFL and despite Sam Skinner ($208K, BYE, BE 17) clearing concussion protocol he's still well and truly buried behind bigger names on Port's depth chart. I am contractually obligated to mention Sydney fable Will Gould ($190K, DNP, BE 25) and his 24 disposals that led to 100 points, with Josh Worrell ($190K, DNP, BE 25) another decent performer at state level thanks to 22 touches for a score of 97.
Best of the Rest
These players may or may not be in the selection mix this week, but be sure to keep them on your 2022 watchlist in case they burst onto the scene. In no particular order:
Darcy Wilmot (Lions, $260K)
Josh Fahey (Giants, $208K)
Isaac Chugg (Magpies, $190K)
Josh Eyre (Bombers, $190K)
Garrett McDonagh (Bombers, $192K)
Bodhi Uwland (Suns, $190K)

MIDFIELD
One of the most popular trade targets prior to Round 12 has once again seen his ownership shoot upwards with Mitch Owens ($266K, BYE, BE -8) now sitting on over 16% of fantasy sides. There are no guarantees he takes the field against the Lions, but I (and the rest of the fantasy community) will be stunned if he's left out of St Kilda's outfit on the weekend. Owens could be a solid trade piece involved in a Greg Clark ($448K, 71, BE 38) or Jake Soligo ($351K, 61, BE 4) manoeuvre, with both MID's arriving at their bye round. Personally, I think it's wise to hold on to the duo, but if flipping Clark>Owens frees up cash for another trade, be my guest. Jason Horne-Francis ($522K, 63, BE 63) owners will likely be thinking trade as well, however, if you've held him this long you may as well keep him in your lineup for another week and hope he goes bang vs. GWS.
Top-4
Nic Martin (Bombers)

Nick Daicos (Magpies)

Mitch Owens (Saints)

Jason Horne-Francis (Kangaroo)
While most coaches will be sweating over the availability of Owens, there are bound to be similar concerns for Marcus Windhager ($320K, BYE, BE 33) and his place in the Saints' team. Hopefully both youngsters can crack the starting 22, but it seems like one (or both 😬) will miss out should Hunter Clark and a few other St Kilda players return. Jack Carroll ($346K, BYE, BE 45) comes with the same concerns after playing the role of medi-sub in Carlton's most recent game, a role I expect him to continue in as they gear up for the second half of the season. The portion of coaches who held onto Reef McInnes ($267K, 33, BE 38) were rapt to see him emerge as a late inclusion against Hawthorn, only to watch him separate his shoulder that will now require season-ending surgery.
Best of the Rest
These players may or may not be in the selection mix this week, but be sure to keep them on your 2022 watchlist in case they burst onto the scene. In no particular order:
Arlo Draper (Magpies, $202K)
Cooper Murley (Magpies, $194K)
Matthew Johnson (Dockers, $250K)
James Tsitas (Suns, $190K)
Josh Goater (Kangaroos, $248K)
Hugh Jackson (Power, $190K)
Tom Joyce (Eagles, $190K)
Bailey Laurie (Demons, $190K)
RUCK
No West Coast action means that the cash cow responsibility in the ruck department sits squarely on the shoulders of Sam Hayes ($408K, BYE, BE 50). A chunk of the fantasy faithful would've parted ways with Hayes last week, but with Scott Lycett still set to miss over a month of footy, the opportunity for success is still right in front of the young Power beanpole. There aren't too many ruck rookies that are emerging as trade targets, with Caleb Graham ($252K, 68, BE 9) aka Chris Burgess 2.0 drawing some interest. Not only was his score of 68 a season-best, but it came as a career-high for Graham with DEF/RUC status set to entice some at the trade table next week. Do yourself a favour – don't.
Top-2
Sam Hayes (Power)

N/A
Best of the Rest
These players may or may not be in the selection mix this week, but be sure to keep them on your 2022 watchlist in case they burst onto the scene. In no particular order:
Paul Tsapatolis (Cats, $190K)
Jacob Edwards (Kangaroos, $190K)
Mac Andrew (Suns, $282K)
Max Heath (Saints, $190K)
Alex Mirkov (Blues, $190K)
FORWARD
The triumphant return of Nic Martin ($646K, BYE, BE 67) will be a welcome one for a lot of coaches, with the Essendon sensation scoring 113 points in his last outing. Two scores over 100 in the last month are enough for coaches to keep their faith in Martin moving forward and in a perfect world, coaches would use him as their final on-field rookie in the near future. His Bombers teammate Ben Hobbs ($459K, BYE, BE 38) can still be a handy contributor with just under 17,000 coaches still rocking with the No. 13 overall pick in their sides.
Now the proud owner of MID/FWD status, Hobbs has produced decent scores in recent rounds, meaning there's no rush to ditch him either. The same can't be said for Connor MacDonald ($371K, 57, BE 38) who, despite his popularity, is destined to make his final appearance for fantasy sides this week. Owning the Round 14 bye means most will cut ties with the young Hawk after their clash against Fremantle, so hopefully he can produce his first 60 since April.
Top-4
Nic Martin (Bombers)

Ben Hobbs (Bombers

Hugo Ralphsmith (Tigers)

Connor MacDonald (Hawks)
Last week some of the fantasy faithful were hanging out for the announcement that Matt McGuinness ($190K, DNP, BE 25) was in for an AFL debut, but no such news broke. In a 70-point loss to the Box Hill Hawks over the weekend, McGuinness posted 67 points thanks to his 17 touches, which means he'll still likely sit on the outside looking in. Some fantasy faithful instead rolled the dice on Sam Butler ($258K, 38, BE 24), but another score in the 30's confirmed our worst fears over his lack of a fantasy game. In another Elijah Hollands ($190K, DNP, BE 25) update, the dashing Sun accumulated another score of 92 from 20 disposals. Translation: he's still on the outs.
Best of the Rest
These players may or may not be in the selection mix this week, but be sure to keep them on your 2022 watchlist in case they burst onto the scene. In no particular order:
Ely Smith (Lions, $190K)
Elijah Hollands (Suns, $190K)
Jai Serong (Hawks, $190K)
Sam Darcy (Bulldogs, $288K)
Ned Long (Hawks, $190K)
Sam Philp (Blues, $205K)
Arthur Jones (Bulldogs, $206K)
Ash Johnson (Magpies, $190K)
---
FOLLOW ME ON TWITTER: @SportsbyFry for all things AFL Fantasy (and more)! Feel free to hit me up with any questions you have throughout the season. Good luck! ✌️