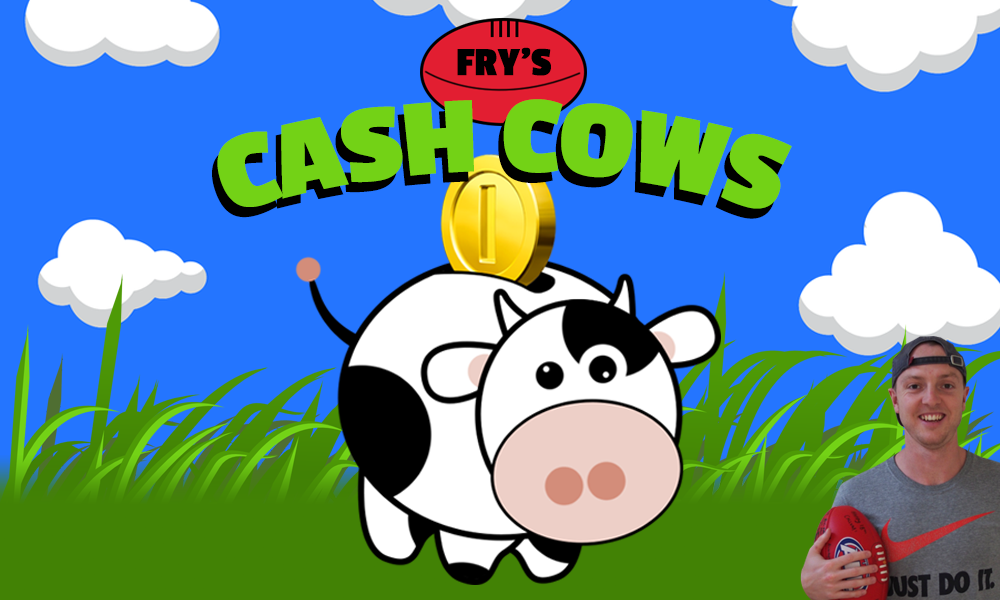 13 down, 10 to go!
Yuck. I will refrain from using profanity to express how I truly felt following the weekend of fantasy action but let's just say I won't be inviting Zak Butters/Mitch Owens/Dayne Zorko/Tom Mitchell/Christian Petracca/Jason Horne-Francis/Corey Durdin/Max Gawn/Braydon Preuss out for a beer any time soon. The good news is the bye rounds are almost behind us, with coaches still torn between scrambling for green dots and maintaining a long-term view with their final trio of trades. The return of some popular premos and mainstream cash cows will soften the blow for most and let's hope Round 14 is kinder to the fantasy faithful!
Rookie/cash cows picks are players who start the season at $300,000 or lower
---
Mooooving On
Part of the weekly trade focus is to remove the rookie-priced players who are no longer making money. When a cash cow sees their average fall in line with their breakeven or they find themselves on the outside looking in for multiple weeks at a time, that's a good time to give them the axe.
Fattened cash cows
Corey Durdin, Blues ($391K, AVG 47, BE 63)
Marcus Windhager, Saints ($327K, AVG 43, BE 34)
Sam De Koning, Cats ($433K, AVG 48, BE 36)
Nic Martin, Bombers ($651K, AVG 85, BE 83)
Robbie McComb, Bulldogs ($396K, AVG, 56, BE 43)
Injured/non-playing rookies
Jason Horne-Francis, Kangaroos ($503K, AVG 64, BE 85)
Sam Hayes, Power ($408K, AVG 56, BE 49)
Josh Rachele, Crows ($413K, AVG 58, BE 70)
Connor MacDonald, Hawks ($371K, AVG 48, BE 38)
Nathan O'Driscoll, Dockers ($464K, AVG 62, BE 49)
Power Ranking Cash Cows – Round 13
After 13 weeks of action, these are the top-10 cash cow performers!
Power Ranking #AFLFantasy Cash Cows Round 13

1. Nick Daicos – ↔️
2. Nic Martin – ↔️
3. Greg Clark – ↔️
4. Ben Hobbs – ⬆️ 3
5. Jake Soligo – ⬇️ 1
6. Jacob Wehr – NR
7. Sam DK – ⬇️ 2
8. Paddy McCartin – ⬇️ 2
9. Hugo Ralphsmith – NR⁰10. Joel Jeffrey – ↔️

NR = not ranked last week pic.twitter.com/YmX5OuBRHf

— SportsbyFry (@sportsbyfry) June 14, 2022
Cash Cow King – Round 13
As we gear up for the second half of the season, there are two cash cows who are running away with the CCK votes and Collingwood's Nick Daicos (114) may have put one hand on the Rising Star award after his performance on Monday as well. He was the clear top-scoring rookie, with forgotten Roo Tristan Xerri (82) the next best after he posted his highest score since Round 5. A pair of 70's from impressive duo Ben Hobbs (79) and Jacob Wehr (72) rounded out the nominees, but once again there was a clear favourite who will take the lion's share of the votes.
Loading ...
Round 14 Rookie Rankings
DEFENCE
Coaches who were ready to flick out Nick Daicos ($640K, 114, BE 47) may have different ideas after his second straight epic score, but they'll need to find another cash cow to plug the gap in the backline with the Magpies gun heading into the bye. We will welcome Sam De Koning ($433K, BYE, BE 36) and Paddy McCartin ($460K, BYE, BE 48) back into the fold, but it's likely that the axe swung and they were traded out last round as they took the week off.
While fielding either or both of them to survive Round 14 is a fine tactic, we would LOVE to see another cheaper cash cow come through in DEF. Enter Massimo D'Ambrosio ($190K, DNP, BE 25), the 3rd pick in the mid-season draft who turned heads for Essendon in the VFL last weekend. The excitement machine accumulated 32 disposals for 99 points, with a large portion of his touches coming in the first half, and there's a world where Essendon rewards him with an instant selection as they try to regather some mojo at AFL level.
Top-4
Jacob Wehr (Giants)

Paddy McCartin (Swans)

Sam De Koning (Cats)

Massimo D'Ambrosio (Bombers)*
* if named
32 touches for Essendon recruit Massimo D'Ambrosio against Carlton in the VFL. By all reports he was spectacular only two weeks after a shoulder injury. Played against Essendon in the VFL a month ago, now an AFL debut surely not far away https://t.co/Ujmw9W6hBT

— Jon Ralph (@RalphyHeraldSun) June 11, 2022
With the good, comes the bad and Caleb Marchbank ($294K, 35, BE 39) owners may want to look away. After making his triumphant return to AFL level, Marchbank rewarded those who took the punt on him with a 0-point second half and to further rub salt into the wounds, the luckless defender is now facing another 6-8 weeks on the sidelines. It may lead to Carlton playing mid-season draftee Sam Durdin ($195K, DNP, BE 25) though, with the Blues defender perhaps the last man left standing which could see him enter the lineup against Richmond on Thursday night. The availability of Patrick Parnell ($212K, BYE, BE 4) is an unknown too with Adelaide's youngster expected to be available; however, it doesn't mean Matthew Nicks will pick him to play in Round 14.
Best of the Rest
These players may or may not be in the selection mix this week, but be sure to keep them on your 2022 watchlist in case they burst onto the scene. In no particular order:
Sam Durdin (Blues, $195K)
Darcy Wilmot (Lions, $260K)
Josh Fahey (Giants, $208K)
Isaac Chugg (Magpies, $190K)
Massimo D'Ambrosio (Bombers, $190K)
Josh Eyre (Bombers, $190K)
Garrett McDonagh (Bombers, $192K)
Bodhi Uwland (Suns, $190K)

MIDFIELD
Chasing as many green dots as possible in the byes can sometimes be a trap, but then there are times when you are left staring at Mitch Owens' ($281K, 11, BE 24) score and you remember why you grabbed those extra playing rookies. The most traded-in player prior to Round 13 won't be taking part in this weekend's action after suffering a concussion against the Lions which saw his night end after the recorded just 4 touches. Luckily for the fantasy faithful, there are some nights in shining armour in the shape of Greg Clark ($448K, BYE, BE 38) and Jake Soligo ($351K, BYE, BE 3) who are set to return and contribute.
Clark's status is somewhat cloudy with West Coast set to welcome a slew of players back into the fold, but if the pair are selected, coaches will without a doubt slot them back into their midfield rotation. One player who definitely won't be appearing in the engine room, perhaps for the rest of the season is Jason Horne-Francis ($503K, 29, BE 85) with the No. 1 overall pick copping a two-week ban as he heads for his rest. In short, it's time for JHF owners to abandon ship and ditch the highly-touted Roo.
Top-4
Nic Martin (Bombers)

Ben Hobbs (Magpies)

Jake Soligo (Saints)

Greg Clark (Eagles)
Another cash cow coming off the bye with plenty of doubts surrounding him is Cooper Stephens ($307K, BYE, BE 32) with the Geelong prodigy no guarantees to make the trip to WA and play the Eagles. In his most recent hitout, Stephens recorded just 9 disposals for a score of 21 and he may be flicked back to the VFL, which would hurt the 17% of teams who are still holding onto the Cats young gun. Robbie McComb ($396K, BYE, BE 43) may be luckier after his week off with all signs pointing to him staying in the Bulldogs side.
With that being said, now is probably the right time for coaches to cash him in considering he has made over $200K already on the season. The week off doesn't come at an ideal time for ANOTHER mid-season draftee Josh Carmichael ($190K, DNP, BE 25) who put a strong performance in against Casey's VFL side by amassing 104 fantasy points from his 22 touches and 10 tackles. He's a name to remember as the season progresses, but a debut still seems a little while away.
Best of the Rest
These players may or may not be in the selection mix this week, but be sure to keep them on your 2022 watchlist in case they burst onto the scene. In no particular order:
Arlo Draper (Magpies, $202K)
Cooper Murley (Magpies, $194K)
Matthew Johnson (Dockers, $250K)
James Tsitas (Suns, $190K)
Josh Goater (Kangaroos, $248K)
Hugh Jackson (Power, $190K)
Tom Joyce (Eagles, $190K)
Bailey Laurie (Demons, $190K)
RUCK
No player recorded more fantasy points in Port Adelaide's SANFL contest over the weekend than Sam Hayes ($408K, DNP, BE 50), but don't be tricked into thinking he's an instant inclusion this round. His 115-point outing was encouraging, but the powers at Port appear content to continue with the Jeremy Finlayson/Charlie Dixon tandem at AFL level, even though they lost the hitout battle to Richmond last Thursday 42-18. Brynn Teakle ($190K, DNP, BE 25) currently finds himself as the 5th most traded-in player this week and there's a world where he plays at the top level soon; although, I won't expect him to make a surprise debut this weekend. Somewhat cheaper alternatives like Callum Jamieson ($326K, BYE, BE 22) or Caleb Graham ($252K, BYE, BE 8) could give you a heartbeat in the ruck department this round, but if you haven't already secured one of them, I wouldn't go out of your way to full the trigger now.
Top-2
Sam Hayes (Power)

Callum Jamieson (Eagles)
Best of the Rest
These players may or may not be in the selection mix this week, but be sure to keep them on your 2022 watchlist in case they burst onto the scene. In no particular order:
Paul Tsapatolis (Cats, $190K)
Jacob Edwards (Kangaroos, $190K)
Mac Andrew (Suns, $282K)
Brynn Teakle (Power, $190K)
Max Heath (Saints, $190K)
Alex Mirkov (Blues, $190K)
FORWARD
Essendon duo Nic Martin ($651K, 67, BE 83) and Ben Hobbs ($491K, 79, BE 44) have vaulted themselves to the top of the cash cow forward rankings, despite Essendon's team-wide struggles. Martin in particular has been a strong performer for fantasy coaches over the duration of the entire season and those who opted to keep him instead of pulling the trigger will be hoping he can help them with another 80+ effort to close out the byes. The fantasy form of Ben Hobbs has been more erratic, although, the Dons draftee has put together a string of decent scores in recent times, including an eye-catching 79 last Friday night.
The duo sit 1 and 2 atop the rankings this week, with a couple of Richmond Tigers holding down the other rungs. I have my doubts over Judson Clarke's ($257K, 64, BE 8) fantasy prowess, despite the first gamer starting the round with a bang last Thursday. He'll once again be a popular target and he's shown he can hit the scoreboard, but scores in the high 40's/low 50's are more realistic. His teammate Hugo Ralphsmith ($413K, 60, BE 42) appears to be a much safer fantasy investment, with over 13,000 coaches chuffed with his consistent output.
Top-4
Nic Martin (Bombers)

Ben Hobbs (Bombers)

Hugo Ralphsmith (Tigers)

Judson Clarke (Tigers)
With coaches chasing as many playing forwards as possible, there's a decent portion of coaches hanging out for another impressive Joel Jeffrey ($339K, BYE, BE 3) game. His low breakeven will entice some, although I'd rather invest my cash elsewhere with a clash against Adelaide hardly set to be a fantasy scoring bonanza. Speaking of, we've seen impressive point totals from Tristan Xerri ($459K, 82, BE 54) in the past and he may interest some when he comes off his bye-round rest. Instead of paying up to reintegrate a rookie we've previously axed, I hope that a basement-priced forward emerges to ease the pressure coaches are under. Don't expect that player to be Jai Culley ($190K, BYE, BE 25) with the 19-year-old proving he needs to string a few decent WAFL performances together first after managing just 10 touches in the state league over the weekend.
Best of the Rest
These players may or may not be in the selection mix this week, but be sure to keep them on your 2022 watchlist in case they burst onto the scene. In no particular order:
Ely Smith (Lions, $190K)
Elijah Hollands (Suns, $190K)
Jai Serong (Hawks, $190K)
Sam Darcy (Bulldogs, $288K)
Jai Culley (Eagles, $190K)
Ned Long (Hawks, $190K)
Sam Philp (Blues, $205K)
Arthur Jones (Bulldogs, $206K)
Ash Johnson (Magpies, $190K)
---
FOLLOW ME ON TWITTER: @SportsbyFry for all things AFL Fantasy (and more)! Feel free to hit me up with any questions you have throughout the season. Good luck! ✌️