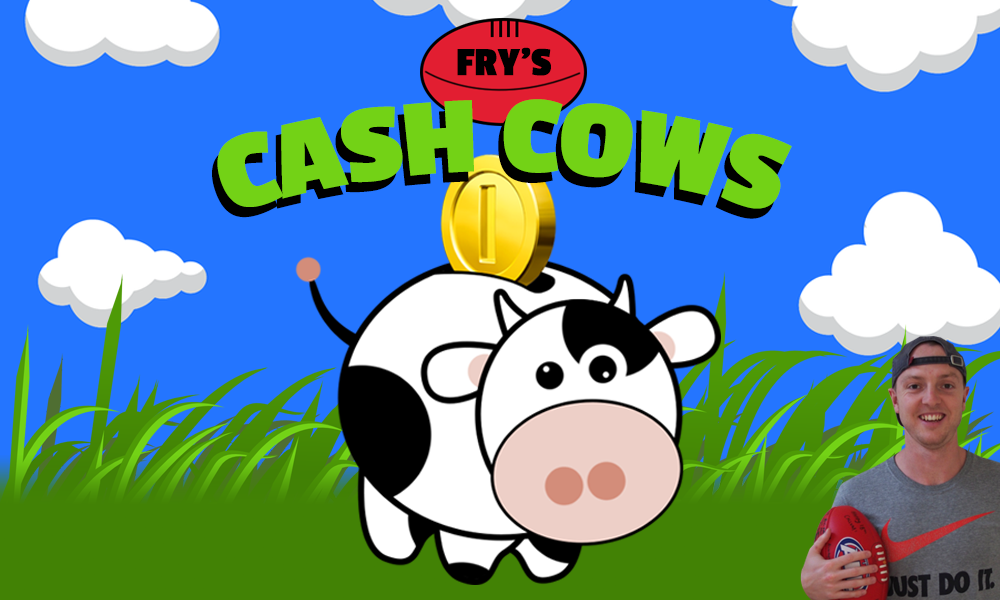 14 down, 9 to go!
Everyone has one of those weekends. The performance where you know your fantasy season just ended and everything that could go wrong, does go wrong. I thought that occurred in Round 13 for me, but last weekend proved to be a shit show of epic proportions. Luckily, we are back to fielding our best 22 players on a weekly basis and hopefully, most of the coaches fighting for something relevant are nearing the point where they can remove all the rookie picks from their field. It's still important to invest in the right cash cows with 9 rounds remaining and there are a few youngsters putting their hand up as strong targets at the trade table.
Rookie/cash cows picks are players who start the season at $300,000 or lower
---
Mooooving On
Part of the weekly trade focus is to remove the rookie-priced players who are no longer making money. When a cash cow sees their average fall in line with their breakeven or they find themselves on the outside looking in for multiple weeks at a time, that's a good time to give them the axe.
Fattened cash cows
Corey Durdin, Blues ($374K, AVG 46, BE 69)
Josh Rachele, Crows ($385K, AVG 55, BE 72)
Paddy McCartin, Swans ($461K, AVG, 47, BE 60)
Sam De Koning, Cats ($437K, AVG 47, BE 55)
Nic Martin, Bombers ($648K, AVG 84, BE 85)
Injured/non-playing rookies
Jason Horne-Francis, Kangaroos ($503K, AVG 64, BE 85)
Sam Hayes, Power ($408K, AVG 56, BE 49)
Hugh Dixon, Eagles ($370K, AVG 51, BE 43)
Connor MacDonald, Hawks ($371K, AVG 48, BE 38)
Marcus Windhager, Saints ($327K, AVG 43, BE 34)
Power Ranking Cash Cows – Round 14
After 14 weeks of action, these are the top-10 cash cow performers!
Power Ranking #AFLFantasy Cash Cows Round 14

1. N Daicos – ↔️
2. N Martin – ↔️
3. B Hobbs – ⬆️ 1
4. J Soligo – ⬆️ 1
5. J Wehr – ⬆️ 1
6. G Clark – ⬇️ 3
7. T Stengle – NR
8. H Ralphsmith – ⬆️ 1
9. B Hough – NR⁰10. P Parnell – NR

NR = not ranked last week pic.twitter.com/4PEsiED7ZG

— SportsbyFry (@sportsbyfry) June 21, 2022
Cash Cow King – Round 14
Teammates joined forces this week to produce some of the best cash cow scores with Bombers duo Nic Martin (75) and Ben Hobbs (78) kickstarting things on Friday night. Adelaide pair Patrick Parnell (75) and Jake Soligo (78) closed out the weekend in an eerily similar fashion to the Essendon rookies and there would have been a lot of coaches who were grateful for the 70+ scores on offer. I'm breaking my rules slightly to include a 5th nominee this week and the top-scoring cash cow in Tyson Stengle (81), who continues to prove me wrong after his five shots on goal vs. West Coast.
Loading ...
Round 15 Rookie Rankings
DEFENCE
Most coaches will have removed all the rookies from the back-6, but a few downgrade targets have emerged in recent weeks. GWS' Jacob Wehr ($366K, 67, BE 3) has solidified a spot in the Giants lineup over the bye rounds and looks to be the safest rookie down back not named Nick Daicos ($640K, BYE, BE 47). Those two are the only pair I'd feel safe playing at the moment, but the likes of Massimo D'Ambrosio ($204K, 44, BE 12) could become a handy money maker down back. Adelaide's Patrick Parnell ($261K, 75, BE -15) is another rookie worth targeting after his strong showing against the Suns last weekend and if you've got someone maxed out in price like Paddy McCartin ($461K, 47, BE 60) and/or Sam De Koning ($437K, 39, BE 55) then flicking one of them out could be a handy way to make a quick bit of cash.
Top-4
Nick Daicos (Magpies)

Jacob Wehr (Giants)

Patrick Parnell (Crows)

Massimo D'Ambrosio (Bombers)
The revolving door that is Carlton's backline can't catch a break with Sam Durdin ($201K, 33, BE 20) ruled out for a month after suffering a knee injury. His Blues teammate Jordan Boyd ($296K, 65, BE 14) produced his highest score of the season, although considering the fact that he's never scored over 45 in any other match this season I wouldn't be expecting regular scores in the same ballpark. The same could be said for Rhett Bazzo ($227K, 41, BE 19) who did well enough to earn a few more AFL games in his first season, but key backmen don't exactly boast the best scoring potential which means it's best to avoid trading him in. For the coaches who took the punt on Ryan Angwin ($190K, 11, BE 45) unfortunately trading him in was the wrong call as well, with the GWS young gun facing a long stint on the sidelines with a leg injury.
Best of the Rest
These players may or may not be in the selection mix this week, but be sure to keep them on your 2022 watchlist in case they burst onto the scene. In no particular order:
Darcy Wilmot (Lions, $260K)
Josh Fahey (Giants, $208K)
Isaac Chugg (Magpies, $190K)
Josh Eyre (Bombers, $190K)
Garrett McDonagh (Bombers, $192K)
Bodhi Uwland (Suns, $190K)

MIDFIELD
A strong showing from Jake Soligo ($403K, 78, BE 12) on the weekend will give the near 30,000 coaches who own the Crows young gun some optimism moving forward. He chalked up a career-high 20 touches over the weekend to produce his 4th straight score north of 60 and I'd feel much safe fielding him moving forward over Greg Clark ($456K, 47, BE 54) who seems to be fighting for his place in West Coast's outfit. With a relatively healthy midfield now, the Eagles utilised Clark as their medi-sub vs. the Cats, a role that he may continue in unless injuries strike again. I wouldn't be too excited about the prospect of fielding any rookies outside of that duo and the mainstream picks like Daicos, Martin and Hobbs, even though Cooper Stephens ($334K, 69, BE 25) and Brady Hough ($376K, 60, BE 20) produced decent scores in Round 14.
Top-4
Nick Daicos (Magpies)

Jake Soligo (Crows)

Nic Martin (Bombers)

Ben Hobbs (Bombers)
Those who are clinging onto hope for a Mitch Owens ($281K, DNP, BE 24) return will have to wait at least another week after the Saints stud failed to clear concussion protocols, however, his teammate Marcus Windhager ($327K, DNP, BE 34) put his hand up for selection after 117 points for Sandringham. His score was boosted by 2 goals and 31 disposals and we may see St Kilda swing the axe after the loss to Essendon last time out. Sticking with the reserves level, recent Dockers draftee Neil Erasmus ($379K, BYE, BE 33) produced one of the highest scores of the weekend with his 138 points fuelled by 26 touches and 12 tackles. He faces an uphill battle to enter their lineup to clash with Carlton and on the other side of the equation Jack Carroll ($346K, DNP, BE 45) is in a similar position despite a strong showing for the Blues' VFL side with 29 disposals and a score of 102 last round.
Best of the Rest
These players may or may not be in the selection mix this week, but be sure to keep them on your 2022 watchlist in case they burst onto the scene. In no particular order:
Arlo Draper (Magpies, $202K)
Cooper Murley (Magpies, $194K)
Matthew Johnson (Dockers, $250K)
James Tsitas (Suns, $190K)
Josh Goater (Kangaroos, $248K)
Hugh Jackson (Power, $190K)
Tom Joyce (Eagles, $190K)
Bailey Laurie (Demons, $190K)
RUCK
Just when we thought we had a trustworthy rookie RUC in Brynn Teakle ($192K, 27, BE 22) the fantasy gods have gone and robbed us of his talents. A broken collarbone brought a swift end to his debut game and with 6-8 weeks on the sidelines, there are no guarantees we'll see him again this season. His Port teammate Sam Hayes ($408K, DNP, BE 50) has found himself stranded on the outside looking in and even though he registered a score of 94 in the SANFL that included 37 hitouts, he doesn't appear to be a certain inclusion. The 10.5% of sides rocking with West Coast's Callum Jamieson ($336K, 35, BE 35) surely aren't brave stupid enough to play him in one of their starting ruck spots, with Caleb Graham ($276K, 42, BE 11) just as untrustworthy.
Top-2
Sam Hayes (Power)*

Callum Jamieson (Eagles)
* if named
Best of the Rest
These players may or may not be in the selection mix this week, but be sure to keep them on your 2022 watchlist in case they burst onto the scene. In no particular order:
Paul Tsapatolis (Cats, $190K)
Jacob Edwards (Kangaroos, $190K)
Mac Andrew (Suns, $282K)
Max Heath (Saints, $190K)
Alex Mirkov (Blues, $190K)
FORWARD
Everyone's favourite Essendon cash cows remain at the top of the pecking order in the forward line with 70+ outings from Ben Hobbs ($516K, 78, BE 44) and Nic Martin ($648K, 75, BE 85) encouraging enough to trust them on your field unless an upgrade is available. The young Bombers pair are shaping up as two of the most popular rooks who could become the final upgrade for coaches and hopefully a date with the Eagles in Round 15 will equal them another decent score. Richmond's Hugo Ralphsmith ($426K, 58, BE 46) continued his consistent vein of form with another near 60-point effort and even though he has low ownership, there are still some coaches thankful for his performances. Speaking of low ownership, for the 5th time this year I will admit I was dead wrong on Tyson Stengle ($547K, 81, BE 68), who finds himself in less than 8,000 teams and has currently increased his starting price by nearly $250K. In the mix to end as an All-Australian small forward, Stengle produced another strong score vs. West Coast and there's no reason why he can't maintain that form and keep his average near 70.
What a debut season this young Bomber is putting together!

Congratulations to Ben Hobbs, the round 14 nominee for the 2022 @NAB AFL Rising Star ⭐️ pic.twitter.com/ELWuglGgLS

— AFL (@AFL) June 20, 2022
Top-4
Nic Martin (Bombers)

Ben Hobbs (Bombers)

Hugo Ralphsmith (Tigers)

Tyson Stengle (Cats)
A number of FWD cash cows are trending in different directions right now, with Robbie McComb ($405K, 54, BE 44) and Joel Jeffrey ($3268K, 44, BE 25) still ticking upwards in value and doing their job for coaches. There's no huge urgency to remove them from your side (as long as they reside on the bench), but it's time to cut ties with Corey Durdin ($374K, 36, BE 69) after a rough showing last round. I wouldn't go downgrading him to Judson Clarke ($280K, 40, BE 14) who produced the 40-point game I thought he was capable of and the popular state league performers aren't ready for the big time just yet either. Jai Culley's ($190K, DNP, BE 25) performance was much more encouraging last weekend, but he and Elijah Hollands ($190K, DNP, BE 25) still have teammates higher on the pecking order, meaning they'll have to keep biding their time in the WAFL and VFL respectively.
Best of the Rest
These players may or may not be in the selection mix this week, but be sure to keep them on your 2022 watchlist in case they burst onto the scene. In no particular order:
Ely Smith (Lions, $190K)
Elijah Hollands (Suns, $190K)
Jai Serong (Hawks, $190K)
Sam Darcy (Bulldogs, $288K)
Jai Culley (Eagles, $190K)
Ned Long (Hawks, $190K)
Sam Philp (Blues, $205K)
Arthur Jones (Bulldogs, $206K)
Ash Johnson (Magpies, $190K)
---
FOLLOW ME ON TWITTER: @SportsbyFry for all things AFL Fantasy (and more)! Feel free to hit me up with any questions you have throughout the season. Good luck! ✌️