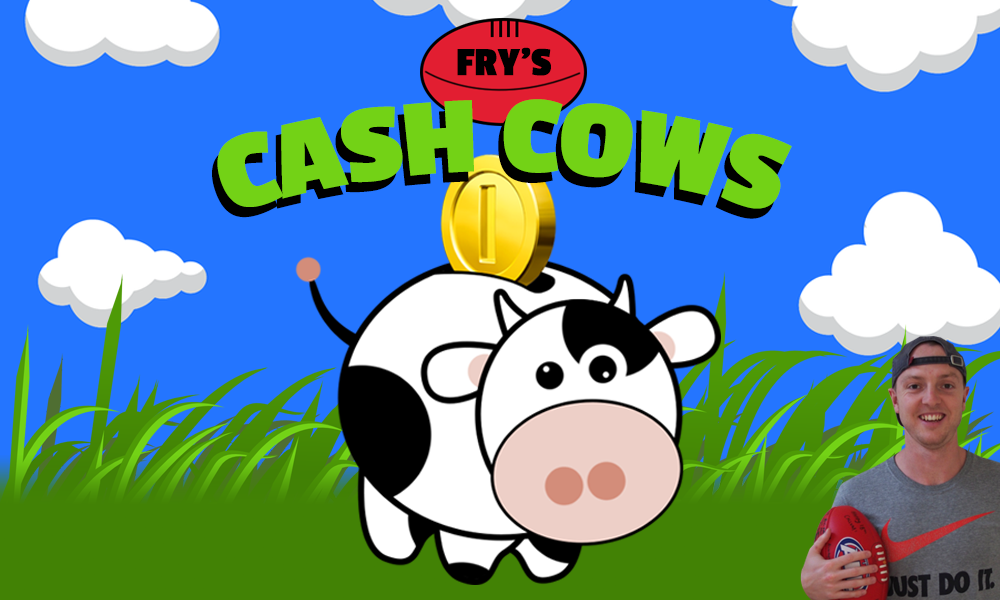 15 down, 8 to go!
Roughly two thirds of the fantasy season is behind us and most coaches are looking to remove a few of their final rookies from their field. As someone who fielded 4 young guns in Round 15, there's still an uphill climb ahead, but it's important to keep a level head at the trade table and not make brash decisions. The fantasy finals are still a month away and coaches are eager to improve while keeping their team value soaring upwards, meaning your rookie investments are still important!
Rookie/cash cows picks are players who start the season at $300,000 or lower
---
Mooooving On
Part of the weekly trade focus is to remove the rookie-priced players who are no longer making money. When a cash cow sees their average fall in line with their breakeven or they find themselves on the outside looking in for multiple weeks at a time, that's a good time to give them the axe.
Fattened cash cows
Corey Durdin, Blues ($346K, AVG 45, BE 71)
Ben Hobbs, Bombers ($508K, AVG 62, BE 75)
Sam De Koning, Cats ($435K, AVG 47, BE 63)
Callum Jamieson, Eagles ($318K, AVG, 40, BE 61)
Nick Daicos, Magpies ($655K, AVG 83, BE 70)
Injured/non-playing rookies
Greg Clark, Eagles ($456K, AVG 69, BE 54)
Joel Jeffrey, Suns ($370K, AVG 51, BE 43)
Jason Horne-Francis, Kangaroos ($503K, AVG 64, BE 85)
Sam Hayes, Power ($408K, AVG 56, BE 49)
Buku Khamis, Bulldogs ($285K, AVG 41, BE 30)
Power Ranking Cash Cows – Round 15
After 15 weeks of action, these are the top-10 cash cow performers!
Power Ranking #AFLFantasy Cash Cows Round 15

1. N Martin – ⬆️ 1
2. N Daicos – ⬇️ 1
3. J Wehr – ⬆️ 2
4. T Stengle – ⬆️ 3
5. J Soligo – ⬇️ 1
6. B Hobbs – ⬇️ 3
7. T Xerri – NR
8. R McComb – NR
9. H Ralphsmith – ⬇️ 1⁰10. M Windhager – NR

NR = not ranked last week pic.twitter.com/s5DMIhaBup

— SportsbyFry (@sportsbyfry) June 28, 2022
Cash Cow King – Round 15
A lot of popular names featured amongst the highest scorers last week, but it's fair to say most coaches weren't fielding Willie Rioli (94) for his epic Friday night point total. The Eagles gun produced the best score for Round 15, with Roos ruckman Tristan Xerri (92) not too far behind him. Tyson Stengle (83) continued his rich vein of form, but the only one of the quartet who was likely sitting on the field for coaches would have been Nic Martin (89), who kept his name in the mix for Cash Cow of the Year honours.
Loading ...
Round 16 Rookie Rankings
DEFENCE
It wasn't great to see the ever-reliable Nick Daicos ($655K, 66, BE 70) falter on the weekend, but all of a sudden coaches are flush with defensive rookie choices. While it's hard to trust a lot of them on the field, GWS' Jacob Wehr ($411K, 67, BE 19) hasn't put a foot wrong yet and is pushing hard to dethrone the Rising Star favourite for the title as the No. 1 DEF cash cow. Behind the Giants youngster, others such as Massimo D'Ambrosio ($232K, 52, BE 2) and Patrick Parnell ($289K, 24, BE 15) have emerged as solid targets in recent weeks, even if Adelaide's young gun struggled to get going in Round 15. It's hard to imagine coaches fielding more than one of these backmen as we reach the pointy end of the season, but as I mentioned there are a few downgrade targets on offer in defence.
Top-4
Nick Daicos (Magpies)

Jacob Wehr (Giants)

Massimo D'Ambrosio (Bombers)

Patrick Parnell (Crows)
Last weekend we saw debutants James Blanck ($198K, 35, BE 17) and Jackson Archer ($208K, 50, BE 8) breakthrough for their first contest, with the Roos rook emerging as the better scorer out of the duo. I have doubts over his scoring capacity moving forward, but I understand why you may want to roll the dice on the son of an AFL legend with Archer ahead of Blanck and Rhett Bazzo ($254K, 54, BE 6) as trade targets; despite a solid showing from the young Eagle. Injuries have once again struck the Blues backline with Jordan Boyd ($325K, 54, BE 17) the latest casualty, however, Brody Kemp ($314K, 72, BE 8) had a solid outing on the weekend even if he's too pricy to become a potential trade target.
Best of the Rest
These players may or may not be in the selection mix this week, but be sure to keep them on your 2022 watchlist in case they burst onto the scene. In no particular order:
Darcy Wilmot (Lions, $260K)
Josh Eyre (Bombers, $190K)
Garrett McDonagh (Bombers, $192K)
Bodhi Uwland (Suns, $190K)

MIDFIELD
The usual MID suspects are amongst the best rookies on offer in the engine room with either Nick Dacios or Nic Martin ($653K, 89, BE 79) likely residing at M8 for a large portion of coaches. We have reached the point of the year where you can cash in those strong performers, but there are still some midfield cash cows ticking upwards in value. Adelaide's Jake Soligo ($434K. 55, BE 36) is the next in line as an on-field presence and as his breakeven keeps climbing, his time to exit our teams is getting closer and closer. The likes of Marcus Windhager ($354K, 72, BE 24), Cooper Stephens ($334K, DNP, BE 25) or even perhaps Robbie McComb ($413K, 54, BE 48) may be ready for a trade-out scenario and if another cheap rookie emerges, there's nothing wrong with giving them the flick now that they've served their purpose.
Top-4
Nick Daicos (Magpies)

Nic Martin (Bombers)

Jake Soligo (Crows)

Robbie McComb (Bulldogs)
The first AFL game for James Tunstill ($213K, 31, BE 23) didn't go according to plan from a fantasy perspective last Thursday, but I'm still hoping the young Lion can string together some solid scores before the year is out. I don't know if I have the same confidence in Brady Hough ($396K, 46, BE 35) who has shown plenty of promise but is probably ready to be traded out of your side. Those coaches still rocking with Mitch Owens ($291K, DNP, BE 24) are clinging to hope that he returns now that he's likely cleared concussion protocols, but there's no certainty he makes the cut for St Kilda.
The same could be said for popular West Coast cash cow Greg Clark ($456K, DNP, BE 54) who posted 115 points from his 27 touches last week in the WAFL and earning a medi-sub role seems to be his best-case scenario. Crosstown rival Neil Erasmus ($379K, DNP, BE 33) is also facing an uphill battle to enter Freo's best-22, although gathering a near team-high 24 disposals for 75 points on the weekend could help him stay in the selection frame.
Best of the Rest
These players may or may not be in the selection mix this week, but be sure to keep them on your 2022 watchlist in case they burst onto the scene. In no particular order:
Arlo Draper (Magpies, $202K)
Cooper Murley (Magpies, $194K)
Matthew Johnson (Dockers, $250K)
James Tsitas (Suns, $190K)
Josh Goater (Kangaroos, $248K)
Hugh Jackson (Power, $190K)
Tom Joyce (Eagles, $190K)
Bailey Laurie (Demons, $190K)
RUCK
As the ruck carnage continues to derail AFL fantasy teams, there is a glaring lack of reliable RUC rookies filtering through. Those who put their faith in Callum Jamieson ($318K, 7, BE 61) will likely shudder when they hear his name in the future and Caleb Graham ($284K, 21, BE 28) reminded us of his fantasy pedigree by dropping another stinker. North Melbourne's Tristan Xerri ($487K, 92, BE 33) managed to produce a reliable score, but I don't recommend trading him back in now that he's made most of his money. Finally, Sam Hayes ($408K, DNP, BE 50) still appears on the outs at Port Adelaide and with 28 of his 42 points in a SANFL contest coming via hitouts, it's tough to see him re-entering the selection frame for the Power – especially with Scott Lycett nearing full health.
Top-2
Tristan Xerri (Kangaroos)

Sam Hayes (Power)*
* if named
Best of the Rest
These players may or may not be in the selection mix this week, but be sure to keep them on your 2022 watchlist in case they burst onto the scene. In no particular order:
Paul Tsapatolis (Cats, $190K)
Jacob Edwards (Kangaroos, $190K)
Mac Andrew (Suns, $282K)
Max Heath (Saints, $190K)
Alex Mirkov (Blues, $190K)
FORWARD
On Friday night we saw one Don fire and one Don falter with Nic Martin and Ben Hobbs ($508K, 29, BE 75) at polar opposites from a fantasy point of view. A lot of coaches, including myself had faith in Hobbs' scoring ability, but his dud has seen his value dry up which could lead to the axe being swung by a lot of owners this week. With value options available in the FWD line, coaches are eager to chase an upgrade for the first-year Bomber, but those who are still fielding Tyson Stengle ($560K, 83, BE 59) aren't feeling the rush to ditch the mature-aged Cat.
He produced his second consecutive score of 80+ and with the Kangaroos on the horizon, there's no reason to offload him just yet. Speaking of offloading players, most would have given Connor MacDonald ($392K, 67, BE 32) the flick during the bye rounds, if not sooner, however, the young Hawk showed plenty of promise against the Bulldogs last round even attending some CBA's as he managed to post his highest score of the season. Those who held onto the Hawthorn rookie for this long should probably keep him in the mix unless a serious upgrade is on the cards.
Top-4
Nic Martin (Bombers)

Tyson Stengle (Cats)

Ben Hobbs (Bombers)

Connor MacDonald (Hawks)
MacDonald's teammate Sam Butler ($283K, 35, BE 30) continued his lacklustre scoring ways, with Judson Clarke ($287K, 23, BE 33) and Corey Durdin ($346K, 25, BE 71) in the same basket after they failed to top 30 points. Tigers rook Hugo Ralphsmith ($432K, 52, BE 50) has also flatlined in value and trading any of the aforementioned characters out could be on the cards if a basement FWD makes themselves available. Enter Dominic Bedendo ($190K, DNP, BE 25) who has understandable concerns around his job security, but back-to-back 100's in the VFL have seen him enter the Bulldogs outfit to take on Brisbane. While I'm on the topic of state-league numbers both Jai Culley's ($190K, DNP, BE 25) and Elijah Hollands ($190K, DNP, BE 25) aren't in line for a callup after the duo managed 61 points and 59 points respectively over the weekend.
Best of the Rest
These players may or may not be in the selection mix this week, but be sure to keep them on your 2022 watchlist in case they burst onto the scene. In no particular order:
Ely Smith (Lions, $190K)
Elijah Hollands (Suns, $190K)
Jai Serong (Hawks, $190K)
Sam Darcy (Bulldogs, $288K)
Jai Culley (Eagles, $190K)
Ned Long (Hawks, $190K)
Sam Philp (Blues, $205K)
Arthur Jones (Bulldogs, $206K)
Ash Johnson (Magpies, $190K)
---
FOLLOW ME ON TWITTER: @SportsbyFry for all things AFL Fantasy (and more)! Feel free to hit me up with any questions you have throughout the season. Good luck! ✌️