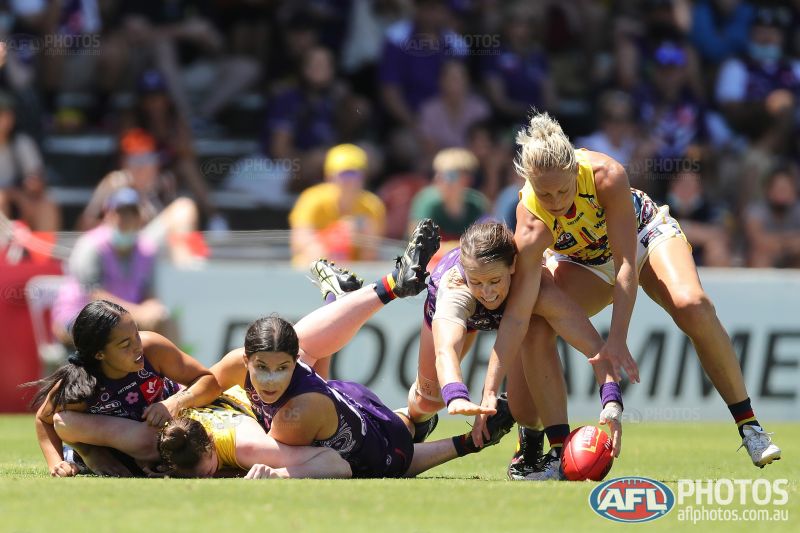 Yet again there's no Friday game so lockout will be at 3:10pm Saturday 5 March.
We'll know the 21s for eight clubs but will be in the dark for all of the Sunday teams so it's still worth having bench cover despite the finish line in sight.
Injury update
⚓ Mikayla Morrison's (FWD) ACL injury at training is the biggest blow for coaches so far this week.
She's owned by 16% of the competition and was a popular trade target after scoring 79 in Round 6.
Match review
🐶 Ellyse Gamble (RUCK) is the only player who received a suspension last round.
The rookie ruck is in 3% of teams and won't play again this season.
Team announcements
Rookies and players with ownership of 2% or more who've been added or dropped from the team.
😇 St Kilda
IN: Leah Cutting (RUCK)
OUT: Lucy Burke (DEF)
🐱 Geelong
IN: Olivia Fuller (RUCK), Claudia Gunjaca (FWD)
OUT: Gabbi Featherston (FWD)
🟠 GWS
IN: Chloe Dalton (MID), Jessica Doyle (FWD)
OUT: Erin Lorenzini (DEF), Brodee Mowbray (MID)
🐯 Richmond
IN: Tessa Lavey (FWD), Emelia Yassir (MID)
OUT: Meg Macdonald (FWD), Stella Reid (DEF),
⚓ Fremantle
IN: Sarah Wielstra (RUCK)
OUT: Mikayla Morrison (FWD), Amy Franklin (FWD), Gabby O'Sullivan (FWD)
😈 Melbourne
IN: Gabrielle Colvin (DEF)
OUT: Tahlia Gillard (RUCK)
🦅 West Coast
IN: Beth Schilling (DEF)
OUT: Kellie Gibson (FWD), Courtney Rowley (MID), Emily Bennett (DEF)
🐶 Footscray
IN: Alice Edmonds (RUCK)
OUT: Ellyse Gamble (RUCK), Elizabeth Snell (DEF)
Other news
AFLW Fantasy has confirmed that Brisbane, Gold Coast, Footscray and Fremantle will receive their averages in Round 10.
Although all four teams will play next week, the games aren't technically Round 10 according to the AFLW.
Plan ahead!
For more content: