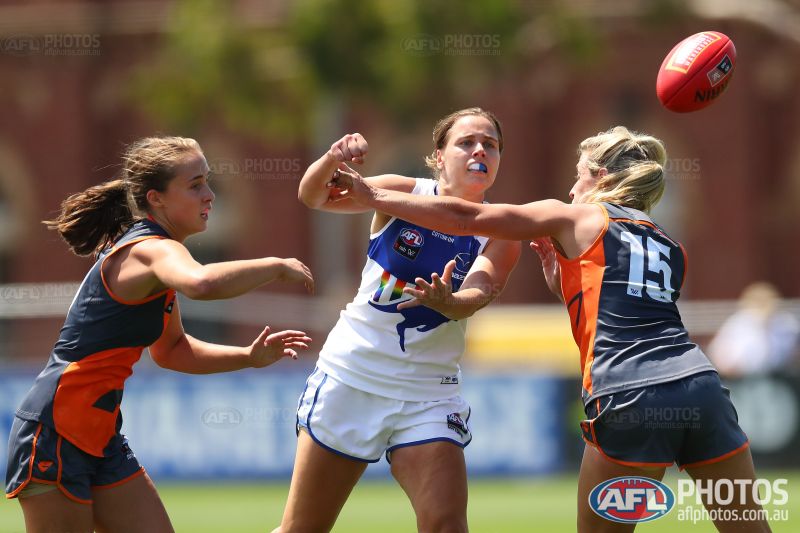 How great was it to have a full seven games Friday to Sunday?
Coaches should savour it because we're about to have 16 games crammed into the next two weeks.
We're also past the halfway point in the season so the race is on to finish those teams with premiums and finish the year with a full head of steam.
Fantasy pig of the week
112 is the lowest score to claim this title so far but 🦘 Jasmine Garner (MID) earned it by filling every stat line.
She racked up 26 touches, six marks, five tackles and a goal in North's thumping of Richmond.
Garner has dropped $15,600 this season and could be a bargain if this is the start of her bounce back.
The rest of the top 10 were:
2. ☀️ Alison Drennan (MID) – 108
3. ⚓️ Hayley Miller (MID) – 108
4. 🏁 Brittany Bonnici (MID) – 107
5. 🦘 Ashleigh Riddell (MID) – 96
6. ⚓️ Gabby O'Sullivan (FWD) – 95
7. 🐦 Anne Hatchard (MID) – 94
8. 🐶 Ellie Blackburn (MID) – 91
9. 🔵 Mimi Hill (MID) – 89
=10. 🐱 Nina Morrison (MID) – 87
=10. 🟠 Alyce Parker (MID) – 87
Cash cows of the round
Players who started the year at $20,300 or less are eligible for the AFLW Fantasy Cash Cow of the Year medal and the top five scorers will be awarded votes each round.
😈 Eliza West (MID), take a bow! She's taken the five votes for the second week in a row.
West backed up her 71 with an 82 by amassing 20 touches, four marks and six tackles. She'll be in the $30,000s when lockout lifts but is still shaping up as a savvy pick.
The remaining votes go to:
4. ⚓️ Mikayla Morrison (FWD) – 79
3. ☀️ Charlie Rowbottom (MID) – 75
2. 🐱 Georgie Prespakis (MID) – 71
1. 🟠 Ally Dallaway (MID) – 67
Leaderboard: 😈Eliza West (11) 🐱 Georgie Prespakis (11), ☀️ Charlie Rowbottom (10), ☀️ Tara Bohanna (9), 😇 Leah Cutting (5).
Side note
24 of the top 100 coaches traded in 😈 Tyla Hanks (FWD) for $66,700 to get the highest averaging forward back in their teams after missing Round 5.
Meanwhile 23 traded in 🦅 Isabella Lewis (FWD) for $36,800 to save money after she scored 71 and 73 back to back.
While Hanks notched up 80, Lewis managed better points per dollar with 57.
It'll be a head to head worth keeping an eye on since it could decide which coaches are potentially in line for a hat.
For more content: Follow Selby on Twitter at @AFLWFantasy or give Ben a follow at @benbutmostlyhaz. Check out FanFooty for live AFLW Fantasy scores and DFS Australia for extended stats like CBAs.