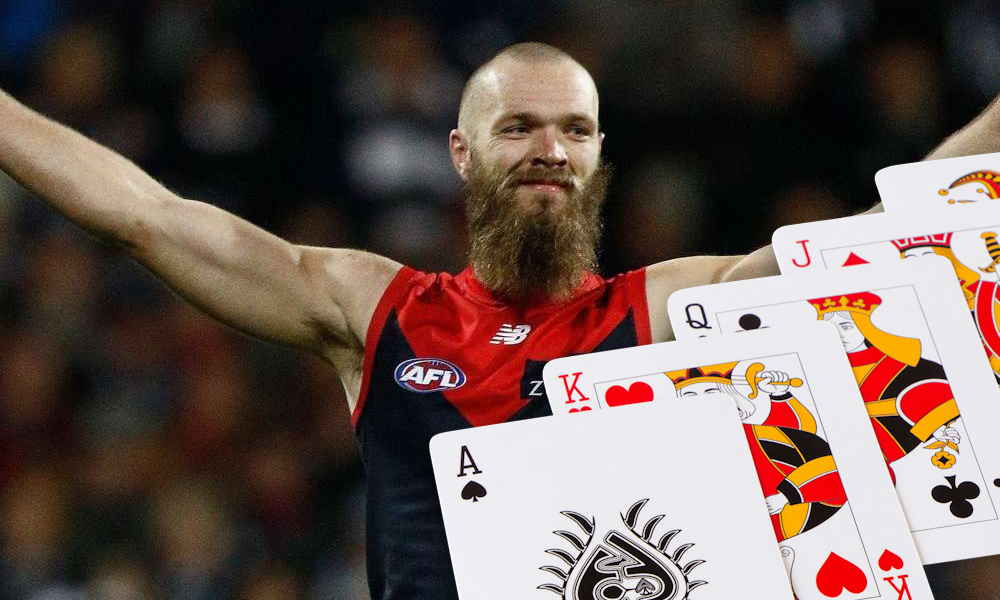 Name: Max Gawn
Team: Melbourne Demons
Position: MID/FWD
Price: $944,000
Bye round: 14
2020 average: 98.9
2020 adjusted average: 123.2
2020 games played: 14
Predicted average: 118.5
Draft range: 1-5
Click here for 2021 Fantasy prices.
Why should I pick him?
Lachie Neale was the player who turned the most heads in 2020, excelling during coronaball to outpace every fantasy player in total points – justly being rewarded the Dane Swan Medal for his troubles. For all Neale's success, he didn't take out the honour of the highest average beaten out by Max Gawn's 98.9 points a game (sorry Luke Dunstan, your one game of 100 doesn't count). An adjusted average of 123.2 makes Gawn the most expensive player available this year, but as his numbers show he's worth every penny.
During the first half of the 2020 season, Maximus put up some unreal stat lines with his scores hardly resembling shorter quarters. The big Demon scored 100+ in five of his first seven games and had some monster outings like in Round 2 when he dropped 123 points fuelled by 21 touches and 34 hitouts or against the Tigers three weeks later when he amassed 22 disposals and 35 hitouts for 135 points. Over those seven games, Gawn went at an average of 107.1 fantasy points which even in full-length quarters you'd be pretty happy with. You wouldn't be over the moon, but that's a good return from your R1.
If Max did keep that pace up over 20-minute periods he would have averaged a colossal 133.9 points. Per game, Gawn's numbers would have read – 91, 154, 124, 163, 131, 145, 129. That's bloody ridiculous!
Thriving in his first year as Melbourne's sole captain Max Gawn may have announced himself as the best player in fantasy with no signs of slowing down in 2021. Early reports out of preseason training indicate he's at full health although he does hold the title as the most expensive player this year, forcing you to cough up $944K. If you invest in Gawn and start the season with him though, not only are you locking in roughly 120 points each week but he's a viable captain choice that could give you a huge leg up on the competition – currently residing in 14% of teams making him the 35th most popular player.
Why shouldn't I pick him?
Best player in fantasy or not, there are some plausible reasons to avoid Max Gawn in your starting classic side. For all the love I gave Gawn over his high averages and lofty scoring capacity, fantasy coaches are all about chasing value in their initial teams and as Ben pointed out a few weeks ago there are too many reasons to not consider someone like Brodie Grundy ahead of Max in 2021.
True or False – Brodie Grundy has scored more total #AFLFantasy points than Max Gawn in each of the last four seasons? 🤔

— SportsbyFry (@sportsbyfry) January 28, 2021
For the record, this is a true stat 👀
Saving $77K by opting for Gawn's Collingwood rival could come in very handy as you build out your original squad of 30. Even if you were high on Reilly O'Brien ($116K less), Rowan Marshall ($206K) or say Jarrod Witts ($329K!!) over Grundy, the extra dough you can save instead of robbing a bank for Max is virtually too good to pass up. Gawn's massive point totals will be hard to swallow if he's not in your lineup, but his durability is also far from a guarantee. He did miss three games last year due to a tear in his shoulder he suffered against Adelaide coupled with PCL issues as he tried to make his return.
Last season wasn't the start of Gawn's injury issues either, having already required three surgeries on his right knee earlier in his career. He missed 93 AFL games in his first six years in the system (including two full seasons) with a serious hamstring injury ruling him out for 10 weeks in 2017 as well. For all the perks of starting Gawn in your team, his checkered past with multiple injuries gives us enough reason to pause instead of instantly forking nearly $1 million of your salary cap.
Deck of DT Rating.
ACE
Labelling Max Gawn as the best player in fantasy isn't farfetched, especially after the season he just put under his belt. Choosing Gawn should net an average close to, if not greater than 120 and gives coaches a set and forget player they can feel safe with all year. Should you be able to shuffle the salary cap around to afford the man-mountain of a Demon I don't blame you for plugging Gawn into your ruck line. I won't be paying up for him to start 2021, but he should be in everyone's team at some point if you want to enjoy your fantasy season.
Loading ...
FOLLOW US  ON TWITTER: @SportsbyFry for all thing AFL Fantasy (and more). Got something to say about the deck or AFL Fantasy in general? Join the conversation and use the hashtag… #AFLFantasy.