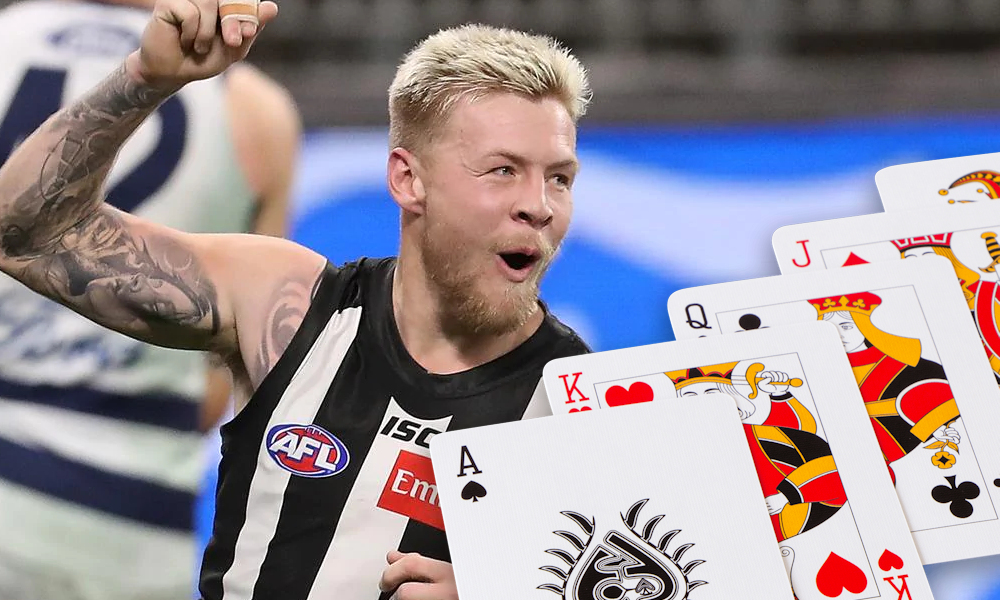 Name: Jordan de Goey
Team: Collingwood
Position: FWD
Price: $605,000
Bye round: 14
2020 average: 59.8
2020 adjusted average: 74.5
2020 games played: 8
Predicted average: 92+
Draft range: Late (gets bumped because of injury history)
Click here for 2021 Fantasy prices.
Why should I pick him?
The departure of Adam Treloar has been strongly linked to the improvement of Adams, Pendlebury, Crisp or even a Sier-type. But I think there's some definite upside for a player that's been hot on the lips of a lot of reporters (this time for the right reasons) this preseason. Jordan de Goey.
De Goey arrived back from the off-season in the condition of his life. He's slimmed down and looking super lean, so the rumours of more mid time are always going to follow. But there is definitely reason for the speculation. Notably de Goey was only re-signed after Treloar was traded, potentially flagging they knew they could cover the loss with the man in conversation. Collingwood have thrown de Goey in the middle in patches in the past with great results, but his fitness base hasn't allowed him to do it in anymore than a burst. This has changed now. He's a tough matchup for opposition midfielders, especially forward of the center.
I have it on good word from 'Sauces', who works internally at Collingwood that de Goey is going to playing a 65-35 Mid-Fwd split this year. 65% in Collingwood's high scoring mids! Sauces word alone has me bullish. Let's also consider that Elliot saw a substantial amount of mid-clock in 2020, so Collingwood aren't afraid to chuck their goal kickers in there. de Goey is the sort of player that seriously benefits from getting his hands on the ball early, he's a very hard player to stop when he's on and for this reason it's easy to see why they might throw him at the opening center bounce with Adams and Pendlebury.
de Goey, while not normally a consist scorer (few true forwards are) did start the 2019 quite hot scoring; 54 (warmup), 91, 107, 99, 78, 96, 75, 110, 80 from his first 9 games at an 88 average putting him 10 points under his current price. These scores are all as a forward too, so imagine what a few more tackles and disposals could add. His final 5 games of 2019 were eye catching too finishing the year strong with a 119 and finished the year ranked #2 of all the forwards for PPM.
Age is also a big tick here. He goes into this season cherry ripe as a 24 year old. Plus has 2 loophole rounds in the first rounds of the season.
Why shouldn't I pick him?
Now the problem with being so damaging as a forward is even if you get more mid time, it's short lived. Whenever Collingwood need a goal or a spark up forward, de Goey is too threatening down there not to play in front of the sticks. He kicked 12 goals in his final 5 games of 2020 and kicked 34 in the 2019 season. He's a match winner.
Injuries are always a concern for de Goey as well. He's never played a full season, the most being back in 2016 when he played 20, and after that 14 (2017), 17 (2018), 16 (2019), and 8 (2020). His injuries aren't linked to one specific thing either, it's not like it's a constant soft tissue setback. He missed 2 months in the middle of 2020 with a finger tendon injury. He's just prone to it. So there's always the risk of him going down.
Unfortunately for us too, de Goey's starting price is based on a discount on his 2019 season (which was a career best) and not his 2020 average (which was his 2nd worst… After his debut season). Priced at a starting price average of roughly 79 he's only 5 below his career best.
When de Goey has had stints in the mid in the past he still hasn't set the world alight. In round 2, 2020, de Goey started in the middle and ended on an adjusted 70. In round 5, 2020, de Goey started in the middle and ended on an adjusted 87.5. It's a small sample size as he's clearly been predominantly a forward but it still doesn't jump off the page.
Deck of DT Rating.
QUEEN
'Poor man's Dusty', is a phrase commonly used to describe de Goey. Dusty did take 6 years to get his first 100 average season, and de Goey is going into his 7th, so maybe it's time! Maybe this poor man just needed an extra year!
The added midfield time he will (as mentioned, Sauces has confirmed this) get this year is definitely peaking my interest. His best is genuine Fantasy elite. We could easily see a career best year out of de Goey in 2021, and I wouldn't be surprised one iota if it come to fruition… He's fit and firing and will have a heap of added responsibility through the guts. But what's de Goey's best? It's a hard one to read as he doesn't have a huge sample size from midfield games. But it couldn't be bad for his scoring, right? Besides if he does go forward to 'rest', he's still lethal. Could come out with 3 goals opposed to sitting on the bench.
What would we need from him? Probably a 95+ average. I can see this happening… But do you have the guts?
FOLLOW US  ON TWITTER: @DTTALK for all thing AFL Fantasy (and more). Got something to say about the deck or AFL Fantasy in general? Join the conversation and use the hashtag… #AFLFantasy.