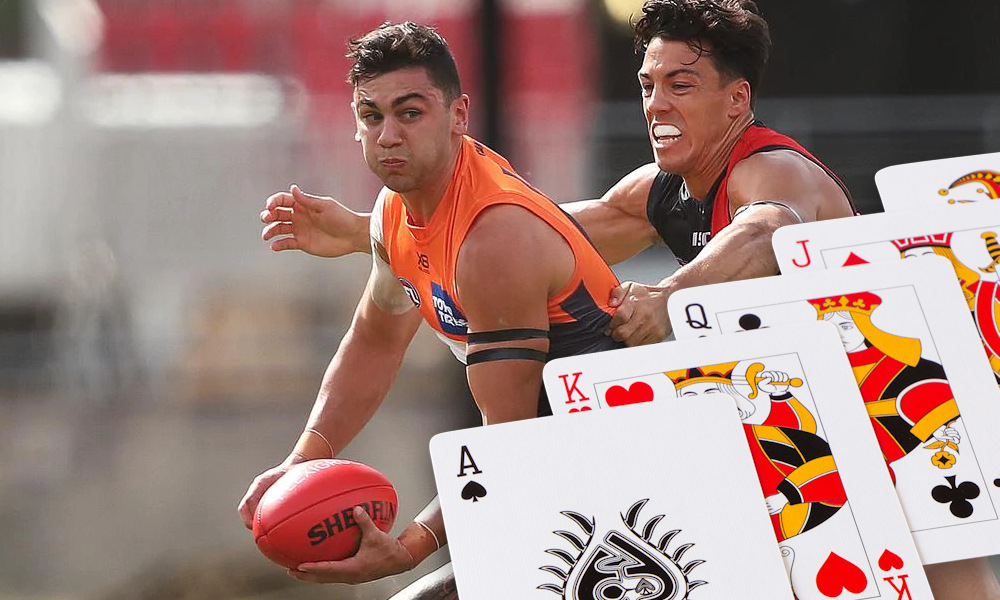 Name: Tim Taranto
Team: GWS
Position: MID
Price: $718,000
Bye round: 12
2020 average: 75.2
2020 adjusted average: 93.8
2020 games played: 11
Predicted average: 108+
Draft range: 2nd/3rd Round
Click here for 2021 Fantasy prices.
Why should I pick him?
Tim Taranto established himself as a genuine elite AFL Fantasy midfielder in 2019, joining the illustrious 110+ club. Not only that but he had the 4th highest total points of any player for that year. Jet.
Now we get Taranto as an absolute gift, priced at an average of 93.8, 20 points less than his 3rd year break out year in 2019. His 93.8 average can be widely blamed on two things; firstly GWS were plain garbage after their GF humiliation, and Taranto busted his shoulder in the preseason matchup against the Swans which resulted in surgery. Taranto never got off the ground in 2020, was played out of position and only managed the 11 games. There was potential Taranto could have missed the entire season if it wasn't for COVID delaying round 2.
Let's call 2020 an outlier and remember the player he (& GWS) were back in 2019;
Averaging 28 disposals, 5 marks, 6 tackles a game… With a positive kick:handball average at 17:12. Plus kicked 10 goals for the year. He hits every stat line evenly which allows him to consistently hit those high ceilings…
In 2019 he had 15 games over 100, and a whopping 7 games over 130 (essentially going 130+ one in every three games!!)! An absolute weapon who, not only solidified himself as a top 8 mid, but threw his hat in the ring to be a captain week-in-week-out!
In 2020 (as briefly mentioned) Taranto was played out of position, and his CBA's took a hit as a consequence. This will not happen in 2021, lets rewind to 2019 again, and GWS played in a GF and Taranto was that clubs B&F winner in just his third year. The whole team played better when Taranto was in the guts doing his thing. With Leon Cameron feeling the heat to perform after a disappointing 2020 campaign, you'd think one of the first magnets he moves has Taranto's name on it. He'll go back to that winning formula.
Also mentioned briefly above, GWS were very poor last year, and Taranto suffered because of it. With a fairly assured improvement, Taranto will too. An amazing stat is in GWS wins in 2019 he averaged 120 and in 2020 in wins he averaged 108, which is roughly 20 points more a game than in loses.
Taranto also suffered from not having home games. His two favourite grounds to play on, GIA (career average of 96.2) and UNSW (career average of 96.3) were stripped from him.
Tags? Not going to be an issue. With such a star-studded midfield there are a handful of players above him in the pecking order. Plus Taranto isn't super damaging. His disposal efficiency isn't great because gets hands on the footy and rails the ball forward for meters gained.
I always like to check time trials to see how speculative players are tracking. As for Taranto? Finish first in the pre-Christmas time trial, and finished 2nd in the most recent run, only to be pipped by Josh Kelly.
Taranto is also just 22 years old and still has room to improve, and will learn from his disappointing 2020.
Let me finish this section with a reminder, Taranto starts the year priced at 93.8.
Why shouldn't I pick him?
I owned Taranto last year and it was incredibly frustrating. In 6 of his 11 games he scored under 90. That sort of return is completely UNacceptable for a player you're selecting as a 'premium'. Similarly, in 2019, he had 5 scores below 90. He's good is top tier but he does have games were he can slump. Most notably in GWS losses. As mentioned above, in losses Taranto scores up to 20 points a game less than in wins which is quite significant. And GWS did just lose their leading goal kicker of the last three years, so maybe they don't climb the ladder at all and keep losing?
GWS also have quite a deep midfield and would want to keep getting game-time into the likes of Tom Green, O'Halloran, and new recruit Bruhn. Plus add Kelly, Coniglio, Ward, Hopper, and de Boer and it's pretty competitive. Could Taranto continue to float forward?
Deck of DT Rating.
KING
Very close to giving Taranto an ACE here. He's been a top 3 scoring midfielder before and we're getting him below an average of 94. It's huge value at his current price based on his 2019 average. Far too much value for me to turn away.
The only reasons you wouldn't start Taranto in 2021 is that you think he might continue his role of 2020 (which didn't bring GWS to a GF), or you're going a risky unique by avoiding him due to popularity.
FOLLOW US  ON TWITTER: @DTTALK for all thing AFL Fantasy (and more). Got something to say about the deck or AFL Fantasy in general? Join the conversation and use the hashtag… #AFLFantasy.