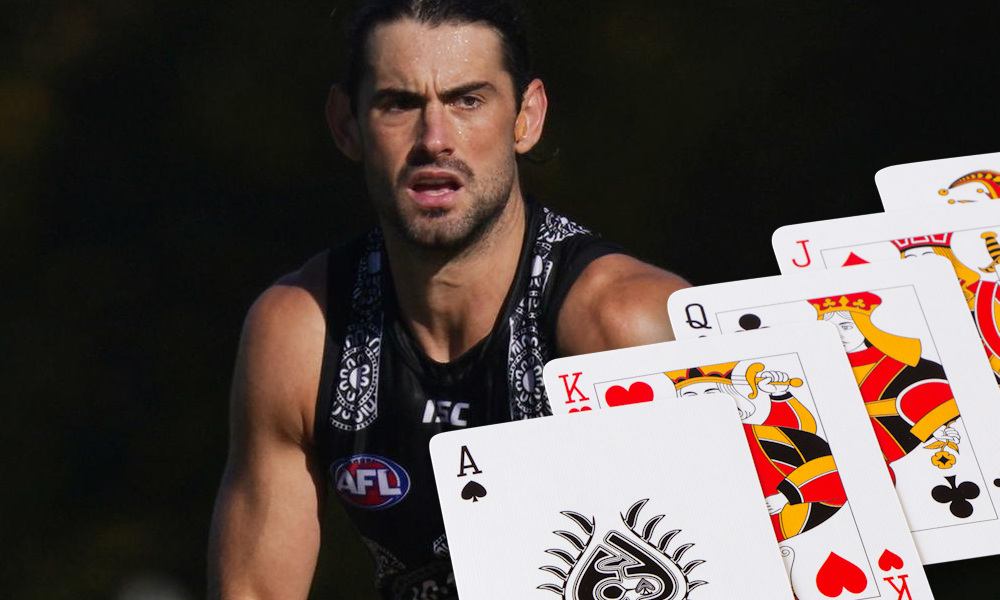 Name: Brodie Grundy
Team: Collingwood Magpies
Position: RUC
Price: $867,000
Bye round: 14
2020 average: 90.9
2020 adjusted average: 113.3
2020 games played: 17
Predicted average: 119
Draft range: 1st round
Click here for 2021 Fantasy prices.
Why should I pick him?
Imagine being considered out of form despite averaging 90.9 (113.3 adjusted)! But such are the high expectations we hold for Brodie Grundy after he dominated the competition with 122.1 and 120.0 in 2019 and 2018. If the ruck pig can return to those lofty heights this season, he's about 7 points or $50,000 underpriced.
So why will Grundy hit 120+ again?
The answer is COVID-19. The hubs and restrictions impacted players in unprecedented ways, but Grundy was affected more than most. With the season back to normal in 2021, his snout should return as well.
We also have to remember that the condensed fixtures hurt the big men most. Many rucks were rested during the festivals of footy and, although Grundy didn't miss a game, he had less time on ground (TOG) and was given breathers out of the middle. If his TOG can increase from 84% back to 89%, that's a 6% bump in points right there.
Lastly we all need reliable captain options this year, even if we're hunting value and considering midpricers. Grundy is a set and forget C, plus he'll be a formidable vice-captain option in his two Thursday night games during the first six rounds.
Why shouldn't I pick him?
There's always the concern that 2020 is a sign of things to come, and Grundy will be a 110 ruck from now on. If that's the case, it'd be wise to save $39,000 and bet on Reilly O'Brien improving his 86.8 (108.1 adjusted) average, or paying an extra $77,000 to enjoy Max Gawn pumping out another 98.9 (123.2 adjusted) season.
The biggest concern is the emergence of backup ruckman Darcy Cameron, despite him only attending 12% of centre bounces across his 8 home and away games in 2020. That included 26% in Round 8, however, and he was thrown into the middle at pivotal moments during Collingwood's victorious Elimination Final against West Coast. Grundy sat on the bench at the start of the third and fourth quarters, and was on the sidelines with a minute left after Josh Kennedy brought the margin back to one point.
Coach Nathan Buckley said: "We wanted Darcy and Brodie to share the load … Darcy was good in that role. We thought Darcy Cameron, his contest in the ruck is good. He's a natural ruckman. He was good." If there's a threat of Collingwood permanently opting for two ruckmen in response to less interchanges, then Grundy is a no-go due to a potential Mason Cox Effect 2.0.
It also should be noted that Grundy signed a seven-year multimillion dollar deal at the start of 2020. It's not uncommon for players to surge in contract years and then drop off after making bank, plus you have to wonder how Grundy will be feeling after Treloar was pushed out despite years and millions left on his contract.
Deck of DT Rating.
ACE
Grundy is a lock for me. The Beaus had seven (yes, seven!) different ruckmen on the field throughout 2020 and I need a set and forget gun at R1 this year if I'm going to avoid an early death due to stress.
The worst result is Grundy averaging 113 again and allowing you to use your trades elsewhere, while the dream outcome will see the ruck pig return to 120 and you having a top three captain option every round.
Loading ...
FOLLOW US  ON TWITTER: @DTTALK for all thing AFL Fantasy (and more). Got something to say about the deck or AFL Fantasy in general? Join the conversation and use the hashtag… #AFLFantasy.