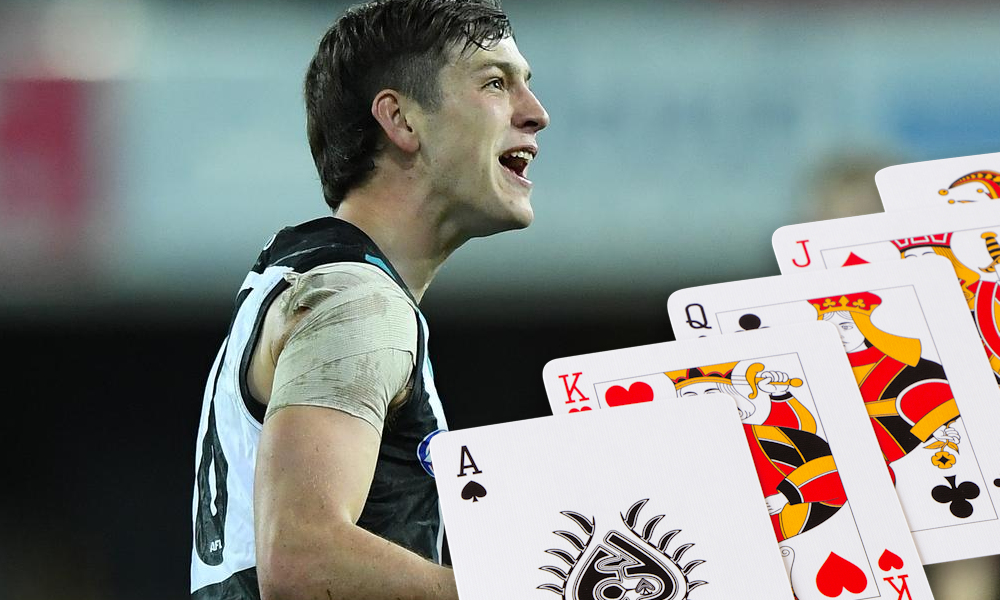 Name: Zak Butters
Team: Port Adelaide
Position: FWD
Price: $595,000
Bye round: 12
2020 average: 62.3
2020 adjusted average: 77.9
2020 games played: 15 (the two missed were suspension)
Predicted average: 85
Draft range: 6th round
Click here for 2021 Fantasy prices.
Why should I pick him?
I have had a lot of people asking me about Butters and to be honest he isn't someone that immediately jumped to my mind when I was looking at players for the Classic game in season 2021. Connor Rozee was one that I had much higher, but the more I looked into it, the more both of these guys should have a better 2021 season as they build into their careers. I will focus on Butters here but will talk about the $518k Fwd only eligible Rozee too as they are capable of playing a very similar role in the Power team. Just beware that Rozee's lower average and price are due to him missing some games through injury last season.
So, on with Butters…… Did someone say Third Year Breakout? After a debut season average of 56.7 and following that up with an adjusted average of 77.9 in season 2021 we are seeing that Zak Butters is going to be a very good player at AFL level. He is already one of the highly talked about players from his draft year and whilst he wasn't on the radar for many Fantasy Classic teams in season 2020 he will be possibly a little more likely to make you sit up and take notice in 2021.
One of the moves that Port made over the off season was to add Orazio Fantasia to the forward line. This is probably the most important thing to note for players like Butters and Connor Rozee. With Fantasia likely to be a permanent small forward this is going to release Butters and Rozee to be able to run through the midfield much more (yeah I can hear you from here "more mid time") but this is likely to be the case. If you think about that Power midfield you have Rockliff and Boak who aren't getting any younger and for the Power to go forward they need to get these two young stars running through there so I am expecting to see them getting in there more which should boost their scoring potential.
Now the two Power youngsters won't be competing to be in your top 8 mids, they won't get to that level of scoring, but given their roles over the past year the guru's at Champion Data (or is it just Warnie?) have made them Forward Eligible only. This really brings them right back into calculation. What I am hoping to see is a similar sort of breakout that we saw for Andrew Brayshaw or Jye Simpkin last year when they were given a bigger role in the mids. I am not suggesting that it will happen, but it is certainly a chance.
Why shouldn't I pick him?
Price and uncertainty about how that role plays out. His price of $595k is a bit too much to spend on him in your starting squad, unless you can guarantee that he will take that big bump in scoring and get up over the 90 pts average mark. I think there are just too many unknowns to take that risk. Is it he or Rozee that takes a bigger role in the mids? Does Fantasia actually play that allows him to be released? Personally I don't actually see Fantasia in Port's best 22 at the moment which means that Butters would probably stick around the forward line.
If I had to pick one of the young brigade at Port to spend more time in the midfield it is actually Rozee. If I had a choice between the two guys I think I am picking Rozee who is priced at about 80k less than Butters. For a similar price to Butters you can pick up Heeney, Tom Phillips or Kane Lambert. Once again, given a choice I am taking Heeney here as he has the runs on the board over a longer period of time.
Deck of DT Rating.
JACK
If he was sitting at a price of around $495k I would be much keener on picking Butters up. As I mentioned I think that Rozee is a bigger chance to break out as I think that Ken likes him in the midfield more than Butters. But have a look and see how he is used in the preseason. Butters may not be one that you start with but if he drops in price then gets on a bit of a scoring run with a midfield role he could be a great pick up sitting at your F3/F4 position.
As for Draft, he is likely to be drafted in most leagues (depending on the size of the league). He would be a very handy player at your F3 in that form of the Fantasy game. Don't let him slide too far as there is a lot of potential with him.
FOLLOW US  ON TWITTER: @DTTALK for all thing AFL Fantasy (and more). Got something to say about the deck or AFL Fantasy in general? Join the conversation and use the hashtag… #AFLFantasy.