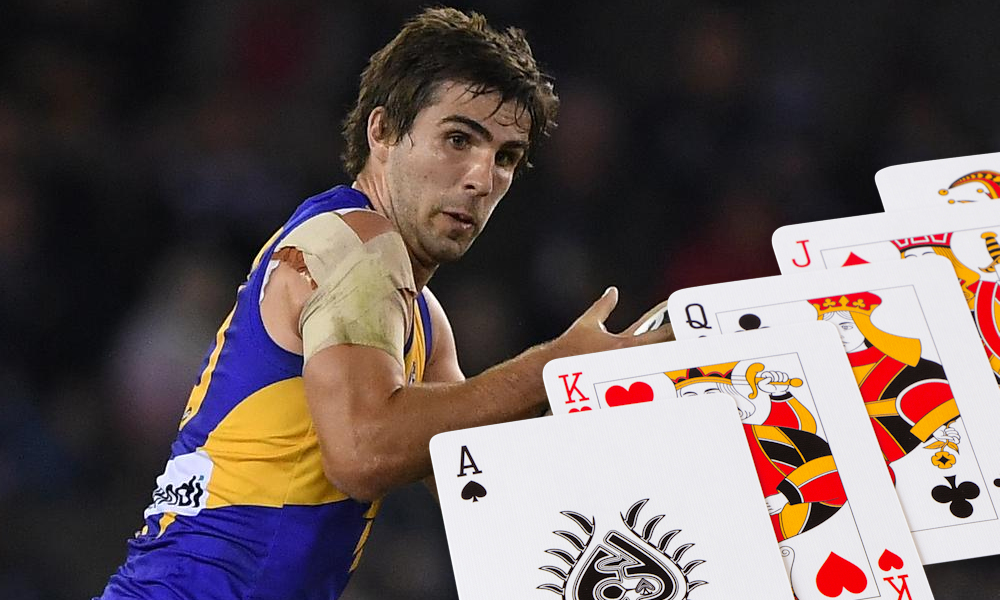 Name: Andrew Gaff
Team: West Coast
Position: MID
Price: $831,000
Bye round: 13
2020 average: 86.9
2020 adjusted average: 108.4
2020 games played: 17
Predicted average: 110+
Draft range: 2nd round
Click here for 2021 Fantasy prices.
Why should I pick him?
Andrew Gaff is one of the most consistent players in the AFL, with many of the things he does resulting in accumulating big fantasy numbers. For starters, he plays a massive amount of game time each and every week, more often than not over 95%. He also loves racking up the pill, as he always finishes in the top 5 in the AFL for disposals every year, which is great when you are considering paying up for a high priced guy like Gaff at $831k. Gaff will also be quite a unique selection in 2021, as shown by his current team selection of 4%. With options like Jack Macrae, Matt Crouch and Tom Mitchell around that price tag, along with many people going for more value in midfield, he could be a great POD to start the year with. Another reason Gaff is a great selection is that the Eagles midfield looks to be getting healthy again. All of Yeo, Shuey and Redden missed portions of last season due to injury, meaning that the likelihood of Gaff attracting a tag increased massively. But at the moment it looks as though all of them are tracking well to play round 1. Hopefully this will mean that Gaff will move back down the tag pecking order, most likely behind Shuey and Kelly. I fully expect if the Eagles mids play the majority of the year, and Gaff avoids the majority of attention, I would project an average of 110+ from him.
Why shouldn't I pick him?
I think there are 2 things that would go against picking Gaff in 2021, firstly being his price. Being priced at a hefty $831k, there are so many great options around that price tag. But there are also quite a number of underpriced guys in the midfield this year, with Rory Sloane, Matt Rowell, Dyson Heppell and Ben Cunnington just to name a few, so a lot of people will go for those guys and pass on Gaff, which could make a lot of sense as you would save around 300k which could really help strengthen another area of your team. Another thing is the fact that when he does cop attention, more often than not, his scoring will suffer significantly. Some of these low scores include a 52 (65 adjusted), 51 (64 adjusted), and a 44 (55 adjusted). When you are paying up for a big midfielder, you want someone who will score well for you regardless if they receive attention or not. However, I don't think this is a massive issue for Gaff, it is just something to consider if you select him.
Deck of DT Rating.
KING
I think that Andrew Gaff is a great and underrated pick in 2021. Many people will go with the names of Neale, Macrae and Mitchell, but I think Gaff could be a great POD alternative to them or in addition to one of them. He plays massive minutes and racks up the pill, which is what we want to see in AFL Fantasy. He is very much in my thinking of the premium midfielders to start with in 2021, alongside Taylor Adams, and I think you can't go wrong with selecting Gaff in 2021.
FOLLOW US  ON TWITTER: @DTTALK for all thing AFL Fantasy (and more). Got something to say about the deck or AFL Fantasy in general? Join the conversation and use the hashtag… #AFLFantasy.