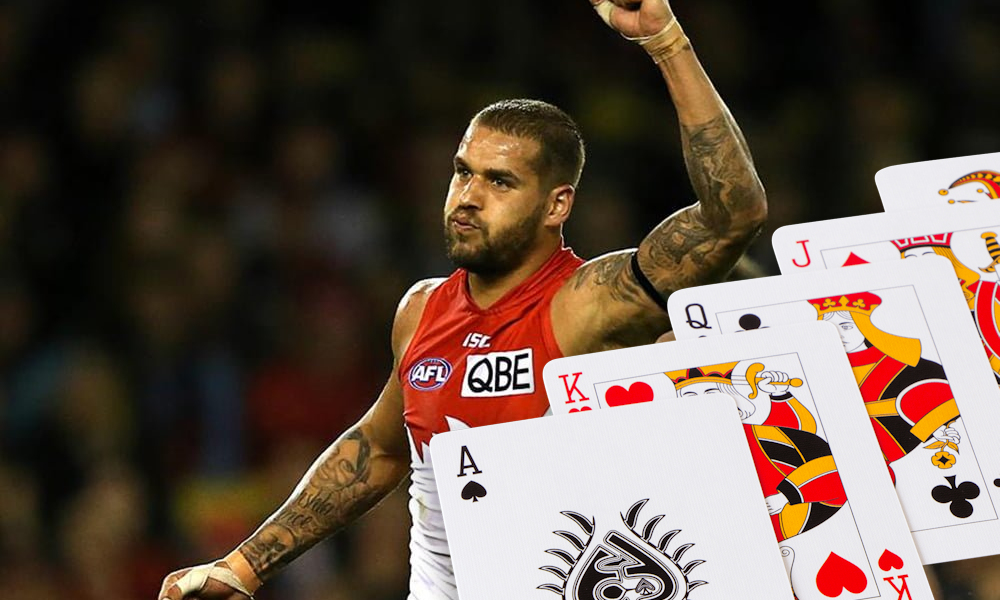 Name: Lance Franklin
Team: Sydney Swans
Position: FWD
Price: $377,000
Bye round: 14
2019 average: 70.5
2019 games played: 10
2020 games played: 0
Predicted average: 80
Draft range: Late bench spot
Click here for 2021 Fantasy prices.
Why should I pick him?
Buddy is priced at 49.4 points thanks to playing zero games last year and it's the cheapest he's been since his debut season in 2005. He only averaged 70.5 in 2019 but pumped out 91.7, 96.1 and 94.2 in the three seasons before. If we split the difference and predict that he manages 80 this season, he's got 30 points of upside and will generate a heap of cash in a hurry.
But what about the injuries that kept him gameless in 2020? A thing of the past, according to the reports coming out of the Swans' camp. He returned to training early and looks fit as a fiddle. Assistant coach Jarrad McVeigh said: "I had to do a running session with him the other week and he was flying. Looking at him, he's just so keen to get out there."
I also wouldn't worry that Buddy didn't take the field last year. Think of it as a reset for his body so he's fit and firing for Round 1 in the Swans' quest to climb back up the ladder. There was no rush for him to return, just a focus on rehab and recovery so the team could reap the rewards in 2021.
It's easy to forget that we're talking about a man who's averaged over 90 eight times and hit 100 twice. He even scored 117 and 107 in 2019, showing he's still got it. He'll be eyeing off goal number 1000 this year and will be a force to be reckoned with.
Why shouldn't I pick him?
Buddy's about to turn 34 and his body's showing the wear and tear of 16 seasons. It wasn't just one injury that ruined his 2020 – it was a knee surgery in the pre-season, a hamstring strain in May, and then groin soreness to finally draw a line through the year.
These ongoing soft-tissue injuries have kept Buddy to just 10 games in two years and we've heard about him burning up the track in pre-season before, only to succumb to a strain that jeopardises his year. Do we really want to pick a player who's sure to miss a week or two and cause panic at lockout?
$377,000 is also an awkward starting price to trade Buddy if he gets injured early. You'd have to downgrade to a rookie who can't be trusted on the field, or find the cash to upgrade to a premium. The safest option might be finding $111,000 now to start Jeremy Cameron instead, considering he'll play all 22 games and is also under-priced compared to his previous output.
Deck of DT Rating.
QUEEN
It's high risk, high reward but Buddy presents too much value to be scared off by a possible injury, as long as you're treating him like an inflated cash cow rather than a keeper.
We'll need to monitor his pre-season, however, and playing at least one of his two Community Series games is a must.
And imagine owning him for that +9 that makes him just the sixth man to boot 1000 goals!
FOLLOW US  ON TWITTER: @DTTALK for all thing AFL Fantasy (and more). Got something to say about the deck or AFL Fantasy in general? Join the conversation and use the hashtag… #AFLFantasy.