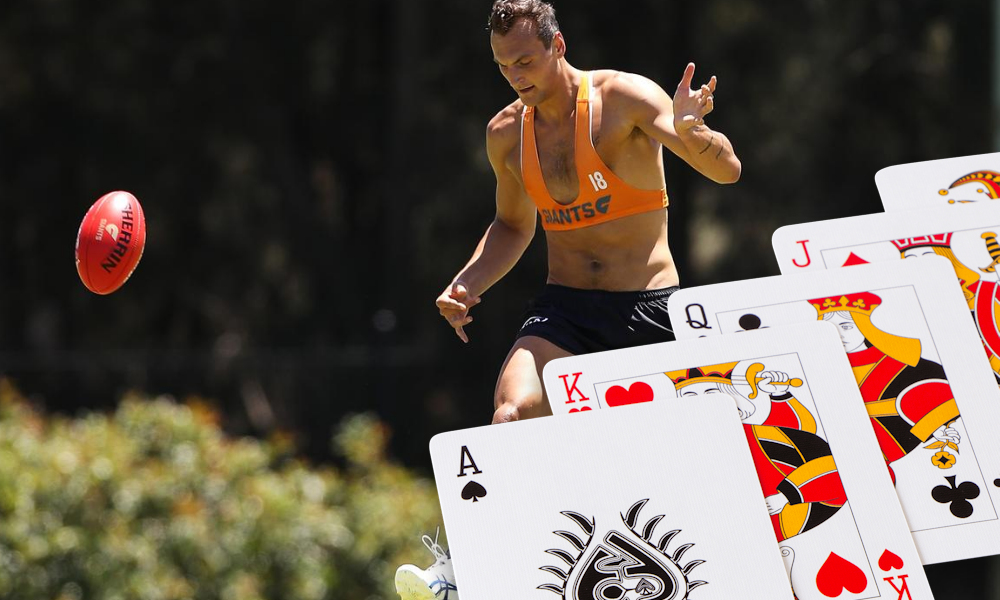 Name: Braydon Preuss
Team: Greater Western Sydney Giants
Position: RUC
Price: $377,000
Bye round: 12
2020 average: 50
2020 adjusted average: 62.3
2020 games played: 3
Predicted average: 80
Draft range: Late Rounds in deep leagues
Click here for 2021 Fantasy prices.
Why should I pick him?
Opportunity. That is it, plain and simple. Preuss has spent all of his career sitting behind one of the top ruckmen in the game. We all cheered when he said he wanted to leave North to get out from under Goldy's shadow, but then all shook our heads when he said he wanted to go to Melbourne behind an even better ruck in Gawn! But, all is not lost. What he has done so far in his career is spent hours and hours on the training field battling against two of the best three/four rucks of the last 5 years. This should see him know exactly what he is doing now that he has a job all to himself at the Giants.
With Sam Jacobs departing the Giants at the end of last season and Shane Mumford not getting any younger, the job is sitting there for Preuss to be one out each and every week. When he does work alone he can score. In 2020 we only saw him in three games and he was only solo in two of those. One of those was against Grundy where he scored a 65 (12 touches and 24 hitouts) in a huge win and the other was a 60 (8 and 31) in a loss to Tim English's Doggies.
In 2019 we saw Preuss play 7 games at an average of 56. However, only one of those games saw him play without Max Gawn. In that game he scored a 108. So there is enough evidence to show us that given the opportunity he can score and can be a valuable player in our team as our R2 behind either Max or Brodie. With cash tight this season as usual we need to find value wherever we can and as at the time of writing this it seems most of you have already made your decisions with Preuss in 38% of teams to be the third most selected player in the comp behind Matty Rowell and Roy's Boy, Zac Williams.
Why shouldn't I pick him?
To be honest there aren't too many reasons to not pick him. There is of course the threat of Shane Mumford still being on the list. Last season we saw Mumford in 10 of the Giant's 17 games and Jacobs in the other 7, they never played together. But realistically the Giants haven't brought in Preuss to play second fiddle to Mumford. They have brought him in to be the number one and to lead this team. So I am not concerned about that.
Is Preuss going to be a top 3 or top 4 scoring ruck at the end of the season? No, probably not. If you want a set and forget ruck for the season you may not want to start with him as he won't be scoring up with the likes of Grundy and Gawn. But, what he does do is provides a heap of value at his price.
There is the unknown too, we have never seen Preuss play more than 8 games in a season. How will his body hold up with playing day in and day out? This is a bit of a risk, but to be fair, he has been in the system now for 6 full seasons and he should be fine.
Deck of DT Rating.
King
Preuss is simply a no brainer at your R2. He gets a King rating from me not for his points output but for the value that he gives us. We don't have the salary cap space to get the two big dogs straight up so Preuss provides us with that happy medium where we can slot him into R2 to generate some cash whilst we just plan around when we bring in one of the big guns. He has done a huge apprenticeship against two of the best in the comp and is ready to explode into season 2021 and show us exactly what he can do. He will be my R2 and he should be yours too.
FOLLOW US  ON TWITTER: @DTTALK for all thing AFL Fantasy (and more). Got something to say about the deck or AFL Fantasy in general? Join the conversation and use the hashtag… #AFLFantasy.