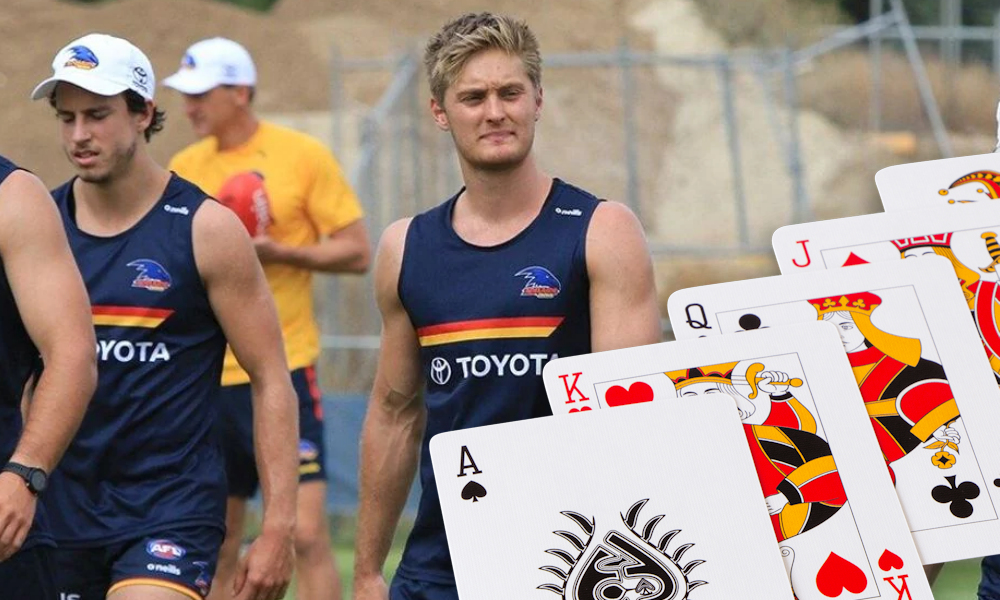 Name: Jackson Hately
Team: Adelaide Crows
Position: MID
Price: $486,000
Bye round: 14 (Last Bye)
2020 average: 57.8
2020 adjusted average: 72
2020 games played: 6
Predicted average: 85
Draft range: Only relevant in very deep drafts or keeper leagues.
Click here for 2021 Fantasy prices.
Why should I pick him?
There are a few reasons as to why a player might request a move to a different team in a different state. The first being the 'going home factor' and another for more opportunity on field. Fortunately for us Hately's move was for both, and both these should influence his output in 2021.
Hately had struggled to find consistent games in GWS' best 22, due to their star studded midfield. Even when opportunity presented itself through injury, they preferred to either swing a Greene or a Williams in there. In 2019 Hately managed the 7 games and in 2020 only managed 6. To top that off in his 6 games last year he played a high half forward role and didn't attend a single center bounce! He's also been a late in 3 times and has only managed a career high of 5 consecutive games, so we're still yet to see Hately's full potential. But, what is Hately's full potential? What scores is he capable of if he gets a full-time mid role?
Whilst he was playing in the NEAFL in 2019 he averaged a commendable 111 Fantasy points. He played 13 games and only scored under 100 points on two occasions. The 13 games in the NEAFL included high scores of 153, 139 and 137 which shows the fantasy potential this kid has if he's in his desired role.
Backing his NEAFL numbers up, Hately averaged a tidy 98 in the U18 footy comp. He's got some Fantasy pedigree about him.
As well as being deprived of games at GWS, and being played out of position, even when he was named, his TOG over his AFL career sits at around 77%. Hately isn't known for his speed or burst, more his endurance and tank to be able to continuously break from packs and find space. If Hately can increase his TOG by 10% (which he is capable of with the right opportunity), then we should naturally see a substantial price rise from that alone. Think Hugh Greenwood last year, was never a bad PPM (points per minute) player but only averaged around 70% TOG… And we all know what happened to Hugh once we got that extra time on ground…
And to finish with, of course, there's no more Brad Crouch who was one of their #1 go-to inside midfielders. So there's a lot of vacant midfield minutes up for grabs, which leads me to the next section… Cons;
Why shouldn't I pick him?
In a recent interview with Schoenberg he was asked about his role in the team, as well as Hately's. Here's what Schoenberg had to say;
"I think there's some competition with me and Hately… he's a really good player."
"We both will probably share that position. Coming in and out, can go half-forward as well, play on the outside."
"We'll both swing in there at times."
"Share that position"… 'Share' is NOT a word you want to be hearing. Especially not when Hately has spent a lot of time at GWS playing as a half-forward or an outside midfielder.
Adelaide's midfield brigade is fairly formidable too (considering they were the wooden spooners). Matt Crouch will have high usage, Sloane hopefully gets back to his best, Laird came into his own in the role. You'd assume that those 3 will be the main guys in there, but then also add the following names; Brodie Smith, Keays, Milera, Chayce Jones, (new recruit) Pedlar, Seedsman and Schoenberg all breathing down the neck of the CBA rotations (and all offer unique things in the guts, respectively). I mean I can still see a spot there for Hately, but lets think… It's round 1, the opening center bounce of their season. Who do we think is standing at ROB's feet. Probably Crouch, Sloane and Laird, right?
Another big flag here is that Hately ranks 'elite' in marks. It's his number one stat line for generating fantasy points, and also because of the marks has a healthy kick:handball ratio. In 2019, Hately had 6+ marks in 4 of his 7 games. In 2020, he went at 6+ marks in 50% of his games (3 from 6). Adelaide ranks 18th in the competition for marks. Dead last for marks taken. Granted, Adelaide got absolutely bullied for the first 3/4 of the season and basically didn't touch the ball which is highlighted by the fact they ranked 3rd in the comp for tackles. General list improvements should bump marks taken… But it's definitely a big flag.
His ownership (at time of writing this article) is a high 23%. So you could be unique here by not selecting him. Which I actually don't mind as a fade. He won't burn you as hard as doing, say, the same for Tom Mitchell (pre injury news).
He's priced at $485,000 which is far from cheap. The guys only played 13 career games with 1 career score of 100, and after that only 3 more games above 80. With a non-injury affected adjusted score of 28… 28!
Deck of DT Rating.
JACK
Jackson Hately is a name that's either sat in your 2021 preseason side, or currently sitting on the MID line in around M6. He's priced at an average of 64, and averaged 72 during the 2020 season. At the price of $486,000 you could go down to Will Phillips and net $220k. Or you'd be thinking Hately could at least increase his average by that golden 20 point mark, which would be 84. I think anything in the 80's would be enough, a mid 70's average is his basement and his ceiling could be low 90's.
I just don't think the 'extra midfield' time Hately is going to get in 2021 is going to be as a full-time inside mid. Over his career he's only averaged a 27% contested possession rate and 0.5 clearances a game. Yes, he's been starved of the opportunity but I see Hately having a lot of usage on the outside still with his endurance running and breaking from the pack.
As mentioned he's got a high ownership, and he's definitely not going to be in our/your sides come seasons end, which is why I'm not totally against the fade on Hately despite his obvious value.
Let's put it this way, your season is not going to be derailed by not having him, and it's not going to be won by having him. His selection will come down to how you structure your team. He's a tantalising prospect this year though, no matter which side of the fence you're on!
FOLLOW US  ON TWITTER: @DTTALK for all thing AFL Fantasy (and more). Got something to say about the deck or AFL Fantasy in general? Join the conversation and use the hashtag… #AFLFantasy.