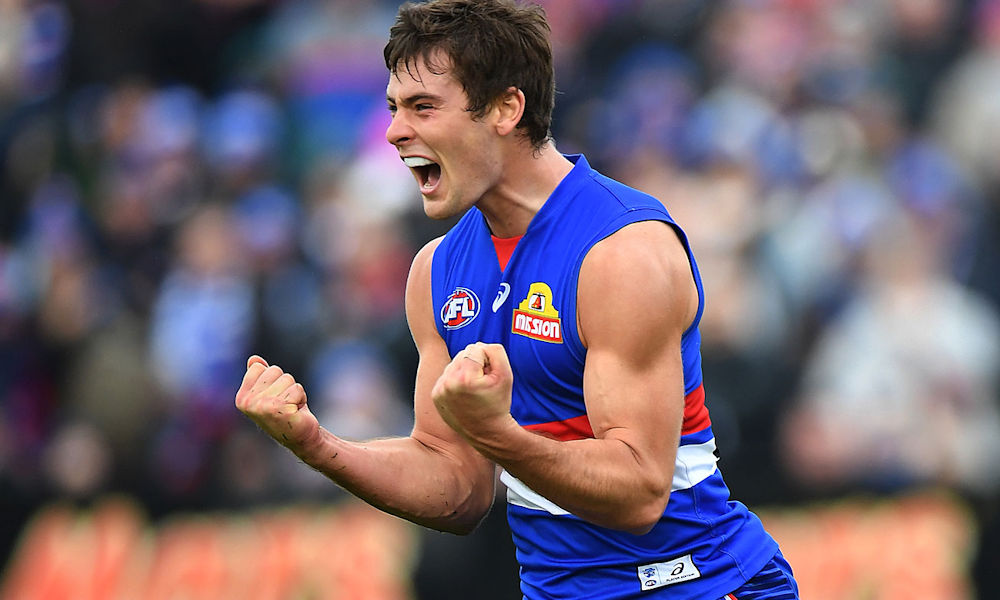 Fantasy positions will be finalised and revealed in mid-late-December as lists will be 'finalised' following the Draft which is set to be held in the week of the 7th December.
As with every year, there will be plenty of position changes ahead of the new season.
Using the position additions throughout the season by Champion Data and their AFL Player Ratings, we've tried to find the key changes that will be the most Fantasy relevant in 2021.
WHITFIELD GOES BACK TO DEF
This time last year we saw Lachie Whitfield go from having DEF status in 2019 to MID/FWD status in 2020. According to the Player Ratings, Whitfield will be a DEF next season. He generally lined up at half-back and racked up a lot of his numbers, including those handy +6s, in the back-half of the ground. There is a chance that he'll have DEF/MID status despite just being named up as a DEF by the Player Ratings (they don't have any DPP for defenders.
Whitfield with DEF status will place him as the second most expensive defender due to his 2020 average of 86.4. Jake Lloyd averaged 91.5.
OTHERS TO LOSE FWD STATUS
The top scoring Fantasy forward in 2020, one point more than Whitfield, was Christian Petracca. He enjoyed a cracking season due to his midfield role and this is likely to make him a MID only next season.
Other top performing MID/FWDs from this year that are are good odds to be MID only include Hugh Greenwood and Andrew Brayshaw. Their spike in output was because of their midfield usage. Greenwood averaged 77% of centre bounce attendances. While Brayshaw attended 'just' 42% of CBAs, he is named up as a MID in the Player Ratings.
Jy Simpkin and Bailey Smith were popular mid-priced players that improved their numbers. They will be stripped of their FWD status and be MID only.
Although David Swallow gained FWD status in the first lot of DPP additions, his season-long 61% CBAs would nearly put a line through him holding that for 20201.
DUNKLEY, DANGERFIELD NOW FWDS?
A big name of the trade period, who remains a Dog is Josh Dunkley. While some joked about him gaining ruck status due to his couple of games where he was the main man in there, despite English playing, he was used as a forward for a lot of the season. A tale is told by the Bulldogs' CBAs. Dunkley was in the guts for 77%, 80% and 87% for the first three rounds, but coming back from injury, he peaked at 41%, averaging less than 25% for his last 8 games.
While some was bench, he was primarily forward and this should see him as a MID/FWD in 2021.
But, as discussed on last week's podcast… can we touch (or trust) any of the Dogs?
% of time spent in the midfield for Josh Dunkley:

2016 – 38%
2017 – 35%
2018 – 51%
2019 – 77% (career-best season)
2020 – 55%#SuperCoach #AFLFantasy #AFLTrade

— Fantasy Freako (@FantasyFreako) November 3, 2020
It'll be interesting to see whether Patrick Dangerfield gets the DPP he's been talked up to gain. He missed out on the second round of DPP additions by a few percent, but finals games count towards the positions that Champion Data provide for the Fantasy competitions. In the semi-final he booted 4 goals and played 81% as a forward. Throughout the finals he spent plenty of time forward and it could be very close to him being named as a MID/FWD in 2021.
Steele Sidebottom and Dayne Zorko added FWD to their MID status' during the season and could be in the mix for dual-position status. One of Roy's favourites, Zac Bailey, is listed as MID/FWD by the Player Ratings after being a DEF/MID in Fantasy this year.
Two-time Norm Smith Medallist Dustin Martin is called a MID/FWD by Player Ratings, but interestingly, he has the highest percentage of centre bounce attendances for the Tigers with 76%. It will be interesting to see how the numbers come out and whether he is DPP again.
2020 DUAL POSITION PLAYER ADDITIONS
Each year the team at Champion Data adjust the Fantasy classifications for players in a single position to reflect what roles they have been playing. From what we understand, their cut off is approximately 35% in the 'new' position (which is what we see give them DPP when they are initially set up in early December).
Due to a shortened season, there was just two rollouts of DPP additions in 2020. The first was prior to round six as per normal, the second was following round 12 rather than before. This was due to the condensed fixtures and that round 12 was at the end of the first block of condensed fixtures.
A total of 48 players added DPP,
PRE-ROUND 6 ADDITIONS
Magpie gun Steele Sidebottom was the biggest name to gain DPP in the first rollout but coaches didn't really get to take advantage of it. He was suspended for breaching COVID-19 protocols. When he returned, his price was extremely high due to his cracking start to the year. Soon after he left the hub to return to Melbourne to be with his pregnant wife.
| Player | Club | Initial | Add | New |
| --- | --- | --- | --- | --- |
| Brodie Smith | | DEF | MID | DEF/MID |
| Ben Keays | | FWD | MID | MID/FWD |
| Cameron Rayner | | FWD | MID | MID/FWD |
| Chris Mayne | | MID | DEF | DEF/MID |
| Tom Phillips | | MID | FWD | MID/FWD |
| Will Hoskin-Elliott | | FWD | MID | MID/FWD |
| Steele Sidebottom | | MID | FWD | MID/FWD |
| Jake Stringer | | FWD | MID | MID/FWD |
| David Zaharakis | | MID | FWD | MID/FWD |
| Reece Conca | | MID | DEF | DEF/MID |
| James Aish | | DEF | MID | DEF/MID |
| Brett Bewley | | FWD | MID | MID/FWD |
| Lachie Weller | | DEF | MID | DEF/MID |
| Jack Bowes | | MID | DEF | DEF/MID |
| David Swallow | | MID | FWD | MID/FWD |
| Darcy Fort | | FWD | RUC | RUC/FWD |
| Shaun Burgoyne | | DEF | FWD | DEF/FWD |
| Ben McEvoy | | RUC | DEF | DEF/RUC |
| Jay Lockhart | | FWD | DEF | DEF/FWD |
| James Harmes | | MID | DEF | DEF/MID |
| Christian Petracca | | FWD | MID | MID/FWD |
| Aaron Hall | | MID | FWD | MID/FWD |
| Zak Butters | | FWD | MID | MID/FWD |
| Connor Rozee | | FWD | MID | MID/FWD |
| Jarryn Geary | | DEF | FWD | DEF/FWD |
| Ben Long | | FWD | DEF | DEF/FWD |
| Harry Cunningham | | DEF | MID | DEF/MID |
| Tom Liberatore | | MID | FWD | MID/FWD |
POST-ROUND 12 ADDITIONS
Lions captain Dayne Zorko has been a Fantasy favourite over the years and his DPP was a welcomed addition. The recently traded Isaac Smith is another that could be a relevant FWD in 2021 as well as Jye Caldwell.
| Player | Club | Initial | Add | New |
| --- | --- | --- | --- | --- |
| Ned McHenry | | MID | FWD | MID/FWD |
| Dayne Zorko | | MID | FWD | MID/FWD |
| Cam Ellis-Yolmen | | MID | FWD | MID/FWD |
| Matthew Kennedy | | FWD | MID | MID/FWD |
| Orazio Fantasia | | FWD | DEF | DEF/FWD |
| Rory Lobb | | RUC | FWD | RUC/FWD |
| Will Powell | | MID | DEF | DEF/MID |
| Mark Blicavs | | DEF | MID | DEF/MID |
| Jye Caldwell | | MID | FWD | MID/FWD |
| Isaac Smith | | MID | FWD | MID/FWD |
| Luke Jackson | | RUC | FWD | RUC/FWD |
| Harley Bennell | | MID | FWD | MID/FWD |
| Adam Tomlinson | | MID | DEF | DEF/MID |
| Kyron Hayden | | MID | DEF | DEF/MID |
| Sam Mayes | | MID | DEF | DEF/MID |
| Kane Farrell | | FWD | MID | MID/FWD |
| Kane Lambert | | FWD | MID | MID/FWD |
| Shai Bolton | | FWD | MID | MID/FWD |
| Brendon Ah Chee | | MID | FWD | MID/FWD |
| Oscar Allen | | FWD | RUC | RUC/FWD |