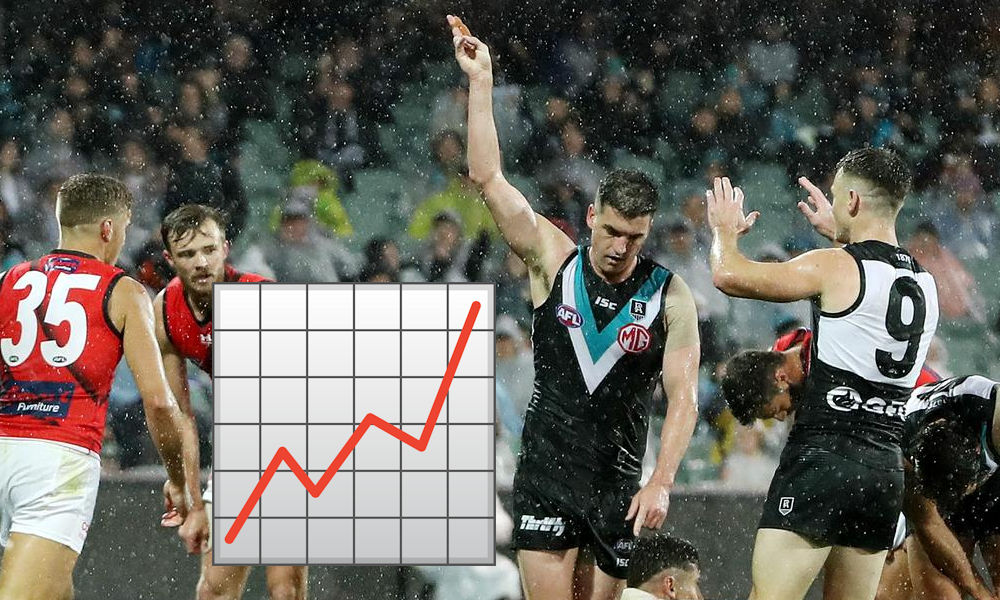 Ben of the @BeaufortBeaus looks back at the most popular trades of Round 17.
Most Traded In
Don't mess around with forwards – it's time to stock up on premium midfielders and lock and load for the final round of the season!
Tom Rockliff is the pick of the bunch and it's only fitting that the RockPig has joined the $800k club. He's coming off his second 122 in a row and should be big again against Collingwood as Port look to carry their momentum into the finals.
Josh Dunkley and Brad Crouch are excellent value options if you're strapped for cash though. Dunkley's scored 101 and 102 since his bye and is hitting peak form for the Dog's run to the finals, just like last season. Meanwhile Crouch has averaged 82 in his last three and will want to finish the season on a high to secure the big bucks in free agency.
Hamish Brayshaw (MID, $172,000)
Jack Buckley (MID/FWD, $193,000)
Damon Greaves (DEF, $263,000)
Tom Rockliff (MID, $807,000) 👍
Blake Acres (MID/FWD, $596,000) 👍
Josh Dunkley (MID, $698,000) 👍
Chad Wingard (MID/FWD, $551,000) 🚩
Brad Crouch (MID, $631,000) 👍
Keidean Coleman (MID/FWD, $301,000)
Dayne Zorko (MID/FWD, $742,000) 🚩
Most
Trade
d
Out
I'm envious of the coaches who traded out Jy Simpkin since he only scored 45 – just 16 points more than his concussion-affected 31! He's up against West Coast in the first game of the round and is a priority trade out.
And if you're still holding Alex Witherden, at least you'll know if he's back in the team at 6:20pm on Friday after only one game's been played.
Jake Riccardi (FWD, $381,000) ✂
Stephen Coniglio (MID, $663,000) ✂
Irving Mosquito (FWD, $256,000) 🚑
Sam Wicks (MID, $367,000)
Angus Brayshaw (MID, $609,000) 🚑
Jy Simpkin (MID/FWD, $556,000)
Xavier O'Neill (MID, $287,000)
James Worpel (MID, $717,000) 🚑
Alex Witherden (DEF, $659,000) ✂
Jack Redden (MID, $528,000) 🚑
A decent emergency score from Hamish Brayshaw would've been perfect right now, hey?#AFLFantasy #Coniglio@DTTalk pic.twitter.com/acLUZnosI5

— Ben (@BeaufortBeaus) September 11, 2020
Early Movers
Caleb Daniel (DEF, $632,000) will be a popular swap from Sam Docherty after his monumental 128. It'll cost you $61,000 though, so I'd consider playing Damon Greaves on the ground and using that cash to get two of Calvin's captain picks.
There are a lot of savvy coaches interested in Tim Kelly (MID, $609,000) too. He carried West Coast's depleted midfield and pumped out a 119, and should be massive again against the new broken witches hats (North Melbourne).