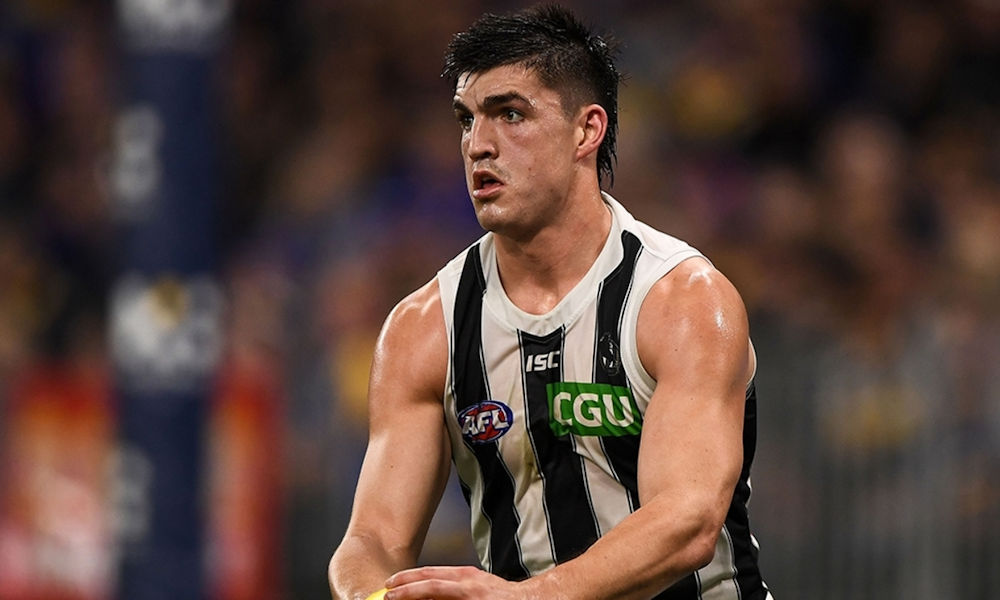 We're back AFL Fantasy Coaches, welcome to another edition of Ripe for the Picking! For those of you who don't know me, I'm Sparksy and I write this article once every four Rounds to give you the low down on which players are providing value right now. It feels like forever since I've penned a Ripe for the Picking, so I'm very excited to be back. Essentially, I'll discuss any player who I deem to provide significant value, whether that be because of their price, breakeven, and/or ownership percentage. This year I've changed the format in two ways. Firstly, I'll talk about any player who provides value, even premium's that are under-priced, rather than just the mid-pricers. Secondly, rather than listing my Top 3 and then Next 5 options, I'll be giving you a Top 3 in every position I can, and then a 'The Others' section, where I'll briefly discuss those that didn't make the cut but still provide value. Let's get into it, shall we?
Defenders:
Brayden Maynard (DEF $651,000) – I'm not convinced Maynard can keep this up, but the stats don't lie, the man is having a largely improved season so far, despite the shorter quarters. Even though we have games that are around 20% shorter, Maynard has managed to up his average by 9 points on last season, starting off his season with four of his better games. To add to this, with teammate Jeremy Howe going down, Maynard requires just $13k to get in, and you're only losing around 3 points in average. Not only is he an easy trade target for Coaches of the injured Howe, but Howe also played an extremely Fantasy friendly role which is now up for grabs and could be filled by Maynard himself, increasing his average even more. There are two main issues I have with Maynard and they are his history and this season's sample size. Maynard hasn't scored close to his current average at all in previous seasons with longer quarters and playing a similar, if not exactly the same role. So what is making this season so different? The man is still playing a half-back role, and yet he's getting 3-4 more touches a game, it's quite perplexing. I'm putting it down to a change in Collingwood's play style, which bodes well for Maynard in the long run. My other concern is that he's managed these scores from just four games. Maynard has had similar runs in previous seasons, including an 82 followed by a 130 last year, but his average has always come crashing back down. I think he's a safe enough pick, but if you do replace Howe with him, don't be incredibly surprised if Maynard averages 70 for the rest of the year.
Adam Saad (DEF $593,000) – Here's one a lot of people hadn't thought of, and probably with good reason as he is kind of risky, but Adam Saad has had a solid start to the season. There are a lot of negatives: He's never been a great Fantasy player, with his highest ever average being 67.3 last year; His average and price are in a mildly awkward range; and he has a reasonably tough run coming up. However, there is a lot of upside to him as well. If you trade Howe down to him, you're making around $40k. His BE is at 26, so he's absolutely going to make you some coin. Finally, Saad has scored his first ever ton this year, so it seems like he's worked some things out and is finally ready to score in Fantasy. You are getting what you pay for, as for $60k less than Maynard you're losing 6 points on average. However, I know cash is a bit tight right now and people are looking to use their last three trade Round to upgrade their team as much as possible, so if Howe and money are both issues, I think Saad is a great way to solve both. He's pretty much guaranteed to make you cash as well, so he provides you with a true steppingstone to actual premiums later, whilst being a solid option to field. I think I'm going to use some DPP action to turn Howe into a better Forward line for my team, but if I wasn't, I think I'd honestly go Saad over Maynard. Food for thought.
Nick Haynes (DEF $633,000) – Another solid Howe replacement, Haynes has been very consistent throughout the four Rounds so far and still provides great value despite the slightly larger price tag than season's start. Haynes sits behind Saad on this list because he provides the opposite sort of target for Saad. He's very consistent and you can almost guarantee a mid-70's score from him, plus he's done this sort of scoring before so he's at least mildly reliable. On the other side of the coin, he will be pretty much a straight swap from Howe, and he has slightly less coin to earn than Saad, although he should still make a bit of money. A big bonus is Haynes is his ownership which, like Saad, is well below 10%. This means he's almost a guaranteed solid score that the majority of others don't have and could make a huge difference in both head to head matches and rankings if more popular players have bad games. I think Haynes doesn't provide anywhere near as much upside as Maynard and Saad potentially could, but he is definitely a lot safer to put in your team as you know what you're getting. Just depends on whether you want to take the risk or not.
The Others:
I shouldn't need to mention him but Sam Docherty (DEF $706,000) has been one of the best players in the competition and is still heavily undervalued. If you're one of the 50% who haven't gotten him, then your attempt at the car is probably over, but get him so you're not behind in your League matches.
Other popular Defender Dan Houston (DEF $612,000) also still has value left in him but has been a bit more lacklustre than Coaches probably expected. Last week's score was solid however, so owners will be hoping he can build on that.
Gold Coast teammates Lachie Weller (DEF $657,000) and Jack Lukosius (DEF/FWD $476,000) also provide a heap of value. Weller seems to be a bit of a bully, beating up the easy teams and scoring a bit less against teams that put up a fight, so prepare for a rollercoaster if you bring him in. Lukosius seems to be a really solid 60 week in, week out this season which I'm all for, but his price tag is extremely awkward. Potential cash grab from Howe, but you'd be losing a lot of score, so spend the money wisely elsewhere.
Saad's teammate Jordan Ridley (DEF $540,000) is having an uber consistent season and provides a ton of value, but he's on my never again after burning me a few too many times in multiple formats. Expect the form to turn around and for him to score 30's in the coming weeks.
Finally, Cats' Defender Jake Kolodjashnij (DEF $379,000) played his first game this season on the weekend and managed a 61, which is well overs for him. Highly doubt he will keep it up, but if he does, looks like he will be a glorified Rookie and will earn owners a bunch of cash.
Midfielders

:
Andrew McGrath (MID $663,000) – If I weren't looking to correct my season starting error and bring in Neale this week, I'd be getting the cash to force a Rookie trade to McGrath. The kid is definitely a lot more expensive now than he was at the beginning of the season, and it looks like his numbers are trending downwards a bit, but in this wacky season he still provides a ton of value. A low BE of just 29, a guaranteed midfield role, and an average of just over 85 all scream value. He's one that I definitely regret not starting with and not being able to bring in yet, because he has just been so much bang for your buck. Have you missed the train on Andy? No. Is this the last week he provides significant value? Probably. If you can, I'd do your best to get him in your team. He will provide a beautiful steppingstone to an actual premium when we decide who's scoring well this season, and in the meantime, he'll score well for your team. Every week I'm looking at the top scorers and high ranked teams and they all seem to have McGrath, so do yourself a favour and get him too if you can.
Ben Cunnington (MID $654,000) – He's unlucky not to get top spot here honestly, but the injured Cunnington is truly a star of the competition and provides great value for multiple reasons. To start with, his price tag and BE are way lower than you'd expect from a guy who has already scored a 117 this year. North Melbourne have also won both games with Cunnington and lost both games without him, so it's very clear they want to do everything in their power to get him better and inject him into their midfield. He's cheaper than Tom Mitchell, who I'll mention later, and averaging 12 points more than him, and he should be back this week as he almost played against the Hawks last week. Genuinely the only negative I can see to having Cunnington in your side is injury, and even then, he has only missed these last two games in the past three seasons, so he's extremely durable. Not only does he provide value now, but he could also genuinely be a Top 8 Midfielder come season's end and getting him in at $650k rather than $800k will give you a massive leg up on the competition. Add to this the fact that Cunnington's ownership is literally 1%, and you could have one of the best PoD's in the competition. Provided Cunnington actually plays this week, he's the number one value Midfielder in the competition, but the injury cloud over his head makes it hard to bring him in. Strongly consider him, the man is a genuine gun and should dominate when he plays.
Joel Selwood (MID $632,000) – A much worse option than the two above him, but there's no denying that Selwood has money to make. The man is averaging just under 76 and his scores seem to fluctuate a bit between 60 and 90. The strange season seems to be playing a bit of havoc on players' BE's however, and Selwood's BE is still 40 points below his average. Selwood started this season priced below $600k, which is extremely cheap for somebody who was a star of the competition and has averaged 100 on numerous occasions. Do I think he can average 100 again this season? No. Do I think he has the potential to make you cash for six or seven Rounds and then be upgraded easily to a Premium? For sure. I'm still inclined to go McGrath over Selwood, but you can expect similar output and similar returns from both players, and Selwood is about $30k cheaper which, with every dollar being more important this year than ever, that could be the difference between an upgrade elsewhere and not having the cash. To add to this, Selwood plays game number 300 this weekend, so you'd think bringing him in this week will translate to a big milestone game. At just 5% ownership, I think Selwood provides value across the board and is a fine target to bring in this week.
The Others:
There aren't too many other value options in the Midfield, but Brisbane teammates Hugh McCluggage (MID $682,000) and Jarrod Berry (MID $605,000) both benefitted from the extra midfield time vacated by Zorko's early injury by tonning up. It's slightly awkward due to his price tag, but I think McCluggage is definitely my choice if I had to pick between the two as he's had two tons in a row. However, Berry has also had two decent scores back to back, and both players have low ownership and a low BE.
Magpie Josh Daicos (MID $529,000) seemed to be having a much improved year before last weekend, and I'd suggest he'd be a likely candidate to fill the midfield slot left open by Steele's drunken antics if Treloar doesn't take all the time up. Price is a bit awkward for my liking, but definitely cheaper value than the others mentioned.
Lastly, Tom Mitchell (MID $673,000) still provides a lot of value right now and seemed to hit his straps in the first half on Sunday night before a bit of attention was paid to him in the second half. Titch looked to be on track for his first ton of the year, so hopefully he can keep that form up, both for owners and people looking to bring him in.
Rucks:
Marc Pittonet (RUC $431,000) – There are only two Ruck options that provide any value, and Mr. Worldwide, AKA Pitbull, AKA Pitto, AKA Marc Pittonet provides the most. He's a bit more expensive now than he was when he first took solo Ruck duty at Carlton, but with Naismith going down injured a lot of people are looking to replace him and Pittonet is definitely the best option if you have the cash to upgrade. He's averaging 71 and has a negative BE, plus he's guaranteed solo Ruck for at least the next three weeks, so he's going to provide you with a huge cash grab and some decent scoring. He won't score like the three G's of Grundy, Gawn, and Goldstein, but his 70's are nothing to sneeze at for a man who's half the price of those three. I don't really have any negatives to owning Pittonet other than the fact you will have to trade him out at some point. If you have a huge stack of cash and can get to one of the three main guys then I would, your season will be a lot smoother after that. However, there's argument for going Pittonet, spending the cash elsewhere to gain 30+ points and then taking the easy upgrade when Pitbull has maxed out. An easy swap for Naismith, so we can thank the Fantasy Gods that we have two options like this.
Tim English (RUC $594,000) – English is the other value option in the Ruck and I'm going to keep this pretty short because Pittonet is easily the better choice here. English has had a pretty lacklustre season until last weekend when he tonned up against the Naismith/Sinclair duo. He will score very similarly to Pittonet most weeks, but he will sprinkle a few tons in here and there against weaker competition. He doesn't have that weaker competition coming up though, with two of the next three Rounds against Goldstein and Gawn. The only reason I see you going English over Pittonet is if you have a heap of cash but not enough to get one of the three G's, but you want to get to them as quickly as possible. Honestly, even then I'd still suggest going Pitto and then getting the cash from elsewhere later, but English is a mildly respectable choice too.
Forwards:
Jy Simpkin (MID/FWD $629,000) – I'm not convinced Simpkin is worth the buy, but there's no denying he is a value pick in the short term. With a BE of 7 and an average of 87, it's hard to go wrong picking Jy up in your team, but the main thing that worries me is Cunnington coming back. In the last two Rounds without Cunnington in the side, Simpkin has averaged 93.5 which is an extremely respectable average for a Forward at the moment. However, in the first two Rounds of the season when Cunnington played, Simpkin only averaged 80.5, which is still a solid average for a Forward, but it's probably not what people are expecting from the man, nor is it likely to be a Top 6 Forward average. Another thing that worries me is Simpkin's lack of Fantasy scoring history. His highest average before this season was a 66.8, so he's currently going at 20 points above his old highest average despite the games being 20% shorter. Role changes do happen though, and Simpkins stats are up across the board. Most notably he's averaging around three more marks and six more disposals per game, and he's also getting almost two more frees per game than any of his other seasons, which is interesting. The stat that stood out to me though is his clearances, which have increased by almost three per game due to the extra midfield time. This is the time that Cunnington is likely to eat into and hurt Simpkin's score, which is why I'm so concerned. Simpkin is easily the number one value Forward if his scores can survive Cunnington coming back into the side, and even if they can't, he still provides short term value as he should average around 75 and his BE is 7. I'm currently tossing up between saving some cash and getting Simpkin or paying up and getting Petracca, and I have no idea which way I'm going to go. Let's all hope Simpkin rides the Cunnington wave smoothly and comes out of this season with a 90+ average.
Dan Butler (FWD $523,000) – There has been a lot of hype around Dan Butler the past few weeks, and he's somebody who usually I wouldn't touch with a ten-foot pole, but I'm clearly going mental because I'm starting to see the appeal. Butler has always been your vanilla small forward as far as Fantasy is concerned, averaging consistent 50's and being somebody you'd consider only in a really deep Draft. He started this year the same with a 58 but has followed with three scores in the 80's to bring his average up to 76. What is the difference you may ask? Goals. Against North Melbourne in Round 1, Butler hit the scoreboard once for a solitary behind. Since then, Butler has had eleven scoring shots, with seven of those being goals. Bags of goals can make a big difference to a player's scores, and they seem to be the boost that Butler needed to become mildly Fantasy relevant. Now, thinking about St. Kilda's form and the fact that this week's game is against Carlton, you'd think that Butler could expect to snag a couple and provide you with a bit of cash. His BE is currently in the negatives, so you don't have to worry about pulling the trigger on trading him in as he's guaranteed money. The issue I have is that we haven't seen Butler score well this season without hitting the scoreboard, and that must dry up at some points this year you'd think. I'd personally want to wait until you can see Butler score in Fantasy without scoring goals, but firstly, that's unlikely to happen as without goals it seems that Butler scores 50's, and secondly, you're missing out on the main chunk of his value if you don't get him now. Risky option, but honestly if you're going Brayshaw to Butler, you're not really losing anything other than a trade, so it's worth a shot.
Brandan Parfitt (MID/FWD $604,000) – Stiff not to be the number one option in this section, but Parfitt has missed 50% of games so far and that severely hampers his Fantasy value. From what he's scored up to this point in the season, you'd think Parfitt is a lock for Top 6 Forward status. He's currently averaging 91 Fantasy points and playing some great Midfield minutes at the Cats, and he looks really good when he's using it too. The best thing about the man is his tackling, where he's averaging 9.5 tackles per game in his two games this year. I've said it before and I'll say it again, the best Fantasy players are those who score without the ball, and there's only one way to do that and Parfitt does it in spades. The obvious issue with Parfitt is his health. The man has never played a full season through a combination of being injured and not being in the best 22 at Geelong. This season he's taken it a step further by being a late omission two weeks ago due to hamstring tightness and missing Round 1. This is almost worse than him not being in the best 22, because Geelong have shown they want to give Parfitt every chance to play and are willing to make a late change. So, if you do have him, you're going to want to have good Forward bench cover. He provides a huge amount of value though, with his BE of 15 and ownership of 6%, you could get a PoD Top 6 Forward for just over $600k which is an absolute steal. Just pray the man stays healthy and he will make your Fantasy season a lot better.
The Others:
He's been good to go since early June apparently, but Blake Acres (MID/FWD $501,000) is still yet to play an official AFL game for the Dockers. With Fyfe out though, I'm hoping Acres comes in and takes that midfield role all for himself, netting Coaches some solid Fantasy points. I'll be waiting a week on him even if he is named, but the man is huge value based on his pre-season scoring, so hopefully he can maintain that when he finally gets a game.
There are also three young guns who are at a glorified Rookie price but would definitely look more comfortable on your field. They are Myles Poholke (FWD $316,000), Rhylee West (FWD $317,000), and Ben Keays (FWD $391,000). For me, the two Adelaide teammates provide more value than the West from the West, with Poholke being above Keays in my eyes. If you're looking for a bit of a cash cow and don't mind spending slightly more than Rookie price, these three are ripe.
Michael Gibbons (FWD $510,000) is a name I've heard thrown around a lot this week and my first thought was one of disgust, but my second thought was perhaps he's worth a shot. The Carlton small forward is averaging 83.7 in his last three games this season and is priced below Butler. Worth a look at this second-year player, and don't be too surprised for him to average 75 for the rest of the season.
Finally, more expensive options Devon Smith (MID/FWD $671,000) and Bailey Smith (MID/FWD $613,000) share both a last name and some value. Devon had his first good game of the season last week thanks to a move up the ground onto a wing. With Zach Merrett missing a week, I'd say he's more likely to be in the midfield than back on the half-forward flank, and I'd be looking to jump on him whilst he's low if he maintains that role. As far as Bailey goes, he's the complete opposite and has had two 60's in a row now after starting the season so well. His role doesn't seem to have changed that much, but Libba coming back into the side may have affected his scoring a bit. Wait and see if he can bounce back, but if he can then getting him for just over $600k is good value.
That's it from me for this week's Ripe for the Picking. I believe we'll be getting DPP additions next week, so if you want to hear from me about any of those players who provide value, follow me on Twitter @SparksyDT. Other than that, I hope you're all having great AFL Fantasy seasons and staying safe in this wild world we're living in. I'll be back for another Ripe for the Picking, so I'll talk to you all then. Happy trading!