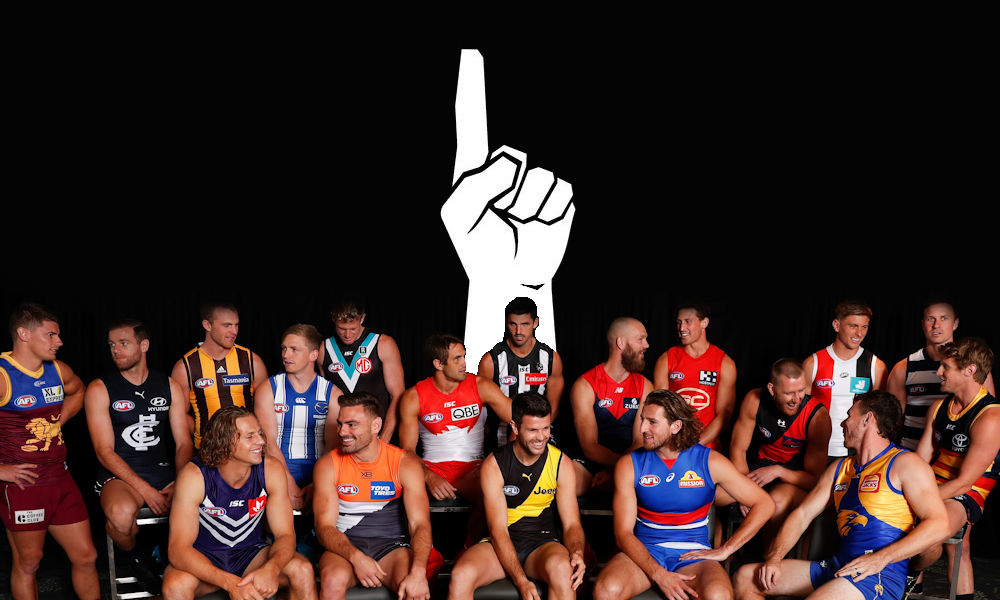 As we twiddle our thumbs in this COVID-19 lockdown, we're still rolling with our weekly podcast (click here to listen, it has been a lot of fun despite no footy or fantasy) and looking for things to talk about. This week we're going to make our own teams featuring one player from each club. Team structure is 5 defenders, 7 midfielders, 1 ruck and 5 forwards to add up to 18 players in total. Use 2020 AFL Fantasy positions (no salary cap).
Think about picking your team for total points for the remainder of the year… whatever that means.
Once you've picked a player from a club, you can't pick one of their teammates. Go for Jack Crisp in the backline, you can't have Brodie Grundy as your ruck. You get the drill.
Picking your team can be done however you want, but I've added some handy templates below including an image you can save and edit or print out as well as a spreadsheet that can be downloaded as an Excel doc or opened up as a Google sheet that you can play with.
If you've got the skills to post an image on social media, we would love to see it – on Twitter tag @AFLFantasy and use the #AFLFantasy hashtag , if you're on Instagram tag @dttalk and use the #AFLFantasy hashtag. If Facebook is your thing, you can type out your team in the comments of the AFL Fantasy or DT Talk page (I don't think you can post images in comments).
Also post your team in the comments below.
Have fun and be sure to tune into next week's podcast as we will look at ours and chat about some of your choices!
DOWNLOAD IMAGE
Print it or open it up in an image editor to create your side. Second image is ideal for an Instagram story.

DOWNLOAD EXCEL DOC
https://dreamteamtalk.com/wp-content/uploads/2020/04/Pick-One.xlsx
GOOGLE SHEET
https://docs.google.com/spreadsheets/d/1cmAzy9EhMBZiyzfuwbbHKYsklGPhg3wltg10jR5AuaY/edit?usp=sharing