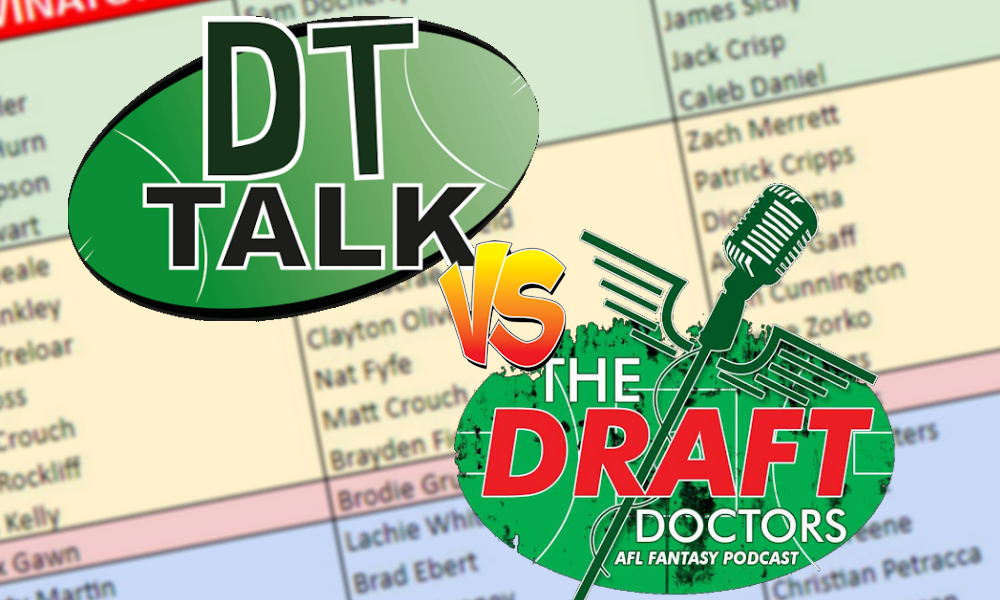 We threw down the challenge of the Pick One Draft to the lads over at the Draft Doctors. Roy, Calvin and Warnie taking on Jono, Statesman and Cam over a few beers as they try to select a team made up of one player from each club in a 5-7-1-5 format (ie. five defenders, seven midfielders, one ruck and five forwards).
The draft order, as picked via a random wheel spinner:
Cam
Stateman
Jono
Calvin
Warnie
Roy
Pick One – DT Talk v Draft Doctors

Roy, Calvin and Warnie from DT Talk take on Jono, Statesman and Cam from the Draft Doctors in a Pick One draft.Each coach will pick a team of 5 defenders, 7 midfielders, 1 ruck and 5 forwards with only one player allowed from each club.Draft order is:1. Cam2. Statesman3. Jono4. Calvin5. Warnie6. Roy

Posted by DT Talk on Thursday, May 7, 2020
Want to have a crack at your own Pick One Draft with your mates? Open the Google Sheet and copy or save it so you can edit it. Choose the number of coaches from 2-8 from the tabs at the bottom.