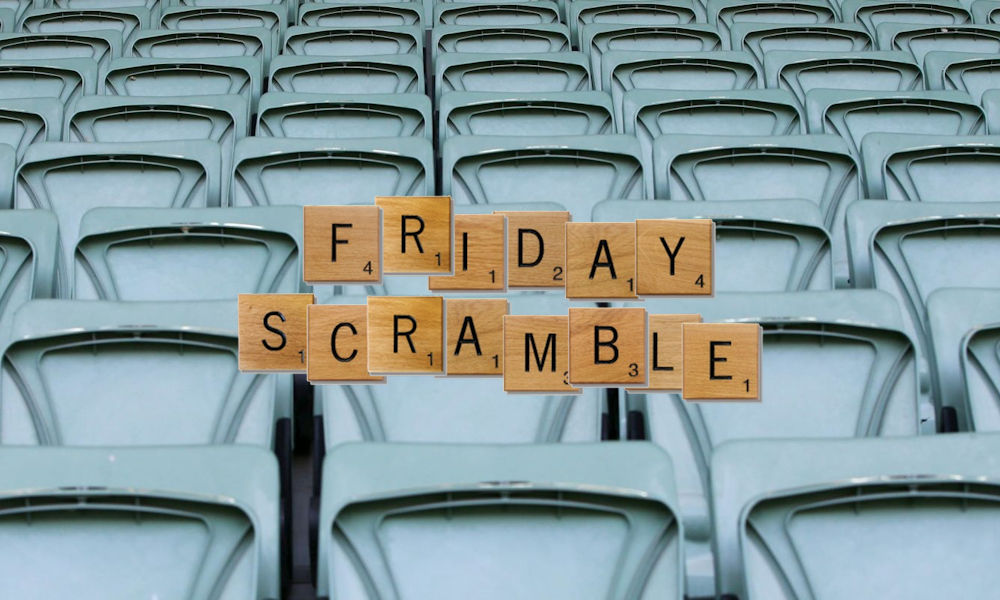 Hey everyone and welcome back to footy! (For now at least!?!)
I had been waiting for a bit of certainty before I wrote to you all this week and at the time of writing we now know that at least round 1 is going to happen! All I can do is just suggest that we prepare for the season to continue ahead albeit in a reduced capacity and see what happens from week to week. So today will be a little shorter because I simply don't know what to tell you all as all the nuts and bolts haven't been worked out yet!  Anyway, enough of this, on with the season!!
It is an absolute pleasure to be back with you all again for Season 2020 and hopefully whatever we get out of it is going to be great. Rookie crisis is about all I have heard in the last few weeks and I have been a subscriber to that theory too. But, hopefully tonight we get team lists chock-a-block full of them (and the cheap ones too!).
Richmond v Carlton Tonight 
All we need to know tonight is that we need to have all of these guys locked into place as they will be locked out from that first bounce of the season. After that you have a full 24 hours until lockout. This mean you can be tinkering with your team as Dusty and Crippa rack up the possessions (and importantly points).
If you are going to use the Captain Loophole I am sure that you are all over Calvin's Captains article from Tuesday. For those of you that are new to the game and new to the Loophole, make sure you read Calvin's article at least twice so that you know exactly what it means and how to do it. The one piece of advice that I have for this year is to be careful. Many people are selecting Darcy Cameron as their ruck bench and if he is named tonight to play then you could find yourself in a bit of a bind for those weeks that you want to use Grundy as your loophole VC captain.
If you do take a VC tonight that does a great job then you can decide from there if you want to risk it and take a non playing bench player to use the VC score. If they let you down you may want to look at taking a full compliment of playing bench guys into your season.
So what about the rookies?
Well I think what we figured out in a recent podcast from The Traders is that there are a lot of rookies out there if they get named. You may need to look a bit more left field. What has me worried is that there weren't too many big performances in the Marsh Cup. But in the past we have seen bolters come along at the start of the season. We already have word that Tom Green from the Giants will be a starter and he will be locked into a heap of sides. Tyler Brown and Sam Sturt have also been confirmed debutants.
As always, don't just pick a guy playing tonight because he is named, that goes for the weekend too. If they haven't been on your radar already then there is probably a good reason for it, isn't that right Relton?
If we do get it wrong on a rookie don't panic about it. If there is something that we could take from the previous winners and that is that we don't all get it perfect in round 1. If you miss one of the early rookies, don't worry about it, just take it on the chin and make a corrective trade as early as you can. This is particularly important in Supercoach and RDT where the price changes don't take place after one round.
For the final word on rookies make sure you check out Fry's awesome rookie article from earlier in the week. The guy is a gun and knows his stuff about the cheap kids.
Leagues
As in the past the Leagues normally get sorted during the weekend of the first round. Now I have no idea at the moment what is going to happen but I would suggest that you get your leagues filled by Saturday night at the very latest for those that don't play round 1. With the 17 round season we can basically expect there to be no bye rounds and there to be four weeks of finals. So based on that you probably won't play everyone in your league once (there goes an article I wrote on how to win your league down the drain).
Cash Generation
This is going to be particularly difficult in a shortened season. So it is going to be super important this year to pick guys that are going to play regularly. This may mean that you are taking players that are going to cost a bit more than you would like to spend but game time and scoring are going to be the key. Counter intuitively though you may not want to take the more expensive guys because they have less room to grow in terms of making you money to upgrade the rest of your team. And remember you don't have a full season to generate that cash to finish off your side. You only have 13 weeks before Fantasy Finals (assuming finals will still be 4 weeks).
Rule Changes
At the time I am writing this I don't know all the rule changes, but I do know that Supercoach will retain the 30 trade limit over 17 weeks, so basically there are only two weeks you can't trade if you use your two each week. With no official bye rounds there won't be any best 18 weeks so we don't have to worry about that this year (there goes that article I wrote on bye strategy down the toilet (with no paper though, can't spare any of that )). There have been rumours about price changes earlier but I haven't (at this point) seen any thing official. RDT tends to be the same as SC so let's assume that is the case there too.
I am sure that Warnie, Cal and Roy will bring us all the info we need on AF and any changes there. Just keep an eye on the socials of all the different games you play as from what I have seen so far they are all giving as much info as they can as soon as they are able to.
While we have these Thursday night games starting a round I will try and come to you on the Thursday morning and I will provide you as much clarity and info as I have. But I think that things will get fairly erratic as we move forward so I will put something up at the times each week that I think is most appropriate and will help you the most.
Let me know in the comments of some of the things you would like me to try and focus on this year in the Scramble and I will do my very best.
Here are a couple of leagues to leave you with.  Please join ONE only and please don't join if you are already in my Twitter league. If I see you in two or more I will kick one of your entries out (and maybe all the leagues you join if I am feeling particularly nasty).
Dunny's Friday Scramblers: 4NJUPXT4
Scrambling with Dunny: V9A4TT7Y
RDT – DTTalk Dunny: 718039
Supercoach – DTTalk Dunny: 676745
All the best for the season everyone and Let's hope we get to see some good footy (and hopefully be allowed to be at the ground sooner rather than later). Stay safe everyone and look after each other and don't hassle those poor supermarket workers too much, they are only doing their job and a lot of them are only kids. Catch you all next week (with a bit of luck!)