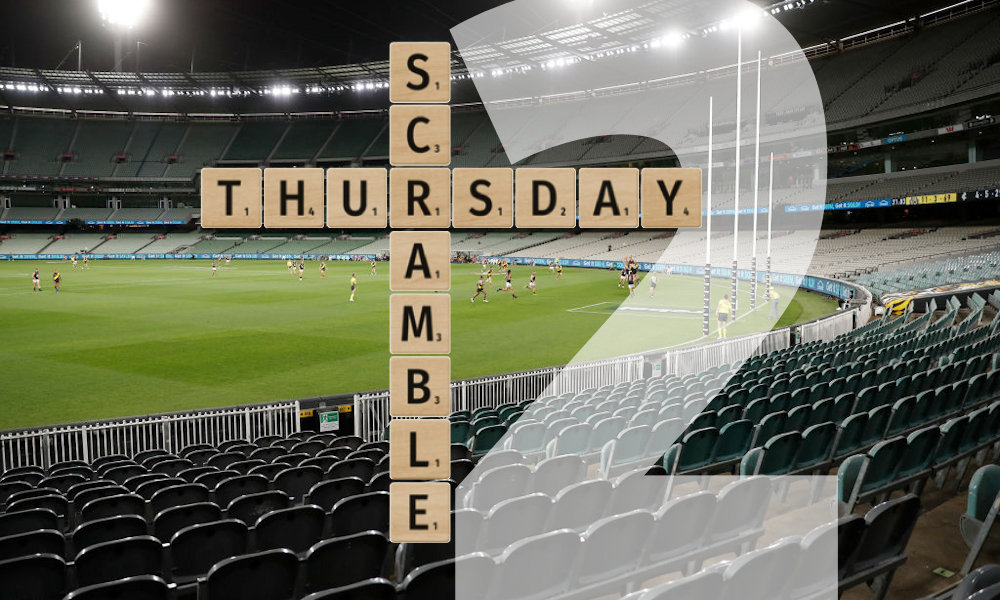 I was starting to wonder if we were ever going to get to Round 2 but finally it is here.  How boring has it been on weekends with no footy to watch! No players to yell at, no scores to review. But thankfully that is all over now as we are only a few hours away (depending on when you read this) from the first bounce for round 2. But with a new start to the season we have a heap more issues to deal with. So I will have a look at a few of them here as we launch into the rest of the season (hopefully).
New Strategy for a New Type of Season
With our new short season we now have some new strategies that we need to take into account. We don't have time to wait for the rookies to get to an absolute maxed out value point and similarly we may not be able to wait for a premium to drop right down to their basement price.
Normally we are looking to have a near 'completed' team at the end of the bye rounds which is usually about round 14-15. Well with only 17 rounds this year we can't wait that long. So here are a few thoughts on what I think we should be looking at doing.
Stepping stones are a strategy we need to consider this year. Given we may not be able to wait for a fully mature cash cow, particularly as we move through the season, we will need to jump off a rookie to a mid pricer that is about to rise in value to boost that cash generation. This means that we not only have to be across the rookies on the rise but everyone else as well.
Jumping off a plummeting Premium. This is a big no-no in a normal season, but in 2020 this can give you an opportunity. Don't get me wrong, the risks are huge but the rewards can be big too. There is one of these situations right now. Many people are looking at trading Bont out for Viney to stop any leakage of cash and then pick up some cash from Viney as he is on the up. This is certainly a valid strategy but just beware that trading out a falling premium can come back to bite you hard and fast!
Aggressive trading in all forms of the game. Once again this is a function of the shortened season. No time to sit back and wait, it is probably riskier to do that this season. Often we would say that you should hold your premiums and wait for the right time to trade, but as I have mentioned above we can't do that. You need to be the first to get to that best team possible.
Don't Forget the Basics
Just because it is a bit of a different season don't forget the basics. We still need to look for value in all our selections and we need to look for those guys that are going to score well. I am sure that you have all been listening to the Traders when they have been discussing who this game suits and who it doesn't.
Having a solid squad is just as important this year as it is every year, but with the short season and the impact this will have on cash generation you will probably find that your 'finalised' team won't be full of premiums and the absolute best in every position like it is in a normal season. You may have some guys in there that are a bit more mid priced or players you wouldn't normally look at. This is ok, this season is different for everyone and it might be the right time for you to try some different strategies!
As always, make sure you properly evaluate your trades.  If you are going to do a Gawn down to a Ceglar or a Naismith, make sure you use that money you have made to upgrade someone else to get you more points than what you are likely to lose by trading out Gawn. This is important in every season but even more important this year with less time for our trades to pay off for us.
Cal's Scale of Hardness is just as important this year as ever. Given we only know the next four rounds, you can't trade to try and bring in players that have the Gold Coast in the final round. But it does allow us to do some trading to maximise these few weeks. For example we know that Gawn has a great run over the next four weeks and we know that Danger plays 3 of his four games at GMHBA stadium where he usually goes massive.  Look to exploit these fixture matchups as best you can.
Scoring Differences in 2020
Supercoach v Fantasy
We all know that the scoring systems are different between Supercoach and the other forms of the game. So whilst we are going to see Fantasy games move down given the reduced minutes and hence less opportunity to get hands on the footy, we won't see that in Supercoach. Supercoach has the formula that sees every single game have 3,300 points on offer and this hasn't changed. While players still earn points for each stat they get and the impact that it has on the game, that impact (or scaling as it is often called) will be larger this year due to the reduced minutes and reduced (possibly) possessions.
What I think this will do in Supercoach is see a bigger gap between the best and the worst scorers on the ground. Not everyone is going to have an impact and it means that some of our rookie scores are going to be lower than what we would be used to. But we should still see the big scores from our guns, so whilst Calvin refers to his BCV and ACV scores for Fantasy, this won't be as pronounced for Supercoach as the premiums still have the ability to get a big score thanks to their impact over fewer overall possessions.
Access to the Midfield points
The other thing that I think we will see and it will once again boost the premiums and possibly hurt the 'fringe premium' and rookie players is that the premiums will spend more time on the ground as they don't need as much rest and this will mean that those guys that 'fill in' in the midfield while guys like Titch, Danger and Dusty are either resting up forward or on the bench won't get as much of a look in at the ball.
Things To Remember
Everyone is in the same boat (well almost). All of us are going to have challenges this week in making our trades as half of us will have rookies missing everywhere!
Be careful trading after the game starts tonight.  In SC and in RDT the trades will no longer be reversible after the first bounce.
You have extra trades to use, don't waste them, use them. We have those trades for a reason and in AF they don't get banked so use them.
One week doesn't make a Fantasy Stud. We have all been burnt before so just be careful before jumping on that guy that had a huge first week.
It is great to be back and I can't wait to watch some footy again tonight. Certainly beats the other stuff that is on TV at the moment! More importantly it has been great to see the Fantasy Footy community jump back into action. Sorry if I haven't jumped onto the sort of strategy you were after this week, but shoot me a tweet and let me know what sort of things you want for next Thursday. I'm happy to provide whatever you guys are after. Next week I will try and re-introduce the questions segment, just been a bit busy this week.
Thanks for reading and I will catch you all again next week!