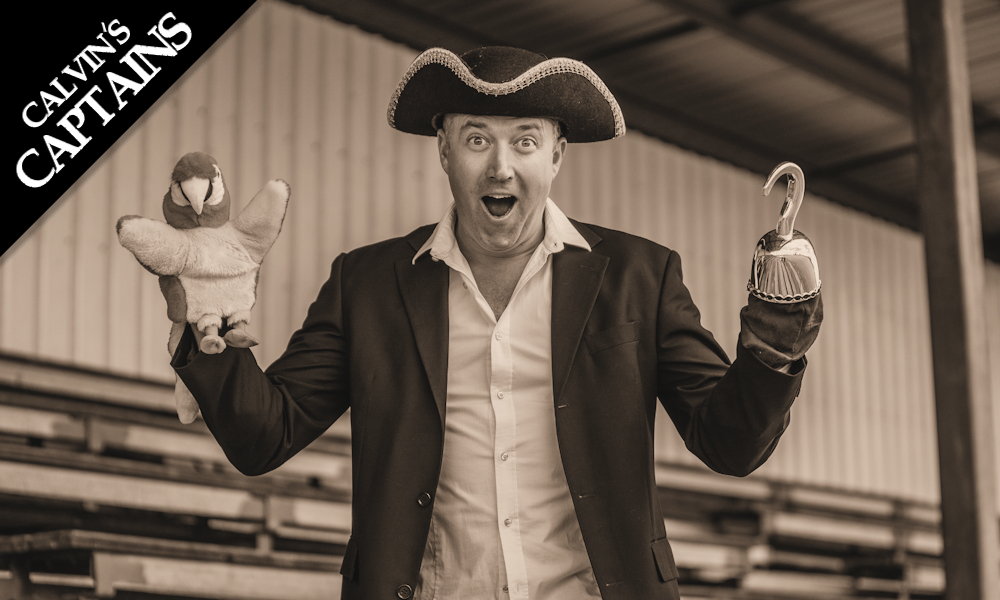 It's business as usual as the People's Prince slams out the first round of Calvin's Captains.
For those first timers, my name is Calvin and I run the show when it comes to helping you pick your Fantasy captain each week. I also do a LIVE Periscope every Wednesday night at 8pm and you can join me if you wish (Twitter: @CalvinDT).
I have been doing captain research now for as long as I can remember and this week I have some rippers for you.
Let's get straight down to business because there is lot going on.
THURSDAY LOOP HOLE
For this to work, you need a non-playing player. Entering round one, chasing this isn't an option I endorse. However, if you happen to have a non-playing bench player (which we will most likely have) then you can follow these steps in a chance to maximise your points for this week.
For Thursday night only your Richmond and Carlton players get locked in. This means that you could make one of them your VC. If they score well, move a non-playing player onto your ground and make them C for the remaining games (make sure you have an EMG covering that spot also).
The C will score a zero, and the VC score from Thursday will double, and your EMG will also kick in and cover the zero as normal. This score will not double. Only your VC score will.
If you don't like the score you got on Thursday, then pick a captain as you normally would.
If you are confused by this, just pick a captain as you normally would. Don't stuff up your round one by doing something you don't understand.
BEST VC OPTIONS
#1 – Patrick Cripps: Loves playing the Tigers with previous scores of 126, 101, 130 and 109. Richmond gave up the most points over the Marsh Series and he will come out firing.
#2 – Sam Docherty: As I just said, the Tigers give up plenty of points, especially to defenders. He will take double figure marks, just like Crisp (124pts), Mayne (113pts) and Haynes (113pts) over the Marsh Series.
#3 – Dusty Martin: Scored 81 in round one last year and 110, 96 and 139 against the Blues before that. He's a top option regardless of stats cause his name is Dusty and he's a beast.
LINE: The line for a VC score this week is 120. If they VC scores 119, I'm swapping and shopping off the list below.
Following are my top 10 captain options, in the order that I would be selecting my captain for this week. Considering form (Marsh), opponent, ground, weather and much much more, this list is compiled after hours of studying and research.
If you make my top 10 list, then I expect big things from you this week. All these guys are high-quality options. However, my ranking is there for a reason.
Use this information to help your weekly trades or maybe to help you with your Moneyball teams or any sneaky little punts you might be having on the side.
At the end of the day, these are my predictions. You can make your own mind and use these as a guide, or run with the work I have put in to hopefully get you a thumping score from your captain this week. Let's go!
CALVIN'S TOP 10 CAPTAINS
#1 – Brodie Grundy v Bulldogs @ Marvel
Grundy didn't come out firing in the Marsh with 77 against Ryder/Marshall but he didn't have too. As the great Dane Swan used to say… "Good players don't play hard in the pre-season". Grundy meets Tim English on Friday night, a man he scored 168 and 153 against last year. This game is under the Marvel roof though but that should be a huge concern for the ruck pig who scored 112, 168 and 99 there last year. Note the 168, that was against English of course.
English is better than what he was though. However, in his pre-season game, after Lycett (38pts in 45%) went down with an injury, Justin Westhoff (109) took over and topped scored for the Power.
We also need to flag/mention Grundy's starts to a new season. He has gone back to back scores of 84 in round one games, in seasons he has gone on to average 120+. Surely this won't happen again this week.
If you have Grundy in your team, you have him for games like this. Lock and load.
#2 – Jack Macrae v Collingwood @ Marvel
Collingwood are easily his favourite team to score on with scores of 180, 109, 113, 116, 139, 117 and 85 over his career at an average of 122. That is nuts! He nearly made my #1 pick this week but Grundy's number v English are just too big.
Macrae averaged 132 in his last seven at Marvel and opened 2019 last year with 109 in round one. He's a very good unique option if Grundy's round one stats concern you, or maybe you don't have Grundy and have saved the coin. Either way, Macrae will be big.
#3 – Josh Dunkley v Collingwood @ Marvel
Dunks scores 118 in his last game on the Pies last year and loves playing at Marvel where he averaged 130 in his last nine games. Don't expect him to be anything under 120.
#4 – Lachie Whitfield v Geelong @ GIANTS
Big call but he did have 124 on the Cats last year and he did average 124 at home over the 2019 season which included some big scores of 190 and 162. Essendon defenders had a field day in their final Marsh game against Geelong as well which saw Hurley (119) take 9 marks, Saad (94) score well and even my mate Ridley (79) and Zerk-Thatcher (74) combined for 13 marks between them.
These players are not in the class of Whitfield or would even make the GWS team for that matter.
#5 – Zach Merrett v Fremantle @ Marvel
Merrett loves playing the Dockers and scored 124 and 125 on them last year. He is a 7pt better player at Marvel (avg. 117) compared to the MCG in 2019.
#6 – Andrew Gaff v Melbourne @ Optus
Gaff averaged 116 at home last year and only dropped under 100 there once in his 11 games. He scored 107 and 126 against Melbourne last year and should pump out the easiest 100+ score you'll see.
#7 – Tom Mitchell v Brisbane @ the MCG
Expect Mitchell to be up the ranks in the coming weeks, but I need to see him in full pig-flight first. Yes, he was good in the Marsh but I'd like to see him in the real thing.
He scored 157, 149 and 132 in his last three on the Lions and although he'll be great, I just need a sighter before I have him towards the top of the list.
#8 – Josh Kelly v Geelong @ GIANTS
Geelong were the second easiest team to score on in the Marsh and I'm expecting another ripping game from Kelly here. He only averaged 105 at home last year which was down on his overall average and he scored 114 when he met the Cats. I do like him (otherwise he would be in the top 10) but I also think we might have better options.
#9 – Max Gawn v West Coast @ Optus
Max scored 101 and 125 on the Eagles last year with the 125 happening over there in the West. He should be fine for another good score here if you are amongst the 10% owners.
#10 – Travis Boak v Gold Coast @ Metricon
The Suns last year where the easiest team to pump out big scores against. Boak has scored 110, 113, 72 and 153 in his last four against them and I can't see any reason at all as to why he won't have another 100+ again.
QUICKLY, THE OTHERS…
Here are some of the other names and how they match up this week. They are listed in order of when these guys play for those who like to Loop Hope in Draft.
Marcus Bontempelli v Collingwood @ Marvel Stadium – Good record against the Pies with scores of 107 and 116 last year. Scored 110 and 128 in his last two at Marvel and should be great coming off the back of a very good pre-season.
Devon Smith v Fremantle @ Marvel Stadium – Didn't play the Dockers last year of course but in 2018, he scored 121 and 115 against them. Could even run with Fyfe here for 10+ tackles.
Nat Fyfe v Essendon @ Marvel Stadium – Tagged by Ambrose to 78 last year and only managed 74 before that against the Bombers. Those scores last year were 2 of his worst 3 for the year.
Matt Crouch v Sydney @ Adelaide Oval – Matt averaged 13pts more at home last year compared to his average of 101 in away games. He scored 101 against the Swans in 2019.
Brad Crouch v Sydney @ Adelaide Oval – Had 109 on the Swans last year and averaged 110 at home.
Jake Lloyd v Adelaide @ Adelaide Oval – Scored 127 (in Sydney) against the Crows last year but has a highest score of just 104 at Adelaide Oval in his career.
Stephen Coniglio v Geelong @ GIANTS Stadium – Geelong are one of his worst teams to score against. He had 112 last year against them, which was his first 100+ score on them in his last seven games. Then again, he had 149 in his last Marsh game and should buck the trend here.
Patrick Dangerfield v GWS @ GIANTS Stadium – GWS were easily the hardest team to score on over the pre-season and they were tough last year. Danger scored 66 last year against them and received some attention from DeBoer. Could easily happen again.
Tom Rockliff v Gold Coast @ Metricon Stadium – 109 on the Suns last year was his sixth straight 100+ score on the Suns. The pig loves these guys.
Lachie Neale v Hawthorn @ the MCG – 110 and 97 on the Hawks last year.
Clayton Oliver v West Coast @ Optus Stadium – 117 and 114 is what he had on the Eagles last year. He's had a really good pre-season and even though he's not captain material just yet, he shouldn't come out of your team if you have him in.
Loading ...