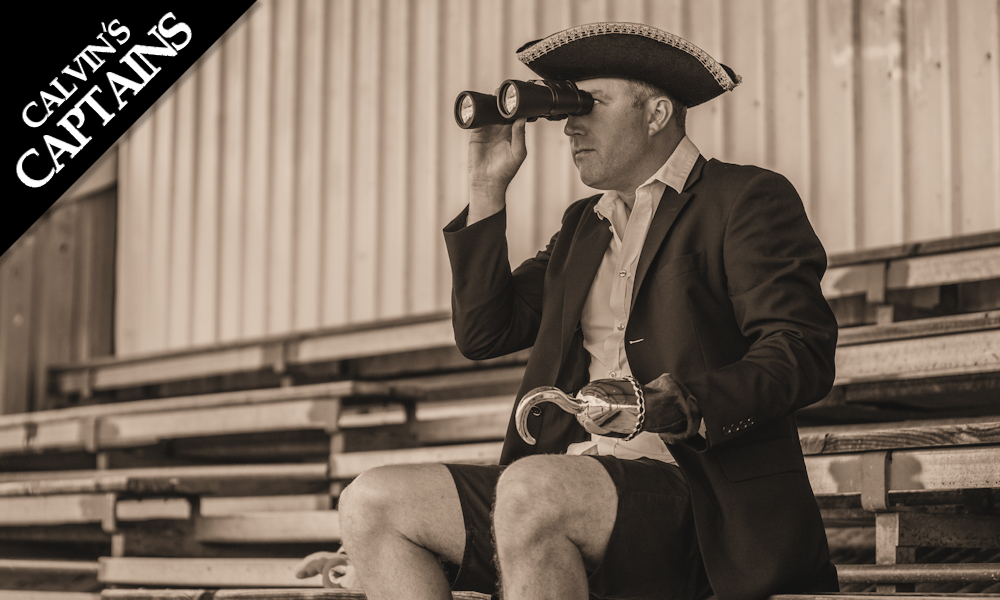 Welcome back you bloody legends for the second time in 2020.
It's been a long 11-weeks without footy, but here we are and the People's Prince, the Calvin of Captains is here, ready to talk all about your Fantasy captain options for this week – and boy, do I have some rippers for you.
THURSDAY NIGHT – Loop Hole
This is how it works….
Select a gun player playing Thursday night and give them the VC.
If that players scores well, put a non-playing player onto your ground and give them the "C".
Make a bench player emergency as well.
The non-playing captain will score 0, meaning you VC score will be activated and doubled and the emergency player you selected, will also cover the zero as well. The emergency score will not double.
If you don't like you VC score, simply select a captain as you normal would.
ISSUES – You must have a non-playing player for this to work (not from Thursday night either). You also must have 100% confidence that your non-playing player will not be named as a late-in. At this stage of the year, you should be aiming to have ALL players in your team playing. Meaning… that the Loop Hole option, might not work for everyone at this stage in the year.
However, for those who are looking to have a dabble… here are your best options.
Obviously, we have Brodie Grundy. He would sit as my best captain option anyway but if you are running him as a VC, then it can be extra insurance if it fails like last time he played the Tigers.
In round one, Grundy was the 5th highest scorer with 114 and it should have been much more. He has a great history against Richmond, however, last time he played them he only managed 79. But this is why…
That day he was up against the combination of Chol/Soldo. Surprisingly, he much prefers the match up against Nankervis as prior to his last game he scored 112, 134, 147 and 115. All game against the big Nank.
Now in round one, Richmond used the Soldo/Nankervis combination against Kreuzer (16* injured) and Casboult 85. Nankervis will definitely be playing this Thursday, whether they pair him with Soldo or even Marlion Pickett which has been discussed (yes please), Grundy should have no problem scoring and pumping out what could be the highest score for the round.
Then we have Dusty Martin, the only real option for the Tigers. He scored 133 and 59 on the Magpies last year and 54, 80 and 101 back in 2018. Coming off 90 from round one, he is firing! Dusty can be a little hit or miss on his day though but a great VC option based on the fact he can be huge.
Then we have the defenders. Popular trade target Jeremy Howe should bring instant reward this week against Richmond who give up plenty of points to defenders. In round one, Docherty (95) and Simpson (72) scored well meaning that Howe who is coming off 110 should as well.
After a poor 59 in round one, Jack Crisp will be huge here. His score was down last time he played but he still took 7 marks. Last year against Richmond he scored 93 and 142. This game is suited for him and I'm expecting something massive.
BEST VC OPTIONS – Grundy, Crisp, Howe, Dusty
VC LINE – 88 (BCV score of 110)
Loading ...
CALVIN'S CAPTAINS TOP 10
#1 – Jack Macrae v St Kilda @ MRVL
Macrae was solid in the first game. He scored 84 (BCV 105). When you consider how bad the Dogs were and the fact that Macrae only had 22 touches and still was one of only two players to crack a BCV ton, he soldiered on well in a bad game with bad company.
Against St Kilda in round one, the Kangaroos dominated. Cunnington had the third highest score for the round with 117 and he was joined by Simpkin 88 and even Polec 86. Players who are not in the same class-bracket of Macrae.
Macrae scored 132 and 132 in his last two against the Saints and heads back to Marvel where he averaged 120 last year, with 132 in his last seven games.
Jack Steele spent some time with the Bont (65pts) last time in round 18, a game in which the Saints won. So, if the tag was going to be used, Macrae shouldn't have a problem.
#2 – Max Gawn v Carlton @ MRVL
Max didn't play the Blues in 2019 and his opponent in this game could be Casboult or ex-Hawk Pittonet. Either way, he's going to monster them.
Nankervis only managed 30 in round one against Casboult, and Max plays this one under the roof where he scored 128 and 105 last year and he's up against a second tier competition here and will be awesome. He scored 74 in round one against the Eagles and this one will be much easier than that.
#3 – Tom Mitchell v Geelong @ GMHBA
The pig scored 82 (BCV 103) in his comeback game and did enough to please everyone in his first hit out. He racked up 25 touches with 14 of them contested.
He loves playing the Cats where he has scored 130, 137, 147 and 125 in his last four. OINK!
#4 – Josh Kelly v North @ GIANTS
Let's face it – the Giants will be nasty in this and for those offloading Whitfield, maybe you need to think of another way to find the coin. Although he isn't in my top 10 (based on his 68 in round one and fears around his ability to play CoronaBall) he still should be huge based on what the Saints scored on North in round one.
Dunstan (100), Jones (96), Billings (87), Steele (82) and Hannebery (78) all basically scored BCV tons. Those top five their all average out to be a BCV score of 111.
Kelly had 81 in the first round and posted 115, 107 and 136 in his last three against the Roos.
#5 – Andrew Gaff v Gold Coast @ METRICON
Port had eight players who basically scored a BCV 100+ score against the Suns in round one as they are one of the easiest teams to score on in the land. Enter Gaff.
Gaff had 107 in round one and loves playing the Suns, a team he scored 144 and 122 against in his most recent games.
Amazingly, he has never hit triple figures at Metricon but I think that will change here.
#6 – Patrick Cripps v Melbourne @ MRVL
He's back! A nice 92 (BCV 115) in round one from Cripper and although he didn't play the Demons last year, he didn't score 140 on them back in 2018.
In round one, eight Eagles scored 80+, lead by Shuey 116 and Gaff 107.
He plays this one under the roof where he averaged 95 last year. Although he much prefers the MCG where he averaged 102 in 2019, he's on fire at the moment and the outright Brownlow favourite for a reason.
#7 – Stephen Coniglio v North @ GIANTS
As I said above, expect this game to be nasty.
Coniglio played four games at home last year at an average of 152 and his score of 74 in the opening round can be forgiven against his second worst team to score Fantasy points against (Geelong). That is now behind him as he meets the Roos, a team he scored 116 against last year.
#8 – Tim Kelly v Gold Coast @ METRICON
TK scored 81 on debut for the Eagles and has 126 next to his name from the last time he played the Suns. Just like anyone who plays the Suns, expect another big score from him.
#9 – Patrick Dangerfield v Hawthorn @ GMHBA
My mate averages 129 in his last three games at home and loves playing against the Hawks.
He has scored 97, 104, 126, 118 and 140 in his last five games and must be forgiven for his 40 in round one thanks to the shut down role from Matt deBoer.
#10 – Elliot Yeo v Gold Coast @ METRICON
Makes the top 10, and will be huge off the back of his 146 and 138 in his last two games against the Suns. Scored just 49 in round one though, but that changes here against these guys.
THE OTHERS…
Once again, these guys are listed in order of when these guys play for those who like to Loop Hope in Draft.
Mitch Duncan v Hawthorn @ GMHBA – Had 89 in round one and 105 on the Hawks last year, that was his first ton on them in his last four games.
Lachie Neale v Fremantle @ GABBA – Plays his old team that he had 74 on last year. Based on 2019, he's a 14 point "worse player" playing at home compared to when he plays away. Strange.
Nat Fyfe v Brisbane @ GABBA – 120 on the Lions last year and 89 in round one. Beast of a player but has never scored 100 at the GABBA.
Clayton Oliver v Carlton @ MRVL – 116 on the Blues last year.
Tom Rockliff v Adelaide @ AO – 74 for Rocky in round one and loves playing the Crows only going under 120 against them once in his last seven, which included 150 and 149 last year. Stiff to miss the top 10.
Brad Crouch v Port Adelaide @ AO – Only managed 58 in round one and has 1×100+ score on the Power in his last seven games.
Matt Crouch v Port Adelaide @ AO – 90 and 53* (hip injury) on Port last year and 54 in round one. Has just one ton in his last four Showdowns.
Lachie Whitfield v North @ GIANTS – Despite what I said before, facts are facts and Whitfield struggled in round one (68) and struggles against thee Roos for some reason where he has a top score of 70 from four games. Loves playing at home though where he smashed out some massive scores last year that included 190 and 162.
Zach Merrett v Sydney @ SCG – No Crow scored over 80 against the Swans in round one which is a concern for Zach, especially at the SCG.
Josh Dunkley v St Kilda @ MRVL – Can he bounce back from his 59 in round one? He scored 119 on the Saints last year and averaged 130 at Marvel in his last nine. Bounce back game on the cards.
Marcus Bontempelli v St Kilda @ MRVL – Was tagged a little by Steele last time to just 65 and he's coming off 51 from round one. It's a pass and a trade in my eyes, especially with deBoer coming in round three.
Loading ...