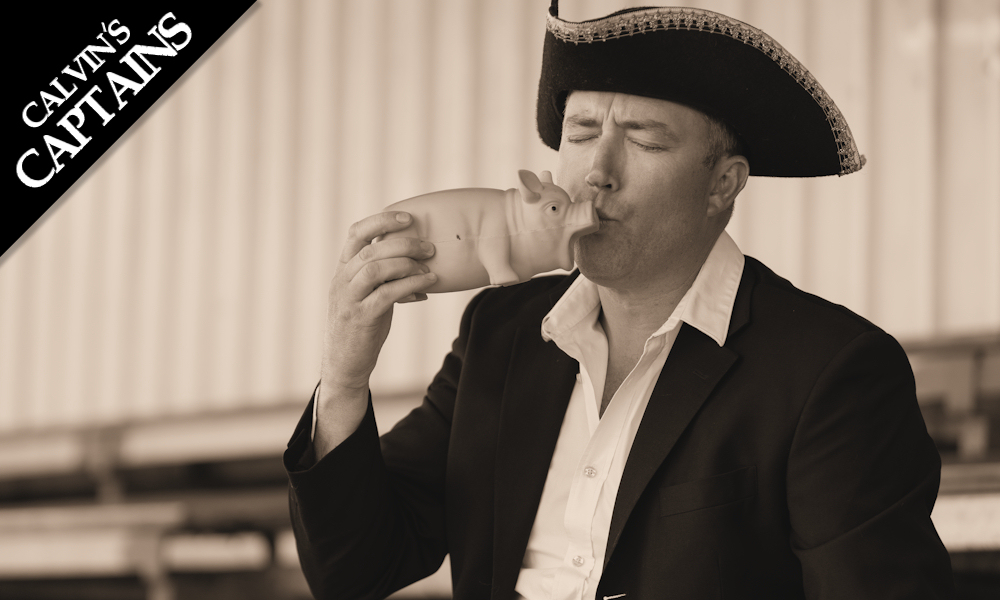 Welcome back you bloody legends for the final time in 2019.
It's been a crazy ride and I'd like to thank every single legend that has popped in here for a read over the last 23 rounds. Thanks to the legends who pop in for a live periscope chat (8pm Wednesday) and for miking this article such a success.
Without you legends, this wouldn't happen. So a big thanks for this pirate to you.
Now – for the last time, let's get down to business. With Grand Finals occurring this weekend, I have saved my best work here for last. Even though my year has been over for some time, I have dug extra deep for you guys here to set you up for hopefully a super premiership win, a cap or even a car.
Good luck to all – and I'll see you in 2020.
Last time is a ? but a ? time. Let's chat and together we can set this up for a great final #AFLFantasy round. https://t.co/5N00RL2Q4N

— Calvin (@CalvinDT) August 21, 2019
CALVIN'S TOP 10
#1 – Brodie Grundy v Essendon @ the MCG
Why not end the year with the newly crowned pig – it's fitting isn't it?
He plays on Friday night and should be huge against Essendon. Grundy has hit the 140+ mark in nearly a third of his games this year and this should be another.
He is up against Zac Clarke. Last week, Darcy (92) and Sandilands (90) found it rather easy and before that, even Tim English posted 99. Before that, Ladhams (78), Witts (126) and O'Brien (134) also found the going rather easy.
Grundy scored 123 against Bellchambers in round six and 122 and 110 last year on the Bombers. But of course… this will be easier than that without him playing.
The pig could be huge here and will remind us all why he has a snout.
#2 – Jack Macrae v Adelaide @ MARS
Macrae loves playing at MARS Stadium in Ballarat and will bring it home for you nice and strong on Sunday. He averages 128 there in his last four games and meets the Crows, a team he scored 144 against last year.
Teams have been a little quieter against the Crows then what was happening at the start of the year though. Last week, Pendles (134) was the best, followed by Taylor Adams (99) and then Treloar (92). Before that we saw Gaff (106) and Shuey (104), then in round 20 it was Billings (103) and Seb Ross (97).
The output from midfielders here against Adelaide hasn't been huge, but then again, Macrae is a little different though isn't he. Back him in legends. He could be massive at a ground he loves, and against a team he dominates.
#3 – Toby Greene v Gold Coast @ MS
The Suns have been the #1 easiest for midfielders to score against since the byes as they have now retained their mantle off Geelong over the last few weeks.
Just look at the damage that has been done to the Suns… last week Worpel (134 – season high SH) and Wingard (128 SH) dominated them and before that we saw Lyons (158 SH) and Zorko (130) do whatever they wanted. Treloar (129), Sidebottom (124 SH) and Pendles (120) had their go before that. These look juicy!
Greene scored 99 last week with Cameron out, he sat forward more than he would have liked. Prior to that game he was averaging 135 in his last five. The graphic below shows the effect Cameron had on him last week so seeing if he is named will be interesting. Hey… he might go forward a little a slot 6.
When the Giants played the Suns in round 11 earlier this year it got nasty with Coniglio (192), Kelly (140) and Hopper (120) leading the way.
FLAG: Toby did sit out the game. An injury? Or a small rest? Who knows, what this space.
#4 – Josh Dunkley v Adelaide @ MARS
150, 123 and 113 is decent form!
Dunks scored 127 in his last hit out at MARS and as we know, this is the type of game that could be anything. The rules at these venues go out the window.
Funnily enough, he has only played against the Crows once in his career and based on form and his ability to be huge, he must be on our radar here.
#5 – Josh Kelly v Gold Coast @ MS
Some may say that #5 is too low for this man, and they are probably right. His 75 last week was a season-low effort and he failed to take one mark. Yes, he'll be better for the run,  but I'll take the others above him first at this stage.
He loves playing the Suns though where he has scored 140 and 166 in his last two games.
Kelly actually averages 17pts more in away games this year and will enjoy this easy hit outs before finals.
#6 – Zach Merrett v Collingwood @ the MCG
At the MCG this year, Zach averages 102 compared to the 117 at Marvel. He loves playing the Pies though and has averaged 117 in his last five against them with a score range of 105 to 137.
Zach's form has been right up there with the best for them as he is coming off 124, 141 and 116 in his last three.
#7 – Adam Treloar v Essendon @ the MCG
Possibly sits a little low… and although I'm pretty sure that even if Essendon do use the tagger in Ambrose who was great on Fyfe last week, Treloar should be safe here as he will most likely target Pendles. But still, the risk is still there.
Essendon are one of his favourite teams and despite scoring his lowest score of 92 last week since round 11, he should be 115+ with ease.
#8 – Tim Taranto v Gold Coast @ MS
Yep, anymore playing the Suns will be ticked off here and so will one of my favourite players.
TT has never scored a ton against the Suns (only team) and only managed 75 earlier this year despite the big scores around him. He scored 111 last week, which was his best score in his last four games.
Why not back him in again… I'll once again back him in for another BIG score.
#9 – Jake Lloyd v St Kilda @ the SCG
In round 21, Blakely (94) was solid against the Saints and prior to that Laird (134) and Smith (101) both fired for the Crows. Last week, Newman (110) and Simpson (90) didn't struggle which suggests to me that old mate Lloydy will be good here.
Over his career, the Saints are one of his favourite teams and despite only having 1×100+ score in his last four games this year, I'm thinking he'll end the season with a loud bang.
#10 – Scott Pendlebury v Essendon @ the MCG
Sneaky! 148 is hat he had on the Bombers in round six and Pendles is coming off 137. He carries a lowest score of just 98 in his last six games and could be a sneaky option to end the year.
THE OTHERS…
Once again, in order of when these guys play for those who like to Loop Hope in Draft.
Shaun Higgins v Melbourne @ BA (Hobart) – Melbourne #2 easy for MIDs and he's coming off 135. Poor record against the Demons though of 64, 81 and 80.
Clayton Oliver v Kangaroos @ BA (Hobart) – North are the #4 easiest to score against for MIDs and after going for his fifth straight ton last week, he fell only a little short on 96. Could be big.
Max Gawn v Kangaroos @ BA (Hobart) – Injured? Just too much risk. Averages 114 in his last three against Goldy. Pass.
Patrick Dangerfield v Carlton @ GMHBA – 117 last year against the Blues and averages 110 in his last six at home.
Mitch Duncan v Carlton @ GMHBA – 94, 117 and 113 his last three against the Blues.
Tim Kelly v Carlton @ GMHBA – Form is too far down, scoring a best of 103 in his last seven games.
Patrick Cripps v Geelong @ GMHBA – Only team not to have triple figures against, but they have been easy of late for MIDs (ranked #3 since byes).
Zac Williams v Gold Coast @ MS – Should have a field day if he's in the right position on the ground. 102, 102 and 142 is his form and if he gets MID time – look out.
Andrew Gaff v Hawthorn @ OS – Taking the piss is he with another score last week between 100 and 107. Seven times straight now. 119 and 154 last two v Hawks.
James Worpel v West Coast @ OS – 134, 117 ad 126 is his hot form and he had 105 on the Hawks earlier this year. Surely a tougher game over there against the reigning premiers.
Matt & Brad Crouch v Bulldogs @ MARS – Dogs are #1 hardest – easily. Can't touch them. However, they are Ballarat boys I'm told and will be looking to fire in front of their family and friends. Dogs dominate the ball too much for me to have them.
Dusty Martin v Brisbane @ the MCG – Big game player and this one is huge. 111 (6 goals) and 131 are his last two against the Lions. Usually cops some attention in this game, maybe Robbo might have him. Dunno.
Lachie Neale v Richmond @ the MCG – 110 is his best in his last six. Nope.
Dayne Zorko v Richmond @ the MCG – As we know, too hit and miss and this game could be a stinker for him. Tigers are tough.
Nat Fyfe v Port Adelaide @ AO – New coach, same old Fyfe. He should be good against the rabble that is Port. Had 104 on the this year.
Travis Boak v Fremantle @ AO – 101 against the Dockers this year.
Tom Rockliff v Fremantle @ AO – 0x100+ in his last three against the Dockers and is coming off 48 and 71.
Loading ...