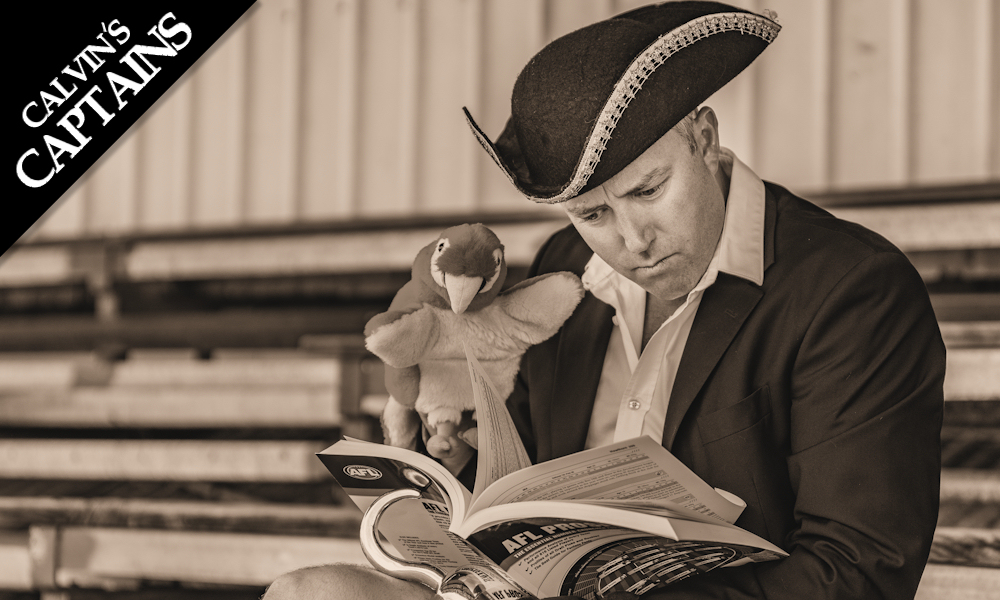 Welcome back you bloody legends.
I'm back! We'll… I'll be taking it anyway – all my top 10 players last week scored triple figures and within that I had some big ones like Macrae (132), Greene (142) and Matt Crouch (151).
This week will once again divide the community. There are some tough match-ups and some match-ups that will be a walk in the park for others.
Good luck legends.
Let's do this. I'm chatting all #AFLFantasy and captains. Join the #peoplesprince. https://t.co/nq6NX5xrrv

— Calvin (@CalvinDT) August 14, 2019
CALVIN'S TOP 10
#1 – Max Gawn v Sydney @ the MCG
Friday night captain? Yes please, and we have a monster!
Max scored 124 against the Swans earlier this year and that day he was up against their main ruckman in Sinclair who obviously wont play here. Sydney use a combination of rucks such as Aliir Aliir, McLean and Reid.
Last week, they combined for 24 hit outs and were destroyed by Ryder (87pts, 27 h/o) and Ladhams (100pts, 19 h/o). So just imagine what Max will do!
Gawn did only managed 90 last week against Grundy though, so we can look past that. In fact, that score from last week was his lowest score at the MCG in his last nine games. In that, he had 4×120+ ones.
So what have rucks been doing against this ugly looking Sydney combo… before last week, Mumford (100pts, 54 h/o) had one of his best games for the year and prior to that we saw Zac Smith (69pts, 35 h/o), Darcy (77pts, 26 h/o) and Kreuzer (108pts, 45 h/o).
Max lost the hit-out count to Grundy last week 29 to 44. I'll pencil Max in for 60 hit outs this week and a nice juicy big score for us on Friday night.
#2 – Brodie Grundy v Adelaide @ AO
Reilly O'Brien should be back this week and what a task he has coming his way. Obviously, Grundy has never played against ROB, but his record against the Crows is great with scores of 126, 108 and 134.
So what have ruckman done to ROB this year?
Marshall (101), Phillips (77), McKernan (78) and Witts (104) were the last four rucks to battle him but in the league, there are probably only a handful of ruckman who you'd give credit to as premium ruckman like Grundy so we can get a true reflection.
Marshall (101) is one that I'll put in that category along with Witts (104 and 123), Max Gawn (126), Lycett (104), Martin (83) and Goldy (93). Those scores there are not too bad at all. Max and Witts are the pick of that bunch and they didn't struggle against ROB.
Grundy's monster scores this year have come against 'weaker' ruckman as you'd expect. He had 181 against the Mummy/Simpson combo. 168 and 153 against English and 152 when he beat up Rowan Marshall. Will this happen again and are these the scores we are expecting? I sure am.
"But this is in Adelaide Calvin"… ah yes, great point mate. Some of Grundy's biggest scores this year have occurred while playing away. He's played off the MCG seven times, for scores of 181, 168, 149 and 129 being his best. The other 112 (Lobb in Perth), 99 (Lycett/Ryder at Marvel) and 78 (Stef Martin in Brisbane).
The thing with Grundy is… he can hitting bigger numbers than Max so if that's what you are after, then the table below justifies what you need to do.
#3 – Adam Treloar v Adelaide @ AO
Treloar still sits ranked #5 over the last three weeks based on form after his 107 last week. It wasn't great, but it was ok. He loves playing the Crows, who as we know give up plenty of points on their day. In recent games he has scored 135*, 119 and 121* against them with the * representing games he has played them in Adelaide.
He has played away seven times this year and has averaged 120 in those games, compared to the 112 he averages at the MCG. Back him in!
#4 – Zach Merrett v Fremantle @ OS
After a huge 141 last week, Zach must be back in calculations against one of his favourite teams. He scored 125 this year against the Dockers and 112 back in 2018. Zach is on fire averaging 119 in his last five and will keep it going here.
#5 – Toby Greene v Bulldogs @ GIANTS
Based on form Greene must be here as he has averaged 135 in his last five games after back to back 140+'s. The flag though… Bulldogs have been and still are the #1 hardest team for midfielders to score against.
Since the bye rounds, the Dogs have only allowed 9×100+ scores to opposition midfielders, with only two of those turning into something over 120. The teams they have played are Port, Geelong, Melbourne, St Kilda, Freo, Brisbane and Essendon. They are tough, but his form alone gets him on the list.
#6 – Dayne Zorko v Geelong @ GABBA
Geelong are still the #1 easiest for MIDs to score against and this one is at home for Zorko who is coming off a nice 130. He scored 106 on the Cats last year and a huge 181 back in 2017.
Geelong have given up 19×100+ scores to midfielders since the bye rounds and Zorko will be number 20 this week.
#7 – Jake Lloyd v Melbourne @ the MCG
Loves playing Melbourne with previous scores of 122 and 117… and loves playing at the MCG where he has scored 113, 117 and 120 in his last three. Lots of kick-ins hopefully coming his way.
#8 – Jack Macrae v GWS @ GIANTS
The Giants are one of Macrae's worst team to score against. He has managed just 1×100+ score against them over his last six games, this 109 occurred in his last game, but prior to that it was very dark times. Add to that, this game is away. He has averaged 120 under the roof this year and 111 in away games.
Since the bye rounds, GWS have given up plenty of 100+ scores though. 16 in fact, but only the last five weeks, none of those 100+ scores turned into anything over 120.
Based on form, he needs to be here… but de Boer supposed to be back this week to tag him or Bont? Macrae has been too good I agree, but the flags are up.
#9 – Bachar Houli v West Coast @ the MCG
Risky selection, but I like it. It's risky because he has never scored over 100 against the Eagles in his career nine games. BUT… at the MCG this year Houli averages 111 and defenders have been scoring with ease against the Eagles. Laird (103) was solid last week, but prior to that Newman (135), Simpson (94) and Salem (123) all did well. Could be anything from 85 to 140.
#10 – Mitch Duncan v Brisbane @ GABBA
110, 128, 114 and 123 are numbers not to ignore from a guy who loves playing the Lions. Of course this comes with a risk with someone who has averaged 99 in his last three but he could be huge, just like the Bulldog boys were not too long ago against Brisbane at the GABBA.
THE OTHERS…
Once again, in order of when these guys play for those who like to Loop Hope in Draft.
Clayton Oliver v Sydney @ the MCG – Hewett tag looms but his numbers against the Swans are good with 108 and 127 in his most recent.
Patrick Cripps v St Kilda @ the MCG – A tag from Steele is on the cards here against the #2 hardest team to score against since the byes. He loves playing these guys though with previous scores of 88, 122, 143 and 131.
Kade Simpson v St Kilda @ the MCG – 122, 94, 142 and 90 means the old man is up and about. Blakely scored 94 from 10 marks against the Saints last week which means he might keep this run going.
Seb Ross v Carlton @ the MCG – Averages 118 in his last three and scored 85 on the Blues earlier this year. Good trade target.
Lachie Neale v Geelong @ the GABBA – One of his worst teams. Last year he scored 104, which was his first ton against them in his career seven games. Wowzers.
Jarryd Lyons v Geelong @ the GABBA – 158 last week and averaging 120 in his last five. Scored 96 on the Cats last year. Could go off again.
Patrick Dangerfield v Brisbane @ the GABBA – 66, 150, 112 and 107 are his last games against the lions.
Matt Crouch v Collingwood @ AO – Two great weeks and now ranks #4 on form. Can you trust that this will continue?
Brad Crouch v Collingwood @ AO – Averages 113 in his last four games at home and is coming off 122. What a jet!
Tom Rockliff v Kangaroos @ Marvel – North are easy, but Rocky's record under the roof is less than impressive with  0x100+ scores coming in his last five games.
Travis Boak v Kangaroos @ Marvel – Will be better than last week. Scored 127 earlier this year on the Roos and they are much easier now.
Nat Fyfe v Essendon @ OS – 7×100+ scores from his nine games at home this year. Will cop some Clarke attention but it won't bother him. Last two games against the Bombers are 74 and 123.
Dusty Martin v West Coast @ the MCG – He rested last week for this! Has a rollercoaster of scores against the Eagles like 73, 156, 68 and 150. Matt (151) and Brad (122) didn't struggle last week against the Eagles so hold on to Dusty for this one.
Lachie Whitfield v Bulldogs @ GIANTS – Dogs are tough and the numbers don't lie about what they concede. Rules can go out the window in these games though. 114 was what he had last year on these guys.
Josh Kelly v Bulldogs @ GIANTS – Won't be snowing this time and Kelly might return. Definitely a watch game from my captaincy angle.
Tim Taranto v Bulldogs @ GIANTS – 112 was what TT had on the Dogs last year but he has just 1×100+ score in his last four at home. Lift matey!
Marcus Bontempelli v GWS @ GIANTS – 68 and 86 are his last two on the Giants and might cop some attention here if de Boer is back. Funny stat… last time these teams played each other was round one… last year. #peoplesprincedelivers
Josh Dunkley v GWS @ GIANTS – Played the Giants three times in his career and hasn't yet hit a ton. Should change here but this game scares me.
Liam Shiels v Gold Coast @ Marvel – Hidden gem (who would be #11) has averaged 110 in his last four and this suits him perfectly, against a team that let Lyons (151), Zorko (130) and Berry (121) have massive ones last week.
Loading ...