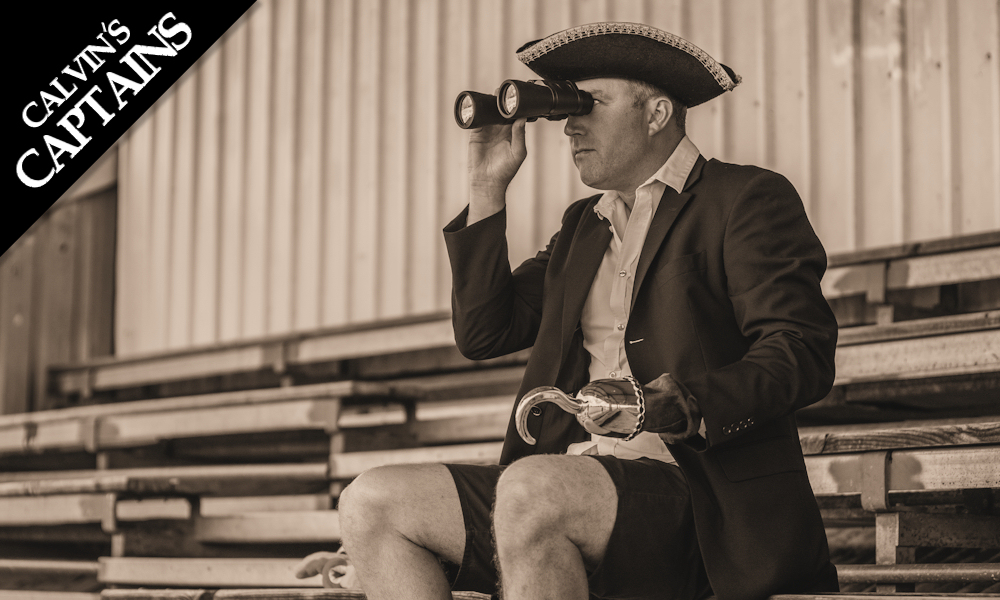 Welcome back you bloody legends.
Now, I will be the first to admit that I have been slightly off my game over the last two weeks and have failed to nail any sort of ripper. Grundy and Taranto have let me down but although others around them have been great, my main pick has seriously disappointed many and myself.
So here we go as we attack round 21. All the best guys and remember, you can order these guys however you feel fit and that your captain selection is exactly that – you're decision.
Let's chat. About #AFLFantasy and a little ?‍☠️ as well. Join me with a Boags and see where this goes! https://t.co/uEJYAR3UZg

— Calvin (@CalvinDT) August 7, 2019
CALVIN'S TOP 10
#1 – Adam Treloar v Melbourne @ the MCG
He's a safe #1 with no hurdles for him this week. Treloar has been outstanding with 6×120+ scores in his last eight games. Fresh off another 129 last week, Treloar meets the Demons who rank as the No.2 easiest for midfielders since the bye rounds.
He has scored 124 against them already this year and has a super record against them as they sit as one of his favourite teams to score against over his career. In fact, he has played them 13 times to average 106 which is nuts, considering that goes right back into his early rookies days.
So yes, Melbourne give up a ton of points. Since the byes, they have given up 6×120+ scores with three of those were over 140.
He ticks all of the right boxes here and should be great back at the MCG, where he has averaged 121 in his last four games.
Why is he ahead of Macrae? We'll their form is very similar and he has a easier match up.
#2 – Jack Macrae v Essendon @ MRVL
Ok… yes he could be #1 and don't people get shitty when he's not where they want him to be. Macrae has been amazing. However, hear me out as to why.
He might get tagged by Dylan Clarke. Most likely he won't as he should go to the Bont, but if he does, this will make life tough for the ball magnet who had 45 touches last week. Clarke's latest victim's have been Boak (91), Swallow (90), Sloane (86), Cunnington (47) and Parker (92).
The other thing to consider is that the Bombers have been tough to score against since the byes as they rank #3 for midfielders to score against, only allowing 2×100+ scores to MIDs in the last four rounds and just 2×120+ scores since round 15. However, with that said, who have Essendon even been playing to have this record. In their last four they have played Port, Gold Coast, Adelaide and North. Not the biggest names in the game at the moment.
Macrae has been in beast mode though with a lowest score of 106 in the last eight weeks and during that time 6×120+ scores – the same as Treloar, the only difference is that Melbourne don't tag and are much easier to score on compared to the Bombers.
His record at Marvel speaks for itself at an average of 133 in his last six which includes some monster scores. The other thing is, unlike some games this weekend, this game will be dry. Under the roof is just how Macrae likes it.
Look… he sits where he does because of who he plays and the small risk of a tag. But hey.. you can make your own call.
#3 – Lachie Whitfield v Hawthorn @ Manuka
Fancy a Friday night captain?
The Hawks rank at #3 for midfielders to score against since the byes and #8 for medium defenders. While Whitfield ticks both of those boxes, I have been digging deeper to see what the Hawks have been giving up, particularly in the 'marks' department. Just understand that these players are not in the league of Whitfield.
Pittard (82pts, 8m) was solid against the Hawks last week and before that we saw Hodge (72pts, 7m) grab a few as well. Then there was Blicavs (90pts, 9m) and Stewart (92pts, 8m) for the Cats followed by Ryan (101pts, 9m) and Blakely (93pts, 8m) for the Dockers. Back in round 16 it was Jack Cripps (117pts, 9m) to top scored for the Pies against the Hawks.
It will be cold – bloody cold and potentially wet. This is not great news for old Whit, but if he gets off the chain here, expect big things.
Whitfield scored 115 last week from 9 marks even with some attention from Ryan Clarke. He will get NO attention here at a ground he has scored 135, 66 and 114 last year. I'm expecting HUGE things and if it wasn't in the freezing cold/drizzle… he would be higher.
#4 – Andrew Gaff v Adelaide @ OS
Sadly in the last five weeks Gaff has scored between 100 and 107. His record against Adelaide is through the roof though with scores of 120, 148, 112 and 116 coming in his last four games. He returns home here and I'm tipping for him to break this low-100 run with something special.
#5 – Toby Greene v Hawthorn @ Manuka
How good has he been? Ranked at #3 on form over the last three weeks with scores of 146, 126, 115 and 144 in the last month, he can not be denied and he has scored 118 and 90 in Manuka last year.
With Kelly and de Boer returning (maybe not Kelly), people are scared that Greene will be pushed out of the midfield – these people obviously didn't watch him last week. He was sensational.
This doesn't bother me one bit.
#6 – Josh Dunkley v Essendon @ MRVL
Let's not forget what this guy was doing only a few weeks ago. He didn't set the world on fire like Macrae and Bont last week, but still managed 113.
He only managed 89 on Essendon last year but things are much different now.
#7 – Tim Taranto v Hawthorn @ Manuka
You are forgiven for your 84.
But… you must turn up this week. Taranto is now averaging 113 this year and meets the Hawks, a team he scored 96 earlier this year
#8 – Brodie Grundy v Melbourne @ the MCG
In Grundy's last three games against Max Gawn he has scored 95, 101 and 100 this is concerning but his form has been good enough to warrant a spot in the top 10. Coming off 145 (v Witts) last week, the RuckPig will look to show Max that he is the best big in the game.
The problem though is that NO ruckman (other than himself) has scored over 90 against Gawn this year. But still… I'll be backing in his form.
#9 – Mitch Duncan v Kangaroos @ GMHBA
He's been a little quiet but watch him rip this one up. He scored 142 on the Roos earlier this year and 105, 106 and 111 before that. Back at home where he has only slipped under 90 once in three years.
#10 – Matt Crouch v West Coast @ OS
Is he back? I'm tipping he is after his 126 last week and his record against the Eagles is like no other. With scores of 120, 150 and 128 in his last three against them, he should be great once again now he has finally shaken off those los scores over the last few weeks.
THE OTHERS…
Once again, in order of when these guys play for those who like to Loop Hope in Draft.
Josh Kelly v Hawthorn @ Manuka – Good record v Hawks with 115, 107 and 136 in his last three but after four weeks out, I'd prefer to just watch this one.
Max Gawn v Collingwood @ the MCG – Not with Pruess. Max scored a predicted low 100 on the weekend as he shared duties with Pruess. Dominated Grundy earlier this year for 148 to be the only guy to score 100 on the RuckPig this year.
Tom Rockliff v Sydney @ AO – Loves playing the Swans with scores of 33*, 167, 132, 128 and 141. But since his 150, his best is 104 in his last four. Could be huge though.
Travis Boak v Sydney @ AO – 0x100+ in his last three against the Swans with 77 last year. Expect some Hewett attention at stoppages.
Lachie Neale v Gold Coast @ the GABBA – Should be a walk in the park after Collingwood had 5×120+ scores on the Suns last week. Neale scored 108 on them earlier this year but has only managed an average of 95 in his last three.
Touk Miller v Brisbane @ the GABBA – ranks at #5 on form averaging 120 in his last three.
Marcus Bontempelli v Essendon @ MRVL – 139 and 128 in his last two games should be enough for him to cop a tag in this one. Only has 1×100+ in his career six games on the Bombers.
Zach Merrett v Bulldogs @ MRVL – Bulldogs are the hardest team to score against and Zach is coming off 60 and 82 in his most recent games against them.
Patrick Dangerfield v Kangaroos @ GMHBA – He should monster these guys and has in the past with scores of 96, 103, 139 and 187. Coming off 65 last week though. Yeah but nah.
Tim Kelly v Kangaroos @ GMHBA – 0x100+ scores in his last five this year, but did have a career-high 141 on the Roos this year with 36 touches and two goals.
Nat Fyfe v St Kilda @ MRVL – Fyfe was tagged by Steele to 78 already this year and at the moment, the Saints rank as #2 hardest.
Jack Billings v Fremantle @ MRVL – He is averaging 108 in his last five and meets the fourth easiest team to score against. Billings had 108 on the Dockers last year and should get the job done for his coaches under the roof.
Dusty Martin v Carlton @ the MCG – Dusty is warming up after scores of 111 and 133 and meets the Blues who he scored 81 against in round 1.
Patrick Cripps v Richmond @ the MCG – 75 last week was disappointing but his record v Richmond is impressive with 101, 130 and 109.
Brad Crouch v West Coast @ OS – 116 and 133 are his latest score against the Eagles.
Rory Laird v West Coast @ OS – Watch-out. Last week against West Coast, Newman (135pts, 11m), Simpson (94pts, 8m) and Weitering (76pts, 9m) all went off. Laird will enjoy this!
Loading ...