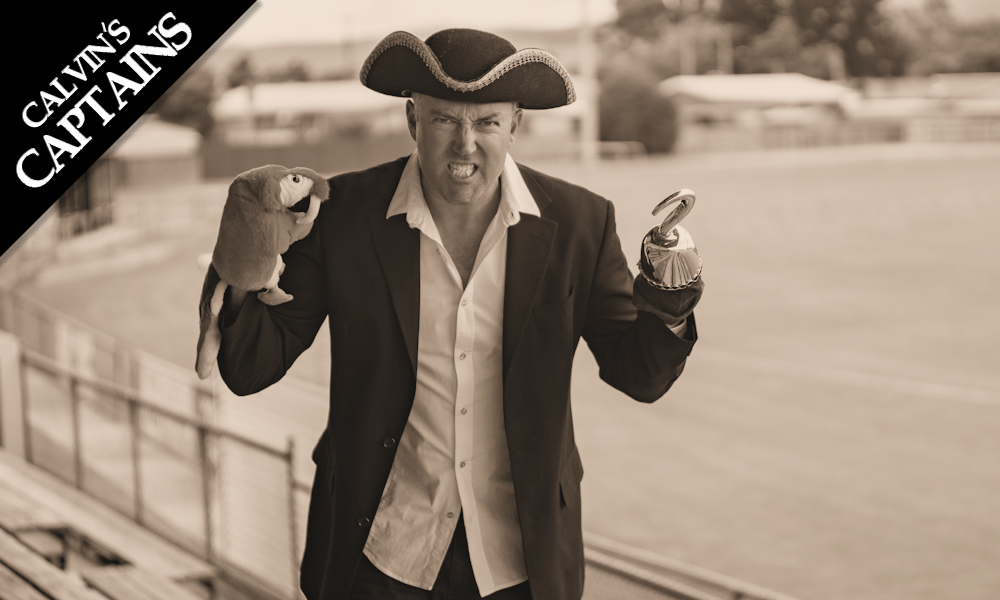 Welcome back you bloody legends.
Well that didn't go to plan did it. Grundy 79 and Dunkley 72. Not ideal.
Calvin has a blue bullet and is talking all #AFLFantasy including his all important captains. https://t.co/gXc3Isv8OG

— Calvin (@CalvinDT) July 31, 2019
Now this week, I have serious put in hours and hours to get it right for us. I'm confident and have gone the extra yards.
PLUS… I've added some weather pictures to the graphics as well. Enjoy and good luck. #peoplesprince
CALVIN'S TOP 10 CAPTAINS
#1 – Tim Taranto v Sydney @ GIANTS Stadium
Can GWS in? This is a very relevant question. In their last three wins, Taranto has averaged 137 compared to 98 in their losses. He is back home where he has averaged 121 this year and meets a team he scored a game-high 130 against earlier this year.
This is all adding up to something special. His form has been elite with 109, 145 and 117 coming in his last three but there are some small flags that we need to address. Taggers.
Now, Sydney have Ryan Clarke and George Hewett who gets roles from time to time. Last week, Clarke didn't run with anyone and Hewett seemed to have a very loose role on Tim Kelly around stoppages. I believe that Clarke will run with Whitfield in this one which is why he won't feature in my top 10 this week.
Against Sydney, the highest score from a midfielder since the byes is just 125 (Dylan Shiel) but they haven't really played anyone of quality expect for Geelong last week where Danger (107) and Duncan (102) top scored for the Cats last week.
In a nut shell… the Giants win this, and at home I'll tipping old mate TT to be huge.
#2 – Adam Treloar v Gold Coast @ the MCG
Treloar has been in ripping form and carries a lowest score of 102 over the last seven weeks. In that time he has knocked out 5×120+ scores.
The Suns rank as the 4th easiest for MIDs to score on since the bye rounds. He last played them in 2017 where he scored 101. Before that he went 134, 78 and 103.
Treloar returns to the MCG where he has averaged 119 in his last three and even if Adams returns, this should be a walk in the park for the Pies in a very Fantasy friendly game.
#3 – Patrick Dangerfield v Fremantle @ OS
Someone is trying to win the Brownlow and has picked up the pace. Dangerfield has a super record against the Dockers as he goes head to head with one of the best in the game in Fyfe.
Danger has scored 115, 134, 118, 130 and 147 in his last five against them and is now averaging 109 in his last three games this year.
#4 – Brodie Grundy v Gold Coast@ the MCG
79 last week hurt. It hurt us all.
Grundy is up against Witts this week, the second hardest ruck man to score against in the game this year. Only one ruckman (Marshall 106) has hit triple figures against the man. Zac Clarke (69), ROB (96) and Soldo (86) the most recent to play him.
Grundy has met Witts before though and dominated. He had 151 (at Metricon) in his most recent and 86 before that (at Metricon) after a slow start that saw him have 10 in the first quarter.
This one is at the MCG and let's not forget what the ruckpig has been doing before his 79 last week. 181, 129, 100, 112 and 168. This will be tough game for him, but he'll do what pigs do best – he'll be back in a big way this week.
#5 – Nat Fyfe v Geelong @ OS
Ready for this… since the byes Geelong are the #1 easiest team for midfielders to sore against. WOW! But… during this time they have only giving up 3×120+ scores to midfielders.
Fyfe's record against the Cats is through the roof with 117, 110, 116, 111 and 109. Awesome, without being huge.
#6 – Zach Merrett v Port Adelaide @ MRVL
Zach has a record against the Power unlike no other. 113, 121, 151, 128 and 118 are his last five games and he finds himself at Marvel this week, a ground he has averaged 119 at in his last six games.
Somehow he only managed 98 against the Suns last week but his form has been great with 126 and 114 before that.
Port can give up huge numbers on their day. Greene (126) was good last week and before that Prestia (110) and Lyons (140) both hit numbers well above their average.
NEW – Potential tag from Sutcliffe on the cards. FLAG
#7 – Max Gawn v Richmond @ the MCG
After rucking solo last week, Max scored a very healthy 128 (against Marshall) and meets Richmond on Saturday night at the MCG where he has averaged 133 in his last four games.
After a smashing game in the VFL last week, will Pruess return? Max at #1 will change if he is so stay tuned to our LIVE show Thursday night when teams drop to find out the verdict.
In Gawn's most recent games against the Tigers he has scored 112, 143 and 142… all against Nankervis. This seems to be the same conversation as we were having last week, when Grundy (79) fronted up against Richmond and Ivan Soldo. Will Soldo stop his scoring just like what happened last week? Or will Nank even return this week after another half game in the VFL last week. The media have been saying that Nank "is set" to return this week. Watch this space, but honestly, I think I'd prefer him to play based on what Max has done to him in the past and being tag-teamed by Nank/Soldo/Chol combo shouldn't bother him one bit.
So anyway… what's the Soldo Story if he ranks with Chol and there is no Nank? Soldo came in and rucked for Nank at the start of round 9. Scores against him from that point in time have been Grundy 79, Lycett 79, Simpson 75, Witts 106, Marshall 121, Stanley 82, Goldy 60 and Ceglar 101. Although that doesn't look great, he still ranks as the 4th easiest over that time period, behind English, Mumford and Stanley.
The thing with Max is, he had 18 touches last week for his 128. Eleven of them where in the defensive half. Max likes to push back and rack a few up back there.
This one does come with some risk, especially after what happened last week. However, that was more about Grundy and not Richmond. I'll back in my numbers here and the fact that Max is a beast and will be unstoppable for a 140+ score.
NEW – Preuss is IN. Max will not be rucking solo. Forget the injury rumours, the fact he has to share rucking duties means he will most likely score 20 less than before. Still be good – but we now have better.
#8 – Josh Dunkley v Brisbane @ the GABBA
The Lions are tough and since the byes they have only given up 2×120+ scores to opposition midfielders. He scored 127 earlier this year against Brisbane but that was at Marvel Stadium. Dunkley has played away seven times this year for an average of 94 which hurts his case here.
His form (besides his 71 last week) has been amazing though with a crazy run of 120+ games.
#9 – Andrew Gaff v Carlton @ MRVL
At Marvel, Gaff has scored 108, 154 and 92 in his last three runs. He could be anything thing here against he Blues who are up and about. He has been great against Carlton in his last two games with 99 and 77, but that should be corrected here on Sunday afternoon.
#10 – Patrick Cripps v West Coast @ MRVL
BANG! 141 last week and 138 and 109 on the Eagles in his only two games against them. Still not over his 55 two weeks ago.
Listen to the AFL Fantasy Podcast with The Traders at Apple Podcasts, Spotify and Google Podcasts.
THE OTHERS…
Once again, in order of when these guys play for those who like to Loop Hope in Draft.
Tom Rockliff v Essendon @ MRVL – averaging 95 in his last three, tagged Merrett in this game last time and scored 43.
Travis Boak v Essendon @ MRVL – Dylan Clark tag? Doubt it, but after Boak had 40 touches last week, it just might happen.
Toby Greene v Sydney @ GIANTS – 126, 115 and 144 are his last three scores but will he get some attention this week form one of the Sydney taggers? Ranks #2 on form and going very nicely.
Lachie Whitfield v Sydney @ GIANTS – Ryan Clarke tag? Whitfield can be huge at home and has scored 39 (inj), 124, 72 and 65 in his last games against the Swans. Could be 130 or 60 with attention.
Jake Lloyd v GWS @ GIANTS – Played on the wing last week and therefore hardly took a kick-out. Rampe is most likely out now and this will help Jake. 85 against the Giants earlier this year and has just 1×100+ scores on them in a career 12 games. Yuck.
Tim Kelly v Fremantle @ OS – 116 against Freo last year and has only averaged 87 in his last three this year.
Mitch Duncan v Fremantle @ OS – 103 on the Dockers last year and has a great record on them past that. Should be great!
Dusty Martin v Melbourne @ the MCG – Tagged by Hibberd when these guys met this year to just 68. Should happen again you'd think. See … he's even chasing him in the picture below.
Matt Crouch v St Kilda @ AO – Highest score of just 105 in his last five games this year and the Saints rank at #2 hardest for midfielders since the byes.
Brad Crouch v St Kilda @ AO – 102 when he played the Saints this year ad averages 117 in his last three. Remains the better brother.
Rory Sloane v St Kilda @ AO – Tagged by Steele to 82 this year.
Seb Ross v Adelaide @ AO – scored a round-high 146 last week and loves playing the Crows, a team he has scored 122, 132 and 111 in his last three. Great trade target with instant reward.
Jack Billings v Adelaide @ AO – 85 last week was his lowest score since round 11. Has never scored 100 against the Crows, who are along with Port, his only two teams to be ton-less against. South Australian hoodoo.
Jack Crisp v Gold Coast @ the MCG – He's the kind of player to find plenty in a game like this. Crisp scored 93 last week which ended his run of five straight 100+ games.
If this game turns into a MCG cakewalk, expect Crisp to be cashing in with plenty of +6's and 30+ touches.
Dom Sheed v Carlton @ MRVL – Averaging 115 in his last three. 65 and 57 on Blues in his most recent.
Elliot Yeo v Carlton @ MRVL – 108 last year against Carlton.
Jack Macrae v Brisbane @ GABBA – 98, 155 and 126 are his last effort against the Lions, but as we know, they are a little better than what they were. Macrae was back to his best last week though with 127 and 38 touches.
Lachie Neale v Bulldogs @ GABBA – 0x100+ scores against the Dogs in his last three.
Dayne Zorko v Bulldogs @ GABBA – Would rank at #11 on my list with 134, 115, 94, 157, 107 and 108 coming in his last games against the Dogs. The issue… Dogs rank #1 hardest for midfielders since the byes. Still like Zorko at home though where he has averaged 109 this year.