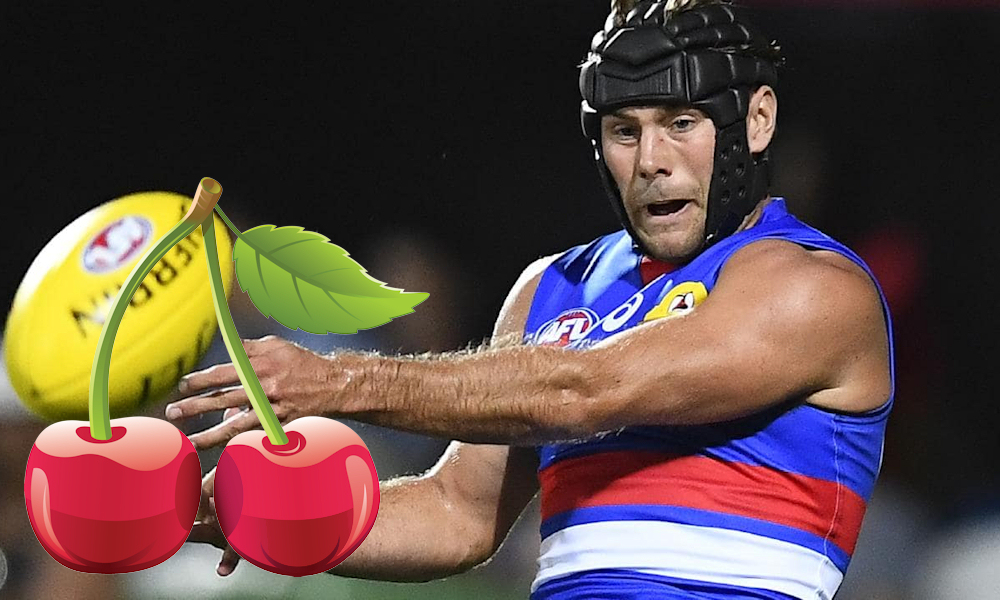 Hey Fantasy Coaches, how's the season going so far? My name's Sparksy and I'm here to give you the first instalment of 'Ripe for the Picking' for the season. For those of you who are new to the article, 'Ripe for the Picking' is an article I write once every four weeks that aims to give you information on the best value players in the competition. This used to be restricted to mid-priced players, but as I said in the pre-season article, the changes in pricing make it difficult to work out what consists as a mid-priced player, so now any player above rookie price who presents value is considered. Each position gets a write-up for the three players who present the most value, followed by a sentence or two for the 'Next 5'. Rucks are usually the exception as there isn't enough value in the Rucks to write about eight players, but today I have something entirely different for the Rucks. Anyway, let's get into it, shall we?
Defenders:
Tom Stewart ($664,000 Avg. 104.5 BE 82)
The Cat's roaming half-back has been threatening to break out for a while now, and it seems that this year is the time Stewart cements himself in our Fantasy backlines. Currently averaging 104.5, Stewart has been under 100 just once this season, which was in last week's loss to the Giants, with Tom scoring a 97. There are two big things I love about Stewart's Fantasy game: His marks and his disposals. Stewart averages 7.25 marks per game, which is pretty insane for a guy below $700k. This pretty much guarantees you 20+ Fantasy points per game, but it's the kicks that really lock in Stewart as a Fantasy premium. Stewart averages 25.5 disposals, with almost 22 of those being kicks. That's a kick:handball ratio of almost 6:1, which is immense for any Fantasy player – he just doesn't handball! Stewart averages 65 points per game from kicks alone! Another good thing about Stewart is that I'm not sure he's damaging enough to shut down. Somebody like James Sicily carries their backline so much that it's very easy to see the parts oppositions need to put work into. With Geelong, they play such a strong team defence that it's hard to shut down just one person and have a huge impact, therefore Stewart should be free of the tag that players like Sicily and Laird can get. The major worry I have about Stewart is that his scoring may take a hit from Tuohy coming back into the side. Whilst 104.5 is a great average, it's not exactly huge, which means he's a few points away from being a cusp Defender, rather than a Top 6 one. This means, if Tuohy does impact his scoring even a little bit, Stewart could lose a lot of his value. I still think he's a great option though, especially at this price, and behind Whitfield, Lloyd, and Laird there's not much better on offer.
Jordan Ridley ($361,000 Avg. 65.3 BE 26)
The young Bomber was dropped for Round 2 but managed his way back into the side after half the Bombers' team ran off the field in disgrace midway through the game. Ridley has essentially been a glorified rookie this year and still has plenty more cash to earn, as you can see by his BE of 26. Ridley doesn't really do anything special, but he's a great cash grab for those looking to downgrade a player like Zac Williams, or Coaches who want to upgrade somebody like Chris Burgess but can't find the money to go all the way to a premium. He takes a few marks a game (averaging 7 currently) and uses the ball by foot reasonably well and, after the Bombers won on the weekend, I don't see him being dropped in the near future. If you want somebody on your field who's a walking 60 and will earn you a bit of cash, Ridley is definitely your man. Who knows, he might even surprise you with a 70!
Alex Witherden ($625,000 Avg. 88.5 BE 89)
Witho burned me a bit in the first couple of weeks, but he seems to be back to his usual ways again. His average has gone from 79 over the first two Rounds to 98 over the last two Rounds and I think it should be staying there. To be honest, I think Witherden's biggest issue in the first two weeks was Daniel Rich stealing his role. It was foreshadowed in the JLT that this would happen, as Rich took the majority of kick outs and scored like a man possessed. In the first two weeks, Rich averaged 21 kicks to Witho's 15 and 2 tackles a game to Witho's 0.5. In the last fortnight, the stats have almost completely reversed with Witho averaging 20 kicks to Rich's 18 and 1.5 tackles to Rich's 0.5. There definitely seems to be room back there for both players to average solid numbers, but if Witherden can keep this role from Rich or learn to play his new role without as many kick outs, then he should be a Top 6 Defender. And at $625k, that's a pretty solid steal if you ask me.
Next 5:
Christian Salem ($631,000 Avg. 95.8 BE 94) – Salem has been pretty strong this year, with an average of 95.8 and a high score of 128. Has a habit of going missing a bit, but with St Kilda, Richmond, and Gold Coast in his next 4, I think he should score pretty well.
Rory Laird ($718,000 Avg. 96.3 BE 116) – Laird started the season slowly, especially after he copped a tag from Georgie Hewett in Round 2. His two 80 scores are still in his BE, so you could potentially give him a week, but I'd say this is about the cheapest you'll be getting Laird at all season.
James Sicily ($656,000 Avg. 91 BE 99) – Extremely prone to a tag and potentially copping a few weeks for being hot-headed here and there, but there's no doubt that Sicily is a player for the ages. Not many half-backs command the presence he does, and his two 100+ scores already this year show that he's capable. Could be a mixed bag but should be right up with the top Defenders and is currently quite cheap at $38k below starting price.
Connor Blakely ($664,000 Avg. 0 BE 102) – The Dockers' half-back turned gun midfielder is looking to get back in the team very soon (source) and we've seen what he's capable of, averaging 91 in the previous two seasons, despite having a mixed role. I think he should slot straight into the midfield at Freo and that should translate to solid scoring, but potentially give him a week or two to settle in.
Grant Birchall ($350,000 Avg. 0 BE 54) – Birchall is out indefinitely, but keep a close eye on the injury list, because he's a great option to slot straight into Fantasy backlines, especially if it coincides with players like Williams and Smith maxing out. Birchall could be a great cash grab for many Coaches, he just needs to get healthy.
Listen to the AFL Fantasy Podcast with The Traders at Apple Podcasts, Spotify and Google Podcasts.
Midfielders:
Tom Liberatore ($570,000 Avg. 105 BE 29)
Libba has been a deadset gold mine for those who started with him, and he's not done yet! It's hard to name too many players who can give you a 100+ average for just $392k to start the season, but Libba has done just that. The best part about being an owner is that Libba doesn't need that many disposals to score well, which is good in a disposal-hungry Dogs midfield. Averaging just under 28 disposals, a very handy number to say the least, Libba supplements this by adding 6.5 tackles per game to his stat line. It feels good as a Coach to know that you can lock in around 25 points for one of your players without him even touching the pill. His job and role security are wonderful, he's back to playing his best footy, and he has a BE of just 29. If you can, then get the man in, as you could have a 100+ midfielder in your team for below $600k. Very good buy and as close to a must-have as you can get.
Tom Scully ($461,000 Avg. 74.3 BE 45)
The Hawks have provided a few under-priced Mids this season through the likes of Worpel and Cousins, and Scully is the next one to come through. After being traded to Hawthorn in one of the biggest robberies of modern time, Scully's messed up ankle healed in an unprecedented fashion, and he was in the Hawks 22 by Round 2. Scully did have practically a year off the game for his injury, so his first two weeks were slightly rusty, but he showed Coaches that he's still capable of his best last week with a 98. Now, Jaeger was missing from the Hawks' line-up, which I would say helped Scully out a bit, but Scully is no stranger to Fantasy football, having averaged 96 for a whole season before. With his current price-tag and the potential he has shown in the past, I'd say Scully is a nice stepping stone to score solidly for your team right now, then upgrade around Bye time.
Tom Rockliff ($709,000 Avg. 114 BE 97)
There were quite a few candidates for this third spot, but you can't go past the Pig. Rocky started the season like the Rocky of old before being knocked down (and out) by his old side in Round 3. He was back to his piggish ways against Richmond with a 132 and made his BE easily, which goes to show just how good the man is at Fantasy scoring. I don't have him yet, and I can't get to him this week without being silly, but I would advise getting him in ASAP as he genuinely could be at a Tom Mitchell-like price by season's end, which is essentially unobtainable for non-owners. There is a slight chance of a Hutchings tag this week, but with players like Wines, Boak, Ebert, and Gray all around that Power midfield, it's hard to see who Hutchings will go to. In the long run though, I'm tipping Rockliff will be easily a Top 8 Midfielder, so it's worth getting him now if you can. He is the Pig after all!
Next 5:
Brayden Fiorini ($699,000 Avg. 105.3 BE 91) – Fiorini showed us Coaches how well he could score in patches in his past few seasons at AFL level, but with the depleted stocks Gold Coast have he's now doing it on a regular basis. While he's probably not a Top 8 Mid, he's very consistent and cheaper than most of the other guys around the same average. I really like him, just not sure how he could fit into most teams.
Marcus Bontempelli ($766,000 Avg. 121 BE 92) – The Bont has been a midfield-only player this year, rarely spending time forward as he has in previous seasons and boy has it improved his Fantasy game tenfold. Okay, so maybe not tenfold, but the bloke is averaging 120+ on the year and has been a 3-vote contender every week. He's hard to tag and he doesn't look like switching roles, so it seems we've finally got the Bont we've all been waiting for!
Jaeger O'Meara ($746,000 Avg. 120 BE 82) – No Pig, no worries for Jaeger. The Hawks' midfielder has relished the opportunity to lead his teammates, averaging just over 28 disposals, 7.5 tackles and a goal a game. Currently averaging 120, I'm not sure he can keep that up, but if you do take the risk on him, the reward could be significant.
Stephen Coniglio ($776,000 Avg 107.8 BE 130) – Coniglio is below $800k and could go down even more in the next week or two. A BE of 130 means you can afford to wait on him if you don't have him, but he's pretty much a lock for Top 8 Midfield status, and I don't see him getting much cheaper for the rest of the season, thanks to his tagged score of 50 in Round 2. To have a score of 50 after four rounds and still be averaging 105+ says something about how good this guy is. Look to get him in if you don't have him.
Josh P. Kennedy ($705,000 Avg. 105 BE 99) – An interesting one, JPK has never been a player that starts years well and has been known as a great season-finisher throughout his whole Fantasy career. Currently averaging 105; if he can keep up his regular trend it will be crazy to think what his average will be, come Round 23.
Rucks:
Now, I mentioned I will be doing something different for the Rucks. As I always say, you should have Gawn and Grundy. If you don't, you better have spent your cash very well elsewhere, because you are losing a significant amount of points in the Ruck department. From what I can tell, there are currently 5 value ruckmen out there, each with their own positives and negatives. Therefore, each one is quite situational as to why you would own them. I'll be giving you a 'Next 5' style write-up on each of these, keeping in mind the situation you would need to be in to own one of these guys.
Tim English ($464,000 Avg. 70 BE 57)
Beginning with English, the only reason I can see to own the young Dog is that you started with him in your team. If you did, stick it out. English's BE is only 57, which is obtainable to say the least, and he seems to be improving fairly steadily as the season progresses. He got towelled up by a BoG Grundy last week and still managed to score 86. His next two games are against Carlton and Fremantle who have no #1 ruckman to speak of, so he should still score decently, hopefully pushing his price above $500k and making it easy to get to either Grundy or Gawn.
Andrew Phillips ($408,000 Avg. 83.5 BE 26)
Shane Mumford ($461,000 Avg. 83 BE 45)
The reason to own Phillips or Mumford would be because you started with a Ruck that didn't pan out. If you began the season with a Goldy/Stef/Nank etc. then I would be looking to trade down to one of these two if you can't afford to trade up to one of the chosen two. Phillips is looking to be back this week (source) and has been very solid in his couple of games so far, and Mumford has looked solid in his first two hit-outs and should grab some good cash for anybody who owns him. I'd probably be going Mumford over Phillips, as I think the job security and health is slightly better, but it really is almost a coin flip between the two.
Reilly O'Brien ($296,000 Avg. 76.5 BE -5)
When I started writing this article, it was still being decided as to when Sauce Jacobs would return from his injury. I remember hearing on the radio that it could potentially be cartilage damage in his knee, which is a much longer recovery than two weeks, and newfound AFL Fantasy journo, and regular AFL journo, Lee Gaskin has confirmed tonight that Sauce is out for at least 4-8 weeks (source). This means that young man ROB will be locked into the Crows ruck role for the foreseeable future. If you traded down from the injured Sauce to ROB already then you will rejoice in the cash grab and be mildly positive about his new job security. However, there is another reason to own O'Brien, and I'm looking to hopefully do exactly this. Although quite an expensive rookie option now, it is completely plausible to trade ROB in this week as a bench Ruck, if you have a spare $126k. I know this seems like a waste of money, but in 4-8 weeks when Sauce gets back, ROB will be an easy downgrade to one of the $170k ruckmen and could be a cash grab upwards of $200k. That sort of money could be crucial for many Coaches later in the season, when downgrades are hard to come by.
Brayden Preuss ($347,000 Avg. 61 BE 43)
Lastly is Preuss, who played his first game for Melbourne on the weekend. He played mostly forward and provided a target for the Dees but not much in terms of Fantasy scoring. I think 61 is the upper end of what Preuss will score at Melbourne, and I don't really see any reason to own him over the other four options above, but he will provide a bit of money and should hold his spot in the team, so if you do own him, enjoy the little bit of extra cash.
Forwards:
Caleb Daniel ($606,000 Avg. 93.5 BE 67)
The small man with a helmet has been on a mission this season, and a role change has provided him with an unseen Fantasy ability. Daniel has averaged 99.7 in his last three games after a move to half-back saw a significant increase in his disposal and marking numbers. This is a massive positive, not only because we now have a cheap, Forward option who can average close to 100, but also because he should be a lock for the coveted FWD/DEF DPP status come Round 6. After Round 1, Daniel increased his disposals by almost 9 and his marks by 3 per game, which in turn increased his Fantasy average by almost 25 points. If Daniel can keep this role in the Dogs' side, and I don't see why not, he's a genuine contender for Top 6 in what will likely be both Defenders and Forwards. I have to decide whether to pull the trigger on the ROB bench trade this week, or to move heaven and earth to bring Daniel in, but if you can get him easily then I think it's definitely worth the trade and the money.
Jack Newnes ($578,000 Avg. 95.5 BE 57)
With an average almost 40 points above his BE, Newnes is rough not to get the top spot of all the Forwards. Newnes has shown himself to be a capable Fantasy player in the past but usually sits in more of the Draft category, rather than Classic. He's never averaged over 90 and managed only 66.3 last season, but it seems that a new St Kilda gives us a new Jack Newnes. He has two 100+ scores already this year and, while I don't think he'll be a huge scorer, I think Newnes can be the consistent Forward option that a lot of Coaches are craving. His four scores this season have all been within 18 points of each other and not only that, but Newnes has played every Home and Away game for St Kilda since 2014, meaning it's highly unlikely he'll miss with injury. It's completely possible that Richo will change things up and Newnes will be back to averaging 60, but for now he looks like a strong stepping stone to get your Setterfield's and Parker's up to your premium Forwards.
Darcy MacPherson ($521,000 Avg. 85.8 BE 54)
My boy from the Suns is finally coming good and stringing some games together, and boy am I happy to see it. I've been waiting for MacPherson to get a proper go at AFL footy for quite some time now, and he's providing the goods in his fourth season. D-Mac's scoring is generally a bit up-and-down, but when he's up he's definitely capable of 100+ scores. D-Mac is averaging 6.5 tackles and 4.5 marks to go along with his 17 disposals per game, about what you'd expect from a high, pressuring half-forward. If MacPherson can stay healthy, he should maintain his spot in the currently successful Suns side and he should also maintain his 85 average, which makes him a handy cash grab for those looking to upgrade Setterfield but can't currently make enough money to get him to a Premo. MacPherson is a less consistent Newnes essentially, but he's $57k cheaper and money is currently at a bare minimum for quite a few Coaches, so the extra $57k might be what you need.
Next 5:
Jack Billings ($659,000 Avg. 102.5 BE 67) – Billings has been a jet this year, especially over the last two Rounds. Averaging 100+ and being well below $700k are two things that don't usually mix for Forward line players, and at 6% ownership he's a huge PoD. Seems to have fixed his role and is playing in the middle now, but I'm sure that could change at any moment. Rough not to be further up on the list, but the price-tag is getting close to premium Forward territory, and I'm not sure how many people have the money to get to him if they don't own him already.
Isaac Heeney ($641,000 Avg. 92.3 BE 81) – Heeney looks to have shaken off whatever was plaguing him in the first two weeks, likely his ankle injury, and has started scoring like the premium he should be. Heeney is +7.5 in disposals, +2.5 in marks, +1 in tackles, and +1.5 in goals when comparing Rounds 1 and 2 to Rounds 3 and 4, giving him a Fantasy average difference of a whopping 41.5. Hopefully this Heeney can stick around for the rest of the season, especially if you already own him.
Rowan Marshall ($599,000 Avg. 104.3 BE 58) – Unfortunately with Billy Longer dominating the ruck in the VFL (source) it looks like Marshall's days of solo rucking could be limited. If he keeps playing like this however, he's a genuine find. Should be a lock for DPP status, making him a handy link into the Rucks, and he could average 100+ if he keeps Longer out of the side for the season. He hasn't exactly had a tough run, playing against Essendon, Fremantle and Hawthorn, but this week should test him as he rucks against Gawn. If he can play well and the Saints can win, there is hope that this Fantasy gem will keep shining, at least a little longer.
Kane Lambert ($630,000 Avg. 95.3 BE 82) – Lambert has always been much more Draft relevant than Classic relevant, but this year he's started to shine consistently on the wing. Capable of very big scores and very poor scores, it's a huge risk getting him in, but he's almost guaranteed to be 140 points that almost nobody else will own (or 40 points, depending on the week)…
Michael Walters ($572,000 Avg. 83 BE 73) – Sonny Walters hasn't set the world on fire this season, but his last two scores of 98 and 97 have been enough to at least consider the Docker for one of your Forward slots. He's definitely capable of scoring when playing a favourable role, but it all comes down to the role. Look to see how he goes with Fyfe back this week, then assess.
Anyway, that's all I've got for you this week! I'll talk to you all again in Round 8, but if you have any questions in the meantime hit me up in the comments or on Twitter @SparksyDT. Happy trading!