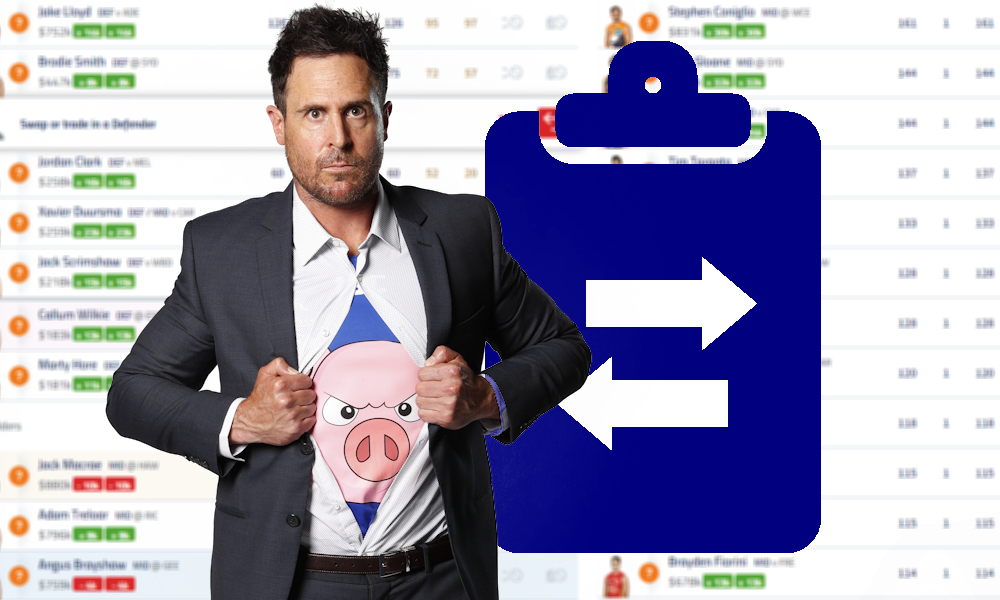 It's only round one but captain hindsight is going to force our hand with some patch up trades. Now although I am not a fan of trading premiums, there is some leeway in the first couple of weeks if you think you can get the same output from players priced significantly less.
Roy is chatting #AFLFantasy trades, rolling 22 and whatever else comes up over a froth https://t.co/s3XOXtybzT

— Adam Roy Davey (@RoyDT) March 26, 2019
Get them in:
Tom Rockliff (MID, $650,000) BE:38
Only 15% of the competition backed in the fact our Pig had a full pre season, believed Ken Hinkley that the Powers horrific game play had changed and the fact they were allegedly allowing Rocky to return to the mud (as an inside mid). That leaves 85% of us requiring a trade, but be smart about it, I have been asked whether to trade Brad Crouch or Tim Taranto to him… The answer is no, they are huge value themselves. Players like Zach Merrett however, is a no brainer.
Travis Boak (FWD/MID, $667,000) BE: 60
Another Power player embracing a change of game plan and a return to their best playing position is Boaky. It is probably the best I have ever seen him play, absolutely dominating as a midfielder with 34 possessions, nine marks and eight tackles for 144. His most possessions last year was 29 and his highest score was 113. All this and he can be selected as a forward.
Tim Taranto (MID, $687,000) BE: 70
A third year breakout was always on the cards for the young Giant star and he rewarded coaches who took the punt in monumental fashion. Traditionally a good tackler, he started the year in fine form with 40 points worth of them to go with his 30 touches and two goals got him to 137. He is a gun and massively under priced.
Bailey Scott (MID, MID, $218,000) BE: -20
Had to wait until Sunday night to see the young star do his work out on the wing for the Roos but it was certainly worth the wait. He was so calm with ball in hand and his 21 disposals reflected that as he also added a handy eight marks by utilising his ability to get into open space. He has quickly become the must have rookie on the back of his 97.
James Worpel (FWD/MID, $501,000) BE: 51
Believe the hype, the Worp is in the guts and ready to dominate… All while being listed as a forward. He had 27 possession and kicked two goals against the Crows star studded midfield for 101. He is currently owned by 23% of the competition and has a break even of just 51 and is a great price for a forward capable of pumping out scores like that, with a role like that.
Listen to the AFL Fantasy Podcast with The Traders at Apple Podcasts, Spotify and Google Podcasts.
You… Get the Chop
Zach Merrett (MID, $704,000) BE: 144
Maybe Tom Browne was right and Merrett did his knee in that pre season incident that caused him to miss a couple of weeks. Whatever it was, he is under done and a far cray from the guy we flagged as potentially returning to his 118 ways at the start of the year. Add to that, the Bombers looked poor and it will be a tough gig maintaining a good average unless they drastically change things. There is your easy way to get Rocky.
My Trades
At this stage I am prioritising getting the Pig. It looks like the unlucky victim will be Brayshaw in a cash grab given they will likely average around the same. My other trade will be patching up one of my rookies that will inevitably get dropped on the bench.
Rolling 22
Update following round one.
Defenders
Last
Week
2019
Avg
Change

D1

Jake Lloyd
Sydney Swans, DEF
50 point last quarter justifies his number one rank.
126
126

D2

Rory Laird
Rory Laird, DEF
Solid as a rock despite the large number of respected ball users in the Crows backline.
103
103

D3

Lachie Whitfield
GWS Giants, DEF
Did his thing with 109 from 30 touches which is what we can expect each week.
109
109

D4

James Sicily
Hawthorn, DEF
Took his ten marks floating across half back and will continue to rack up as the general.
106
106

D5

Nic Newman
Brisbane Lions, DEF
Reminded us not to overthink quiet games in the JLT after many coaches put a line though him in week 2.

115
115

D6

Alex Witherden
Brisbane Lions, DEF
A quiet start with 83 but we will give him another look at it this week.
83
83
Midfielders
Last
Week
2019
Avg
Change

M1

Stephen Coniglio
GWS Giants, MID
Forced his way to number one with yet another thumping score without Dylan Shiel.

161
161

M2

Jack Macrae
Western Bulldogs, MID
Quiet start but he did have 190 two games ago.
107
107

M3

Matt Crouch
Adelaide, MID
Underrated monster.
132
132

M4

Adam Treloar
Collingwood, MID
Loved the extra space in the middle.
125
125

M5

Tom Rockliff
Port Adelaide, MID
Oink.
166
166

M6

Patrick Cripps
Carlton, MID
Bit harsh on the big fella, but he doesn't have a snout… yet
101
101

M7

Angus Brayshaw
Melbourne, MID
Looked at his best starting in the middle as opposed to the wing. Hopefully the last quarter role is a reflection of what to expect this week.
100
100

M8

Rory Sloane
Adelaide, MID
Yes he has an issue with tags but on the back of an impressive pre season he smashed it week one to the point I can't ignore him.
144
144
Rucks
Last
Week
2019
Avg
Change

R1

Brodie Grundy
Collingwood, RUC
Disappointing, but it's the same score he had first round last year.
84
84

R2

Max Gawn
Melbourne, RUC
Hopefully copes with the extra attention he is set to receive a little better than last week.
68
68
Forwards
Last
Week
2019
Avg
Change

F1

Patrick Dangerfield
Geelong, MID/FWD
A solid start, holds mantle.
103
103

F2

Devon Smith
Essendon, MID/FWD
Solid despite the team getting flogged.
93
93

F3

Tim Kelly
Geelong, MID/FWD
Wow, that first quarter was smoking!
108
108

F4

Travis Boak
Port Adelaide, MID/FWD
Finally back in the midfield and in an uncustomary Fantasy friendly game plan.
144
144

F5

Justin Westhoff
Port Adelaide, RUC/FWD
The guy is on a roll of pumping out 120's like he is 25 years old.
120
120

F6

Josh Dunkley
Western Bulldogs, MID/FWD
I must admit I am disappointed. I am sure he will bounce back this week.
79
79