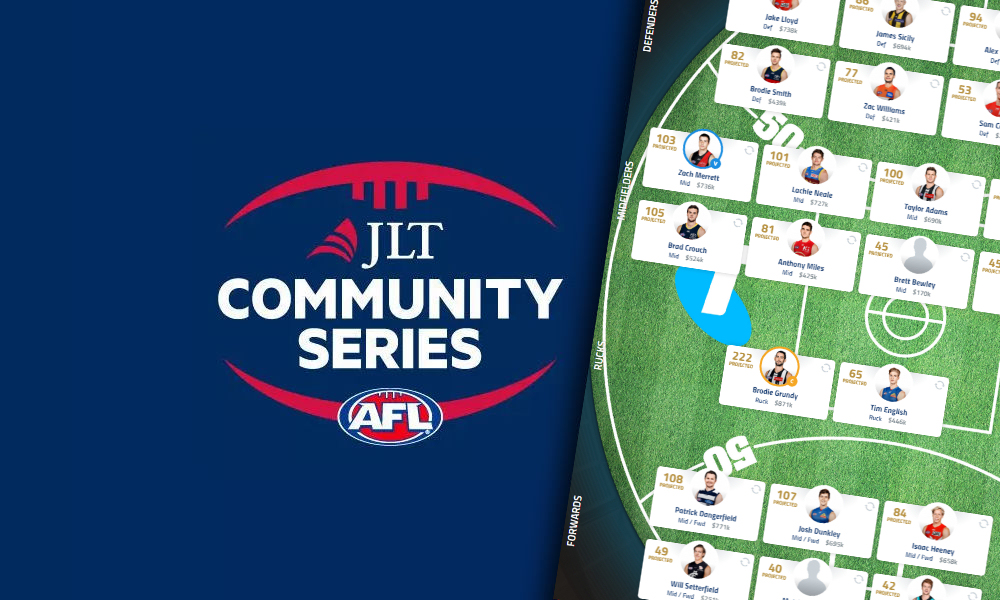 There are some names that have been floating around AFL Fantasy circles throughout the whole pre-season and some that we have seen gain in popularity over recent weeks. For one reason or another, these guys are hyped.
It could be the fact that they're under-priced for whatever reason and everyone is on them or their stocks have risen because of those insightful training reports that tell us this draftee is gunning for a spot in the round one team.
Traditionally I've put together a 'hype' team ahead of the JLT and here's a very quick look at one. This was thrown together pretty swiftly with some different trains of thought. Not just the most popular players – that article is up on AFL.com.au for you to read – but some of the main men we see on the My Team page together with the rookies who have shown something over the last few weeks… including during intra-club games.
Here we go.
Listen to the AFL Fantasy Podcast with The Traders at Apple Podcasts, Spotify and Google Podcasts.
DEFENDERS
We're all a bit excited about the defenders who might gain a few points due to the new kick-in rule. It's no shock that Jake Lloyd, James Sicily and Alex Witherden sit at the top of the pile of the blokes available down back. They all took a truckload of kick-ins last year when they were playing and have upside next to their names.
Brodie Smith and Zac Williams are both discounted. While Smith has only shown a ceiling average of about 80, his price is equivalent to an average of 61 and has been a go-to guy to bring the ball back into play after a behind. Williams received the full 30% discount after missing the home-and-away season with an Achilles, but returned with a ton in the finals and, like the four guys mentioned before him, will likely have some kick-in duties.
With AFL experience and a lock in the Suns' line-up, Sam Collins should make some cash… especially if he brings his intercept marking form from the VFL. At Gold Coast, I'm sure the ball will be back there a bit for him. Xavier Duursma and Marty Hore showed some good form in their practice matches last week.
MIDFIELDERS
A bit of group think here from us at DT Talk HQ has Zach Merrett as the No. 1 midfielder as we believe the cash can be saved in the midfield with these under-priced premiums. M1-M4 have all averaged well over 110 before. Lachie Neale isn't in my team, but looking where some coaches in Draft are ranking him (hello Draft Doctors) and the fact some coaches I respect have him in their sights, he makes the list. Taylor Adams is there because of Roy… and it seems he is going to be right about this. Dustin Martin WILL bounce back and while possibly not hitting his Brownlow Fantasy form, he'll add 15+ points to his 2018 average.
Brad Crouch got through the U23 trial game last weekend. His 30% discount gets him the not next to Anthony Miles who is still a popular option… and really there is limited risk. He should go 90+ and at that price, you've got plenty of value. The way Tom Liberatore is tracking could make him a tasty option for a few dollars less if they are needed.
Mature aged picks at the basement price of $170k in Brett Bewley, Michael Gibbons and Nick Hind will feature heavily in teams throughout the JLT and Charlie Constable could be a good show for the Cats. There are plenty of other names that we'll be keeping an eye out on during the pre-season games. Look out for our first cash cows watchlist article tomorrow!
Structure is going to be interesting in the guts. Value will be key with a heap of rookies likely to be playing that have MID status. But going too many will make your team a little weak in the area that the big points are scored.
RUCK
Despite the interrupted pre-season, Brodie Grundy is still the second most selected player. The only question is who sits next to him.
The bulked up Tim English gets the gig here as the 'hype' around him is probably due to the coin that can be saved by going the Dog. He burned plenty of us last year, but the No. 1 ruck role is likely to be his and with Tom Boyd possibly out for the first half of the year, points should flow. Hopefully. He will become a verse in Calvin's Never Again List song if he fails again. Catch the 2019 version of the song at our live shows next week in Perth, Adelaide and Melbourne. Click here for tickets.
The double-Darcy combo is in play for MOST benches.
FORWARDS
There won't be any team inside the top 50,000 after round 5 that doesn't have Patrick Dangerfield. Fingers crossed this statement doesn't come back to bite me because of injury… that's the only way this pick isn't coming off. Lock. Don't overthink it.
Calvin says Josh Dunkley is getting a free ride. Well, we aren't hearing much about him but all signs point to him continuing that midfield role he was in during the second half of the season that saw him average 111 in the last nine games. He sits next to potential top-six forward Isaac Heeney. It wouldn't be a pre-season without him in a team like that, so he's here again… because we all hope that he can take that average to 100. Fingers crossed.
This structure, with Will Setterfield sitting at F4, seems to be pretty common. However, it is these rookies who we are probably the least confident with. Matthew Parker, Willem Drew and intra-club star Jack Petruccelle have been making a noise recently, but who knows if they'll make their respective sides. Parker is mature aged – and has plenty of ink – so he looks tough, Drew excited in a game where it was basically 23 year olds… and then Petraccelle played last year but is still basement priced because he sucked and Brander could easily take his place the next week for the Eagles even if selected round one.
So much to see play out over the JLT.
Get excited for a couple of weeks of footy and plenty of analysis from the DT Talk team!