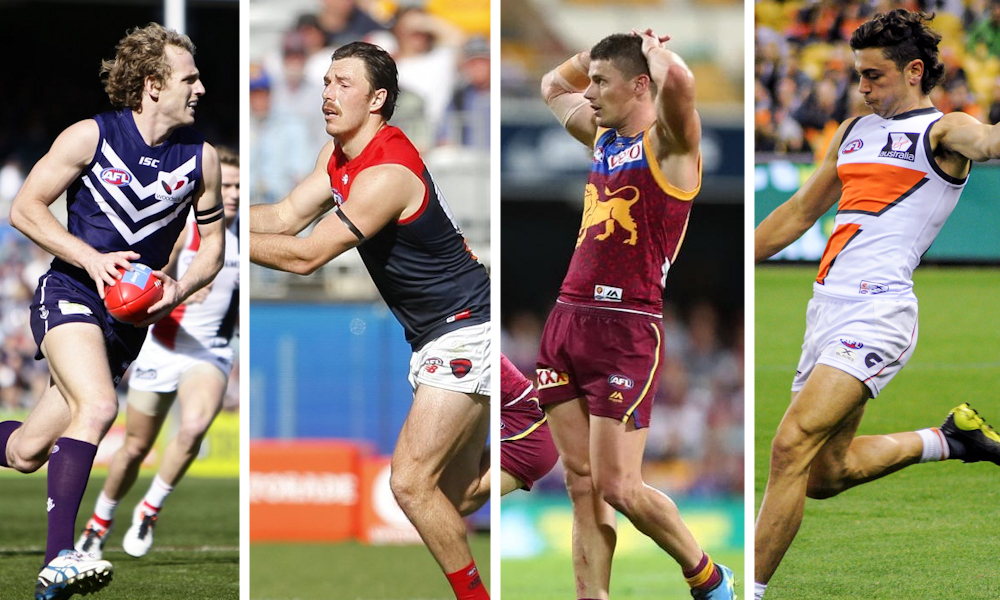 Hey fantasy community, Wiz here.
Hope all your 2019 DT wishes come true and your planning and teams are coming along nicely! As per usual I have picked my annual "POD" team (Player Of Difference). The criteria I have is basically not to choose anyone with higher than 5% ownership – the players that you guys might of missed or have chosen to ignore. My 2018 team featured some guys that we had in and out of our teams which included; Witherden, Ed Richards, T.Adams, Gibbs, Whitfield, Blakely, Stef Martin, Toby Mclean, Charlie Curnow, Timmy Taranto, Langdon, Waterman and Sier. This year I have not elected to choose a bench and or rookies as this is hit and miss, but instead I have picked just the on field players and put some more time into research and or gut feels (as stupid as that sounds). Lets see if I can't change your opinion on some guys that are currently out of your team.
DEFENDERS:
Kade Simpson (4.1%) – You might think that Kade's numbers are on the decrease, and you would be right. BUT, as I will mention throughout the defenders list I have – is that due to Simpson's kick in duties and the AFL rule change, he should receive at minimum a +6 to his 95 average, boosting him back over 100. He is the picture of consistency Simpa and rests easy in the top 6-8 defenders each and every year. Carlton aren't suddenly going to be amazing this year and will still leak scoring shots, which is great for us fantasy coaches! He will take the kick ins and rack them up as per usual. Keep safe.
Zach Tuohy (2.0%) – Zach IS the go to guy from kick ins when the opposition has a set shot. Geelong have talked about adding speed into their ball movement and additions like Daulhaus and Rohan show that they want to get the ball into their forward half as quickly as possible to lock it in. Geelong played on out of the square last year 33% of the time and I could see this rising to 50% + meaning Zach should get that AFL rule change boost to his stats. He can average 90 as the cats love the ball in his hands.
Luke Ryan (2.1%) – Fremantle have the lowest kick to self percentage in the league, meaning the most room for growth in terms of Fantasy points from kick ins. Ryan shared kick in duties with Wilson last year but either way we are about to see a BIG boost in points. Ryan's natural growth as he is coming into his 3rd year and aged 22 will mean a bigger and better fantasy year too. Combining all factors I can see him averaging 88+ this year and would be a great POD pick.
Bachar Houli (1.7%) – Before you throw up, bare with me. Houli Douli hasn't been priced at this average in over 10 years (74). He already comes in at a discount due to his groin problem he suffered in RD 10, and multiple pre season calf issues before that. Without this DT score of 10 he would of averaged 80. Houli's 3 seasons before that went as follows; 91, 93, 87. In the tigers Flag year (2017), Bachar's last 12 games (including finals) he went at an average of 103. There is no denying he is already 10-15 unders BUT if you include the AFL Rule change boost he is potentially 20 points under priced. If Houli is fit for pre season games and RD 1 – get on board… (no one else is)
Michael Hibberd (2.2%) – As @CalvinDT shakes his head, I nod mine. Hibbo cant have a year like he had last year. He hasn't had that bad a year since 2012 where he was vested. He used to be that safe 90-95 guy every week and I feel he can get back to that. He went at 93 the year before at Melbourne and a good player will always rebound. He averaged 8 less disposals a game when comparing his last two seasons. He will comfortably average 85 this year with room for 90+
Harry Perryman (0.3%) – In a recent interview with Leon Cameron, the coach said that his is ready to step up into more midfield minutes. This kid is highly rated and was taken at pick 14 in the 2016 National draft. He can play. He is a good size at 184cm and entering his 3rd year of AFL. The giants are losing players, and quick. This is now his time to show why the giants drafted him. His 2018 NEAFL year was a step in the right direction for full time AFL duties. He polled the most NEAFL MVP votes for the Giants from only 10 games. The kids is ready, now or never.
MIDFIELDERS:
Seb Ross (2.3%) – In the last 6 weeks of 2018 he averaged 127, this was accumulated by 37 disposals, 6 marks and 4 tackles per week. He also averaged 118 at Marvel and this is a place where St Kilda play 11 games in 2019. He is no danger of a tag with Steven running around and definetly one to watch closely. He was clocked in the top 5 of MAX sprint speed in the AFL and has a big engine, very under rated and still can't believe only 2.3% of teams have elected to go with him.
Dayne Zorko (2.2%) – From rounds 7-20 the Zork averaged 117, currently priced at 96. He has also done a 114 and 106 in the two seasons prior. I understand the scariness of the Zorko rollercoaster but someone can pump out 170's is rare. Strap yourself in for the ride!
Jack Steele (0.6%) – Jack finished off 2018 with a BANG. He ranked in the top 10 in the competition for points scored in the last 4 weeks with scores of 101, 124, 120, 145. The thing I love about Steele is that you cant take his tackle numbers away from him. He averages 7 tackles per game and only Zorko has had more tackle attempts than him in the last 2 years. With Steven and Ross taking most of the attention – Steele is a good bet.
Tim Taranto (2.7%) – He features again in 2019, and for good reason. He is expected to be the main beneficiary of Shiel's departure. There is substantial midfield time to be had and Taranto has the class to fulfil it. From day 1 there has always been something special about this kid and this will be his year. He is awkwardly priced at 90 I know, but I expect him to go 105+ in 2019. His last 7 games of the H&A season he averaged 98 and with Shiel's position vacant and natural growth of his 3rd year. Josh Kelly went from a 90 average to a 113 average in a year….Expect him to go BIG.
Rory Sloane (4.9%) – You could almost write off every crow in 2018, and in particular Sloaney boy. His injuries and tag ability meant that it kept him to a sub par average of 90. He hasn't been priced at this average since 2011 and we have seen his scoring potential in more recent times. We really can expect this classy A grade midfielder to go back over 100, with the possibility of a 108+
Aaron Hall (3.6%) – " Frustrating, stupid, never again, wow, gun, wtf " are all words that are associated with Hally. There isn't many guys priced at 86 who can average 110. Here's hoping he can get off the chain at North and just go banana's like the whole DT community want him to. He has monster scores in him and it is now or never for him. His career is at the crossroads, if he chooses the right path he could quickly become a must have.
Hugh McCluggage (0.8%) – The suitcase showed signs late last year that he could become a serious player. In the last 10 games he boosted his averages to 23 disposals, 4 tackles and 4.5 marks per game which equated to 88 Fantasy points. His natural improvement could mean that he is worth the punt. * 3rd Year Breakout
Luke Davies-Uniacke (3.8%) – He is a rookie I know, but for still a rookie price he gets another shot. He has taken a little longer than expected to find his feet at AFL level and though his numbers aren't mind blowing, he has to be considered for selection over other rookies at similar prices. Big body and big expectation that I expect him to fill.
RUCKMAN:
Jarrod Witts (3.6%) – Many are opting for other ruckman, but Witts is still young and in my opinion has room to grow. He averages 40 free points a game (Hit-outs) so there is your base. At 209cm and 26 years of age he is coming into his prime which should reflect his Fantasy numbers. I wouldn't be surprised to see him have a 100+ year and 2019 could be it.
Tim English (4.9%) – This kid will be a DT stayer for years to come – I predict him, Grundy and Gawn to rule the roost for the next 5 or so years. Its just when will he will start peaking. He is the Dogs number 1 ruck and we saw at times last year his scoring ability. (Good and Bad) He has only played 10 games of AFL but in 3 of those he has gone scores of 86, 90 and 107. Priced at 60 he is potentially 20 points under priced if he sustains the whole season. Seriously watch.
FORWARDS:
Sam Menegola (2.9%) – He really is an under rated player. From his first AFL season he hasn't looked out of place and his career disposal average of 24 proves this. He is a ball magnet and an elite runner – meaning his 6 mark average wont ever be in danger. From RD 10 last year he averaged 105 DT points which included 8 Tonnes and a low of 82. How he isn't in more teams has got me scratching my head. Gary Ablett will spend more time FWD this year which means more minutes for Mena. Get on. (Derrrr)
David Mundy: (0.5%) – He is as consistent as they come and as durable too. When Fyfe went down with the hamstring injury late last year, it was Barra who stepped in the midfield in his skippers absence. He averaged bang on 100 in the games he went into the midfield with Fyfe gone, and just recently Ross Lyon has suggested that he will be in the starting Midfield with Neale traded to the Lions. If there is an increased midfield time we can expect Mundy to average 95+. His consistency and durability and his FWD status should make you start thinking he is a definite option. Seriously Consider.
Jack Billings: (3.5%) – After his wake up call of being dropped, Jack came back from a 54 disposal game in the VFL to then average 97 AFL Fantasy points for the rest of the year. His last 10 game average saw his midfield time increase along with his game averages too – this fantasy increase was due to a 25 disposal, 5.5 mark, 3.5 tackle per game stat line along with kicking 8 goals to finish the year. Alan Richardson wont make the mistake to leave him stale in the forward line this year and just like last year we should seriously consider an under priced gem in our FWD line for 2019.
Buddy Franklin: (3.7%) – What? I understand he might be getting old, not training etc…. but its buddy? Someone that can kick 13 in any game against anyone and post 170's have to be seriously considered. He has only averaged below 90 once since 2014 and he still is the number 1 man in that forward line and will be for the foreseeable future. He didn't end the year very well against GWS and a player of his stature will be bouncing back. He is also the best player to own in fantasy because every time the Swans get the ball you know Buddy will be sniffing around somewhere. Don't be afraid.
Adam Cerra: (1.3%) – There is just something about this kid, classy. Showed glimpses of brilliance at times last year and his DPP status makes him all the more interesting. His 30 disposal game against Adelaide was the pick of the bunch – showing his scoring potential with a 111. He has a good K/H ratio and his 14 disposal average last year is set to soar in 2019 and beyond. He will be given greater opportunity this year to go through the midfield and I can see him pushing an 80+ year which would be a great investment. He & Brayshaw (2.5%) will both have to be watched closely. Will be fantasy gems in the future, sooner rather than later.
Jamie Elliot: (2.6%) – Coming in priced at 53 – he is INSTANTLY 20 points under price. If he plays he is going at a 75+ minimum. That's the question – IF he plays. There is no denying if fit he will be in Collingwood's best 22 and for good reason. Just pick him if he is playing RD 1, nothing more to say.
FOLLOW ME ON TWITTER: @TheWizDT for all thing AFL Fantasy (and more).