2017/18 H&A Season Player Average Comparison: Richmond
Pete from aflratings.com.au looks at the average differentials for the Tigers.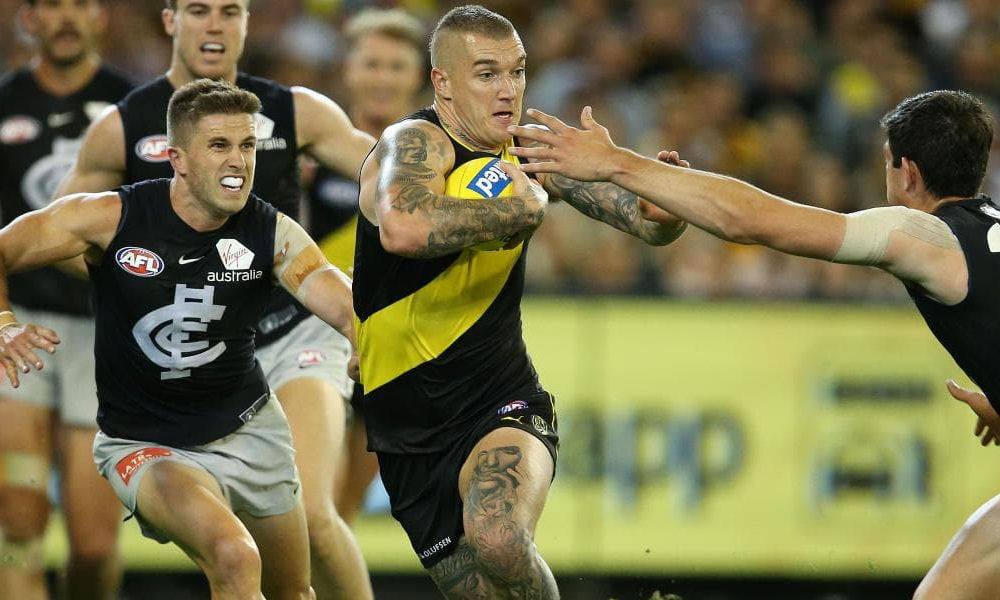 The 2018 H&A season is complete which means the Fantasy research for next season has already begun, over the next few weeks we'll take a look at a 2017/18 H&A season player average comparison for each team (Minimum 10 games played each season).
Warnie & Roy discussed some of the numbers on the final Traders podcast of the season, it is worth another listen again to hear their thoughts about some of the players that will be listed in each team (Starts at 41:25).
RICHMOND
After an outstanding 2017 season Dustin Martin (2018 Ave: 92.8) regressed significantly this season, he averaged 103.8pts from his opening 4 games then went on to average 84.8pts from his next 13 games. The defensive part of the Martin role disappeared in 2018 which impacted negatively on his average, he found some form by averaging 108.0pts from his last 4 H&A games.
Martin scored 100pts or more in 33.3% of games & 120pts or more in 4.8% of games in the 2018 H&A season, he scored 100pts or more in 68.2% of games & 120pts or more in 40.9% of games in the 2017 H&A season. There were suspicions Martin was playing hurt for the majority of 2018, he is a must watch during the upcoming pre-season for a change in role.
Jayden Short (2018 Ave: 75.9) was firmly on the radar of many fantasy coaches at the mid-point of the 2018 H&A season, he averaged 93.9pts between Rounds 10-18. Short will be entering his 4th year and after a nearly a 20pt average increase in 2018 expectations will be high, he is worth a place on a pre-season watch list.
Trent Cotchin (2018 Ave: 80.0) is under-priced compared to his previous career history, he is worth a look at during the pre-season especially if the Tigers can increase Team Disposals.
Article by @aflratingsPete
2018 AFL Fantasy Stats
| PLAYER | POS | GMS | PTS | AVG |
| --- | --- | --- | --- | --- |
| Martin, Dustin | MID | 21 | 1951 | 92.9 |
| Nankervis, Toby | RUC | 21 | 1873 | 89.2 |
| Prestia, Dion | MID | 11 | 936 | 85.1 |
| Riewoldt, Jack | FWD | 22 | 1868 | 84.9 |
| Lambert, Kane | MID/FWD | 20 | 1624 | 81.2 |
| Cotchin, Trent | MID | 20 | 1600 | 80 |
| Caddy, Josh | MID/FWD | 20 | 1588 | 79.4 |
| Miles, Anthony | MID | 1 | 78 | 78 |
| Grigg, Shaun | MID | 20 | 1534 | 76.7 |
| Short, Jayden | DEF | 22 | 1670 | 75.9 |
| Conca, Reece | DEF | 16 | 1187 | 74.2 |
| Ellis, Brandon | DEF | 18 | 1334 | 74.1 |
| Houli, Bachar | DEF | 13 | 961 | 73.9 |
| Vlastuin, Nick | DEF | 19 | 1391 | 73.2 |
| Lloyd, Sam | FWD | 7 | 477 | 68.1 |
| Edwards, Shane | MID/FWD | 22 | 1461 | 66.4 |
| Rioli, Daniel | FWD | 10 | 661 | 66.1 |
| Soldo, Ivan | RUC | 1 | 66 | 66 |
| Graham, Jack | MID | 16 | 1053 | 65.8 |
| Higgins, Jack | MID/FWD | 18 | 1111 | 61.7 |
| Rance, Alex | DEF | 22 | 1324 | 60.2 |
| Astbury, David | DEF | 20 | 1166 | 58.3 |
| Butler, Dan | FWD | 15 | 854 | 56.9 |
| Castagna, Jason | FWD | 20 | 1104 | 55.2 |
| Mcintosh, Kamdyn | DEF/MID | 19 | 1037 | 54.6 |
| Grimes, Dylan | DEF | 21 | 1100 | 52.4 |
| Garthwaite, Ryan | DEF | 2 | 98 | 49 |
| Moore, Callum | FWD | 6 | 293 | 48.8 |
| Menadue, Connor | MID | 5 | 244 | 48.8 |
| Townsend, Jacob | FWD | 10 | 478 | 47.8 |
| Broad, Nathan | DEF | 16 | 734 | 45.9 |
| Ellis, Corey | DEF/MID | 4 | 174 | 43.5 |
| Baker, Liam | FWD | 3 | 114 | 38 |
| Bolton, Shai | FWD | 3 | 92 | 30.7 |
| Drummond, Nathan | FWD | 0 | 0 | 0 |
| Griffiths, Ben | FWD | 0 | 0 | 0 |
| Chol, Mabior | FWD | 0 | 0 | 0 |
| Balta, Noah | RUC/FWD | 0 | 0 | 0 |
| Coleman-Jones, Callum | RUC | 0 | 0 | 0 |
| Miller, Ben | RUC | 0 | 0 | 0 |
| Naish, Patrick | MID/FWD | 0 | 0 | 0 |
| Smith, Derek | DEF | 0 | 0 | 0 |
| Markov, Oleg | DEF | 0 | 0 | 0 |
| Hampson, Shaun | RUC | 0 | 0 | 0 |
| Stengle, Tyson | FWD | 0 | 0 | 0 |