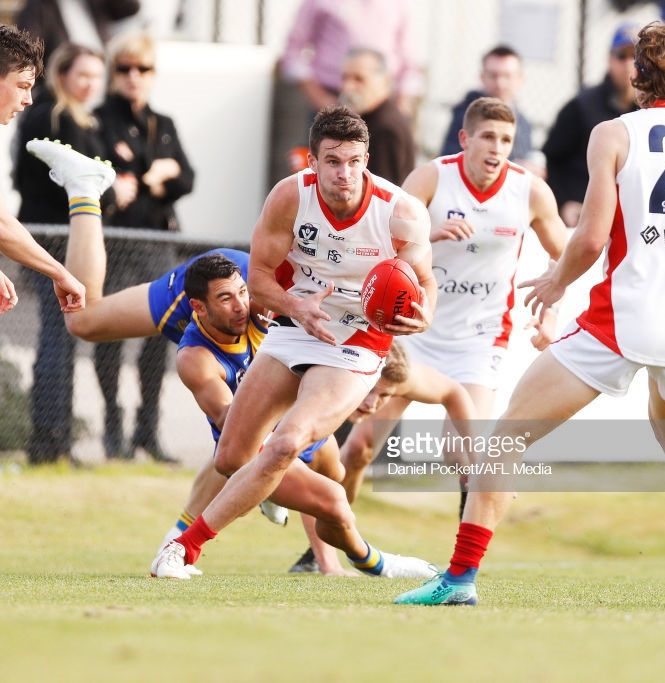 VFL
Hawthorn (Box Hill)
Mark Pittonet (RUC, $196K) had 60 hitouts and laid 7 tackles for 127 points. I doubt he'll play, McEvoy is going quite well. James Cousins (MID, $327K) was solid with 24 touches, 6 marks and a goal for 106 points. I can't see him doing back in unless an injury occurs, but let's hope he stays out since he's a tagger. Jackson Ross (FWD/MID, $170K) kicked 2 goals and had 20 touches for 99 points, but only averages 43 for the season. David Mirra (DEF, $351K) wasn't that good but had 19 touches and 4 marks for 67 points. Mitch Lewis (FWD, $173K) was dropped and responded well, after having 3.1 and 15 hitouts for 73 points. James Worpel (MID, $212K) had 16 touches and laid 7 tackles for 66 points, but probably won't come in anytime soon.
Carlton Blues (Northern Blues)
Nick Graham (FWD/MID, $507K) had 35 touches and took 8 marks for 117 points, and is in and out of the Carlton side. Aaron Mullett (DEF, $432K) was solid in defence with 25 touches and 90 points. He will push for selection after his bye. Harry McKay (FWD, $339K) didn't do too much after being dropped by Carlton, but had 11 touches and a behind for 38 points. The Blues might want to give him another shot later in the year.
Geelong Cats
George Horlin-Smith (MID, $453K) was pretty good with 30 touches and 105 points. I find it hard seeing him break into Geelong's strong midfield. Ryan Abbott (RUC, $170K) continued his great form, with 32 hitouts and 2 goals for 96 points. It would be great if he could get a game soon but it appears unlikely. James Parsons (FWD, $355K) was solid with 21 touches, 7 marks and a goal for 87 points. Mark O'Connor (DEF/MID, $209K) is getting further and further away from getting a debut with performances like these. He managed 12 touches for 51 points.
North Melbourne
Brayden Preuss (RUC, $445K) was huge with 75 hitouts, 17 touches and a goal for 145 points. I'm unsure with what will happen with him, because he played last year but hasn't so far this year. Mitchell Hibberd (DEF, $235K) was great with 34 touches and 8 marks for 116. It would be great if he could come in but I doubt he will, only late in the year if he was to get a game. Ryan Clarke (DEF, $488K) responded well after being dropped, with 36 touches and a goal for 112 points. Nathan Hrovat (FWD, $401K) was solid with 21 touches and 3 tackles for 73 points, and could come in for the Roos this week with Simpkin suspended and Anderson injured. He's not relevant in classic though. They may also want to have another look at Luke Davies-Uniacke (MID, $259K), who scored 62 points from 15 touches.
St Kilda (Sandringham)
Nick Coffield (DEF/MID, $368K) was really good, with 31 touches, 9 mars and 5 tackles for 122 points. He could be the perfect replacement for Jarryd Geary who is set to miss this week. David Armitage (MID, $435K) was good in the VFL again, with 28 touches, 8 tackles and a
goal for 114 points and I don't think we'll see him again. Josh Battle (FWD, $170K) is nearing debut, but after 1.5 in front of goals, he might need to fix that before they give him a game. He had 11 touches and 5 marks for 53 points.
Western Bulldogs (Footscray)
Tom Campbell (RUC, $509K) is in some fine form, and had 49 whiteouts, 6 marks and 13 touches for 121 points. He's averaging 106 and 39 hitouts. Shane Biggs (DEF, $515K) was solid again with 30 touches, and 115 points. I don't think he'll play anytime soon. Mitch Wallis (MID/FWD, $543K) was decent with 17 touches and 7 tackles for 85 points. Lewis Young (DEF, $328K) scored 83 points from 20 touches and 8 marks. Josh Dunkley (FWD, $542K) was alright with 12 touches, 5 marks and 2 goals. He could probably come in for Dickson who is out for 4-6 games.
Essendon Bombers
Dylan Clarke (FWD/MID, $181K) was very good and the top scorer with 103 points, 20 touches, 7 marks and 8 tackles. He is an ideal replacement for David Zaharakis who is out for roughly 6 weeks. Competing for this position is David Myers (MID, $460K), who had 21 touches, 7 marks and kicked 0.2 for 86 points. Let's hope Clarke plays over him, so we have a handy cash cow. Aaron Francis (DEF/FWD, $259K) continues his solid form with 17 touches, goal and 76 points.
Collingwood Magpies
Rupert Wills (MID, $446K) was huge with 36 touches and 104 points. He's too expensive in classic, and probably won't get a game anyway. Callum Brown (FWD/MID, $385K) is playing quite well in the VFL with 25 touches and 84 points. Sam Murray (DEF, $495K) is still in 35% of teams, and scored 70 points from 21 touches and 4 marks. I can't see him coming back in this week, but could get a game later in the year. Adam Oxley (DEF, $344K) has been good this year in the VFL but only managed 14 touches and 57 points.
Richmond Tigers
Anthony Miles (MID, $517K) had a huge day, with 44 touches, 11 marks, 4 tackles and 3 goals for 170 points. He's averaging 119 in the VFL but I don't think he'll get a game anytime soon. Sam Lloyd (FWD, $449K) was good as well, with 2 goals, 31 touches, 7 marks and 134 points. Like Miles, he's not relevant in classic and probably won't get a game within the next few weeks. Tyson Stengle (FWD, $222K) was solid with 2 goals and 7 tackles for 83 points. I doubt he'll come in though. Daniel Rioli (FWD, $367K) is returning through the VFL, and had 11 touches, 1 goals and 6 tackles for 58 points. He will probably come in after the byes at some stage.
Melbourne Demons (Casey Demons)
Cameron Pedersen (RUC/FWD, $541K) kicked 4 goals, had 18 touches and took 11 marks for 122 points. Let's hope he stays out though, because he could affect Gawn.  Dom Tyson (MID, $566K) was solid with 23 touches, 8 tackles and 97. With Melbourne in such good form, there may not even be room for him to come in. Harley Balic (MID/FWD, $346K) had 17 touches and kicked 1.4 for 83 points, so it could've been bigger. Joel Smith (DEF/MID, $170K) was quite good with 17 touches, 5 marks and 5 tackles for 82 points. He played one game last year but got injured. He could be a straight swap for Jake Lever who has done his ACL. He would be nice to have making money on the bench, averaging 62 in the VFL.
WAFL
Fremantle Dockers (Peel Thunder)
Brandon Matera (FWD, $444K) was solid with 20 touches, 8 marks and 3 goals, but Ross Lyon said his is going to 'stay bold' and 'stick with the youth', likely meaning Matera won't come back in. Lloyd Meek (RUC, $170K) played his first game of league WAFL and was right at home. He won 32 hitouts and laid 5 tackles as well as 15 touches, for 96 points. Highly unlikely we will see him this year. Danyle Pearce (FWD, $478K) was BOG for Peel from all reports, with 30 touches and 4 marks for 96 points. He could come in with Nat Fyfe suspended. Harley Bennell (FWD, $249K) scored 29 points from 8 touches, 2 marks and 2 tackles…..from one quarter of footy. He missed the last 3 quarters due to calf tightness, but scans revealed it is fine. Hopefully, we see him soon.

NEAFL
Sydney Swans
Daniel Robinson (FWD, $341K) has some unreal NEAFL numbers, and racked up 30 touches and 13 tackles for his 146. He averages 137 in the NEAFL from 5 games, but only 48.5 from 2 AFL games this year. Darcy Cameron (RUC, $170K) won 54 hitouts and took 11 marks for 134 on the weekend, moving his season average to 125. Colin O'Riordan (DEF, $170K) I really like the look of this guy. He scored 93 from 22 touches and 8 marks. If he gets a game, I would highly consider. He seems to have a consistent role and is averaging 102 for the year. He would get a lot of the ball in Sydney's backline.
Brisbane Lions
Corey Lyons (MID, $170K) is having a fine year, with 31 touches and 13 marks for 137 points on the weekend. He averages 97, 24 touches and 7 marks and with McCluggag
e, Robinson, Christensen and Cameron all in doubt this week, Lyons has a shot at making his debut. Mitchell Hinge (DEF, $170K) had a really solid day, with 23 touches, 12 marks and a goal for 102 points. I can't see him getting a game, and he only averages 61 in the NEAFL this year. Ryan Mathieson (MID/FWD, $476K) only managed 52 from 21 touches, but is a straight swap for Christensen if he doesn't get up. I wouldn't touch him in classic though. Brandon Starcevich (MID/FWD, $236K) is a good chance to come in as well, and had 21 touches, 5 marks and 5 tackles for 82 points. He averaged 70 in the NEAFL this year.
Gold Coast Suns
Michael Barlow (FWD/MID, $654K) had a ball on a string, with 41 touches, 8 marks and 9 tackles for 157, a performance that remind me of the good old Barlow days. He would be really handy through these byes, but isn't in Stuart Dew's favour. Brayden Crossley (RUC, $235K) still sits on 17% of coaches benches, and he too would've been nice to have through the byes. He won 20 hitouts, laid 5 tackles and kicked 5 goals for 128 points. Brad Scheer (FWD, $292K) was dropped but responded well with 26 touches, a goal, 6 marks and 7 tackles for 115 points. Jarryd Lyons (MID, $635K) was averaging 98 at AFL level but only managed 70 from 22 touches in the NEAFL.
SANFL
Port Adelaide
Jack Trengove (MID, $376K) had a good game, with 27 touches and 9 tackles for his 118. Dom Barry (MID, $299K) is still owned by 25% of the competition, and that quarter of coaches will be happy to hear he had 29 touches and a goal for 98 points on the weekend.
*Please note: the stats for the GWS and West Coast reserves were not available for me for some reason, if they all of a sudden come up, I'll add them in!
Top 3 for round 12:
Joel Smith (MELB)
Jarrod Brander (WCE)
Brandon Starcevich (BRIS)
Patrick Wilson (ADEL)
Feel free to leave any questions below!