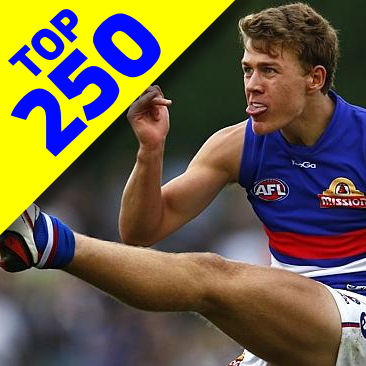 It's week 7 of the AFL Fantasy competition and now we can see patterns in the team make-up of the top coaches and more importantly, which players are the pick of the bunch.  So again, this year I ask, "How do I compare with the top 200 AFL Fantasy Coaches?".
As we are starting to get settled into our normal routine, just remember, the bye rounds are coming! Last year, before the bye, my team (Ricontop) was in the top 5 AFL Fantasy list. The bye rounds destroyed me and my team never fully recovered from it.  Plan your trades and when upgrading consider how many players you will have out for each bye.
Just remember like last year, just when you think you know what you are doing, team selection will teach you, you can't always plan for everything.
I have analysed the data of the top 250 AFL Fantasy coaches. The vanilla side consists of the players listed below. My team has 16/22 of the vanilla selection as per listed below.
DEF
Murray (99%), Laird (98%), Doedee (96%), Finlayson (77%), Llyod (49%), Seedsman (36%)
MID
 Mitchell (99%), Kelly (86%), Coniglio (85%), Z. Merrett (73%), Fyfe (60%), Neale (50%), Treloar (37%), O'Meara (35%), 
RUC
Gawn (100%), Martin (58%)
FWD 
Smith (83%), Heeney (80%), Taranto (62%), Gray (56%), English (42%), McLean (42%)
Defenders
D1 S. Murray $464K Ownership 63% Top 250 Ownership 99%
D2 R. Laird $758K Ownership 69% Top 250 Ownership 98%
D3 T. Doedee $430K Ownership 62% Top 250 Ownership 96%
D4 J. Finlayson $414K Ownership 50% Top 250 Ownership 77%
D5 J. Lloyd $610K Ownership 29% Top 250 Ownership 49%
D6 P. Seedsman $653K Ownership 25% Top 250 Ownership 36%
These six players represent the most common defenders in the top 250. Haven't the top 4 defenders listed above given us good service in the backline? On the top of that list is R. Laird, he is in 98% of the teams. If you don't have him in your backline, then its highly probable that your team is sitting outside the top 1000.  He is the clear standout premium in the backline. At the beginning of the year, I was more bullish on picking K. Simpson as my D1 and hasn't that backfired? Who do you think will be in the list of the top 6 defenders by this year's end?
There has been a lot of discussion in the twitterverse in relation to upgrading Finlayson and Doedee on the backline because they look tired and both have reached their money-making peak.  While the aim of the game is to "upgrade faster than anyone else", I would err on the side of caution when upgrading the backline.  Apart from Laird, premium defenders have been very inconsistent.  I'm looking at you Hibberd. However, if you are asking for a unique pick in the top 250, I like Sicily and Whitfield.
Sicily $594K Ownership 11% Top 250 Ownership 10.4%
Whitfield $627K Ownership 8% Top 250 Ownership 12%
Midfielders
M1 T. Mitchell $835K Ownership 70% Top 250 Ownership 99%
M2 T. Kelly $486K Ownership 49% Top 250 Ownership 86%
M3 S. Coniglio $753K Ownership 31% Top 250 Ownership 85%
M4 Z. Merrett $648K Ownership 28% Top 250 Ownership 73%
M5 N. Fyfe $761K Ownership 33% Top 250 Ownership 60%
M6 L. Neale $702K Ownership 13% Top 250 Ownership 50%
M7 A. Treloar $776K Ownership 11% Top 250 Ownership 37%
M8 J. O'Meara $564K Ownership 30% Top 250 Ownership 35%
These eight players represent the most common midfielders in the top 250.  While most will not be surprised with T. Mitchell (99% ownership) on top of the AFL Fantasy midfielder thus far, the list is missing one significant other pig. Apart from Rocky, Dangerfield is the other player that is not in the list of the top 8 AFL Fantasy midfielders. This time last year Dangerfield was in about 90% of the top 300 teams. Currently he is owned by only 10% of the top 250 coaches!
If you are upgrading, the midfield is where we are getting consistent scores from our premiums.  I know that there are players like Merrett and Zorko that are stretching the meaning of the word "consistent", but I still say upgrade your mids first. For those that follow me in Twitter and asked me about bringing in Merrett in your team, I still believe that he is value (…gulp). If you are upgrading a midfielder and you can't afford Macrae, I like both M. Crouch and JPK.  JPK especially, he has a habit of stringing 100's when he gets on a run. He is currently owned by 1 of the top 250 coaches.
Macrae $826K Ownership 8% Top 250 Ownership 24%
Crouch $662K Ownership 5% Top 250 Ownership 2%
J.P Kennedy $607K Ownership 3% Top 250 Ownership <1%
Ruck
R1 M. Gawn $790K Ownership 51% Top 250 Ownership 100%
R2 S. Martin $736K Ownership 17% Top 250 Ownership 58%
Gawn and Martin are the most selected players in the rucks. Gawn has been belting it lately so much that coaches have no fear in selecting him as their Captain and hasn't he repaid them well?  Martin on the other hand has been very consistent. Natainui (20%), Grundy (8%), Jacobs (4%) and Sinclair (3%) make the bulk of the most popular rucks in the top 250.  If cash is an issue, my top pick is S. Jacobs. He is currently in only 4% of the top 250 teams and is priced at $633K.
Grundy $793K Ownership 20% Top 250 Ownership 8%
Jacobs $633K Ownership 12% Top 250 Ownership 4% 
Forwards
F1 D. Smith $620K Ownership 29% Top 250 Ownership 83%
F2 I. Heeney $644K Ownership 48% Top 250 Ownership 80%
F3 T. Taranto $602K Ownership 27% Top 250 Ownership 62%
F4 R. Gray $693K Ownership 29% Top 250 Ownership 56%
F5 T. English $425K Ownership 53% Top 250 Ownership 42%
F6 T. McLean $671K Ownership 8% Top 250 Ownership 42%
These six players represent the most common forwards in the top 250 teams.  One notable exclusion from this list is J. Billings. However, he is still owned by 22% of the top 250 coaches. As an owner, I look at Billing's score each week, "put him on notice" and yet he makes the cut, week in week out for team Ricontop. At the top of this list is D. Smith, his scores so far have been very consistent.  Consistency is something I value in the forward line so if you are looking at upgrading your F5 or F6 my pick is M. Robinson.
Menegola $646K Ownership 19% Top 250 Ownership 8%
Robinson $631K Ownership 7% Top 250 Ownership 14%
Each week, after "lock-out" I do an analysis of the top 100 AFL Fantasy coaches. If you want to get this information, make sure you follow me on Twitter.
How did you compare?
Add me on Twitter @magtuto and go unique!