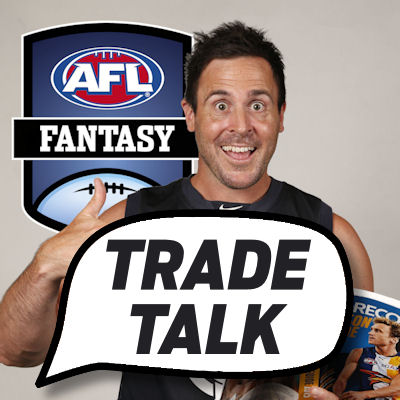 Unbelievable scenes really, the lack of ability shown by some of our former reliable premiums is unthinkable and indescribable. Not since the the Monstars visited on Space Jam have I seen such a large group of skilled athletes look like they have never played the game before. Players like Merrett and Treloar look dazed and confused on the field, rarely hit top pace, avoid contested ball and heaven forbid lay a bloody tackle.
Chopping Block: Price, score, BE
Marcus Bontempelli (MID, $627,000) 82, 123. Only the slim chance of DPP could save the Bont but at this rate, he is hardly worth the wait.
Michael Hibberd (DEF, $569,000) the man that used to hit 90 every week hasn't hit 70. It's gross and he needs to go.
Zach Merrett (MID, $643,000) 60, 163. Bounced back with 13 possessions. Looks disinterested and appears to be below Jake Stringer in the Bombers pecking order haha. What a joke, bye Zach (Former snout candidate).
Adam Treloar (MID, $720,000) 84, 136. Playing without any of the swag we became accustom to. He is approaching a tackle like a kid being forced to cuddle an overweight distant uncle who is suffering BO. He pretends like he is about to go in and then finds a reason to awkwardly pull out.
Jack Billings (FWD, $648,000) 58, 130. Good old free ride Billings. Horrible performance on the weekend where he was rarely sighted. It doesn't get any easier this week against the Cats at the Cattery.
Liam Ryan (MID, $323,000) 78, -3. It's never good when you hear a snap… He has been awesome but will need to go unfortunately.
Rooks:
Nick Coffield (DEF/MID, $276,000) 73, 16. Class, scoring and job security are all ticked off here, not to mention some handy DPP. Tough game this week but he is there for the long haul.
Get Them In
Lachie Hunter (MID, $709,000) 148, 61. Looks to be over his disappointing year after an awesome start to the season despite the Dogs taking a couple of weeks to get going. He hasn't dropped under 108 and is ripe to select with another game at ES this week.
Jack Macrae (MID, $766,000) 116, 101. Lost his DPP and is consequently owned by just 1% of the competition. Hasn't gone under 109… compare that start to Merrett.
Paul Seedsman (DEF/MID, $528,000) 95, 44.has made the vacant half back role his own. Has a low score of 86 and has 6 of his next 7 games at home.
Bryce Gibbs (MID, $823,000) 127, 115. Finally getting the recognition he deserves and loving playing with a successful team. Like Seedsman, an unreal run of games at home with some favourable match ups within it… like this week.

Click here to subscribe on iTunes. (Please leave a rating and review to help us move up the charts).
Jesse Hogan (FWD, $568,000) 104, 45. Lot's of people asking and his numbers suggest he is a worthy target for that price. I don't think he will maintain a triple figure average but he is certainly under priced despite increasing by 69K.
Nat Fyfe (MID, $697,000) 144, 74. Beast mode has been activated, he is officially back. 123 and 144 in the last two while showing off his new ceiling. Has a tough game this week vs the Giants at Manuka Oval which will be tough but after that, the Dogs and eagles at home look great.
Toby McLean (FWD,MID, $611,000) 103, 79. had an off game week one, but given his generous midfield time, forward eligibility and form with scores of 110 and 103 in his last two, he could be a great inclusion. Apart from the Swans this week, there are some very friendly match ups in the coming weeks.
My trades:
Merrett to McLean
Ryan to Coffield
As always, discuss your trade ideas in the comments section
@RoyDT