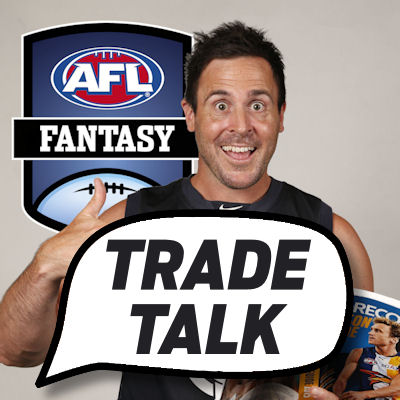 The rookies are getting it done and if you have missed one or two, don't be afraid to use your early trades to fix that up. They are generating some serious cash and you literally can't afford to miss that. Of course, there are still some premo's that are forcing our hand with trades also.
Chopping Block: Price, score, BE
Marcus Bontempelli (MID, $655,000) 73, 134. Backed up his 68 with this… Has to go.
Aaron Sandilands (RUC, $549,000) 42, 95. Hopefully just a blip.
Sam Menegola (FWD/MID, $653,000) 50, 151. Event without Duncan there was no room for him. Low TOG as well.
Michael Hibberd (DEF, $600,000) 69, 126. If he can't get it done vs the Lions, not a top 6 defender
James Sicily (DEF/FWD, $534,000) 69, 80. 1 week suspension, trade if you can get him to a top 6.
Zach Merrett (MID, $707,000) 78, 176. Has an easy matchup vs Dogs… Owes his coaches a massive one.
Adam Treloar (MID, $744,000) 90, 131. Single figures in the first quarter won't cut it. Needs to lift in a nice match up this week.
Matt Crouch (MID, $721,000) 33, 157. Will miss three weeks with a hammy. Have to trade.
Rooks we need to have:
Nick Holman (MID, $267,000) Another outstanding return with 84. Needs to be on your field.
Tim Kelly (MID, $319,000) is a genuine star… And quite an expensive one now after his 115 against the Hawks.
Tom Doedee (DEF, $254,000) getting it done, casually outscoring names like Lloyd and Hibberd on the weekend.
Luke Ryan (FWD, $273,000) a break even of -6 following a great score of 91 vs the Dogs. Well entrenched in the best 22.
Jeremy Finlayson (DEF/MID, $247,000) got it done with a score of 90 and looked sensational in doing so. Has a BE of -23 and is a must have,
Giant Options
Stephen Coniglio (MID, $725,000) did it again with and awesome game against the Pies, scoring 120 which give him a BE of 75. Still owned by less than 20% of the competition.
Tim Taranto (FWD/MID, $497) had another outstanding game, scoring 91 splitting his time between the forward line and midfield. He is still a unique option and has a BE of just 38.
Lachie Whitfield (MID, $717,000) dominated again with 123 and is a lock for a top two defender by round six. Has only risen by 27K at this point and will cost a lot more by the time he is available in the back line.
Josh Kelly (MID, $796,000) has turned into Mr Reliable with a number of young premos from other clubs spluttering around him.
The Return
Robbie Gray (FWD, $592,000) What a sensational start to the year for Robbie Gray! He had 26 touches and 10 tackles against the Swans! Not exactly easy opponents away from home. He played more through the midfield than I expected, attending 18 centre bounces and scored 119 to give him a BE of 66.
My trades:
Sicily to Simpson
Langdon to Ryan
@RoyDT