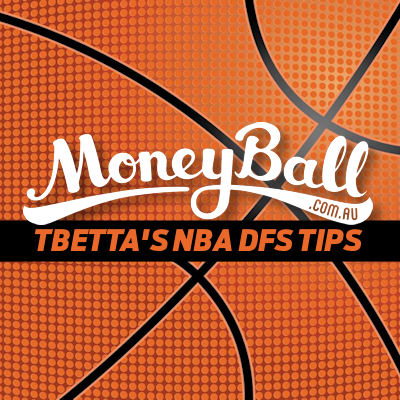 G'day Moneyballers! If you were here for the AFL season, this article will need no introduction. If you're tuning in for the NBA action, welcome to your first port of call for your DFS tips this summer! Before we get into the good oil, a quick reminder that Moneyball have adjusted their scoring system this year:
Playing is easy, you can sign up here and play in minutes! Now that we've taken care of the housecleaning, let's get into the good stuff – the tips!
• Mouse in the House?
Smalls vs New Orleans
With Rondo soaking up a lot of PG-only minutes, opposition guards are benefitting two-fold – they don't have to deal with NBA-quality defence when they have the ball, then they can sag off one of the worst outside shooters in the league when they need to defend at the other end, conserving energy for their next offensive thrust. Spencer Dinwiddie ($7,400 PG) is the first guy you think of and has produced some big games since he was thrown into a starting role, but that's a hefty price to pay for someone that was barely in the rotation in October. Look at him in GPP's only, as he's shown on a handful of occasions this year that he can reach mid-40's.
Bigs vs Atlanta
The return of John Collins from injury adds a much-needed cross brace at the 4 and 5 slots, but his 20 minutes a night (especially given his volatility with fouling) is like slapping a band-aid over a gunshot wound – Atlanta have a much deeper Dedmon-sized hole in their list. The Hawks are playing undersized each and every night, which is why they're ranked #1 for fantasy points conceded to Centres over the past month.
Marcin Gortat ($4,500 C) might look like he has the same IQ as his jersey number, but he's been a fantasy mainstay for years and his experience has made him wise. I don't have the stats to back this up, but he often outsmarts younger and smaller defenders when they're pitted against him. I like the Polish Schwedgehammer as a value play, and expect him to easily double-double here – that'd put him in the mid-30 MB range, a mark he's hit twice over the past week.
Bigs vs LA Lakers
The Lakers are purple and yellow witches hats at the best of times, but take away even the moderate defence of the injured Brook Lopez and you're left with a sure thing in the shape of Marc Gasol ($8,600 C). The Grizzlies' franchise player, much like the Celtics' Al Horford, has an all-round fantasy game that dazzles when they're matches up against teams who hand out counting stats like condoms at a University Tav party.
The Lakers are ranked #1 for Most Blocks Conceded and #8 for the Steals equivalent, so Gasol is in the perfect spot to put in a 20/10/5 with 2 blocks kind of game. In fact, he already achieved that (and some) once already this year, that monster 71.1 MB game against Indiana. Ceiling and opposition combining; I love this pick.
• Tasty Pacey
Brooklyn vs New Orleans (221.5 O/U)
The bookies are very much in the favour of the Pelicans here, and it's not hard to see why with guys like Anthony Davis ($11,300 PF) and DeMarcus Cousins ($11,000 C) headlining. As we've talked about before, Brooklyn has a big man unit much like I have a modelling portfolio – it's non-existent. One of these guys is hitting 60 MB, so feel free to throw your cash at one or both across your entries.
Outside of the obvious, E'Twaun Moore ($4,600 SF) is as streaky as they come having drowned at least 4 treys in 7 of his past 14 games. He fills a positional need for the Pels and with Dante Cunningham day-to-day with a back issue, Moore could be looking at 35-plus minutes once again. I also have a soft spot for Jrue Holiday ($7,800 SG), which is justifiable now that he's averaging 43 MB over his past 7 games. His minutes and usage have surged during Rondo's rut and I love his match-up with Brooklyn having little cover defensively at the Shooting Guard position.
Denver vs Minnesota (214.5 O/U)
Given that they had the premier offense in the league last year yet didn't make a dent in terms of pushing for a playoff spot, you could say that Denver's priority isn't exactly being defensively sound. You can always find value with whoever they play, so don't just consider the obvious guys in Jimmy Butler ($8,900 SF) – who has three 45 MB scores or better in his last four – or Karl-Anthony Towns ($10,700 C) – who is basically Jokic but with his head screwed on straight.
Andrew Wiggins ($5,800 SG) is worth a look as a contrarian. He's stagnated lately with 6 straight scores in the twenties, but we've talked about his ceiling in this article before, a mark he's always more likely to approach against a soft opponent. It's a risk, but Tyus Jones ($3,500 PG) has incredible Per-36 numbers and is coming off 23.1 MB in just 15 minutes against the Lakers. Perhaps he earns more minutes here?
• The Replacements
Lonzo Ball (shoulder, OUT)
Possibly the most-picked player will be Jeremy Clarkson ($4,500 SG), who joins the long list of 6th men who become fantasy darlings as soon as the first domino drops. Clarkson started at PG for Ball on Christmas Day and stayed out there for 35 mins, carving out an excellent 45.7 MB score thanks to 17/6/7 as the main dish, followed by a tasty 4 steals for dessert. Clarkson performs whenever he gets the clock – in the three games where he's exceeded 30 mins this year, he's produced totals of 45.7, 39,2 and 40.7 MB.
Brook Lopez (ankle, OUT) & Brandon Ingram (quad, DTD)
As for how the rest of the Lakers shake up, it's all down to Ingram and his pre-game vibe during shoot-around. If he misses, Josh Hart ($4,000 SG) becomes extremely streamable after scores of 29.5 and 24.2 with a decent lump of sand in the hourglass. If Ingram's deemed good to go (which is looking increasingly likely), Hart becomes yesterday's news and you're looking solely at Kyle Kuzma ($6,800 PF) as the biggest winner from the LA fitness lottery. He's been incredible lately, averaging a huge 46.3 MB in a slither under 40 mins a game over the last week or so. He's deserving of big exposure in your tournament line-ups.
De'Aaron Fox (quad, OUT)
To suggest that Buddy Hield ($5,100 SG) prefers the starting position to his regular bench role is an understatement. We've continually seen Hield pump out DFS-friendly scores, but they're highly unpredictable when it relies on Hield getting ho, Dave Joerger's whims and the angle Venus makes with one of Jupiter's moons (probably).
Now, assuming they don't get blown out in the 2nd quarter like they did against the Clippers today, Hield has a chance to play through shooting slumps and the dry spells most mortals experience over the course of a professional sporting match. Buddy's shown his upside with two 38 MB scores in his last four, and Fox's absence almost ensures he's sees 30 minutes against the Cavs on Thursday. You know, the same team he scores 35.3 MB against last time and that routinely leaks points to opposition guards?
Rudy Gobert (knee, OUT)
With Gobert out, here's the program you run:
1. Throw in Derrick Favors ($5,600 PF). The trend is clear – Favors averages 19.4 alongside Gobert this season, but that jumps up massively to 33.1 MB without him.
2. Have a gander at the opposition's big men, as Utah's famed defense crumbles spectacularly along with the Stifle Tower's absence. Draymond Green ($8,700 PF) is worth a long hard look at that price, especially after on the back of a 46 MB average in his last 5 activations.
Always remember to gamble responsibly. If you're having problems with your betting, you can get help at Lifeline or talk to someone at Gambling Help Online.